Our Aspera Gem 4G review for today focuses on this Australian mobile brand that's leading the way for affordable smartphones. Their Gem 4G was recently released, and tops as one of the best value 4G smartphones available on the market.
It comes with an affordable price, and it packs a range of strong and impressive features. These include Android9 Pie, 8MP rear camera + 5MP front camera, 4G dual-sim, an SD card slot, to name a few.
With its price, features, and excellent offerings, the Aspera Gem 4G smartphone is one smartphone to take note of.
First up on our Aspera Gem 4G review will be about its packaging, and the contents included inside the box.
Aspera Gem 4G Packaging
This part of our Aspera Gem 4G review focuses on the Gem 4G's box and how the company presented it.
The package sports a grey theme with the smartphone displayed in front of the box. Aspera is written above the image, while the unit's name is below it. You will find a couple of details about the unit on the box's rear.
Inside the box, the Aspera Gem 4G comes with other accessories like its earphones, a charging adaptor, and USB cable. It also comes with the user's instructional guide and warranty details.
Its earphones have a standard 3.5mm head jack that allows for adequate audio functions including calls, music, and videos. Plus, the earphones come with an integrated microphone for added convenience.
When it comes to its USB cable, it can be utilised with a wall plug to charge the Gem 4G. It's possible to use this for connecting your smartphone to a Windows computer for file transfers and extra functions.
Lastly, the charging adaptor links to a power outlet used in conjunction with its USB cable. It's mainly utilised for charging the smartphone.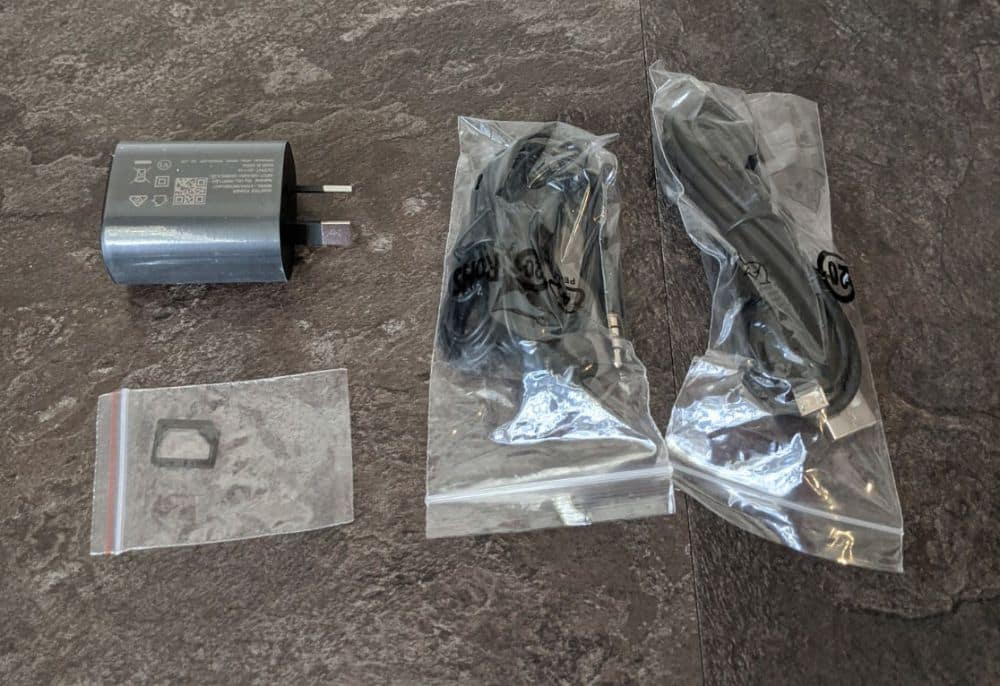 Aspera Gem 4G Review – Design and Functionality
This time on our Aspera Gem 4G review is the design and functionality of the smartphone.
The Gem 4G sports a contemporary design with a sleek black shell and an acceptable-quality screen with a screen protector. It also has dual sim capabilities, a 3.5mm headphone jack, removable battery, and fingerprint scanner. The smartphone runs on Android9, and can fully access the Google Play Store.
With Wi-Fi hotspot and Bluetooth connectivity, you can guarantee proper connection like with any other top-notch smartphone today. Despite the notable features, the Aspera Gem 4G is light, weighing less than a caseless iPhone XR.
Up next on this Aspera Gem 4G review are the smartphone's key features.
Key Features of the Aspera Gem 4G
4G Dual SIM (Micro + Nano)
The Aspera Gem 4G allows you to get the two service providers' best pricing plans based on your usage. With that, you can call and text using two different numbers. Also, one of the sim cards can use mobile data at any time.
This feature is also perfect for overseas travels since you can simply install a local sim card for voice and data pricing. When you have calls and messages from home, you can still receive these in your regular sim card.
2GB RAM and 16GB ROM Onboard Storage
The Aspera Gem 4G has 2GB RAM, allowing the smartphone to run the full version of Android9. This operating system features full versions of pre-installed Android apps such as Youtube and Google Maps.
For the internal storage, it's 16GB ROM. However, 11.59GB is the available storage for you to store your files.
Storage is expandable up to 64GB with an SD card. The Aspera Gem 4G's SD card slot is separate from the two sim card slots. With that, you can use two sim cards while expanding your storage.
Good Quality Cameras
The Aspera Gem 4G comes with an 8MP rear camera with 4x zoom functions. For the front camera, it has 5MP, allowing for good quality selfies.
Excellent Security
With the Aspera Gem 4G, you can enjoy top-notch security; plus, it has face recognition and fingerprint sensors as well. Although this smartphone is a budget-friendly model, it won't compromise safety.
Impressive Durability
The Aspera Gem 4G is highly durable, like all products made by the brand. It comes with a minimum IP-67 rating, making it resistant against dust particles and non-corrosive liquids.
Aspera's User-Friendly Interface
The Aspera Gem 4G has its exclusive internal system that is straightforward and easy to navigate. This interface reduces the time for you to figure out how to use the smartphone.
Specifications
This time on our Aspera Gem 4G review, we'll focus on the Gem 4G's specifications. The smartphone runs on a 1.5Ghz quad-core processor and uses the Android9 Pie out of the box.
It comes with a dual 4G sim feature, plus a fingerprint sensor and face recognition features. Note that its SD card slot's storage capacity is expandable up to 64GB, but is not in the package.
The Gem 4G also sports 3G 850|900|2100Mhz, and 4G bands 1|3|5|7|28 a + b. It sports Bluetooth 5.0, comes with a 2GB RAM and 16GB ROM, and 8MP RF+5MP FF camera.
This smartphone from Aspera has an IPS HD+ display measuring 5.5″, and a display ratio of 18:9 1440×720. Overall, the phone measures 150mm x 72.5mm x 9.3mm.
Hands-on with the Aspera Gem 4G
This portion of our Aspera Gem 4G review will focus on this smartphone's performance. Let's start with its screen's resolution and responsiveness.
The screen resolution of the Aspera Gem 4G was crisp and clear, making the text easier to read. For its responsiveness, it was quite slow, so we had to wait a bit to input the letters after typing. Despite that, it was able to register each press we made, which is adequate.
When it comes to the fingerprint sensor, this was not ultra-fast, but it worked well and was responsive. This feature is one of the things we liked since it allowed us to unlock the phone easily.
We took various photos with the Aspera Gem 4G's cameras to see if it captures good quality images. With only 8MP for the rear camera and 5MP for the front one, the photos we took were of average quality. The pictures were darker compared to those captured with high-end phones, so we suggest taking pictures under good lighting. However, both cameras were decent, knowing that this is a budget smartphone.
The sound quality of the Aspera Gem 4G wasn't something impressive, but it was acceptable for the smartphone's price. Its mono speaker was loud, but we didn't get precise detail while listening to music.
For the microphone, the recording wasn't high-quality but was clear enough to understand what we were saying.
After a few hours of using the Aspera Gem 4G, we can say that it's excellent for basic uses. It's quite slow and not suitable if you multitask, play a lot of mobile games, or work on your smartphone. However, it has a straightforward interface, as the company claimed, making it easier to use and understand.
Overall, the Aspera Gem 4G's performance is best for beginners or older people who need a phone, mostly for communication. It's not for professional use but is suitable if you don't need the fancy features of high-end smartphones.
Aspera Gem 4G Review Summary
Aspera Mobile is an Australian company that finds ways to enhance the everyday lives of people. The people behind the brand find solutions for what people require in smartphones and mobile phones. Because of that, they do more than just focusing on the newest innovations in mobile technology.
For the Aspera Gem 4G, it delivered what you'd expect from a budget smartphone. Its photo & audio quality, battery life, and responsiveness were not the best but were good for its price. If you don't multitask on your phone or play high-graphic mobile games, the Aspera Gem 4G is a good option. It can perform simple tasks like making calls, sending messages, or watching some videos on Youtube.
Additionally, it has a built-in memory where you can store various files. If that's not enough, you can expand your storage with an SD card. With the smart 2GB RAM, it's a lot slower compared to the top-selling phones today. However, it's better and more responsive than other $99 smartphones that are slower and incompatible with Android9.
To conclude our Aspera Gem 4G review, this smartphone gives the best value for money, and we highly recommend it. If you want to get the Aspera Gem 4, you can purchase this from the company's official website.