A continuous influx of motherboards are appearing, and choosing a good one can get a bit confusing at some point. Today, we're looking into one of ASRock's boards here in our ASRock B550 Taichi Razer Edition motherboard review. 
The B550 Taichi Razer Edition is one of the coolest flagship boards from the company. It stands out for its excellent OC performance, as well as its premium features and specifications. 
The B550 Taichi Razer is the very first board that's natively built-in with the Razer Chroma RGB lighting. Plus, it's the primary control centre for everything Chroma RGB-related. Thus, it allows universal compatibility with tons of ARGB elements into the ecosystem. 
ASRock B550 Taichi Razer Edition Motherboard Packaging
We're starting our ASRock B550 Taichi Razer Edition motherboard review by looking into its packaging and contents.
The B550 Taichi came in a standard-looking motherboard package. However, it does feature elements that let you know it's a Razer product. It features logos along the base combined with their signature mamba-green colour on the sides. 
At the centre, you'll find an image of the motherboard and Razer Chroma's branding around it. 
Flipping the box, the rear displays another image of the B550 Taichi Razer Edition motherboard. This area isn't that descriptive or detailed, but it does provide you with the board's features. These include Killer Networking, the Razer Chroma, and huge aluminium heatsinks, to name a few.
Along with the board, you'll find other accessories included in the package, such as the four SATA cables. There's also a Wi-Fi antenna, an ASRock screwdriver, two M.2 socket screws, and two M.2 socket standoffs. 
Next, our ASRock B550 Taichi Razer Edition motherboard review will discuss the board's functions and design. 
ASRock B550 Taichi Razer Edition Motherboard Review – Design and Functionality
Starting with its design, you'll easily see the differences between the older Taichi and the latest Razer. Although both utilise black connectors/slots and PCBs, the Razer edition forgoes all the Taichi elements. These include the copper highlights and gears.
Instead, all of the shrouds feature a nice black shade.
Along the VRM area of the earlier board, it used to feature Taichi, yet it now has Razer Edition displayed. In addition, the chipset heatsink features Chroma RGB branding that is lit up by RGB lights.
At the top-half section of the motherboard, you'll find a shroud with LED lights shining on the huge VRM heatsinks. And above it, you'll see two 8-pin EPS connectors to send power to the CPU. 
As you continue observing, notice that the heatsinks are similar in shape to the original Taichi. The only difference is that they're now coloured black.
Shifting to the socket's right area, you'll see two of the seven fan headers just above the RAM slots. Aside from these, you'll also see the CPU fan, as well as the CPU2 or water pump fan. 
A lot of fan headers can support auto-detect as long as there's a 4 or 3-pin attached to it. These will transfer control to the DC or PWM accordingly. 
To the right, you'll see the first ARGB and RGB headers. The other two can be found along the bottom strip. 
There are four unreinforced DRAM slots, and these support up to 128GB. Plus, it has speeds that go up to DDR-4 4733 + (OC). You'll be able to run the board at DDR-4 3,600 at 1:1, with all of its slots being used. 
The slots utilise a locking system on one side, making it more convenient to get the sticks out. That's because these are close to the area where the GPU should be. 
Looking to the right section of the DRAM slots, a vertically-set 24-pin ATX power connector is present below. With it, there's a front panel USB 3.2 Gen2 Type-C header, plus a front-panel USB 3.2 Gen1 header. 
Then, you'll see another chassis fan header on the left section of the DRAM slot. Here, there are five out of seven fan headers on the top half of the board. 
Power Delivery of the ASRock B550 Taichi Razer Edition Motherboard
This time, let's focus on the motherboard's power delivery. Technically, it has the same 16-phase configuration that's present on the original Taichi version. And now, it's present on the Razer edition. 
The controlling power for this product is the Renesas RAA 229-004 controller (X+Y = 7+1). It's achieved using the Intersil ISL-6617-A phase doublers. From there, power goes to the Vishay 50A Sic-654 DrMOS MOSFETs. 
This setup can easily handle heavy-duty processors at stock speed while simultaneously getting overclocked. Its huge VRM heatsinks can adequately keep the temperatures controlled, thus, yielding positive results with the latest CPU. 
Audio
The bottom-half portion of the board are the audio bits on the left portion. In the middle, you'll see the PCIe and M.2 storage, a chipset on the right, and lots of headers along the base. 
On the audio front, this motherboard utilises the premium Realtek ALC-1220 7.1 channel codec. Its audio section is remote on the PCB, while its L/R channels are divided by the PCB layer. This is done to enhance audio quality. 
Additionally, the B550 Taichi Razer utilises Texas Instruments NE-5532 OP Amp that supports up to 600 Ohms. It is used mainly for the front panel connector. 
Generally, a lot of users will consider this solution more than adequate for their needs. 
PCIe Slots and M.2 Sockets
The centre of the board features five PCIe slots. The three main slots are reinforced with the company's 4th Generation Steel slot. They included this to prevent heavy cards from shaving off the connector. 
Utilising a Vermeer-based CPU, its slots include the x8 | x8 | x4 or x16 | x0 | x4. The setup supports AMD Quad CrossfireX and the 3/2-way CrossfireX. 
Pressed between the full-length slots are the two x1 slots that have bandwidths coming from the chipset. It's best to remember that you can likely lose access to the top x1 slot. This can happen when you utilise your dual-slot cooled video card. 
Also, you'll find two M.2 sockets in this spot. The top M2_1 socket (Hyper M.2) backs the PCIe 4.0 x4 drives ranging up to 80mm long. For the M2_2 bottom sockets, they support up to 110mm PCIe 3 x4 and SATA modules.
Both these M.2 sockets are placed beneath a heatsink. Do note that if you're removing the heatsink, you'll need to use the Torx screwdriver that's included in the package. 
This is alright since ASRock provided a tool for the process. However, things would've been much better if they utilised the more standard Phillips head screw.
SATA Ports
For the SATA ports, you'll find a passively-cooled chipset and a Razer Chroma branding on its heatsink. It goes along with the eight SATA ports, which can be found to its right. 
Four of these ports are managed natively, and they support RAID 0, 1, and 10 modes. The other four ports come from the ASMedia ASM-1061 chip. 
There are tons of storage options you can go for. And because of the board's configuration, you won't lose SATA ports if both/either M.2 sockets are used.
Rear I/O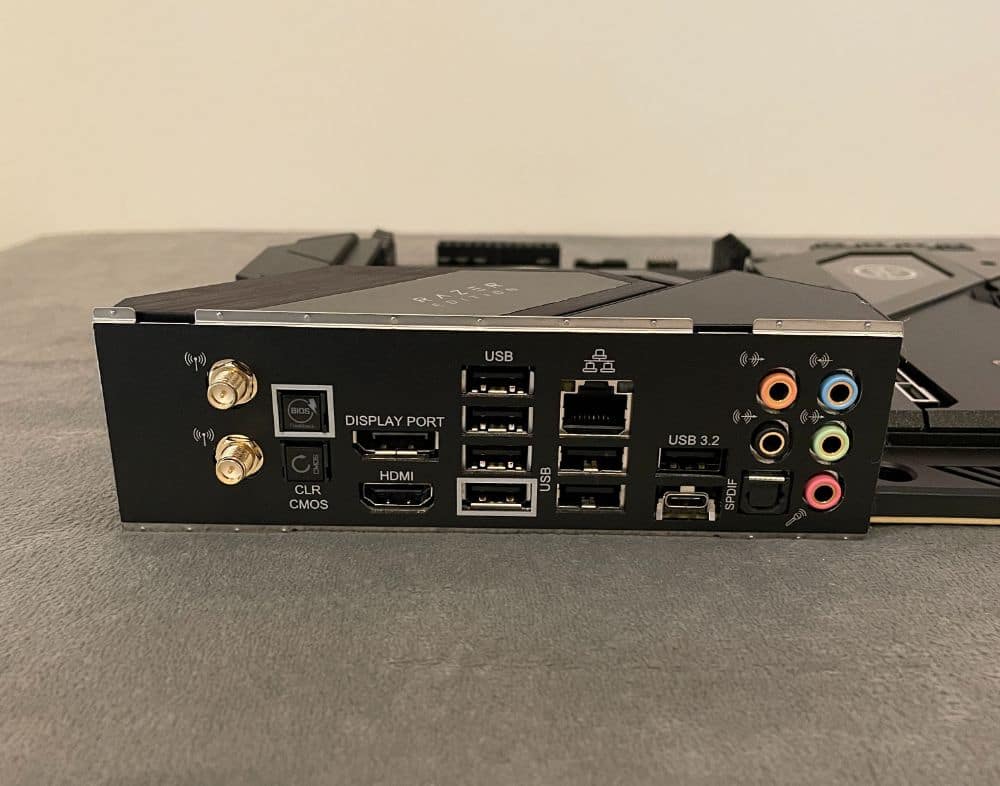 The built-in rear I/O plate on the Taichi Razer's rear sports an entirely black theme outside its audio stack. Here, you'll see eight USB ports which include the USB 3.2 Gen2 Type-C port. 
For most users, there are a ton of USB ports they can use. However, we think ASRock should've added some labelling to these due to the lack of colour-coding. Technically, discerning between the USB 3.2 Gen1 and the USB 2.0 ports can get quite confusing.
The stack of all four USB ports is the 3.2 Gen1. For the dual-stack underneath the Killer E-3100 2.5G LAN port, it is the USB 2.0.
Video-wise, you can see the V2.1 (HDMI) and DisplayPort ports that function when utilising an APU. The thing is, we can't imagine people spending a hefty amount on a board and eschewing a dedicated graphics card.
To its left, you'll find the BIOS Flashback and Clear CMOS buttons. Outside are the regular five-plug audio stacks sporting SPDIFs. There are also connectors for the Killer AX-1650-X Wi-Fi antennas.
Buttons and Headers
Across the base, you'll find a ton of headers and buttons. These include the front panel audio, the 3-pin aRGB & 4-pin RGB headers, plus two 4-pin chassis/WP headers.
There are power LED & speaker headers, two USB 2.0 headers, Dr.Debug LED, Clear CMOS jumper and button. Lastly, it also includes the front panel header and the reset/power buttons.
Next on our ASRock B550 Taichi Razer Edition motherboard review are the key features of this motherboard.
Key Features of the ASRock B550 Taichi Razer Edition Motherboard
ASRock x Razer
Taichi, ASRock's flagship motherboard series, stands out for its impressive overclocking performance and premium specifications. In addition, the B550 Taichi Razer Edition is the world's first motherboard integrated with the Razer Chroma RGB lighting.
Chroma RGB gives you full control over colour customisations, so you can personalise your build based on your preferences.
Endless Possibilities with Razer Chroma's Lighting
The ASRock B550 Taichi Razer's RGB lighting system offers 16.8 million colours and a unique suite of lighting effects. With this level of RGB customisation, you can design your dream gaming setup with this board.
If you want to synchronise your motherboard's RGB and other Chroma-compatible devices with Chroma-integrated games, you can use Chroma Connect. This convenient dashboard syncs all of these devices for a truly immersive experience.
Nahimic Audio
Nahimic Audio is another unique feature of the ASRock B550 Taichi Razer Edition motherboard. It makes your listening experience more enjoyable and immersive by enhancing its detail. So whether you use a headset, headphones, or speakers, your audio will be better than ever.
While Nahimic Audio gives you an immersive surround sound experience, it has a volume stabiliser with it. This feature maintains a constant volume for sound elements to protect your eardrums.
Ultimate Power 
The B550 Taichi Razer Edition features a 16 power phase design for smooth power delivery. This board also has the Nichikon 12K black capacitors that last for at least 12,000 hours. What's great about these capacitors is that they are more stable and reliable.
The PCB layers of this board use carefully selected copper materials. The 2oz copper PCB brings lower temperature and better energy efficiency, making it excellent for overclocking.
Killer Networking
Killer Ethernet E3100 and Killer Wi-Fi 6 AX650 are designed for competitive gaming and other performance-heavy uses. These features prioritise real-time packets to offer uninterrupted online entertainment.
With Killer DoubleShot Pro, you can have massive throughput and unmatched online performance. It also allows your computer to utilise Wi-Fi and Ethernet simultaneously.
The next section we're discussing in our ASRock B550 Taichi Razer Edition motherboard review is the board's specifications. 
Specifications
The B550 Taichi Razer supports Ryzen 4000 G-series, 3000, and 5000 processors. It also uses the AMD B550 chipset. For its power design, the board has a 16-phase 50A Dr.MOS CPU and a 2-phase memory. 
It provides memory support for 4x slot 288-pin DDR-4, 2133 – 7,733MHz. For its storage, it features eight SATA 6Gb/s ports, plus one Hyper M.2 and one Ultra M.2 socket. 
Under networking, the B550 Taichi Razer uses the Killer E-3100X 2.5GBe and Killer AX-1650x Wi-Fi 6. Its rear I/O features one HDMI, one DP, two USB 2.0, and four USB 3.2 Gen1 ports. There are also two USB 3.2 Gen2 and six 3.5mm audio/optical slots.
This motherboard has the Realtek ALC-1220 / NE-5532 Amp for its audio, while it sports an ATX form factor. For the fan and RGB, the B550 Taichi Razer has seven fans, two ARGBs, and two RGBs.
And for convenience, the company included a 3-year warranty with the motherboard. 
Now, let's discuss the motherboard's performance as we continue with the ASRock B550 Taichi Razer Edition motherboard review.
Hands-on with the ASRock B550 Taichi Razer Edition Motherboard
ASRock B550 Taichi Razer Edition Motherboard's UEFI
The UEFI for the B550 Taichi Razer provides a matching aesthetic to the motherboard's packaging. In addition, its EZ Mode offers a quick analysis of the installed memory and CPU. 
There's an OC Tweaker that gives you basic options for the CPU, PCIe, memory, and a lot more. It also comes with the Advanced Menu that has most of your standard menu options. These include the onboard device setup and the like.
When it comes to the Tools Menu, it features support for the Razer Chroma setup. Here, you won't have to bother with any software. 
What's good is that you can utilise Easy RAID, NVMe Sanitize, and SSD Secure Erase to organise your storage easily. In addition, an immediate flash is present to update your BIOS. 
Razer Synapse 3 Software
The Razer Synapse 3 is a unified interface where you control the B550 Taichi Razer Edition and other Razer devices. Since it has a clean interface, it's easy to use, and all of its options are readily accessible.
Through the software, you can customise the B550 Taichi Razer Edition's RGB lighting. It also provides a selection of effects to make your gaming experience more immersive.
We liked the redesigned interface since it was easier to navigate through the options, unlike the previous version. When we customised our motherboard, we immediately found the settings we needed since everything was clear, organised, and user-friendly.
Our ASRock B550 Taichi Razer Edition motherboard review will now focus on the motherboard's performance during our tests.

The B550 Taichi Razer Edition was able to handle our processor without any problems and issues. Vdroop wasn't exactly significant when the LLC was set on auto for the motherboard. For ambient overclocking, the motherboard performed excellently too. 
Basically, the B550 Taichi Razer Edition can readily overclock as far as what your cooling allows. It's able to run on fast memory, plus it has WiFI 6 and the Killer 2.5G LAN matched with good audio. 
For its appearance, it looks great, and we know it'll strongly appeal to all the RGB lovers around. It gave impressive results, and it can easily blend with other X570 boards that we've tried previously. 
ASRock B550 Taichi Razer Edition Motherboard Review Summary
Now, we're sharing our thoughts on this product as we end this ASRock B550 Taichi Razer Edition motherboard review.
The B550 Taichi Razer Edition is a great motherboard that stands out because of its excellent features and aesthetics. But, of course, it doesn't miss out on performance. That's why it's one of the best motherboards today.
This board offers stunning RGB lighting effects that are fully customisable through a user-friendly software. Like the X570 version, it has a lot of great features for audio, storage, power delivery, network and more. With all of these, you can get the best performance for your system.
When using the B550 chipset, you won't need an active cooling fan, unlike the X570. That means you get reduced heat and quiet performance together with a good backplate that provides stability. Not only that, but it helps with cooling as well.
Overall, the ASRock B550 Taichi Razer Edition is a great update of the B550 Taichi that's worth purchasing. This board is an excellent option if you're an enthusiast gamer looking for a high-performance motherboard with customisable RGB lighting. To purchase this product, check out the store locator for official retailers in your region.