The X570 platform has been around for years, and it's supported generations of popular CPUs to date. Today in our ASRock X570S PG Riptide motherboard review, we're focusing on one of the board's under this category. 
This is the X570S PG Riptide, and it's claimed as one of the most capable board's today. Not only does it have this feature, but it rocks a new design, features, and optimised power delivery.
We're going to look deeper into its specifications, performance, and features. But before that, ASRock X570S PG Riptide motherboard review will first check out what's inside the box.
ASRock X570S PG Riptide Motherboard Packaging
The X570S PG Riptide that we got came in a typical-looking rectangular package that sports a gaming aesthetic to it. The colour theme ASRock used for it is a black and blue combination which is pretty attractive in our opinion. 
You'll find a huge PG Riptide logo on the left, while the base notes a couple of its key features. These include PolyChrome Sync, Ryzen 5000 Desktop-Ready, and HDMI support. 
Flipping the box, you'll see all the marketing details related to the X570S PG Riptide. Along with these, the product specifications are present too. More features of the motherboard are displayed like the Lightning Gaming Ports, Graphics Cardholder, etc.
What's Inside? 
Once we opened the package, we saw two other boxes inside. One is for the motherboard itself, and the other is for additional accessories that are included.  
For a more detailed ASRock X570S PG Riptide motherboard review, we're sharing what items you'll find inside the package.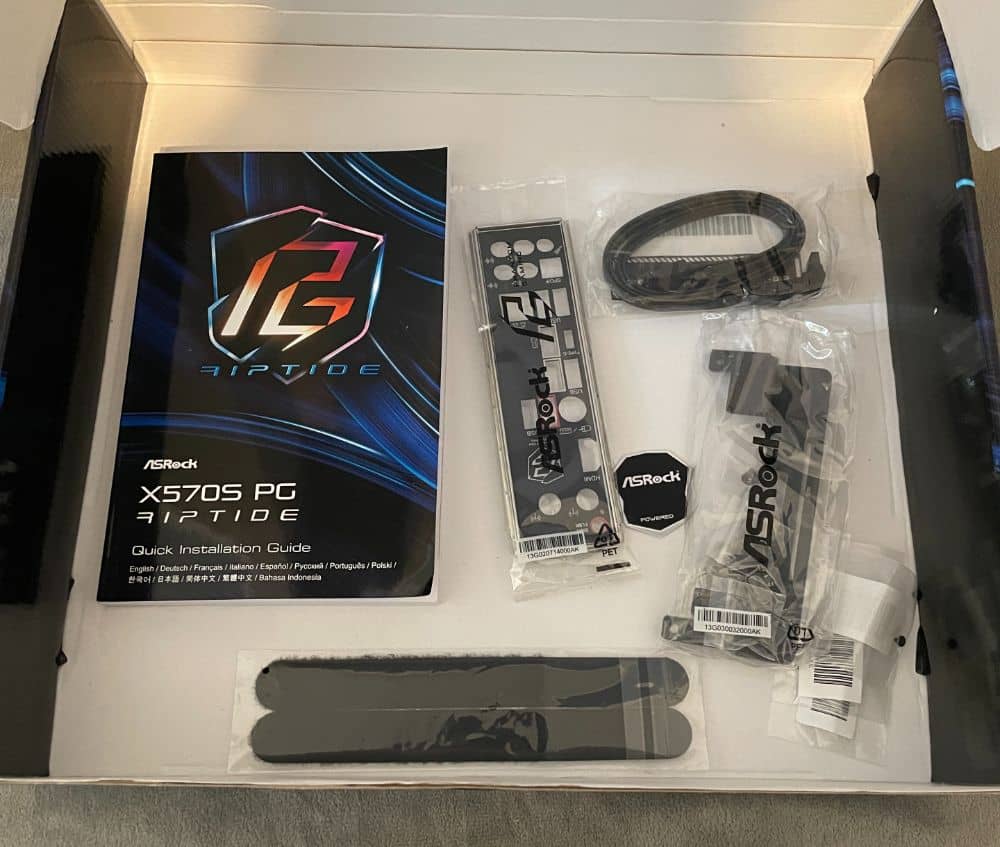 Other than the X570S PG Riptide, items you'll find in the package include a quick installation guide and support CD. There's also an I/O shield, two SATA cables, and a graphics card holder. For the M.2 sockets, there are three screws and a standoff for these. 
We greatly appreciate ASRock for keeping the X570S PG Riptide secure and protected. While it's already kept in its own little box, ttwo foam containers are set to keep the board in place.
Before heading to the next part of our ASRock X570S PG Riptide motherboard review, we noticed something about the board. 
ASRock X570S PG Riptide Motherboard Review – Design and Functionality
Looking at the board, we can say that it sports a sleek grey and black theme. And with its ATX form factor, using it on different PC varieties won't be an issue. Its PG (Phantom Gaming) theme is obvious from the labels and logos present on a number of heatsinks.
The motherboard sports a more improved overall design and style design. It allows speedier connection, storage options, and memory support unlike boards under the X470 category. 
Its matte black PCB is made from high-density glass material and utilises a 2oz copper design. For its RGB, these was quite minimal with only a small PG logo at the top of the chipset heatsink. Though if you're into some bling, don't worry since there are aRGB headers for you. 
Expansion Slots
Like every other motherboard under the X570 category, the X570S PG Riptide has a PCIe 4.0 x4 link. It's between the chipset and CPU. It basically compares to a PCIe 3.0 link for the B550. 
This means, optimised performance will be experienced when you utilise the two PCIe 4.0 drives. If not these, you'll get better performance with the help of numerous PCIe expansion cards. This alone may be the clincher factor that will bring you to consider the X570 chipset over the B550 motherboards. 
Technically, the X570S PG Riptide may not really be something you'd consider as a feature-packed motherboard. However, it still features most of the vital features needed to run top-notch gaming computers. 
Only one of its two M.2 slots is concealed by a heatsink. Yet it isn't an issue since nowadays, a growing number of high-performing SSDs are shipped with optional heatsinks. 
AM4 Sockets and DDR4 DIMM Slots
Similar to the AMD 300 and 400 series boards, the 500 boards still have the same AM4 sockets. Nothing changed with its pin layout or design, meaning, every current AM4 CPU and APU will be functional with the brand new motherboards. 
The X570S PG Riptide utilises an AM4 socket to support AMD APUs and CPUs. It's compatible with both the APUs and processors from AMD Ryzen. So, there are zero chances of error when installing a CPU since it's a keyed socket.
Not only that, but the socket features a 1331 pin layout. Plus, it doesn't support other chips other than those mentioned by AIB and AMD partners.
Just next to the socket, you'll see four DDR4 DIMM slots that support up to 128GB, dual-channel memory. The slots are rated to aid DDR4 DIMMs with frequencies up to 5000MHz (OC+).
Power Design
This motherboard sports a 10-phase Digital PWM that powers its socket. For the PCB, it's designed with a lengthy lifespan and sturdy solid-state capacitors. The latter has an endurance rate of more than 12,000 hours.
Then, each phase is provided with 50A non-stop currents via the Power Chokes and Dr.MOS power stage solution.  
Its VRMs are concealed via a single aluminium heatsink and are part of the XXL Aluminium Alloy heatsink's design. In addition, it features a grey shade and sports several cuts which adds to its aesthetics.  
The CPU is given power with the help of an 8+4 power connector. It helps feed the CPU with up to 225W of power. 
Most of the AMD processors are shipped with TDPs that go as high as 105W. However, this changes when the user overclocks since it alters power limits according to the applied voltages and clock speeds. 
Rear I/O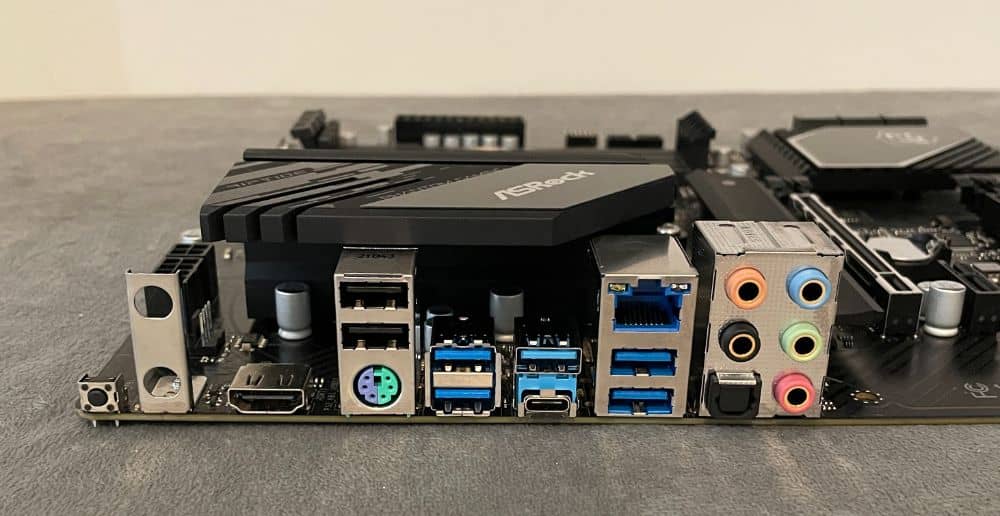 The rear I/O is quite reasonable, especially when we're talking about the board's price range. You'll find an empty bracket specifically for WiFi antennas here. Additionally, it has a PS/2 combo port, CMOS clear button, and the welcome HDMI 2.1 port. 
The latter is utilised together with one of the upcoming AMD 5000 series APUs. 
There's also a regular collection of audio ports like the SPDIF. However, it's driven by the older ALC-897 codec. 
It would've been better if ASRock utilised something new since the codec is outdated. Plus, it is mostly seen on budget motherboards. As for network duties, these are handled by the Killer E-3100 2.5G controller.
This time, our ASRock X570S PG Riptide motherboard review will focus and discuss the different key features of the motherboard.
Key Features of the ASRock X570S PG Riptide Motherboard
Dr.MOS
Dr.MOS is the power stage solution integrated on the X570S Riptide motherboard for synchronised buck-set down voltage apps. Unlike traditional discrete MOSFETs, it delivers higher current for each phase to improve thermal results and overall performance.
60A Premium Power Choke
The 60A premium power chokes effectively improve the saturation current by three times compared to traditional chokes. With that, the V-Core voltage delivered to the motherboard is enhanced.
Killer Ethernet E-3100
The Killer E-3100 2.5 Gbps Ethernet controller is specially optimised for competitive gamers and performance-hungry users. It features an enhanced detection and prioritisation engine that provides the best networking experience for gaming and multimedia apps.
Intel Killer Prioritisation Engine
This prioritisation engine efficiently detects and prioritises over a thousand games, apps, and websites to deliver the optimal online experience. You can ensure that you get the lowest in-game latencies since it sets your gaming traffic as the top priority.
AMD Smart Access Memory
AMD SMart Access Memory expands the data channel to unleash the GPU memory's highest potential. Unlike conventional processors accessing a portion of the graphics memory and restricting performance, this feature improves the system's performance.
Dual Hyper M.2 For SSD
The X570S PG Riptide motherboard supports the next-generation PCIe 4.0 M.2 SSDs. With that, it can perform two times faster than the third generation, offering lightning-fast data transferring experience.
Lightning Gaming Ports
Lightning Gaming Ports are made for hardcore gamers and enthusiasts. These ports sourced from different controller interfaces help gamers connect the high speed mice keyboard with low latency and jitter.
ASRock Graphics Card Holder
ASRock's graphics card holder keeps your graphics card securely installed. You can flexibly and easily slide the holder up or down to perfectly adjust its height for your graphics card.
Control Your Lighting with Polychrome RGB
ASRock motherboards not only deliver superior performance, but also stunning aesthetics that you can customise. Polychrome RGB offers a comprehensive control for your system's RGB lighting. If you have devices that are Polychrome RGB Sync-certified, you can also have synchronised lighting across them.
Post Status Checker
The Post Status Checker is a quick and easy way to determine the root of a problem. It's a simple troubleshooting tool that shows the operation of the CPU, DRAM, VGA, and BOOT.
HDMI 4K @60Hz
While creating our ASRock X570S PG Riptide motherboard review, we, of course, learned a lot about this board. And, we're actually glad that it supports the latest graphics output specifications, the HDMI 4K @60Hz . 
With boosted frame rates and a bigger bandwidth, the motion on-screen becomes less blurred and more fluid.
PCIe Steel Slot Design
The X570S PG Riptide motherboard uses the newest PCIe steel slot design that features more solder points on the PCB. It allows for better performance while preventing signal interference with the graphics card.
With the steel slot, your graphics card can be fed with better signal quality. Plus, it allows for safe and secure installation in the PCIe slots.
Full Spike Protection
Full Spike protection keeps your motherboard's components safe from unexpected voltage spikes. It prevents these parts from malfunctioning or being damaged.
Specifications
Continuing our ASRock X570S PG Riptide motherboard review, we'll now get into the board's different specifications. 
CPU, Chipset, Graphics, and Memory
The X570S PG Riptide supports the AMD AM4 Ryzen socket under the 2000, 3000, and 4000 G-series. It can also work with the desktop processors from the 5000 series. 
This board sports a DigiPower and a 10-phase power design while using an AMD X570 chipset, hence, its name. 
For its memory, it has a dual-channel DDR4 memory technology with four DDR4 DIMM slots. Then, it has a built-in AMD Radeon Vega graphics under the Ryzen Series APU. 
This X570S PG Riptide motherboard supports HDMI 2.1 with a maximum resolution of up to 4K x 2K @60Hz. It even works with Auto Lip Sync, xvYCC, and Deep Colour (12bpc). Also, it supports HBR or High Bit Rate audio with an HDMI 2.1 port.
For the latter, do note that it needs a compliant HDMI monitor to work adequately. 
Other elements it supports are HDR with HDMI 2.1 and HDCP 2.3 with HDMI 2.1 ports. It also aids 4K Ultra HD playback with HDMI 2.1 ports and Microsoft PlayReady. 
Audio, LAN, and RAID
This motherboard uses a 7.1 CH HD Audio Realtek ALC-897 audio codec and a 2.5 Gigabit LAN 10|100|1000|2500 Mb/s. 
Its RAID supports RAID 0, 1, and 19 for SATA storage gadgets. Then it also aids RAID 0 and RAID 1 for the M.2 NVMe storage gadgets.
Additional Specifications
For its form factor, the X570S PG Riptide sports a 12″ x 9.6″ 2oz copper ATX form factor. To create it, ASRock only utilised the best copper materials for the PCB layers. The 2oz copper PCB provides decreased temperatures and increased energy efficiency that's needed for overclocking. 
Lastly, it runs efficiently on Microsoft Windows 10 64-bit. 
Test System Specifications
For our review we are using the following test system setup:
Corsair Dominator 32GB DDR4 3200MHz RAM
Gigabyte RTX 3080 Vision GPU
Gigabyte 2TB NVMe Gen 4 PCIe SSD
AMD Ryzen 5800X CPU
Hands-on with the ASRock X570S PG Riptide Motherboard
Now, we're continuing our ASRock X570S PG Riptide motherboard review to learn how well the board performed in our tests.
ASRock Motherboard Utility (Phantom Gaming Tuning)
You'll need the Phantom Gaming Tuning software to overclock the X570S PG Riptide within Windows. It provides customisations on its settings like CPU voltage, CPU frequency, as well as DRAM voltage on each channel. 
It has a variety of built-in applications and support software while offering the latest BIOS updates and system upgrades software. 
Software Design
We like the software's design that consists of a simple black and red PG-themed GUI. It also features white text for increased aesthetics. It's presented in a neat and organised manner that exhibits the simplicity of ASRock's models. 
Its initial splash screen displays a very standard overview of the processor that's installed, its speed, and the firmware version.
Just below it is a simple list of the RAM that's installed in each slot. There's nothing much on the type, and it focuses instead on showing its capacity and speed. 
There's also the OC Tweaker which is where you can overclock the memory and CPU. 
Advanced Section
This section lets you access the motherboard's controller set which includes the disabling/enabling of network ports and onboard audio. You can enable the IOMMU for virtual machines or customise and view any storage-related gadgets like SATA hot plug settings.
All AMD CBS-related options can be found here, and it includes the CPU power state settings and advanced memory options. Not only that, but it allows you to change the throttling settings too.
In the firmware, you'll find a tool used for customising colours and effects of the built-in and extended RGB LEDs. You won't find a colour wheel here so you need the RGB colour code to set shades matching your specifications. 
It's very basic, so if you're searching for extensive options, you can use the Polychrome RGB software instead. 
Performance
Our experience with ASRock boards are usually very good, and all these provided adequate memory bandwidth. Of course, the X570S PG Riptide is no exception. To put it simply, there's no reason to complain about this board, and if you're a gamer, you'll be pleased. 
Overall, it performed excellently and we didn't experience any issues or problems with it. It didn't heat up even if we had it go through some heavy loads which was great. 
For its software, it's easy to use and navigate. Plus, its user interface was neat and organised. 
ASRock X570S PG Riptide Motherboard Review Summary
The X570S PG Riptide motherboard is a great budget motherboard featuring a PCIe 4.0 system. While it doesn't have the features of high-end boards, it does the job for a fast gaming system.
Although it's free of additional fancy features, this board is well-built, silent, and performs amazingly. Basically, it's aimed at users looking for comprehensive hardware features for a gaming system. It's uncompromised and designed to provide the ultimate gaming experience.
During our tests, we enjoyed its excellent performance and we didn't experience issues with it. Plus, using the software was a breeze since it had a user-friendly interface.
With that, we were satisfied with this 570S PG Riptide motherboard and we're recommending this to all gamers. It's simple yet comprehensive, and it delivers excellent performance for gaming and other heavy tasks.
To purchase this motherboard, find a store that sells this product via the company's store locator.