Today we are writing this ASUS PRIME X670E-PRO WIFI Review, which is all about the PRIME X670E-PRO WIFI. 
ASUS released the motherboard in September last year, thus, engineered like other Prime series boards. With that, the product offers the best performance for your needs.
The PRIME X670E-PRO WIFI boasts a robust and powerful design with intelligent tuning options. It also comes with comprehensive cooling solutions plus performance optimisations for every user and PC DIY-builder. You can manage everything via firmware features and intuitive software. 
Like our other reviews, this ASUS PRIME X670E-PRO WIFI Review will cover the product features, design, functions, specs, and performance. We will also look at the latest BIOS for this X670E motherboard. 
But before getting into the topic, let us first look at what is inside the box. 
ASUS PRIME X670E-PRO WIFI Packaging
The PRIME X670E-PRO WIFI shipped in a sturdy cardboard box sporting a conservative design. ASUS opted for a grey theme to keep things looking premium and classy. 
Its top cover displays an image of the motherboard, while some details are below. The back of the box showcases additional information, such as its specifications and other technical details. 
We did not miss checking the box contents for our ASUS PRIME X670E-PRO WIFI Review. Inside are the motherboard, two 6Gb/s SATA cables, an ASUS WIFI antenna kit, and M.2 screws. You will also see rubber pads for the SSD, a Q-Connector, a DVD driver, a user manual, and a warranty. 
ASUS PRIME X670E-PRO WIFI Review – Design and Functionality
While writing our ASUS PRIME X670E-PRO WIFI Review, we observed the design aspects and functions of the motherboard. It has an ATX form factor and measures 30.5 x 24.4cm. 
Based on the AMD X670E chipset, the motherboard delivers top-notch performance for Ryzen 7000 processors. Plus, it also works effectively for many PCIe 5.0 lanes. 
The PRIME X670E-PRO WIFI integrates an AM5 socket and only supports DDR5 memory. It is like the other boards based on the X670, B650, and B650E chipsets. 
Like other products under the Prime Series, the design of this PRIME X670E-PRO WIFI is simple and conservative. The board sports a grey and white theme that looks elegant, professional, and premium. 
Every element on it is high-quality: from its capacitors and the slots to its heatsinks. Its M.2 drives (SSDs), CPU VRM, and chipset are behind colossal heatsinks that look efficient in thermo-regulation. 
This motherboard can be great for overclocking because of its large heatsinks on the VRM. It is also efficient because the 14+2 power stages can handle 70 amperes each.
Additionally, the delivery of electrical energy required by the CPU goes through two standard 8-pin, 12V EPS power connectors.  
You can find the primary 24-pin ATX power connector along the top-right corner of the board. Close to it are four DIMM slots for DDR5 memory modules with a 128GB maximum capacity. 
The product can work efficiently with DDR5 running at 4800 MT/s and higher. You can get RAM with 6400 MT/s or higher. However, the perfect spot for Ryzen 7000 processors is 6000 MT/s. 
On expansion and storage slots, the PRIME X670E-PRO WIFI is undeniably generous. When using the PCIe lanes of the processor, you will get the following: 
One (x16 mode) PCIe 5.0 slot for the graphics card

An M.2 PCIe 5.0 slot for a fast SSD (x4 mode)

An (x4 modes) M.2 PCIe 4.0 slot for a fast SSD
Then, routed to the AMD X670E PCIe lanes are the following: 
A PCIe 4.0 x4 slot




One PCIe 4.0 x16 slot (x4 mode)




A PCIe 3.0 M.2 slot (x4 and SATA)




A single PCIe 4.0 M.2 slot (x4 mode)




Four SATA 6Gb/s ports
Its connectivity area is also top-notch. The board has a MediaTek RZ608 WIFI 6E chip and a 2.5Gbps Realtek Ethernet chip.  
The MediaTek chip features 2×2 MIMO support for 802.11 a|b|g|n|ac|ax standards. It is on the 5, 2.4, and 6GHz frequency bands. Plus, the chip also supports Bluetooth 5.2.
Audio-wise, it is covered by the Realtek S1220A 7.1 surround-sound high-definition audio codec. It supports up to 32-bit, 192kHz playback.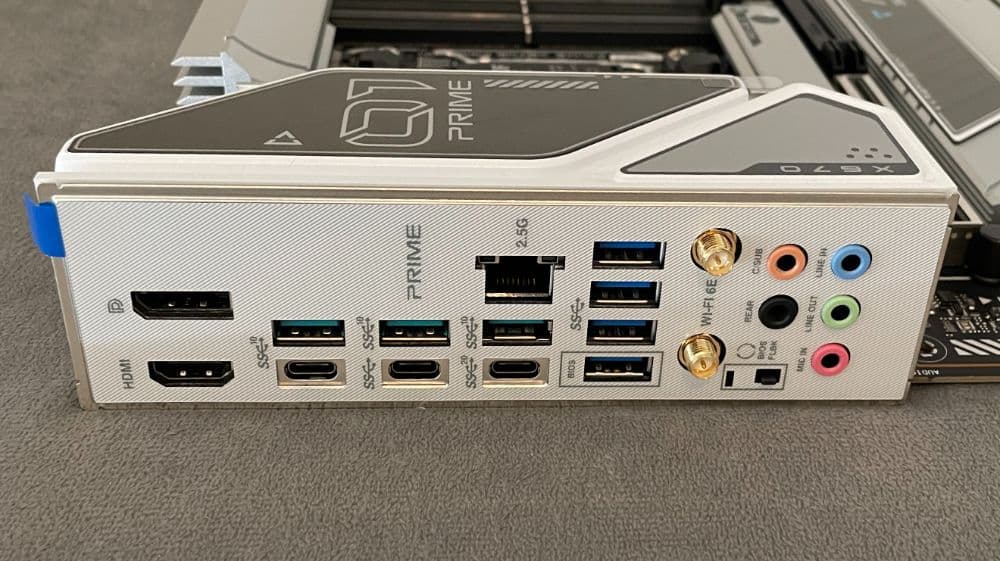 The rear I/O has a USB 3.2 Gen 2×2 type-C port. There are four USB 3.2 Gen2 ports and five USB 3.2 Gen1 ports. 
You will also see an HDMI port, DisplayPort, a WIFI antenna module + two connections, and a 2.5Gbps Ethernet port. Additionally, there are five audio jacks and a BIOS FlashBack button available. 
The internal I/O connectors include case and CPU fan headers, RGB headers, plus AIO and water pump headers. It also sports a USB 3.2 Gen2 connector and a  USB 3.2 Gen1 header. 
The latter supports two extra USB 3.2 Gen1 ports and three USB 2.0 headers. These three headers are for adding six USB 2.0 ports. 
There's a COM port header, a front panel audio header, a power/clear CMOS button, and a Thunderbolt header.
Key Features of the ASUS PRIME X670E-PRO WIFI 
Like every other review we have written, we will discuss the product features in this ASUS PRIME X670E-PRO WIFI Review. What elements make this product worth considering, and are these adequate for your build? Let us find out. 
Great Flexibility  
Built around comprehensive controls, ASUS designed their PRIME series to perform excellently. The PRIME X670E-PRO WIFI motherboard includes versatile tools to fine-tune every aspect of your system. It allows tailored performance tweaks specific to your workflow to maximise productivity.
5-Way Optimisation
The 5-Way Optimisation of ASUS smartens up your PC excellently. 
With complex tuning and enhancing essential aspects of your system, it provides simplified options for PC DIY newcomers. It also offers more comprehensive features for seasoned veterans.
CPU Performance Boost
The TurboV Processing Unit (TPU) is an intelligent utility for system tuning. It optimises performance by automatically fine-tuning voltages, monitoring system stats, and adjusting overclocking parameters.
All-Around Energy Efficiency
The Power Saving function includes several settings that allow you to optimise power consumption and maximise energy savings. You can enable a CPU power limit, dim Aura lighting, and change the fan profile to power-saving mode. 
You can also enable or disable the Microsoft Windows Power Saver plan.
Flexible Air and Liquid-Cooling Controls
The Fan Xpert 4 software gives you complete control of fans, water pumps, and AIO coolers. It has an Auto-Tuning mode that configures all parameters with a single click, whether it is cooling with air/water.
There is also an Extreme Quiet mode, which decreases all fan speeds to less than the default minimum. Doing so helps keep the system whisper-quiet while performing easy tasks. 
The UEFI BIOS can also control and manage fans, water pumps, and AIO coolers.
Precise Digital Power Control
The Digi+ voltage-regulator module or VRM allows real-time control of frequency switching, power-efficiency settings, and loss of output voltage. 
The feature also lets you fine-tune the CPU for maximum stability and performance.
App-Specific Optimisation
Turbo App lets you define CPU overclocking, apply fan profiles, prioritise network data, and optimise audio settings. The app also ensures that your system has a precise configuration.
AI Overclocking
Tuning is more efficient and intelligent with the ASUS AI Overclocking profiles. It helps the CPU and cooling to determine the best configuration to test the system limits.
The Dynamic OC Switcher
Dynamic OC Switcher boosts CPU performance by letting you set temperature thresholds. These automatically shift between manual overlock for heavy multithreaded workloads and AMD Precision Boost Overdrive for single-threaded tasks.

AI Cooling ll
The feature balances the acoustics and thermals of any build with a single click. An exclusive ASUS algorithm removes unnecessary noise while running quick stress tests. Then, it monitors the CPU temperatures to adjust fans at adequate speeds.
Extensive Cooling 
The PRIME X670E-PRO WIFI motherboard has multiple onboard heatsinks and a slew of hybrid fan headers. These elements are essential to keep your system cool and stable during heavy workloads.
Heatsinks and Hybrid Fan Headers
ASUS engineered the PRIME X670E-PRO WIFI with multiple onboard heatsinks and hybrid fan headers to keep your PC cool. By retaining low temperatures, your system can provide stable performance even under intense workloads.
The three M.2 heatsinks cover four M.2 slots and eliminate throttling during sustained transfers. Its VRM heatsinks work with thermal pads to improve heat transmission from MOSFETs and chokes to deliver better cooling.
Multiple Temperature Sources
Fan Xpert 4 enables mapping the temperature of supported ASUS graphics cards to optimise cooling for CPU and GPU-intensive tasks.
Robust Power Design of the ASUS PRIME X670E-PRO WIFI
The PRIME X670E-PRO WIFI has a robust power design to provide stable power and meet the demands of AMD processors. As a result, it can deliver outstanding performance with high-core-count CPUs.
DDR5 Performance Enhancement
The foundation of PRIME motherboards is comprehensive memory tuning. With the PRIME X670E-PRO WIFI, you can extract the full potential of your DDR5 modules.
This motherboard is also ready for enthusiast-grade kits, thanks to its support for AMD EXPO (Extended Profiles for Overclocking. Overclockers can further unleash their maximum potential by tweaking their performance via the UEFI.
14+2 Teamed Power Stages
14+2 power stages combine low and high-side MOSFETs and drivers into packages rated 70A each. As a result, these can deliver efficiency, power, performance, and stability to the latest AMD processors.
ASUS OptiMem II
The revisions to the trace routing allow the latest Intel processors to access memory bandwidth without restrictions. ASUS OptiMem II technology maps memory signal pathways across PCB layers to reduce path distance. It also provides shielding zones to lessen crosstalk.
PCIe 5.0 Slots of the ASUS PRIME X670E-PRO WIFI
With PCIe 5.0, you can enjoy twice the data transfer speed of PCIe 4.0. Aside from handling data-heavy tasks, it provides electrical changes to enhance signal integrity and backward compatibility with previous PCIe slots.
Two-way AI Noise Cancelation
The Two-way AI Noise Cancellation takes advantage of deep learning to reduce background noise from microphones and incoming audio. It simultaneously preserves vocals while reducing the sound of mouse clicks, keyboard clatter, and other ambient noise for superior clarity.
Realtek Codec and DTS:X Ultra
The PRIME X670E-PRO WIFI uses the Realtek S1220A audio codec. It offers pristine audio quality through a 113 dB SNR for stereo line-in and 120 dB SNR for a line-out. This audio codec also has a circuit to detect impedance and adjust the gain for optimal headphone volume.
Aside from the audio codec, this motherboard also uses the DTS:X Ultra, which offers spatial audio to enhance audio. It extends the realistic experiences in gaming and VR by providing deeper sonic immersion and post-processing enhancements. Plus, it performs device-level tuning for DTS codecs.
Aura Sync
ASUS Aura offers complete control of RGB. You can choose from various functional presets for the integrated RGB LEDs, strips, and devices connected to the RGB headers. Aura Sync also allows synchronising your lighting with all Aura-compatible hardware.
Addressable Gen2 RGB Header
The two addressable Gen2 RGB headers can detect the LEDs on second-gen addressable RGB devices. With the software, you can automatically tailor the lighting effects to particular devices with the help of this feature. These new headers are also backwards-compatible with current Aura RGB products.
DIY-friendly Features of the ASUS PRIME X670E-PRO WIFI
The PRIME X670E-PRO WIFI has additional features that make PC building easier. One is the Q-Release button, which you can find next to the PCIe x16 slot. It is for quickly removing the GPU when troubleshooting or upgrading your PC.
Similar to the Q-Release button is the Q-Latch, which allows a tool-free fastening of your storage drives. This motherboard also features the FlexKey pins located next to the JFP1 header. It enables programming the reset button of the PC case to different functions like DirectKey, Aura Lighting, system reset, etc.
Specifications
We looked at the product specifications of the board for this ASUS PRIME X670E-PRO WIFI Review. Doing so gave us plenty of insights about the ATX motherboard. It has the AMD socket AM5 for the Ryzen 7000 Series processors and works with the AMD X670 chipset.
The motherboard has four DIMM memory slots with a dual-channel memory architecture. It has WIFI 6E and Bluetooth 5.2 and supports the Realtek S1220A 7.1 surround-sound high-definition audio codec.
Lastly, the motherboard works efficiently with Windows 11 64-bit and Windows 10 64-bit. 
Hands-on with the ASUS PRIME X670E-PRO WIFI 
We did not skip testing the motherboard to get a hands-on experience. So in our ASUS PRIME X670E-PRO WIFI Review, we will share how it performed during our tests. 
But before getting into detail, we will look into the UEFI BIOS. It provides everything needed for configuring, tuning, and tweaking your system while offering simplified options for everyone. 
EZ Mode BIOS 
EZ Mode BIOS is a setting that lets you make little changes to the system. These include overclocking or boot priorities. 
The mode displays settings and statistics while simultaneously offering guided wizards. It also provides one-click applications of vital settings and drag-and-drop functions. 
These all help you get your system up and running in a snap. 
Advanced Mode
This mode is perfect for those who want to customise the system.
An integrated search function makes it simple to find options. Plus, various advanced functions allow you to adjust dial-in performance exactly how you want.
AI Tweaker Tab
To boost the performance of your CPU, you can tweak the overclocking settings in the AI tweaker tab.
The tab allows you to configure the memory frequency, and this is where you can find the EXPO memory settings. To access your Windows installation, change the Boot priorities to the location of your operating system.
Configuring the fan curve ensures that your gaming system has the best thermals and noise levels. You can fine-tune individual fan settings by dragging a curve with the mouse.

ASUS PRIME X670E-PRO WIFI Review Summary
The PRIME X670E-PRO WIFI is a mid to high-end motherboard with unique features. Since it uses the AMD X670E chipset, it can offer everything you need from a modern mainboard. 
We were impressed with the motherboard performance when we tested it for ASUS PRIME X670E-PRO WIFI Review. It met the demands of heavy tasks like content creation and gaming, and we did not experience issues with it.
Aside from outstanding features and performance, it has excellent construction and design that make PC building convenient.
We highly recommend this product if you want an AM5 motherboard with the X670E chipset and PCIe 5.0. It is ideal for content creators and gamers who need a high-performance motherboard.
To learn more about the PRIME X670E-PRO WIFI, visit the official product page of ASUS for additional details.