Today, Intel and AMD Zen4 CPUs are go-to options if you are planning to get on the DDR5 train. However, upgrading is still pricey, even if DDR5s have become slightly cheaper. Fortunately, there are B650/B650E chipsets, and we will discuss one in our ASUS ROG Strix B650E-F Gaming WiFi Review. 
The Strix B650E-F may be a tier down from the X670E, but you will not go wrong choosing it. The motherboard packs plenty of features like support for PCIe Gen5, WiFi 6E, a 12+12 power phase style, etc.
If you think this motherboard is perfect for your build, continue reading our ASUS ROG Strix B650E-F Gaming WiFi Review. We will discuss all essential details about this product, including our test results. But first, let us unbox the Strix B650E-F. 
ASUS ROG Strix B650E-F Gaming WiFi Packaging
The motherboard ships in a sturdy cardboard box similar to other ASUS ROG products. The front displays an image of the motherboard, its name, the company branding, and several features.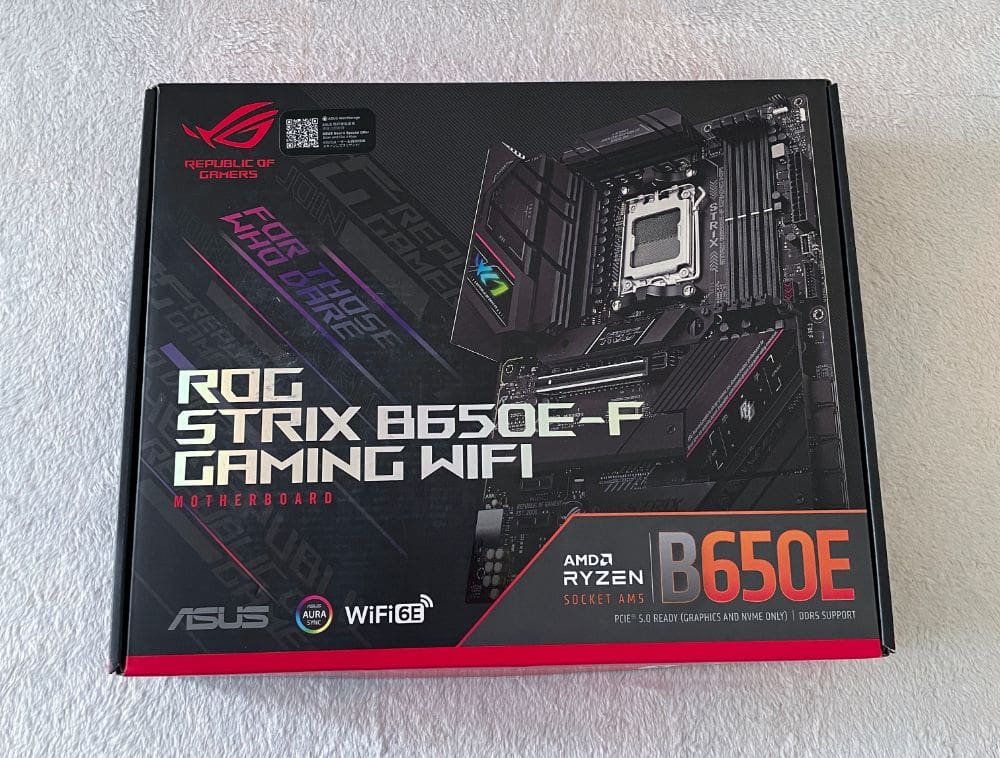 There are more details about the motherboard at the back of the box, which you can refer to when needed. Inside, the Strix B650E-F ships with several items, including the following: 
2x SATA 6Gb/s Cables 

M.2 Q-Latch Package

M.2 Thermal Pad 

Moving ASUS WiFi Antennas 

Pack of Cable Ties 

2x M.2 Rubber Packages 

ROG Key Chain 

ROG Strix Stickers and Thank You Card

User Guide
ASUS ROG Strix B650E-F Gaming WiFi Review – Design and Functionality
Its design brings out the aesthetics of your build since it has most ROG flash elements across its PCB. We noticed this layout while unboxing for this ASUS ROG Strix B650E-F Gaming WiFi Review.
Its design brings out the aesthetics of your build since it has most ROG flash elements across its PCB. We noticed its layout during unboxing for our ASUS ROG Strix B650E-F Gaming WiFi Review. Aside from the PCB, its flash elements are also on its I/O cover and the chipset heatsink for aesthetic purposes. 
It has a layout that is up-to-date with the current trends. You can expect the graphics card to take up about three spots of the PCIe expansion slots. Additionally, it will block the X1, X4, or X8 slots, making them unusable. 
Updated layout designs are on most newer motherboards, featuring more M.2 slots beneath the first X16. The remaining X4 or X1 are available in more accessible areas that you can use whenever necessary. 
Looking at the top of the Strix B650E-F, you will see a heatsink with a 12+2 power design. It also comes with power stages/MOSFETs that are 80A each. 
If you look at the lower part of the motherboard, you will find the following:
Essential Headers

USB 2.0 Headers

Three M.2 Slots

The Rest of the PCIe Slots from its Chipset
Additionally, the motherboard has one of the best features – the Q-release button. 
On its heatsink, the motherboard has a standard one available. However, it works efficiently to decrease the M.2 SSD temperatures. Despite its functions, it can improve heat dissipation.
Key Features of the ASUS ROG Strix B650E-F Gaming WiFi 
Many feature-rich gaming motherboards promise superior performance and capabilities. But what makes the Strix B650E-F worth purchasing? We will discuss its primary features to find out.
PCIe Slot Q-Release
When we built a PC with this motherboard, installing the components was quick and easy, thanks to Q-Release. Detaching the PCIe card requires only a press of a button.
The Q-Release in the Strix B650E-F is a physical button to unlock the security latch of the first PCIe slot. It makes detaching a PCIe card from the motherboard straightforward when upgrading your GPU or other components.
Q-LED 
This motherboard has four onboard LEDs for indicating power status. Plus, it identifies problems with your CPU, graphics card, memory, or boot device for quick diagnosis.
M.2 Q-Latch for Convenient M.2 Installation and Replacement
The Strix B650E-F has an innovative Q-Latch that makes installing or removing an SSD from an M.2 slot easy. It sports a simple locking mechanism that secures the drive without a conventional screw.
BIOS Flashback
BIOS Flashback makes updating the BIOS safer. All you have to do is drop the UEFI BIOS onto a FAT32-formatted USB flash drive. Next, connect it to the USB BIOS Flashback port before pressing the button.
You can also perform updates without a CPU or memory installed by doing these steps.
PBO Enhancement
AMD Precision Boost Overdrive extends the CPU voltage and current budget to boost performance. Tweaking the PBO parameters allows the AMD algorithm to maximise the motherboard's top-notch power solution.
With the PBO enhancement, the Strix B650E-F can significantly boost performance.
PCIe 5.0
With PCIe 5.0 and two PCIe 4.0 M.2 slots, this motherboard supports future GPU performance and storage. These slots have robust heatsinks, while the PCIe 5.0 slot has SafeSlot to enhance durability.
Superior Power Architecture of the ASUS ROG Strix B650E-F Gaming WiFi
Each of the 12+2 power stages is rated to 80A. As a result, these can deliver adequate current to seamlessly drive AMD Ryzen 7000 processors, regardless of the workload.
Alloy Chokes with Durable Capacitors
The Strix B650E-F features high-end chokes and durable capacitors that resist high temperatures. It unleashes performance exceeding industry standards.
Eight-Layer PCB
The circuit board features a multi-layer printed design to improve overall system stability. It instantly dissipates heat around the voltage regulators and provides more overclocking headroom for the CPU.
Next-generation Connectivity
The Strix B650E-F delivers advanced connectivity for high-speed data transfers and low-latency networking. Plus, it has an updated audio solution that allows you to hear the tiniest cues.
WiFi 6E for High-Speed Connection
Onboard WiFi 6E technology uses the latest available spectrum in the 6 GHz band.
2.5G Ethernet
Enjoy low-latency gaming, high-resolution video streaming, and fast file transfers with Intel 2.5 Gbps Ethernet.
SupremeFX
SupremeFX blends hardware and software technologies to deliver high-quality audio. It features the ALC4080 codec for 32-bit/384 kHz across all channels. The frontal panel output streams via the incorporated Savitech amplifier, propelling high-fidelity acoustics for different headphones and speaker systems.
Eye-catching ROG Strix Design
Like all ROG Strix products, the Strix B650E-F has a dark overall aesthetic with brand-centric elements. It features a glowing ROG logo with customisable ROG lighting. The cut-out I/O shield combines form and function since it also allows airflow through the VRM heatsink channels.
Pairing this motherboard with other PC parts from the ROG ecosystem allows you to enjoy a setup reflecting your style.
ASUS Aura Technology
ASUS Aura provides lighting control and presets for onboard RGB LEDs and third-party components or accessories.
Compatible with Many Cooler Models
The Strix B650E-F and AM4 platforms have identical mounting hole alignments. As a result, the motherboard is compatible with many coolers, including ASUS and ROG offerings.
Two-Way AI Noise Cancellation
The Strix B650E-F uses a massive AI database to reduce over five million kinds of noise. It ensures crystal-clear communication in gaming and calls by reducing unwanted sound from incoming and outgoing audio.
AI Networking
GameFirst VI allocates bandwidth based on usage scenarios and learning algorithms to optimise network performance.
Sonic Studio III
Sonic Studio III supports HRTF-based virtual surround to reproduce sound with an immersive aural landscape. As a result, the audio draws you deeper into action. It has intuitive one-click presets and EQ options, allowing you to tweak the acoustic performance based on your preferences.
DTS Sound Unbound
Like other B650E motherboards, ASUS pre-loads the Strix B650E-F with the DTS Sound Unbound app. It offers an unparalleled level of audio immersion for extraordinary experiences in entertainment and gaming.
DTS Sound Unbound delivers audio in a virtual three-dimensional space that places you at the centre of the soundscape. It lets you spot the locations of footsteps, gunshots, and other sounds.
AIDA64 Extreme Subscription for Every Purchase of the ASUS ROG Strix B650E-F Gaming WiFi
When purchasing the Strix B650E-F, you can enjoy a 60-day AIDA64 Extreme subscription. This tool provides detailed hardware/software information and benchmarks for measuring the performance of specific components or the entire system.
AIDA64 Extreme has a monitoring and diagnostics tool for detecting and preventing hardware issues. It tracks all vital system sensors to provide fan speeds, voltage readings, and temperature information.
Armoury Crate – Intuitive Software for Monitoring and Management
Armoury Crate is the centralised software interface for all supported products for convenient tuning. It is intuitive for straightforward customisation. Plus, you can use Aura Sync to synchronise each audio with other components and devices for a unified lighting system.
The software also features Fan Xpert4, a tool with comprehensive control over cooling systems and fans. Aside from that, Armoury Crate is where you can download drivers, user manuals, and software. You can also register your products and connect to the global gaming community of ASUS.
Read our ASUS ROG Strix B650E-F Gaming WiFi Review to learn its specifications. Knowing these details before purchasing the motherboard is crucial to determine if it will be compatible with your PC components.
Specifications
Form Factor:

ATX

Dimensions:

30.5 x 24.4cm

Operating System:

Windows 11 (64-bit)

Chipset:

AMD B650

CPU:

AMD Ryzen 7000 Series

Socket:

AMD AM5

Memory:

4x DIMM slots with a maximum capacity of 128GB and supporting DDR5

Graphics:
– 1x DisplayPort (Supports a maximum of 8K @60Hz)


– 1x HDMI port (Supporting 4K@60Hz)

Expansion Slots:
– 2x PCIe 4.0/3.0 x1 slots
– 1x PCIe 4.0 x16 slot


– 1x PCIe 5.0 x16 slot

Storage Support:

3x M.2 slots and 4x SATA 6Gb/s ports

Ethernet:

Intel 2.5Gb Ethernet, ASUS LANGuard

Wireless & Bluetooth
– WiFi 6E
– 2.4 and 5 GHz frequency bands


-2×2 WiFi 6E (802.11 a/b/g/n/ac/ax)

Bluetooth: Bluetooth 5.2

Rear USB Ports (12x Total):

4x USB 3.2 Gen 1 port (USB-A)

4x USB 2.0 ports (USB-A)

3x USB 3.2 Gen 2 ports (2x USB-A and 1x USB-C

1x USB 3.2 Gen 2×2 port (USB-C)

Front USB (Total 7 ports)

1x USB 3.2 Gen 2 connector (supports USB-C)

1x USB 3.2 Gen 1 header 

2x USB 2.0 headers
For its audio, the Strix B650E-F features a SupremeFX 7.1 surround-sound high-definition ALC-4080 audio CODEC from ROG.
Hands-on with the ASUS ROG Strix B650E-F Gaming WiFi 
ASUS ROG Strix B650E-F Gaming WiFi Review Summary
The Strix B650E-F is an impressive motherboard with all the necessary elements to drive an AMD Zen 4 processor. Although it is not as feature-rich as an X670E motherboard, it supports PCIe 5.0 and 12+2 power phases. Plus, it uses WiFi 6E and 2.5 GbE LAN to deliver the fastest network speeds.
Aside from features that help the motherboard provide top-notch performance, it has elements that make PC building more convenient. Thanks to these parts of the motherboard, we did not take much time to install and replace PC components.
Most importantly, the Strix B650E-F had excellent overclocking features, enabling us to maximise its performance. It allows the inclusion of memory presets and setting thermal limits. 
When we tested the product for our ASUS ROG Strix B650E-F Gaming WiFi Review, we were impressed with its performance. It had high overclocking capabilities and power efficiency. Plus, we did not experience thermal issues even under heavy loads.
We highly recommend this motherboard to enthusiasts who want a budget-friendly option with excellent performance. It is ideal for those who want to explore more on the overclocking headroom. 
Visit the official product page of ASUS to learn more about the ROG Strix B650E-F Gaming WiFi.