Isn't it annoying to get lags, delays, latency issues, or just unstable internet connection during gaming sessions? Well, in our ASUS RT-AX82U review, we talk about a router that eliminates these problems. 
ASUS is one of those premiere companies that are well-known for the products they provide. In this ASUS RT-AX82U review, we'll discuss the designs and features this product has to offer and more. With that under way, let's jump right in. 
ASUS RT-AX82U Packaging
Before we talk about our ASUS RT-AX82U review, we should provide you with the details of the items that come with the product. 

The ASUS RT-AX82U features a medium-sized dark cardboard box. You will see the image of the product and its brand on the front of the package. 
On its right side, you will find a picture of the product on its back that shows the ports of the router. This makes it easier for the user to know where to place the cables during installation. 
At its back, you will find several images depicting diagrams that show you the features and functions of the product. This is necessary for providing the customer with the details of the product. 

To open the box, remove the latch from the side and simply slide our the white box that contains the contents of the package. After that, lift the cover from the side, and you will find the product kept in a cardboard mould that holds it in place. 
This cardboard mould prevents the router from moving inside the package to prevent internal damages from happening. Other than the product itself, you also have the instruction manual, power adapter, ethernet cable and warranty guide. 
They are all wrapped in plastic to shield them against any unwanted substances that may enter the package. 
ASUS RT-AX82U Review – Design and Functionality
Let's check on the physical properties this product has in our ASUS RT-AX82U review. 
Our ASUS RT-AX82U scores a sleek black finish with a smooth surface. Its flair fits any gaming setup and works just as well at any ordinary home. It contains LED lights that bring out a more futuristic look.  
Already attached are the built-in antennas that support 2.4GHz and 5GHz transmission and receiving rates. On the back, you have your Ethernet port, LAN ports, USB port, console port and the port for the adapter. 
Its design was made with the idea that it should look just as good as it works. Just like any gaming peripheral these days, style proves a point when it comes to entertainment.
The ASUS RT-AX82U works well with the ASUS AiMesh wifi mesh network. With this, it creates a flexible environment for your home when paired with other AiMesh routers.
The ASUS RT-AX82U is primarily built for all your internet related gaming needs. ASUS, a company known for its brilliant PC products, has worked tirelessly to make a network system that fits the average gamer. 
You will notice these aspects on the ASUS RT-AX82U. It has several ports that are made specifically for your PC, console, gaming rigs and more. This allows instant access for all your gaming devices to connect to the internet without any troubles.
Aside from the physical features, It holds various system functions that support gaming. The router carries functions that correlate with these gaming devices and enhances the experience for gamers. This makes the experience more enjoyable and less of a hassle during gaming sessions. 
With the way its architecture was planned, it is clearly made to support gamers on the battlefield.  
Key Features of the ASUS RT-AX82U
Besides the product's design, we move on to see the features this product has in our ASUS RT-AX82U review. 
WiFi 6 Technology
Updates and upgrades are all key aspects of the tech industry that only seeks to improve. With new inputs coming in, the future only looks brighter and more entertaining for gaming. WiFi 6 technology enhances this experience for every gamer. 
WiFi 6 technology is the latest version of its predecessor WiFi 5. These different WiFi network generations are made to communicate with each other. 
With the latest version in the market, it can shift data at a rapid rate compared to previous versions. It also makes managing devices, servers and clients much easier. WiFi 6 has a bigger number of streams compared to WiFi 5. 
WiFi 6 has up to 12 with the 2.4 and 5 GHz bands in place, unlike the older version, which could only reach up to 8 streams in a dual-band configuration. This creates more paths to communicate with your router. 
Thanks to this, the ASUS RT-AX82U can bring stronger and faster connections to your home as they pair up with better internet providers.
It also provides a lower latency configuration and is energy-efficient for power usage, and grants longer and wider ranges for your home. The ASUS RT-AX82U brings all the benefits of WiFi 6 and more. 
Beyond the Border
Our ASUS RT-AX82U has a dedicated gaming port specifically designed for gaming rigs. This port automatically prioritises any wired device. Don't worry about the complex configurations required to run this, as it does this instantly since it is built-in. 
Thanks to this port, you can just connect your gaming PC or console to the unique LAN port made for that function. It provides a rapid, constant connection that puts it first in the line on your router. 
The ASUS RT-AX82U also has a Gear Accelerator mode that focuses on specific devices wirelessly. You can reconfigure this with the ASUS RT-AX82U's online control panel. The interface allows you to target devices and boost their speed.
Other than that, it prevents these devices from fighting over the bandwidth. This allows better friendly communication among devices that are connected to the router. 
Mobile Gaming
Mobile gaming, as everyone knows, refers to games that are played with a portable device such as a smartphone. It has become a popular trend lately and is widespread among Asian countries. There even tournaments that use mobile gaming as the platform. 
Our ASUS RT-AX82U supports mobile gaming by enhancing the overall experience during online mobile gaming sessions. It does this by minimising lag delays and latency issues for devices. 
How is this done? With the ASUS Router application, you can manually manage the router's preferences to adjust the connection settings. Here, you can set your router to focus on certain devices for gaming, streaming, web viewing and more. 
You can use the Mobile Gaming Mode, which will reduce background data usage from other apps and devices. This maximises the output of your router to your mobile device, which boosts overall performance. 
WiFi Congestion
Sometimes, wifi routers can get overwhelmed by the number of devices that are connected. This increases the amount of stress on the router as it juggles multiple devices at once. 
ASUS has provided a solution for this with the 5GHz band that removes congestion from the 2.4GHz band. When connected to the 5GHz band, you can enjoy 8.4 times faster WiFi speeds. 
The ASUS RT-AX82U also has a special feature called Dynamic Frequency Selection(DFS). This unlocks 15 of the least-congested channels on the 5GHz band. With that, it provides more space for a better gaming environment. 
Network Bottlenecks
Network trafficking is a common problem among wifi mesh systems. With the Adaptive Quality of Service(QoS), you can keep your network running smoothly as it reduces network traffic. 
This feature allows the router to target specific applications and gaming sessions and boost connection and data speeds. It makes the wifi system more tolerable and more enjoyable for everyone. 
Dead Zones
WiFi dead zones are not fun to have as your device disconnects when entering an area without a wifi signal. To solve this constant issue, companies like ASUS have developed wifi mesh systems like AiMesh, that sync other routers to one network. 
Thanks to that, you can cover more ground in all areas of your home. With its easy central control and seamless roaming, you can simply set it up. You can visit their official website to learn more about other ASUS AiMesh products that support this feature. 
Home Security
The ASUS RT-AX82U provides a lifetime AiProtection Pro that includes the latest WPA3 security protocols. It comes with advanced parental controls, anti-virus capabilities and more. It also protects your wired and wirelessly connected devices. 
Due to this feature, you can watch everything that happens on your network with the mobile app provided. 
Lighting Vibe
For those looking into gaming rigs, you may want to consider a device that supports style in your setups. With the ASUS RT-AX82U, you can choose your lighting patterns and colours with the ASUS Aura RGB lighting effects. 
This feature offers multi-colour modes that come with hundreds of colours. Choose from various lighting effects and customise patterns that best fit your style. Let your style speak in with your gaming rigs. 
All in all, the ASUS RT-AX82U is a brilliant device made to support gamers everywhere and anywhere. ASUS made this product to make gaming sessions less problematic when it comes to internet connectivity. 
Specifications
Our ASUS RT-AX82U review will also discuss the product's intricate details. All the technical details are necessary to fully maximise the product's capabilities. 
Networks and Data Rates
The ASUS RT-AX82U follows the IEEE 802.11a, 802.11b, 802.11g, 802.11n, 802.11ac and  802.11ax network standards. It also has other network standards such as IPv4 and IPv6.
These are the network standards for the ASUS RT-AX82U that cover the data-link layer and physical specifications for the Ethernet. 
AX technology is also supported in this device. This means that it can support up to 8 MU-MIMO transmissions at a time. This means that it can manage multiple tasks simultaneously. It also supports Alexa, which is like Siri but for home appliances. 
For the data rate, each network standard could only reach a fixed amount of data for the speed. The 802.11a and 802.11g reach up to 54 Mbps, 802.11b only goes up to a low 11 Mbps. For 802.11n, it can go up to 300 Mbps and 802.11ax(2.4GHz) up to 574 Mbps. 
Network standards such as 802.11ac(1024QAM) and 802.11ax(5GHz) both go above 4000 Mbps. As one can tell, the ASUS RT-AX82U supports network levels from various ranges.
It also features OFDMA, which is known as Orthogonal Frequency Division Multiple Access. This indicates that it enables concurrent AP communication with a wide range of clients. It does this by assigning subsets of Resource Units to individual clients. 
Thanks to that, it reduces the time needed for clients to deal with multiple devices and tackles them together. It also supports a 1024-QAM high data rate which makes it better for your provider. 
The router also provides AiProtection Pro, parental control, router security assessment, malicious site blocking, two-way IPS and infected device prevention and blocking. These are some of the functions the router has to protect you, your home, your devices and your data. 
ASUS RT-AX82U Review – Physical Components
Our ASUS RT-AX82U weighs only 740 grams. This makes it light and easy to setup. It has four external antennas attached to it. These send wireless signals to your devices. Its transmit and receive rates are two by two 2.4GHz and four by four 5GHz. 
It contains a 1.5 GHz tri-core processor. This makes the product run faster as it makes it easier to process and manage the information.
Regarding the memory components, it provides 256 MB Flash and 512 MB RAM. 
Its ports provide one RJ45 for Gigabits BaseT for WN, four RJ45 for Gigabits BaseT for LAN and one USB 3.2 Gen1. It comes with the WPS button, Reset button, power switch and LED buttons.
The ASUS RT-AX82U has LED indicators for power, the 2.4G, 5g and WAN. It houses a power supply with an AC Input of 110V to 240V(50 to 60Hz) and a DC Output of 19V with a maximum 1.75 A current. 
Hands-on with the ASUS RT-AX82U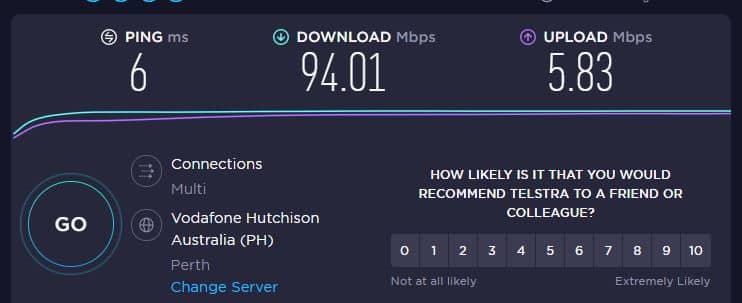 Aside from the product's technical aspects, we have to check the product first-hand to see if they fall short or not in our ASUS RT-AX82U review. 
At this time, we will discuss the product's properties by running through some tests to understand further where the device succeeds and fails. These tests determine the product's efficiency and reliability. 
Here, we will first check the different connections, wired and wireless and test their speeds. Next will be the features of the ASUS RT-AX82U. Lastly, we will check the built-in system security features.   
Connectivity
When setting up the ASUS RT-AX82U, we had no problem with its installation and the whole process was easy to understand.
Regarding the connections, we tested every port to see if we would get any latency issues or lags during gaming. Much to our surprise, we found that the ports do stay true to their claims. The special gaming port even prioritises most of the bandwidth connection to our gaming PC.
With that, we had zero trouble with our internet connection. Even the connections for our consoles were strong and fast. It offers a consistent and stable connection for all devices. Next, we tried connecting mobile devices.
All our mobile devices have no trouble with the internet connection. We preset the router to Mobile Gaming Mode. This removed the running background data on our phones and other devices, which strengthened our bandwidth connection. 
We were just blown away by the stability provided by the router. As it managed the connected devices for us, we found it much more reliable than we thought. 
Features and Functions
The ASUS RT-AX82U has several features that make it distinct from other routers. It has a unique Mobile Gaming Mode, Gear Accelerator and Special Gaming Port. 
For the Mobile Gaming Mode, the router eliminates lag and latency issues. We had no problem with this feature as it easily does its job. Using the ASUS Router application, we could freely adjust the router settings. 
Regarding the Gear Accelerator, we found it to be more of a management mode. As it balanced devices that are wirelessly connected to the router, it adjusted the settings to equalise all devices. 
Lastly, the Special Gaming Port provided a more consistent and faster connection than the other ln cables. Gaming using that port was much faster and reliable as it removed lag and provided lower latencies. 
Security
The ASUS RT-AX82U features the AiProtection Pro, a program that provides advanced options for your router. When testing, we found it reliable in detecting viruses, malware and other complications that may harm your devices.
If there is an application that can cause harm to your device, it immediately removes it from the device. It gives notifications when it detects a threat and provides solutions on how to tackle the issues.
Overall, the ASUS RT-AX82U is a device for the purpose of increasing user experience. We believe that ASUS has done this and will only do more in the future. 
ASUS RT-AX82U Review Summary
Before we conclude our ASUS RT-AX82U review, we will give you a summary of our observation. 
The ASUS RT-AX82U router is an amazing device that allows gamers to transport themselves into the game without any disturbances. With specific gaming ports and management controls, you are sure to lock in on your games. 
Thanks to these features, you could look to take down the competition with the ASUS RT-AX82U in your arsenal. With that, we happily recommend the ASUS RT-AX82U to anyone looking to upgrade their internet capabilities. 
If you are interested in this product or other products made by ASUS, then click here.