More processor models are appearing on the market for the LGA 1700 platform. And as expected, motherboard manufacturers aren't far behind. Today in our ASUS Z690-F Gaming WiFi Motherboard review, we'll discuss one of the company's offerings to the mix.
The Z690-F is designed especially for gamers, and it's packed with the elements you need for an outstanding gaming experience. Not only is it efficient for use, it also sports a stylish look that will blend perfectly with any build. The motherboard comes from a trusted brand, and it's also a solid mid-range product.
But is it as good as other ASUS products around? We'll find out here in our ASUS Z690-F Gaming WiFi Motherboard review. 
ASUS Z690-F Gaming WiFi Motherboard Packaging
When the motherboard arrived for our ASUS Z690-F Gaming WiFi Motherboard review, it came in a typical ROG-looking box. The front showcases an image of the product, ROG's branding, the unit's name, and a couple of its key features. 
When you flip the box, the rear portion displays more detailed information about the motherboard. More features of the product are displayed here, as well as a quick summary of the board's technical specs. 
Opening the box, you'll find the motherboard kept securely in place. There's also an anti-static bag that you can use to keep things neat and organised.
Other than the motherboard, you'll find a quick start guide, a few documentations, and a thank you note from ASUS. The company also included an ROG keychain, a set of stickers, support DVD, SATA cables, and screws. 
Lastly, there are WiFi antennas, black plastic ties, and Q-Latch packages to mount M.2 drives. 
ASUS Z690-F Gaming WiFi Motherboard Review – Design and Functionality
When we unboxed our product, we saw this nice and sturdy-looking ATX board that's almost entirely black. 
For this product, ASUS opted for a brushed aluminium effect for the rear panel cover. Then, it sports a graffiti-style chipset heatsink that comes with an attractive RGB design integrated onto the rear panel cover. 
Most of the board is concealed because of the huge rear panel cover and power delivery heatsinks. Then, there are a couple of M.2 heatsinks plus an attractive white and black chipset heatsink as well. 
ASUS Z690-F Gaming WiFi Motherboard review, we learned it's a cut-down version of the E-Series Strix with lots of inclusions. It has a full-length PCIe 5.0 x16, one PCI3 3.0 x4, and a PCIe 3.0 x1 slot. 
For storage, options include four PCIe 4.0 x4 M.2 slots and six SATA ports. The latter can support RAID 0, 1, 5, and 10 arrays which is great. For the memory, there are four slots available with support for DDR5-6400 and a combination of 128GB capacity. 
On its rear panel, you'll find a USB 3.2 G2x2 Type-C, and two USB 3.2 G2 Type-A's. There's even a USB 3.2 G2 Type-C, four USB 3.2 G1 Type-A, and two USB 2.0 ports.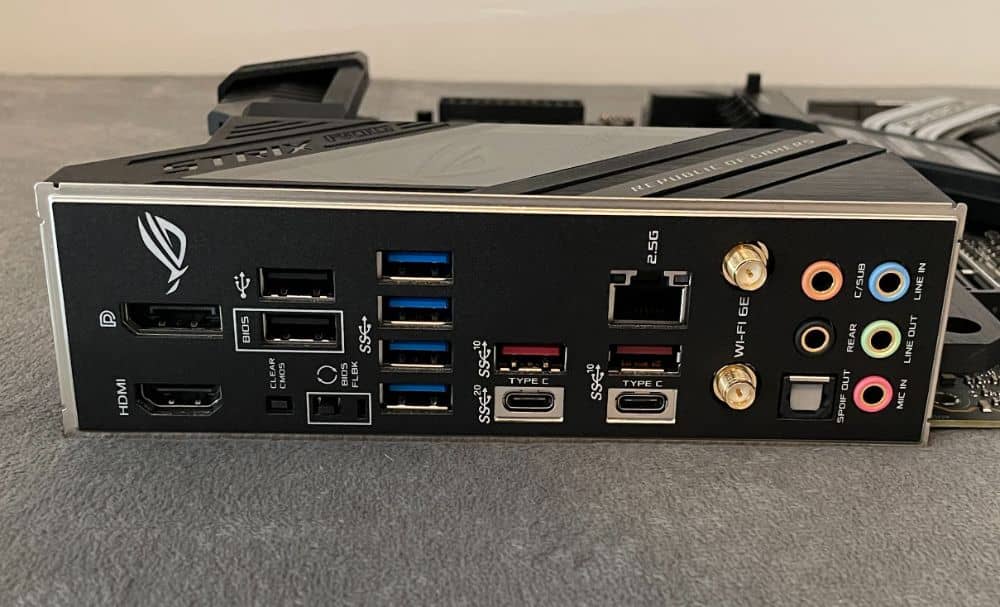 And just like the E model, the Z690-F model comes with a DisplayPort and HDMI video output pairing. Additionally, there are five 3.5mm audio jacks plus an S/PDIF optical output. These are both powered by the SupremeFX ALC-4080 HD audio codecs and the Savitech SV3H712 amplifier pairing. 
Then, the network is organised by the Intel I225-V 2.5 GbE and WiFi 6E CNVi. 
The integrated VRM cooler and chipset cooler are made from black anodised aluminium. It's equipped with a heat pipe that guarantees better and more efficient heat transfers between available coolers. 
To get the best heat transfers, ASUS made use of thermal pads for the voltage converters and the chipset. 
Key Features of the ASUS Z690-F Gaming WiFi Motherboard
16+1 Power Stages
The 6+1 power stages of the Z60-F Gaming WiFi Motherboard use high-side and low-side MOSFETs and drivers. Because of these, it efficiently delivers power for the newest Intel processors to take advantage of.
Alloy Chokes and Durable Capacitors
Premium alloy chokes and durable capacitors are designed to resist high temperatures to ensure performance that exceeds industry standards.
8+8 Pin Procool II Power Connector
ASUS ProCool II connectors are designed to ensure full contact with the power supply cable wiring. With the metal sheath, it offers improved heat dissipation. Plus, low electrical impedance reinforces reliability and helps prevent hotspots.
Digi+ Power Control
The Digi+ VRM is one of the industry's finest, and it ensures clean, smooth power delivery to the processor. During the tests for our ASUS Z690-F Gaming WiFi Motherboard review, we noticed our system's reliability, thanks to this feature.
Six-layer PCB
The printed circuit board designed with multiple layers quickly dissipates heat around the voltage regulators. By doing this, the motherboard delivers improved overall system stability and more overclocking headroom for the CPU.
Innovative Cooling
The Z690-F features two thick VRM heatsinks connected by a heat pipe. These are bonded to a pre-mounted metal I/O shield for adequate surface area and mass. With that, they can handle the required power of Intel's high-performance 12th Gen processors.
There are also specially engineered thermal pads for efficient heat transfer from the inductor and phase array to the heatsink.
The multiple M.2 heatsinks aid in retaining the optimal temperatures of M.2 NVMe SSDs. As a result, these deliver consistent reliability and performance. 
The integrated M.2 backplate helps ensure the delivery of peak performance from drives even with restricted airflow.
Two-way AI Noise Cancelation
ASUS' exclusive two-way AI noise cancelation utility reduces background noise from microphones and incoming audio while retaining voice quality. With that, it won't pick up keyboard clatter, mouse clicks, and other ambient noise for perfect clarity for calls.
AI Overclocking
ROG's AI Overclocking is a smart utility for overclocking. It automatically profiles your CPU and cooling system to predict the optimal frequency settings and voltage.
AI Cooling
ASUS' AI cooling technology automatically manages and controls the fans connected to your motherboard. It ensures optimal settings based on the current temperature and system load.
AI Networking
The proprietary ROG GameFirst VI utility is made to help you optimise network settings for seamless online gameplay. It uses AI-enhanced identification and boost technologies to provide faster and smarter network optimisation.
DDR5 Overclocking Strength 
The foundation of ROG motherboards are comprehensive memory tuning options. For DDR5, the Z690-F breaks performance limits by using a stacked suite of modules with a locked PMIC.
PCIe Performance
The Z690-F features four well-placed M.2 slots so it can leverage high-performance CPU and chipset bandwidth. This results in faster PCIe 4.0 data transfers. It even supports high-capacity drives to exceed traditional SATA-based SSDs.
WiFi 6E (802.11 ax)
This motherboard from ASUS features onboard WiFi 6E technology. It takes advantage of the recently available radio spectrum in the 6 GHz band. 
Also, WiFi 6E offers up to three times the bandwidth of 5 GHz band and seven 160 MHz bands. Because of this, it delivers extremely fast wireless networking speeds, higher capacity, and better performance.
Intel 2.5 Gb Ethernet
Intel 2.5 GbE provides you with boosted wired connection speed that's 2.5 times faster than standard Ethernet connections. This allows for faster file transfers, reduced lag in gaming, and high-resolution video streaming.
SupremeFX for High-quality Audio
ROG SupremeFX is a unique feature that provides superior audio. For the Z690-F, SupremeFX features the ALC-4080 codec for higher playback resolution from 192 to 384 kHz across all channels.
The front panel output is streamed via a Savitech amplifier which is highly integrated. It can also drive a wide range of gaming headsets and high-fidelity headphones.
ROG Strix Special Design
The I/O cover of the Z690-F is specially illuminated acrylic display. It gives the illusion that the circuit board is visible under an RGB ROG logo. 
Throughout the motherboard, there are touches of brushed metal and stitched fabric on the ROG Strix cable organiser. These give various surface textures that are carefully crafted. You'll also find a special lighting pattern built into the Z690-F Gaming WiFi motherboard's finish.
Outshining the Competition
ROG Strix motherboards such as the Z690-F deliver superior performance and appealing aesthetics, making it stand out from its competition. These also offer integrated ASUS Aura technology for full RGB lighting control. 
There are also various presets for embedded RGB LEDs and third-party lighting strips. You can connect these to the board's RGB headers. Additionally, easy RGB LED syncing is possible with all Aura-capable ASUS hardware.
Extensive Compatibility
Like all ROG Strix motherboards, the Z690-F underwent an extensive certification program. With that, it offers guaranteed compatibility with a wide range of devices and components.
And just like the motherboards, ASUS AIO coolers are also compatible with various processors including 12th Gen Intel CPUs. This gives you the best flexibility for cooling the CPU that suits your needs.
Specifications
Now, our ASUS Z690-F Gaming WiFi Motherboard review will show you the specifications of the motherboard. These are necessary for you to know if it will work effectively with your build. 
The Z690-F Gaming WiFi Motherboard sports an ATX form factor and measures 30.5 x 24.4cm. It utilises an Intel Z690 chipset and the LGA 1700 processor socket and works with a number of processors available. These include Core i9, Pentium Gold, Core i5, Core i3, and the 12th Gen Alder Lake Celeron. 
This motherboard works with Windows 11 64-bit and Windows 10 64-bit. Then, it has RAID support for 0, 1, 5, and 10 (SATA|M.2|Z690). Additionally, it also works with four DIMM DDR5 SDRAM, with a maximum capacity of 128GB. 
We appreciate that ASUS integrated the dual-channel memory architecture while it also supports Intel's XMP (Extreme Memory Profile). Then for its audio, it uses the ROG SupremeFX 7.1 surround-sound high-definition audio CODEC ALC–4080. 
USB Ports of the ASUS Z690-F Gaming WiFi Motherboard
The rear USB has a total of 10 ports. These include a USB 3.2 Gen 2×2 Type-C port, three Gen 2 ports, and four Type-A Gen 1 ports. There are also two USB 2.0 Type-A ports here. 
For the front USB, there are a total of seven ports available. There's one USB 3.2 Gen 2×2 connector and a Gen 1 header. The latter supports two extra USB 3.2 Gen 1 ports. 
Then, there are two USB 2.0 headers that support four extra USB 2.0 ports. 
PCI and M.2 Slots
PCI slots available include a PCI express 5.0 x16 (CPU) and PCI express 2.0 x1 (Z690). Then, there's a PCI express 3.0 x16 (x4|x4 or x4) – Z690 as well. 
For the M.2 slots, there's a PCI express 4.0 x4 M.2_1, M2_2, and M.2_3. Also, it includes a PCI express 4.0 x4 SATA 6Gb/s M.2_4 as well. 
Wireless & Bluetooth
Then for its wireless connection and Bluetooth, it uses Intel's WiFi 6E and supports 2.4|5|6GHz frequency band. Additionally, the motherboard is also Bluetooth v5.2 hardware-ready which will be available in Windows 11 or later. 
Hands-on with the ASUS Z690-F Gaming WiFi Motherboard
Test System
For our main test system, we are utilising the following hardware setup:
Intel 12700k CPU
Gigabyte RTX 3070 Master GPU
ASUS Z690-F Gaming WiFi Motherboard
TeamGroup T-Force Carder Z44L 1TB NVMe SSD
We used the motherboard for a couple of weeks to see if it performed just as well as its claims. We made it go through some tests so we can share our experience with it. We've detailed everything here in our ASUS Z690-F Gaming WiFi Motherboard review, but before that, let's check out its BIOS. 
UEFI BIOS
ASUS' ROG UEFI BIOS is where you can conveniently tweak, configure, and tune your build. It provides a smart yet simplified set of options which is especially helpful for newbies to PC DIYs. Not only that, it also comes with comprehensive features that are ideal for the pros. 
The ROG UEFI BIOS uses a familiar design that's user-friendly and easy to manage. It comes with an "EZ mode" that has an intuitive interface, allowing you to access the essential settings you need. These include system information, boot options, and AI overclocking profiles.
Of course, it has an "Advanced mode" that lets you find a more suitable option for customisations. 
It also offers a number of OC settings, ASUS MultiCore Enhancement, and several setting options for manual overclocking. To note, MultiCore Enhancement enables automatic overclocking which we think is pretty convenient. 
For more convenience, ASUS opted to integrate the MemTest86 which helps find memory issues in a snap. You won't need any USB sticks nor do you need to access the OS to do this. Then for the memory report, these will be stored in the BIOS archives as well. 
5-WAY Optimisation 
Since the BIOS has everything for optimising your rig, you can take advantage of a lot of its features. With its intelligent yet simple options and all-inclusive features, you can readily tweak and configure your setup with ease. 
TPU Insight offers AI Suite 3 with the elements needed to instantly monitor system statistics and fine-tune voltages. Not only that, but it also helps adjust and manage overclocking settings based on your needs. 
For EPU guidance, it lets you enjoy system-wide power savings for your convenience. The EPU instantly maximises savings with the "Away mode" while it also optimises power consumption simultaneously. 
Then there's the FAN XPERT 4 which gives you full control over the fans, AIO coolers, and water pumps. It comes with an Auto-tuning mode that helps set up all the parameters with just a single click. 
Additionally, there's also an Extreme Quiet mode that decreases all fan speeds to keep the entire system whisper-quiet. Even when you're doing all the light tasks, this element will help keep all possible noises at bay. 
Furthermore, its VRM or Digi+ voltage regulator mode offers real-time controls when it comes to voltage drops. This allows you to easily switch power and frequency efficiency settings to readily fine-tune CPU voltage arrangements. Doing this will let you enjoy outstanding stability and ultimate performance. 
Lastly, the Turbo App defines CPU overclocking, prioritises network data, applies fan profiles, and enhances audio settings at app levels. 
Performance of the ASUS Z690-F Gaming WiFi Motherboard
When we tried using the motherboard for a variety of tasks, we realised how well it performed. Plus, we can't deny its efficiency as well. 
During our tests, the Z690-F Gaming WiFi Motherboard gave us a stable and adequate power supply. Its power supply was highly sufficient because of the CPU power supply that sports a 16+1 phase design. But what makes it even better is that it's ideal for high-pressure burn-ins and computing. 
Because of its water cooling, we achieved very stable overlocks and running at stock everything ran buttery smooth.
When we used it for gaming, we didn't experience any problems or issues with it. Plus, the motherboard kept cool throughout our tests as well.
Overall, the Z690-F Gaming WiFi Motherboard from ASUS was excellent and we greatly appreciate how well it performed. With that, we'd definitely recommend it to you.
ASUS Z690-F Gaming WiFi Motherboard Review Summary
The Z690-F Gaming WiFi motherboard from ASUS' ROG Strix line is another high-performance product that's packed with great features. It offers eye-catching ROG Strix aesthetics, user-friendly BIOS, and other new innovations like WiFi 6E, DDR5 memory, and AI technologies.
During our tests for our ASUS Z690-F Gaming WiFi Motherboard review, we enjoyed its excellent performance. Its features allowed it to deliver adequate power & cooling even under maximum loads while overclocking the system. Plus, tweaking our system became convenient thanks to its user-friendly BIOS.
Overall, we highly recommend the Z690-F Gaming WiFi motherboard from ASUS. As expected from an ROG product, it's a stylish motherboard that performs seamlessly while retaining acceptable temperature levels.
Want to upgrade your build with this motherboard? You can find out more information regarding the Z680-F Gaming WiFi motherboard over at the company product page.