Ever since COVID-19, video calls have become one of the most common means of communication. With that, devices for conferencing continuously appear on the market. Today, our AVerMedia AS311 AI speakerphone review will share one efficient conference speakerphone for your needs and that is perfect for those that are now working from home or remotely.
The AVerMedia AS311 AI speakerphone facilitates the connection to any computer. It also helps optimise the sounds you receive and the sound of your voice. This is all thanks to the AI-powered technology that it uses, which are responsible for enhancing sounds in every direction. 
If this speakerphone caught your interest, just sit back, relax, and continue reading our AVerMedia AS311 AI speakerphone review. We'll share how well it works, what makes it stand out, and what other features it has to offer.
AVerMedia AS311 AI Speakerphone Packaging
Let's begin our AVerMedia AS311 AI speakerphone review by inspecting its packaging and what AVerMedia included in it. When we received our unit, the AS311 AI speakerphone came in a box featuring the company's usual branding style. Its main theme colours are red and white, and the front displays an image of the speakerphone itself. 
Along with the image, you'll find the unit and the company's name above it. Under the AS311's image, you'll find text stating what the unit does as well as its key features. 
The rear section of the package displays a few more details about the speakerphone such as its characteristics. These are written in different languages for everyone's convenience. 
When we started unboxing, we found the AS311 AI speakerphone placed securely in a cardboard frame. We appreciate AVerMedia for keeping it highly protected. With that, you shouldn't worry about any damages after it leaves the factory or shop where it came from.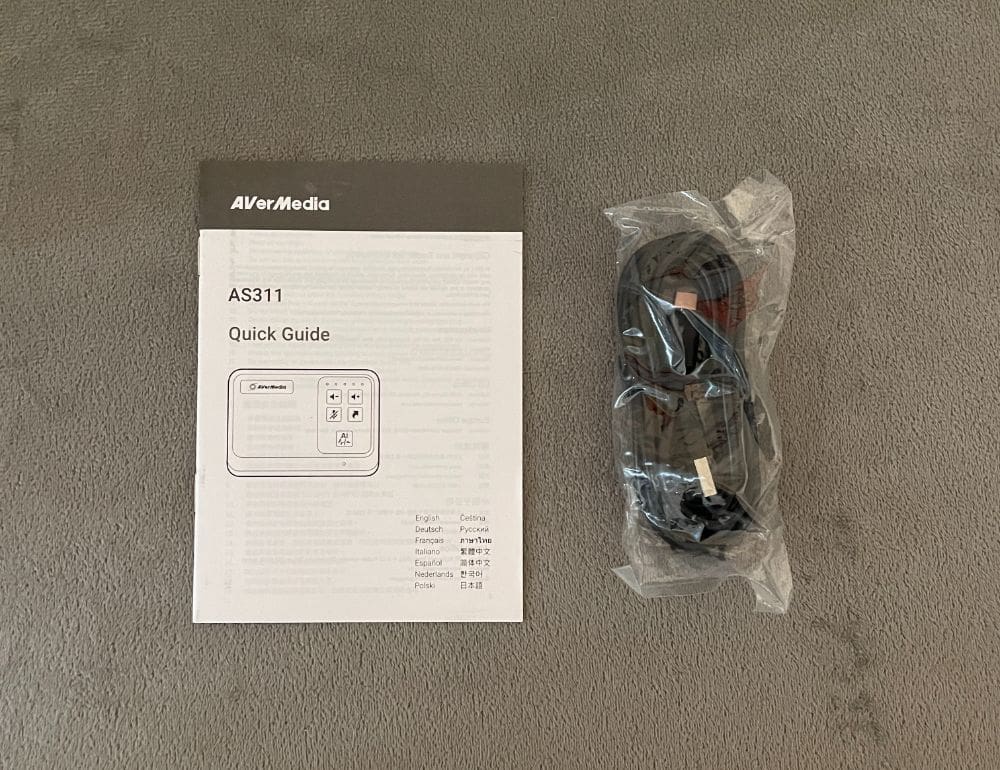 Other than the speakerphone, the box contains a USB-A to C cable, as well as a quick start guide. 
Next up in our AVerMedia AS311 AI Speakerphone review is where we discuss the functions and style of the AS311. 
AVerMedia AS311 AI Speakerphone Review – Design and Functionality
The AS311 AI speakerphone is a user-friendly product with a simple plug-and-play design. It links easily to your computer using its provided USB cord. 
AVerMedia integrated AI-powered noise suppression and optimised 360-degree audio coverage for smooth-flowing communication. 
When it comes to its design, it's simple and minimal. The top-front features the company's branding, its speaker, a mic, plus its control touchpad. Along its rear, you'll find the speakerphone's USB port. 
Although simple in design, the AS311 AI speakerphone is efficiently functional. It has a rectangular-shaped form factor yet with nicely-made rounded corners. On its lower section, the area is flat, whereas the upper section features a slight slope towards its upper edge. 
The AS311 is primarily made from black rigid plastic, while portions with metal mesh are set at the top. 
When it comes to its size, it has a compact form and measures only 120 x 80 x 40mm. Because of its build and measurements, the AS311 AI speakerphone is extremely easy to transport. And since it only weighs 195g, it's definitely a light product that makes it become more mobile. 
Microphone, Buttons, and LED Indicators
This product features additional controls, a mic, and LED indicators. So, we'll talk about these in our AVerMedia AS311 AI speakerphone review as well.  
Its upper portion is mostly dominated by a micro-perforated mesh that conceals the 3W speaker. Around the mesh, plastic frames are present on the sides, at the top and the bottom. The difference is that the latter is slightly thicker than the frames in other areas. 
Not only that, but the bottom frame section has a little omnidirectional mic that's positioned adequately. The mic and speaker will instantly pick up your voice then transmit clear and crisp audio in all directions. This will provide effective and more optimised communication. 
Acoustic echo-cancellation prevents the mic from acquiring sounds coming from the speaker. 
LED Indicator and Additional Buttons
The top of the speakerphone has five LED indicators that display the volume levels. Under these, you'll see two grid-shaped tactile buttons that are mainly for volume controls. Then below the buttons, two other buttons are present.
One button on the left mutes the mic, while the one on the right pulls out the browser. However, do note that the latter only works in Windows. 
There's one last button located at the bottom, and it toggles the AI-processed noise cancellation off/on. Once you've activated it, it will glow blue.
Rear and Bottom of the AVerMedia AS311 AI Speakerphone
The rear section of the AS311 AI speakerphone features a micro USB-C port for linking the speaker. Its base sports a non-slip rubberised edge to prevent the AS311 AI speakerphone from slipping.
To note, it has a USB to micro USB-C cable that's 2m long and made from your usual medium-quality plastic. With such a lengthy cable, you can easily set the speakerphone at the centre of your room whenever necessary. 
As we continue with our AVerMedia AS311 AI speakerphone review, it's best to check out its key features.
Key Features of the AVerMedia AS311 AI Speakerphone 
Suppressed Background Noises via AI
With its AI feature, the AS311 AI speakerphone delivers clean and crystal-clear communication no matter where you are. The AI technology silences any distracting background noises like keyboard sounds, dogs barking, and a lot more. With this feature, the speakerphone is ideal for conferencing environments, whether it's in your office, home, or any remote area.
360° Voice Optimisation
Its omnidirectional speaker and mic picks up, as well as transmits optimised audio in all directions. Because of this, it turns any setting into a perfect meeting area. 
Easy Setup
Aside from voice optimisation, the AS311 AI speakerphone allows for a quicker and easier setup process. Enjoy the simple plug-and-play connectivity and you're all set. 
Echo Removal for Enhanced Audio
The AS311 AI speakerphone's integrated acoustic echo cancellation creates better and cleaner communication. It ensures that everyone can be heard clearly, so you won't have to worry about being misunderstood and the like.
Extensive Compatibility
It's great that AVerMedia designed their AS311 AI speakerphone to work adequately with today's leading conferencing platforms. The speakerphone works well with Microsoft Teams, Zoom, Google Hangouts, Skype, and a lot more. 
We'll now discuss the different specifications of the product as we continue our AVerMedia AS311 AI Speakerphone review.
Specifications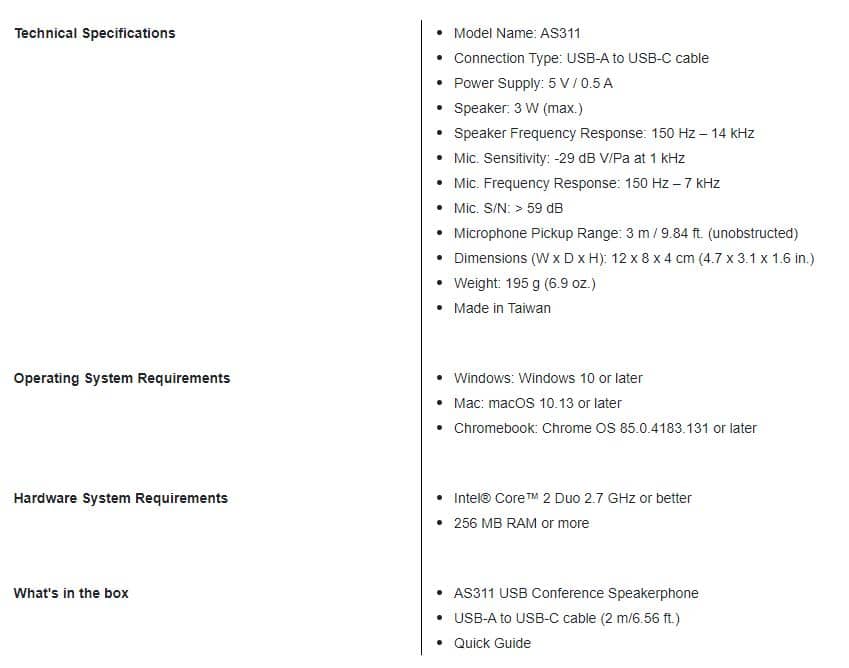 The AS311 AI speakerphone utilises a USB-A to USB-C cable for its connection and requires 5V for its power supply. Its speaker uses a maximum of 3W while its frequency response ranges from 150Hz to 14kHz.
For its microphone, it has a sensitivity of -29dB V/Pa @ 1kHz, while its frequency response is 150Hz to 7kHz. Its S/N is >59dB, and the pickup range is 3m when unobstructed. 
The AS311 AI speakerphone measures 12 x 8 x 4cm (W x D x H) and weighs 195g. It's compatible with Windows 10/later, macOS 10.13/later, and Chrome OS 85.0.4183.131/later.
For proper functioning, the AS311 AI speakerphone's hardware requires an Intel Core 2 Duo 2.7 GHz or better. And for its RAM, it requires 256MB or more.
Hands-on with the AVerMedia AS311 AI Speakerphone 
Now, our AVerMedia AS311 AI speakerphone review will discuss how well it performed. This is where we see if it's as good as what AVerMedia claims it to be. Let's find out. 
Since the AS311 AI speakerphone is a plug-and-play product, it's definitely easy to set up. We loved the placement of the LED lights on the speakerphone since we could easily see its status. It lit blue when the speakerphone was unmuted and red when on mute. 
When we activated the AI noise suppression, the LEDs turned blue, and when it was switched off, they were unlit. 
When we completed the initial configuration, we began utilising the speakerphone without any problems. We tried it with the compatible conference platforms, and everything went smoothly while the audio was clear all throughout. No extra software was needed, and that was convenient for us. 
The buttons responded immediately, and we didn't have to press hard to initiate the necessary functions. 
We tested the AS311 AI Speakerphone on top of our desk. When we enabled the AI noise cancellation feature, we noticed that it captured clear-high quality sounds. 
During our tests, we had a little background noise from the TV, pets, and cars. But these sounds weren't picked up by the mic, and our voices were clear and audible. With its performance, we think this speakerphone will also work in noisy environments.
Generally, we suggest leaving the noise cancellation enabled since it does a great job. In quiet areas, you can disable it but it's not necessary to do so.
Aside from the noise cancellation feature, we tested the omnidirectional mic's capabilities to see if the company's claims are true. AVerMedia says that the AS311 AI speakerphone can pick up sounds in 360-degrees.
We tested the mic by speaking from the back of the AS311 AI speakerphone. It captured our voices with the same quality, so we tried moving several metres away from it. The mic still managed to pick up our voices but of course, its clarity and audio quality decreased slightly. Nevertheless, it was still great. 
For the echo suppression, we recorded our voice in different rooms to see how well it worked. We listened to our voice recordings and we could barely hear the echo.
AVerMedia AS311 AI Speakerphone Review Summary
The AVerMedia AS311 AI Speakerphone is an impressive speakerphone. It works excellently with platforms like Skype, Microsoft Teams, and Zoom. We liked the AI noise suppression that cancels out external noise well, making it great for conference calls.
In our tests, this speakerphone offered clear audio on both ends. It effectively picked up audio and enhanced our voices even in noisy environments. Also, it was easy to set up, and we didn't encounter any problems while using it.
The As311 AI Speakerphone has become our go-to conferencing device ever since we've used it. Aside from its flawless performance, its compact design makes it portable too. Overall, we highly recommend this product, especially if you always attend online meetings and conferences.
You can get your hands on the AVerMedia AS311 AI speakerphone by purchasing it from the company's official website.