AVerMedia continues to be a leader in the market of consumer-grade video capturing devices. Today, we'll talk about one of their new products in our AVerMedia Live Gamer 4k review. What they have is the Live Gamer 4k.
It's the embodiment of what the best game capture is all about. The Live Gamer 4k works great with 4k HDR content for excellent high-frame capturing that goes up to 240 fps.
Plus, the Live Gamer 4k brings the best of video capture to you, gamers, as well as content creators around.
Our AVerMedia Live Gamer 4k review will start with the product's packaging and contents.
AVerMedia Live Gamer 4k Packaging
We ensure that our AVerMedia Live Gamer 4k review provides all the essential details you need about the product.
To begin, you'll find the product shipped in a tough cardboard container. The front displays an image of the Live Gamer 4k, while AVerMedia and its logo are on the upper-right corner.
We like that AVerMedia has an image of the Live Gamer 4k on the box. It's to give you an idea of how it looks before purchasing. Below the image is the name of the device and what it basically is.
Flipping the box to its rear, you'll find some other details about the product's key features. The details are written in English and are translated to 15 other languages for everyone to understand.
Now, let's see the box's contents. Inside, you will find the Live Gamer 4k capture card itself. It's placed securely in the box to avoid any damages while being delivered to you.
Aside from the capture card, you'll find an HDMI 2.0 cable and the Cyberlink Powerdirector 15 product key card. Specifically, it's for the 4k video editing application software.
Of course, there's a quick start guide to assist you with utilising the capture card.
AVerMedia Live Gamer 4k Review – Design and Functionality
Now, let's discuss the design and functions of the Live Gamer 4k in our AVerMedia Live Gamer 4k review.
We're giving a couple of positive marks to the Live Gamer 4k for being stylish since it offers RGB settings. With that, you can add more style and aesthetics to your windowed chassis.
The colour effects range from colour cycling to providing static colour indications of how the Live Gamer 4k performs.
Do note that there aren't any Chroma or Hue integrations yet. So, it could mesh with your present internal lighting solution if you're sporting a common theme.
In this case, we think that it's better to stick with a static colour. If not, switch off the LED lighting completely.
Since it's an internal capture card, the Live Gamer 4k requires one PCI-e Gen 2 x4 slot. This is because of it being an upgrade of the Live Gamer 2. It only required a single PCI-e Gen 2 x1 slot.
If you don't have free x4 slots on your board, then things can get a bit tricky on your part.
There are HDMI 2.0 cables needed to pass-through and record 4k videos at 60 fps together with HDR support.
Compared to the previous model, the Live Gamer 4k doesn't feature 3.5mm port setups for the analogue audio recording. Its pass-through supports 5.1 and 7.1 channel LPCM surround sound.
It then lets you run the output to the AV receiver without sacrificing the quality of audio.
If you're searching for higher frame rates, you'll need to drop its resolution for the recordings. At 1,440p, the Live Gamer 4k supports up to 144Hz and goes as high as 240Hz at 1080p resolution.
This will produce an extremely smooth and seamless gameplay recording, which is great. If you're utilising pass-through, note that the quality of recording is limited to what's linked to the HDMI out.
If the output is towards the television that can only display 1080p60, you won't get to record at higher quality.
This AVerMedia Live Gamer 4k review is all about providing you with vital information about the product. So, we'll discuss the key features that it offers.
Key Features of the AVerMedia Live Gamer 4k
Capture Like No One Before
The AVerMedia Live Gamer 4k allows capturing 4Kp60 HDR videos, creating higher quality content for your streams. With this feature, the Live Gamer 4k will work excellently with the PS5 for 4k HD / 1080Pp240 video.
Smoother Gameplay Recording
This capture card supports up to 240 Hz refresh rates in Full HD, which is better than the previous 60FPS. With that, you can have smoother gameplay recordings.
RGB Lighting
Aside from impressive performance, the capture card has three available preset modes for its RGB lighting. It will not only make your recordings better, but it will also enhance your setup's aesthetics.
RECentral Software for Powerful Streaming
The RECentral is the first gaming capture software that lets you record HDR content and stream to multiple platforms.
Customisable Resolution Utility
AVerMedia Gaming Utility got you covered if you don't want to connect a display to the HDMI output. With this customisable utility software, you can set the resolutions and corresponding frame rates that you can preview and record.
Also, you can do this without requiring to connect to a pass-through monitor.
Capture, Record, and Edit 4K
If you plan to edit your 4K videos but don't know where to start, AVerMedia can help you with that. The Live Gamer 4k comes with the CyberLink PowerDirector 15, an intuitive 4k video editor that is rich in features.
This program is a great way to kickstart your skills in editing videos.
Specifications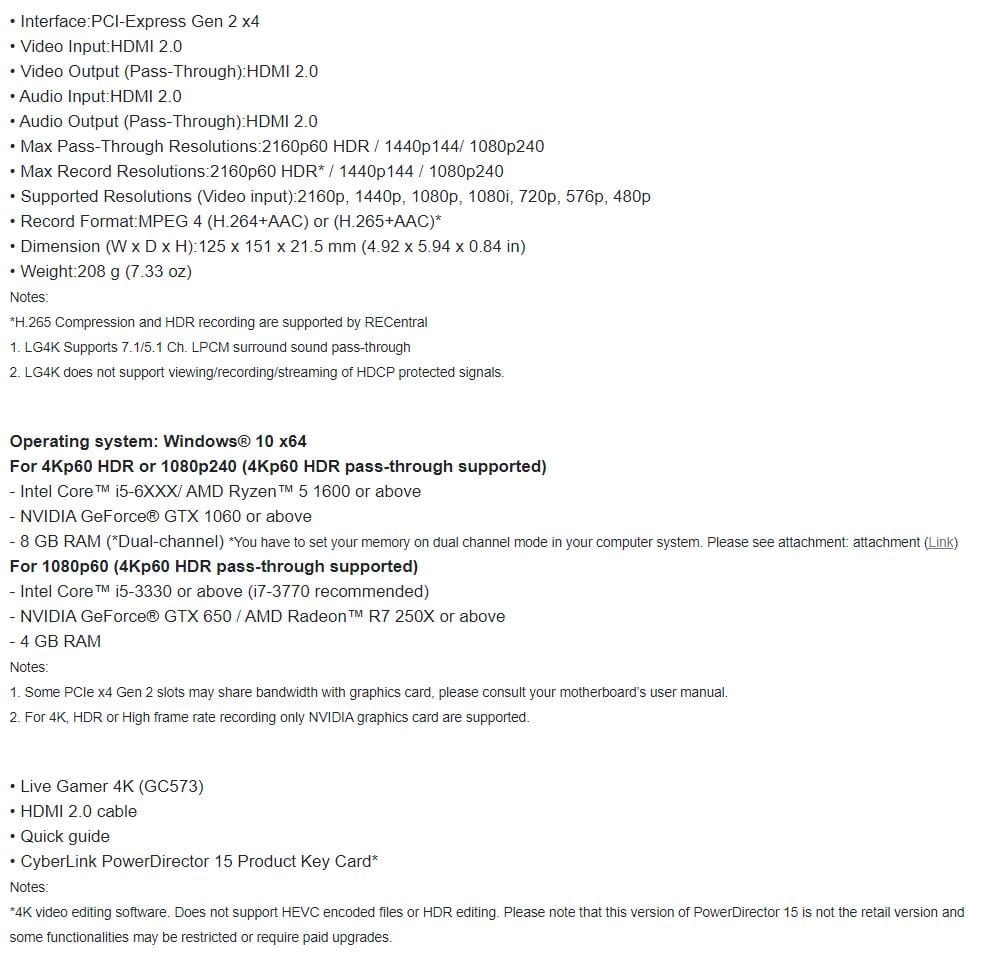 Looking further into our AVerMedia Live Gamer 4k review, we'll check out the different specifications of the Live Gamer 4k.
It utilises the PCI-e Gen x4 interface, and has a maximum pass-through resolution of 2,160p60 HDR / 1,440p144 / 1080p240. Video input and output are HDMI 2.0 and HDMI 2.0 (pass-through), respectively. You also get the same results when it comes to its audio input and output (pass-through).
The maximum record resolution of the Live Gamer 4k is 2160p60 HDR, 1440p144, and 1080p240. Not only that, it also supports 2160p, 1080p, 1440p, 1080i, 576p, 720p, and 480p for its video input resolution.
With these set of specifications, the Live Gamer 4k is compatible and works efficiently with the PS5. That's for the 4K HDR | 1080Pp240 video capture. In addition, the video capturing device supports MPEG 4 (H.264+AAC) / (H.265+AAC) for its recording format.
It isn't hefty since it measures 125 x 151 x 21.5mm (W x D x H) and weighs 208g.
System Requirements
The required operating system for the Live Gamer 4k is Windows 10 x64. Its 4Kp60 HDR / 1080p240 (4Kp60 HDR pass-through supported) requires Intel Core i5 6xxx / AMD Ryzen 5 1,600 & higher.
Plus, it needs the NVIDIA Ge-Force GTX 1,060 or higher, plus an 8GB dual-channel RAM for enhanced efficiency.
Hands-on with the AVerMedia Live Gamer 4k
It's highly essential to see the product's performance in our AVerMedia Live Gamer 4k review. With that, we're sharing with you our hands-on experience with the Live Gamer 4k from AVerMedia.
Let's first look at how easy or challenging its installation was using the company's software.
Installation of the Live Gamer 4K via the Software
Installing was quick and easy since you only need to find an available PCI-e slot on the motherboard. This is the area where you'll slip the Live Gamer 4k into. Once that's done, you simply need to screw it in place, then you're all set.
Generally, we prefer having PCI-e capture card versions since they remove the mess of wires. Plus, it's easier to maintain a clean-looking setup since the HDMI ports are placed at the back of the chassis.
Software installation was just as easy. Before you register the card, install the AVerMedia Assist Central software to also download the necessary drivers. In addition, you'll get to download the RECentral software that's needed for the capture card.
After doing these, our computer was able to recognise the card and vice-versa. It lets us see the Live Gamer 4k in the RECentral software.
The RECentral Software
Another awesome aspect of the RECentral software is that it lets you change the codecs whenever you're streaming or recording.
So instead of opting for the presents, adjust the video bitrate and fps. It all depends whether you want to record via CPU processing or the provided NVIDIA graphics cards. This will allow you to have more freedom so you won't have to stay with what it thinks is best.
The company's own capture software called RECentral 4 is an important part of getting all the support and drivers going. It should work efficiently for newbie streamers, which is great.
It's a simple program that provides basic layouts of either an on-scene capture card or numerous video sources working simultaneously. It doesn't have the robust layout present on the StreamLabs OBS. However, it should work efficiently for players wanting to focus on displaying their gameplay further.
Performance
Now, let's talk about the Live Gamer 4k's performance and for you to see if it's something you should get.
We tried using the software to record our gameplay on Nintendo Switch and Playstation 4 Pro. We really liked that it has the option to set HDR on integrated to the capture card. Switching HDR on made significant changes in our game's visuals, and these became more stunning and immersive.
We also adjusted the display settings using the software, making the gameplay capture with the card even better. Whether it was 1080p/30fps, 1080p/60fps, or 4K, everything was impressive and high-definition.
With the Live Gamer 4k, we achieved extremely smooth gameplay with the highest capture quality that we've ever seen. Aside from the RECentral app, we also tried other open-source software, and the capture card still delivered excellent video quality.
AVerMedia Live Gamer 4k Review Summary
After reading through our AVerMedia Live Gamer 4k review, we now know that it's the best video capture device around.
This capture card provides impressive quality for any type of content. It's the perfect model to use when recording your gameplay for Youtube videos and live streaming on Twitch or Mixer. You can also capture your DSLR's camera footage or mirrorless camera.
Aside from that, it has incredible RGB lighting to enhance your rig's overall aesthetics. If you're not a fan of these fancy RGB effects, you can choose to switch it off.
Overall, we were satisfied with the Live Gamer 4k, and it will be our new primary capture card for streaming. With its excellent features, it will definitely be the mainstay for many gamers and streamers today.
As we end our AVerMedia Live Gamer 4k review, we're highly recommending this, especially if you have compatible gear.
If you want to buy this capture card, check out the company's store locator to find sellers and retailers.