With the success of Beyerdynamic's Pro Series, they opted to expand their huge product line for the Pro X Series. So today in our Beyerdynamic DT 900 Pro X review, we'll look into one of their headphones under this category.
This pair of headphones runs for around $369. It's an opened-back studio pair that's designed to be versatile and precise. 
So, we're putting it to the test in this Beyerdynamic DT 900 Pro X review.
But first, let's check out the packaging and what items are included. 
Beyerdynamic DT 900 Pro X Packaging
When we received our headphones for this Beyerdynamic DT 900 Pro X review, these came in a sturdy cardboard box. With that, you won't have to worry about the headphones getting damaged or scratched while in transit. 
Like the usual Pro X Series packaging, our DT 900 Pro X arrived in a premium-looking box. It sports a black-grey theme that gives off a classy and sleek aesthetic. 
Of course, there's the eye-catching orange lengthwise strip on the right side of the box's front. This strip features an image of the headphones itself, while Beyerdynamic and its logo are just above it. Below the image, you'll see the name of the product written.
Aside from the headphones, Beyerdynamic included a couple of other items in the package. There's a drawstring carrying pouch, two straight jack cables with gold-plated plugs, plus gold-plated screw-on adapters. Other than these, you'll also find a leaflet with an instructional manual and promotional brochures included. 
Beyerdynamic DT 900 Pro X Review – Design and Functionality
The DT 900 Pro X feels just like other models from Beyerdynamic. Its plush and nicely-made velour ear pads have a velvety feel that isn't present on most headphones today. 
That means, these headphones are clearly designed to be worn for lengthy periods. And, they won't feel uncomfortable even after long hours of use. 
It's sturdy and durable like other models from the company. And, these should be able to readily withstand the perils of transportation, travel, and more. 
As we continue our Beyerdynamic DT 900 Pro X review, we're also going to discuss its components. We found out that the headphones feature the Stellar.45 sound transducer. 
This Germany-made sound transducer comes with a three-layer speaker diaphragm that utilises a built-in damping layer. This helps the DT 900 Pro X perform consistently and efficiently across devices. 
Furthermore, the driver allows the headphones to not be as dependent on an amplifier for ideal volume. And this is just like with the Pro Series. 
Key Features of the Beyerdynamic DT 900 Pro X
What makes the DT 900 Pro X stand out in the market? This time, our Beyerdynamic DT 900 Pro X review will discuss and focus on the headphones' different key features. With this, we'll find out what makes it unique compared to other headphones available today.
Tons of Applications on Multiple Devices – Anytime, Anywhere
Mixing, gaming, mastering, streaming, you name it. You can use the DT 900 Pro X for different applications on a variety of devices. And what's great about it is that you can use it any time and in any location.
Excellent Sound Quality Every Time!
With the latest DT 900 Pro X, the company presents its new opened-back studio-grade professional headphones. It's ideal and perfect for critical listening, mastering, and mixing in the studio or at home.
These headphones allow you to listen to music on the go with exceptional sound quality. Of course, you can conveniently use it with your laptop, smartphone, or tablet. Everything's made simple with the Stellar.45 and the 48 Ω driver system. 
All these great elements are packed in a single product, making it a truly flexible pair of headphones. So, you can definitely say it's a smart investment for the years to come. 
Great Audio for Gaming
When it comes to your personal downtime, the DT 900 Pro X headphones are also in their element. These deliver highly-detailed and powerful sounds that enhance your audio experience while gaming. 
Professional and Excellent Audio Quality
Get high-quality performance with the company's new Stellar.45 driver. No matter where or when, the driver that's developed in Heilbronn, Germany, can reproduce the best studio-quality sounds. Expect audio that's powerful and loud when played back on your devices. 
Whether it's via laptop, audio interface, mobile phone, or tablet, you're all set.  There are no limits to taking advantage of your creativity or workflow with the DT 900 Pro X. 
Durable and Sturdy Cables for Everyday Use
For its cable concept, it's also ideal for everyday use. Its detachable mini-XLR cable can be exchanged and replaced with cables that have various lengths.
Sustainable Headphones Made from Top-notch Materials
These headphones from Beyerdynamic are handmade in Germany. They utilised the most premium and robust-quality materials which makes it even better. 
Almost all of the product's components can be replaced. That means the DT 900 Pro X is an investment that will make sense for every user around. 
These make use of a strong neodymium magnet and voice coil made from copper-plated, high-tech wire. With the use of these materials, you can only expect the best from these headphones. Plus, the weight and conductivity of the wire are ideally-balanced. 
Highly-efficient Driver System
The combination of newly-created three-layer speaker cones with built-in attenuating layers provide the headphones with highly-efficient driver systems. And to note, these driver systems have an impedance of 48 Ohms. 
Its transducer's quick response and detailed transient reproduction are because of the lightweight voice coil which guarantees reliable sounds at all times. This is without distortions even when there are high sound pressure levels.  
Outstanding Treble Frequencies Thanks to the Absorber Pads
The company's newly developed Pro X absorber pads are made from acoustic damping materials. These are placed in front of each driver to maintain balanced, smooth, and detailed treble frequencies. As a result, you can enjoy exciting audio when listening to music.
Flexible and Sustainable
The DT 900 Pro X has a wide range of applications on all playback devices. So when you're using these headphones, you won't have limits to your creativity.
Comfortable and Durable for Long-time Use
The DT 900 Pro X's spring steel headband provides a perfect and secure fit. Plus, its rugged build guarantees durability in the long run. So to ensure comfort, its ear cups feature supple velour ear pads that provide adequate air circulation. 
With its soft memory foam, the DT 900 Pro X's headband adapts ergonomically to your head's shape. Like the ear pads, this foam is replaceable when needed.
Beyerdynamic uses the best high-quality materials and manufactures their headphones in Germany. With that, you can ensure comfort and durability through the years.
Specifications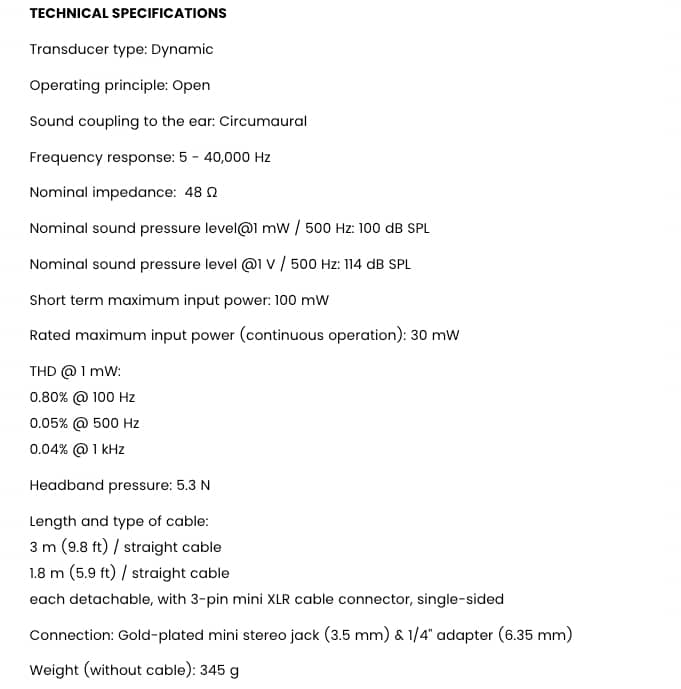 Now, our Beyerdynamic DT 900 Pro X review will focus on the specifications of these headphones. Let's see what makes it different and better from other similar products on the market. 
The DT 900 Pro X is a dynamic transducer type of headphones with an opened operating principle. It has a circumaural sound coupling as well. Additionally, it comes with a frequency response ranging from 5 to 40,000Hz and a nominal impedance of 48 Ω.
For its nominal sound pressure level @1 mW / 500Hz, it's at 100dB SPL. But when it's @1 V / 500Hz, it's 114dB SPL.
Its short-term maximum input power is 100 mW, and its rated maximum input power under continuous operation is 30 mW.
For its THD @1 mW, the headphones is 0.80% @ 100Hz, 0.05% @ 500Hz, and 0.04% @ 1kHz.
When it comes to its headband pressure, the DT 900 Pro X is 5.3N. Plus, it weighs 345g without the cable.
Hands-on with the Beyerdynamic DT 900 Pro X
As we covered in our how to Choose the Right Open-back Headphones for Gaming guide, the DT900 Pro X offers amazing sound. For its soundstage, it was a bit wider compared to past models and Beyerdynamic does an excellent job at creating a huge sense of separation and space. 
The lows of the DT 900 Pro X are tight and full of impact. Thus, it gives lots of balance and accuracy to its tuning. We greatly enjoyed its ability to capture the nuances of different bass and percussion timbres. 
If you're planning to utilise these for casual listening, that's fine. You'll find that its more controlled lows make the headphones versatile across styles and genres. 
On the other hand, if you'll use them for mixing and music creation, that's fine too. That's because you'll find the low-end unbiased and easy to work with. 
The DT 900 Pro X offers a clean and fairly-coloured mid-range. At times, its high-mids take precedence over the low-mids. However, the low-mids are still maintained to keep the headphones' warmth fully intact.  
The high-mids have a nice snap. However, the saturation rounds off edges that may be slightly overly-crisped up. 
For its mid-range, these feel like the most distinguished quality of the DT 900 Pro X. That's because It has a specific timbre that brings a lot of excitement and flair to the music. Plus, it brings out distinct aspects of the vocal presence and instruments. 
These DT 900 Pro X headphones are clearly bright. However, these stay below the threshold of intense treble meaning they are always a comfortable listen.
Paired with the cleaned mids and neutral lows, these headphones' additional crisp highs bring a light and airy sound. So if you're looking for a more heavy and gritty feel, the DT 900 Pro X isn't aiming for that.
Overall, the Beyerdynamic DT 900 Pro X sonically bears a lot of similarities to the DT 990 Pro. This is most evident in its highs and lows. 
However, these headphones have a better soundstage compared to the earlier models. Plus, it has tighter handling and more cleanliness. 
We also loved the solid stereo impression that these headphones produced. And lastly, the detail of its treble had a positive influence over its entire signal resolution. We especially noticed this when listening to acoustic tunes that sounded lively and wonderfully uncompressed with these headphones. 
The mix of its fine reproduction, open design, and lively dynamics also had a great effect on the impression of spatial depth. The whole sound image appeared three-dimensional. And considering its price range, the Beyerdynamic DT 900 Pro X feels just like a gift. 
Beyerdynamic DT 900 Pro X Review Summary
The new Beyerdynamic DT 900 Pro X is an impressive pair of over-ear headphones. It offers great sonic transparency, treble-emphasised signal, and unobtrusive bass. These are particularly suitable for isolating subtle nuances, making it excellent for audio mixing and processing.
The headphones are perfect for jazz, classical, and other acoustic music. Also, it's an exceptional studio-grade pair that will cover most needs of creators, performers, and composers.
Overall, we were satisfied with the DT 900 Pro X's design, features, and performance, so we highly recommend it. To get your hands on this product, it's available for online purchase from the company's official website.