With new designs being made to cope with new environments, it becomes harder to find a good workbench. In our Bosch PWB 600 Work Bench review, we'll lead you to one that stands firmly above the rest. 
Workbenches these days are becoming portable and more reliable. Do-it-yourself products have become a trend recently, with more and more people learning handyman work. With that, we believe our Bosch PWB 600 Work Bench review is something for you. With all that we said, let's jump right in.
Bosch PWB 600 Work Bench Packaging
Before we can go into our Bosch PWB 600 Work Bench review, we have to know the items that come with the product. 
Our Bosch PWB 600 Work Bench comes in a large green cardboard box. As you can see, it follows Bosch's theme colours. You can also see the image of the product at the front of the package. 
On the sides, there are some technical aspects regarding the product's specifications in different languages.
When flipping the package, you can find several diagrams of the product in use. Under these diagrams, you will notice some descriptions regarding the product's functions and features. 
To open the package, just cut the tape that seals the latches together. Inside, you will find several cardboard pieces that help hold it together, the instruction manual, and the main product.
The workbench is wrapped in plastic to prevent any unwanted substances from damaging the product. This ensures the safety of the product upon arrival.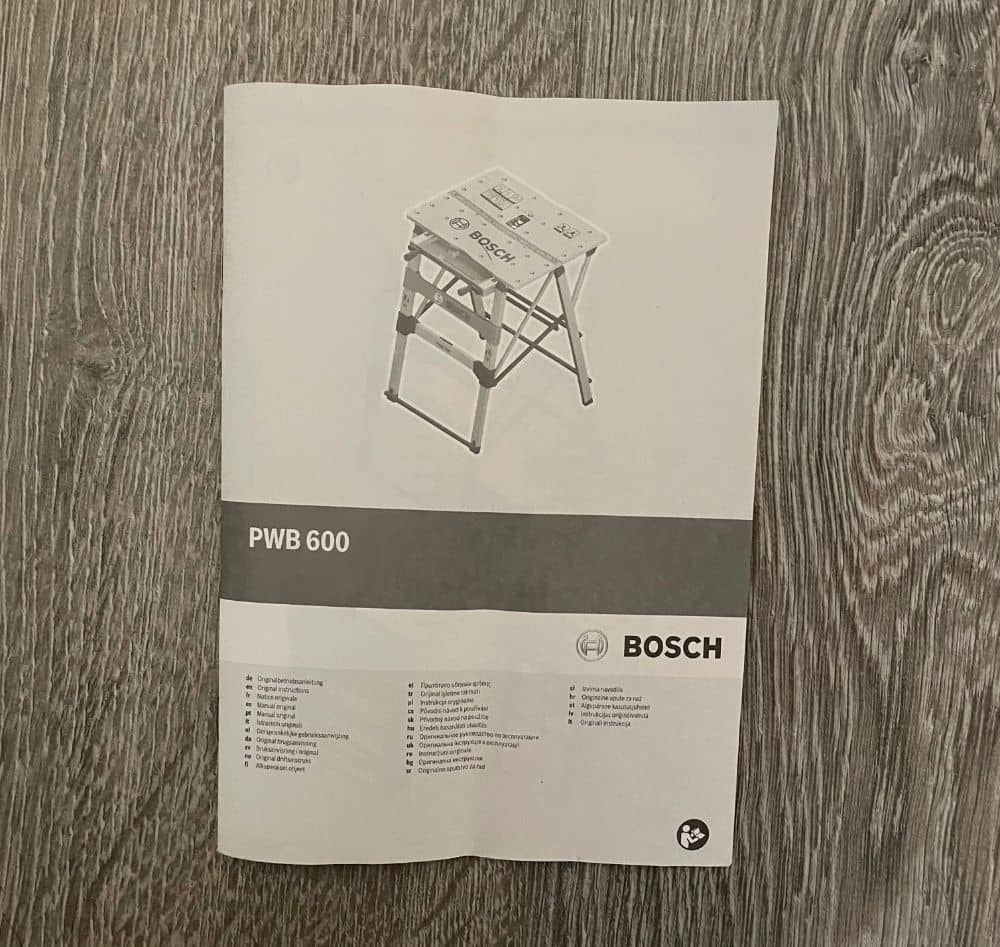 Setting up the work bench should be relatively easy. As it comes already together, you won't need to put it by parts yourself. This saves much time needed for other things. 
Bosch PWB 600 Work Bench Review – Design and Functionality
Let's now focus our attention on the design and functions in our Bosch PWB 600 Work Bench review. 
The Bosch PWB 600 Work Bench was designed for an easy-quick setup table for working anywhere at any time. 
When taking a look at the bench, the main part of the table is the bamboo surface. Bamboo is a durable material for quality workspace. It provides a sturdy foundation when working with heavy materials.
There are holes in between the bamboo surfaces, which allow you to drill through the table. It also helps in clamping flexible structures to the board when working. 
The board is also divided into two parts. This allows you the option to do the cutting and sawing with the workbench. 
This provides a versatile board surface that can offer a variety of options for any kind of usage. Other than its variety, it is also very portable. 
The makers conceptualised it with the idea that it needs to be transportable and fit any work environment. Whether at work, home or outdoors, you will find the workbench to be useful.
There is a latch on the board which you can squeeze that releases the springs and gears. These open the parts that allow you to fold the table in a vertical position.
This option grants easy movement and direct access for instant deployment of the work bench. It makes the overall operation more efficient and effective during quick working sessions. 
Our Bosch PWB 600 Work Bench has a concrete foundation. This is due to the aluminium stands that keep the bench compact. 
All in all, the Bosch PWB 600 Work Bench was designed with the idea of creating direct and efficient working spaces in any environment. 
Key Features of the Bosch PWB 600 Work Bench
Moving now from the architecture, we check on the features this product has in our Bosch PWB 600 Work Bench review. 
Concrete Foundation
The Bosch PWB 600 Work Bench is made up of parts built to last. With a bamboo board surface paired with aluminium stands and flexible materials, it is structured to stand its ground against any type of work.
Bosch is well-known for the quality of products they provide. With that, we believe it is safe to say that Bosch designed a workbench that will only prove to show the quality of their products. 
Robust Construction
When looking at the Bosch PWB 600 Work Bench architecture, it is distinct compared to other work benches. Many individual parts stand out. 
One thing you will notice is that the bamboo board is that it's split in half. This allows you to cut with this work bench without worrying about damaging the board, as there is a designated space provided for that purpose.

Other than that, there are several holes on the board. This allows the clamping jaws that hold the structures firmly in place. 
This is a wonderful addition as it helps hold the pieces together; therefore, creating an efficient workspace for anyone. The holes can also prove to be useful during drilling or working with nails. 
This means that the nails and drill won't go through the board but rather the holes provided. 
Portable
Workbenches can prove troubling if the environment doesn't work well with the workbenches. Sometimes, the workbench provided won't fit the space or isn't portable at all. 
Due to that reason, Bosch worked on coming up with a workbench that won't be bothered by such environments. 
The Bosch PWB 600 Work Bench is lightweight. This makes it easier to bring around and carry. Next is its foldability. With that, you can take it anywhere. It is also transportable, which you can put in your car for outdoor work environments.
Whether it be in the garden, garage, outdoors or even at home, the Bosch PWB 600 Work Bench provides a safe, stable workspace for anyone looking to do handy work. 
It is easy to set up and features a ready-anywhere-anytime function. With that, the Bosch PWB 600 Work Bench is all you need for a quick and direct workspace. 
Specifications
Our Bosch PWB 600 Work Bench review can never be complete without looking into the specifics of the product. 
The Bosch PWB 600 Work Bench is 680 millimetres in length, 834 millimetres in height, and its width is 680 millimetres. It can support up to 200 kilograms and only weighs 11.6 kilograms.
With these dimensions, it makes it more stable and proper for working with heavy and long objects. You won't have a problem with such a tool in your operations. 
The board is made up of bamboo, and its metal counterparts are made up of aluminium. This keeps the table overall strong in structure and can withstand heavy objects. 
Bosch PWB 600 Work Bench Review Summary
Before we come to conclude our Bosch PWB 600 Work Bench review, we will now confirm our final thoughts. 
The Bosch PWB 600 Work Bench is an elaborate workbench that provides a safe workspace for the user. It is easy and simple enough for even a beginner to use. 
You will find this workbench to be most fitting in any situation. To be fair, we were amazed by its excellent design and the functions it provides. With that, we can say we truly recommend this product to anyone looking to start on handyman work. 
Whether at home or work, the Bosch PWB 600 Work Bench is suitable for all environments. All in all, we are happy to have reviewed this product for you.
If you are interested in such a product, then please feel free to check out their website here.