Some gamers want an ultra-lightweight gaming mouse that's sturdy and solid to the touch. If you're one of them, then this Cooler Master MM711 Gaming Mouse review is for you.
Today, we're reviewing and discussing everything about the MM711 gaming mouse from Cooler Master. It's extremely light at just 60g and sports RGB lights, unlike the MM710. It also boasts of the company's Ultra-weave cable, as well as the PMW-3389 sensor that's present. 
Do you think this could be your next gaming mouse? If you're interested, continue reading our Cooler Master MM711 Gaming Mouse review to learn more about it.
Cooler Master MM711 Gaming Mouse Packaging
The MM711 that we got was the Retro Limited Edition version, and it came in the company's typical-looking retail box. Specifically, it's a black package with an image of the product positioned at the centre, in front of the box. Three key features were also highlighted on the package, and you can find these just below the image. 
The box's rear displays a couple of the mouse's main features and are detailed for your reference. 
Opening the box, the MM711 is packed nicely and securely in place. Plus, it comes with an extra set of mouse feet and a quick start guide.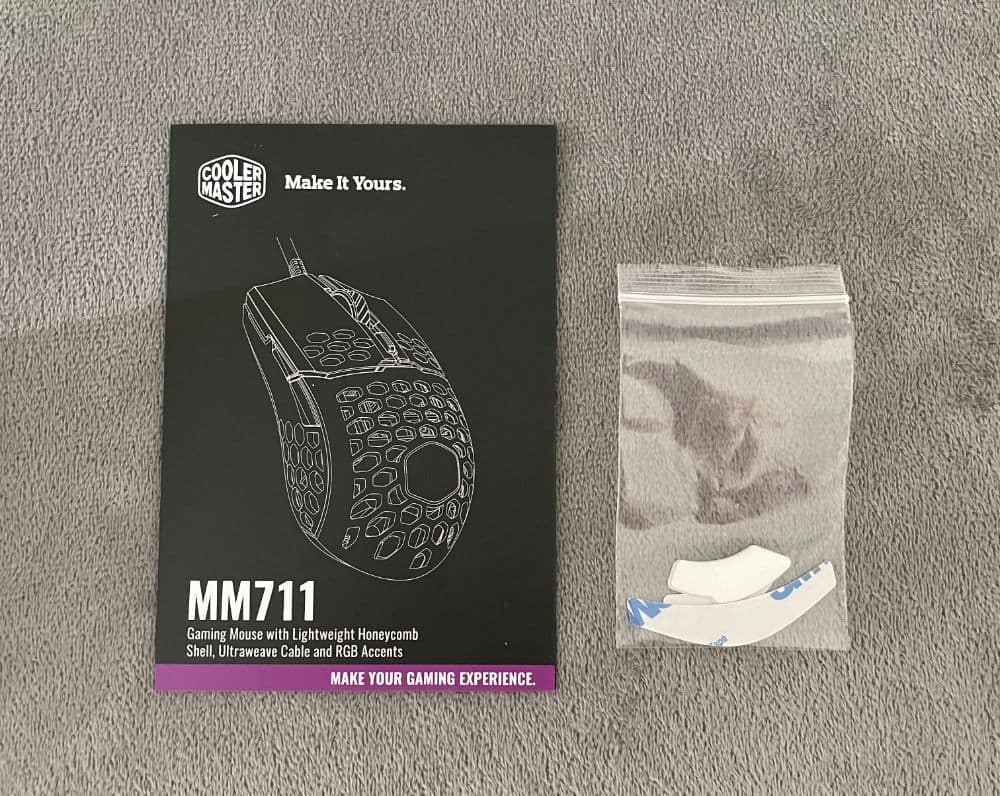 Cooler Master didn't include much in their package. So let's continue with our Cooler Master MM711 Gaming Mouse review and discuss its style, build, and functions. 
Cooler Master MM711 Gaming Mouse Review – Design and Functionality
The MM711 gaming mouse sports an ambidextrous style with tons of holes present on its shell. It's pretty cool that Cooler Master made these "holes" shaped like hexagons that match their logo. This take brings a more unique aesthetic compared to regular honeycomb styles. 
Aside from being ambidextrous, the mouse resembles the old MasterMouse S from Cooler Master. There isn't any prominent curve to its sides, though there's an arch towards its rear.
Do note that this is a small gaming mouse, so it's not ideal for gamers with pretty huge hands. But if you're okay with it being small, then go for it. 
Compared to the Glorious Model O, the company opted to put in additional holes to the MM711's sides. However, these are only towards the shell's rear. The left side of the MM711 has two side buttons, while its right is bare. 
The front of the mouse gives you a better look at the main buttons that have comfort grooves on them. Plus, there's a textured rubber scroll wheel between the buttons, with one DPI button behind it. 
Of course, we made sure to inspect every part of the mouse for our Cooler Master MM711 Gaming Mouse review. So, we flipped the MM771 over and saw the three PTFE mouse feet.
At the centre of the mouse, you'll see the PMW 3389 sensor, which is surrounded by more hexagonal holes. It has a black braided cable that's 1.8m. the company calls it their ultra-weave cable.
We can't deny that we love the material they used for it. This made the cord extremely lightweight yet durable, flexible, and it doesn't bend like rubber or braided cables.
Key Features of the Cooler Master MM711 Gaming Mouse
Our Cooler Master MM711 Gaming Mouse review will now focus on the mouse's key features. Here's what it offers.
Excellent Weight Without Gimmicks
The innovative design and aesthetics of the mouse implement a fresh honeycomb shell design that's both lightweight and durable. Cooler Master lessened the mouse's weight and reached just 60g for it.
It is lightweight, so you won't experience misses in snipes because of the weight-limited range of motions. 
With the mouse, you won't have to bother with wrist pains after gaming marathons. And you don't have to deal with fatigue after gaming all night. Perform better, aim perfectly – for longer. 
Unbind the Mouse
When you're attacking a huge number of troops, you shouldn't feel chained and bound. That's why Cooler Master opted for the ultra-weave cable that's made of flexible and durable material. With this, you won't have any issues when it comes to precision aiming. 
Designed for Comfort and Optimised Performance
The MM711 gaming mouse has an ambidextrous shape that's optimised for gamers who are right-handed. It guarantees functionality without forgetting comfort, with two side buttons to easily reach your customised key binds. 
In addition, the pure PTFE feet were built onto the mouse for maximum glide, extreme durability, and precise responsiveness. 
Top-notch Optical Sensor for Pro-grade Gaming
The MM711 is integrated with a 16,000 DPI PixArt optical sensor that provides lesser lag. There's little to no stuttering, and it'll give you precise accuracy that you won't find on pack-in mice. 
And just in case you need to focus more on precision over speed, its DPI can be adjusted immediately. Thus, will allow you to make real-time adjustments that all depend on class, game, and/or playstyle.
Omron Switches for Top-tier Durability
Omron Switches are a standard for this mouse, allowing you to take advantage of the rated 20 million-plus keypresses. With these, you won't have to deal with your sidearm quitting on you in the middle of the game.
Special Protection Against the Elements
Although lightweight, the mouse has heavyweight protection which is vital because of its perforated design. The mouse's PCBA is coated entirely with dust and water-resistant protection. It's to safeguard the MM711 from accidental spills, sweaty palms, and unwanted dust. 
Just remember that Cooler Master didn't coat the mouse's encoder and switches. If they did, it wouldn't perform adequately. So, avoid dunking or swimming with the mouse, though we don't think anyone would do that anyway. 
Stylish RGB Accents for Form and Function
This mouse comes with low-key LED lights on its logo and scroll wheel. It's not just for colour and aesthetics, but the LED also works as an indicator for the assigned DPI. 
Now that we've covered its key features, our Cooler Master MM711 Gaming Mouse review will now focus on its specifications. 
Specifications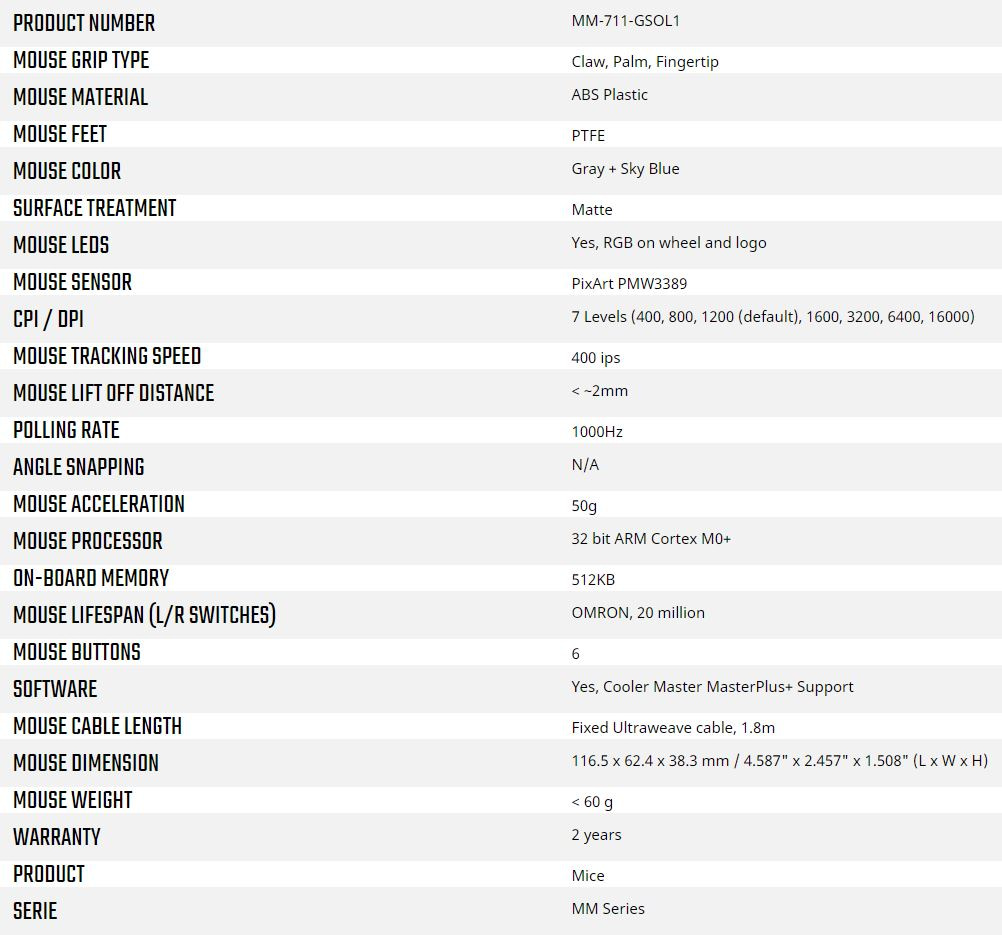 The MM711 gaming mouse is made of ABS plastic while sporting PTFE mouse feet. It makes use of the PixArt PMW 3389 mouse sensor with 7 CPI/DPI levels. 
This mouse has a tracking speed of 400 ips and a ~2mm lift-off distance. DPI levels. The polling rate is at 1,000Hz, while mouse acceleration is 50g. 
When it comes to the mouse processor, it's a 32-bit ARM Cortex M0+, while its on-board memory, it's at 512KB. 
Cooler Master utilised Omron switches for the MM711's left and right switches. And, the mouse has a total of six buttons for use. To customise the mouse, it's compatible with the MasterPlus+ Support software that you can download from Cooler Master's official website. 
Lastly, let's talk about the mouse's cable and dimensions. The MM711 has an ultra-weave cable that measures 1.8m long. For its dimensions, the mouse is 116.5 x 62.4 x 38.3mm (L x W x H). And, it weighs just 60g. 
For added convenience, the Cooler Master MM711 comes with a 2-year warranty as well. 
Hands-on with the Cooler Master MM711 Gaming Mouse 
This time, we'll discuss the performance of this mouse in our Cooler Master MM711 Gaming Mouse review. But before we get into that, let's check out the Cooler Master's software for the mouse. 
The Cooler Master MM711 is a plug-and-play gaming mouse that's pretty convenient for everyone. But if you want to customise it, you'll need to download the MasterPlus+ Software. 
When you first open the software, the first screen you'll see is the "Buttons" tab. This is where you can program the mouse's six available buttons. 
Next is the "Lighting" tab where you customise the RGB lights of the mouse. It's also where you can set a variety of effects for it. After "Lighting" is the "Performance" tab where the MM711's sensitivity or DPI levels can be adjusted in 100 increments. 
There are a total of 7 set DPI levels. However, you can adjust all of these however you want. 
A "Macro" tab is also present, and it's where you create then save macros. The last tab is "Profiles", where you can save, import, and export profiles. 
Now that we're done with the software, our Cooler Master MM711 Gaming Mouse review will discuss its performance. 
The mouse's main buttons had good click action, and that also goes for its side buttons. The latter was easy to reach, and its actuation was quick and responsive. As for wobbling, we didn't experience any of that when we used the mouse for weeks. 
The MM711's scroll wheel is one of the best we've used. It's tight but easy to flick up/down. Plus, it has a nice light scrolling wheel click which is something we appreciate. 
We don't have any complaints with its sensor, given that Cooler Master used PixArt's PMW 3389 sensor for it. Tracking was pixel-perfect, and we didn't experience any unnecessary jitters or acceleration, which is good. 
Overall, the MM711 gaming mouse from Cooler Master performed excellently, and it's definitely something worth getting. 
Cooler Master MM711 Gaming Mouse Review Summary
With the MM711's ultra-lightweight, honeycomb plastic body, and sturdy build, it's definitely a great gaming mouse to use. It has a great design and shape so you won't have to worry about build quality issues and the like. 
Plus, with its ambidextrous form, it's great for all grip types. But since it's small, we recommend it to people with small to medium-sized hands. 
If you're interested in getting your hands on this gaming mouse from Cooler Master, we've got your back. Just visit Cooler Master's official page to find a store near your place.