The MM720 is a lightweight version of the fan-favourite mouse from Cooler Master. And today, we're talking all about it in our Cooler Master MM720 Gaming Mouse review. 
This modern legend combines the classic performance and efficiencies of the Spawn, with current features for a better gaming experience. It also sports the Xornet shape and was created with performance and durability in mind. 
We've got our own MM720 that we'll be covering in our Cooler Master MM720 Gaming Mouse review. It's the matte black version which looks pretty cool and premium.
Cooler Master MM720 Gaming Mouse Packaging
We love the packaging for the MM720, and we think that Cooler Master did a really good job with it. The box sports a black and violet theme that's simple yet extremely eye-catching. 
The centre displays an image of the MM720, while the upper-right corner shows Cooler Master's logo and name. To the right of the image is a list of its key features and what it offers. 
Flipping the box, you'll find more features of the MM720 and other details about it written in different languages. 
Opening the box, we saw that the mouse was packaged nicely and securely in place. So, you don't have to worry about damages while it's being delivered to your home. 
There's nothing much inside, and you'll only get the mouse itself along with a quick-start guide.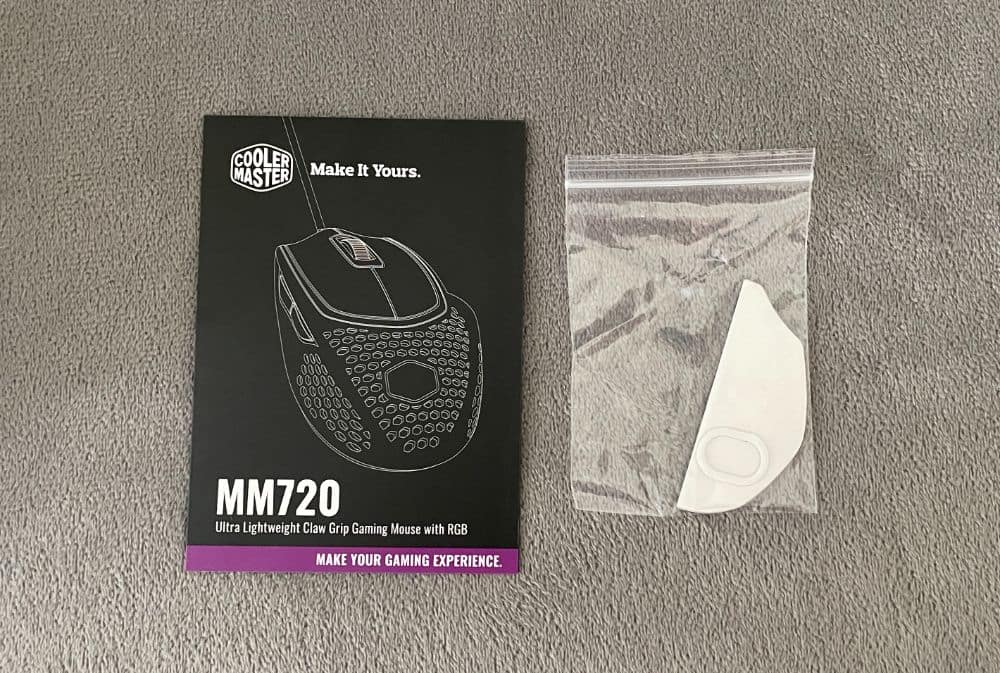 Let's move on to the design and functions in our Cooler Master MM720 Gaming Mouse review.
Cooler Master MM720 Gaming Mouse Review – Design and Functionality
When looking at the MM720 gaming mouse, Cooler Master seems to have retained its shape. And with that, its shell sports a perforated design.
Its holes are slightly smaller than those on the MM711, yet its illumination is really good. We love the glowing portion at the centre that looks excellent with its matte black finish. 
The mouse sports a nicely lit scroll wheel that looks cool and aesthetic. In addition, it has RGB lights too, which can be easily customised via Cooler Master's downloadable software.

We love its build quality, and it's way better compared to the MM711. Although the latter's colours are great, its build and feel seem too toy-like and fragile. Plus, it has a very plasticky feel, so the mouse crackles and clacks every time. 
The MM720 has a very solid build without any rattling or creaking when you squeeze on its body. It's a well-built mouse, and we think Cooler Master did an excellent job in reutilising the original frame. 
Continuing our Cooler Master MM720 Gaming Mouse review, let's talk about the mouse's cable and sensors. 
Cooler Master utilised a new and improved cable for the mouse. It's extremely soft and lightweight and has a purple USB tip too. They added this colour to make it easier for you to categorise between other USB ports.  
When it comes to its sensors, they utilised the familiar PixArt 3389 which is an amazing performer. We have no complaints in this department, and this is basically another good move from Cooler Master. 
With this mouse, you can save up to 7 DPI profiles which are changeable via software in 100 DPI increases. Plus, disabling profiles are also possible if you won't use all of them.
The next part of our Cooler Master MM720 Gaming Mouse review is where we'll discuss its key features. Let's see what this gaming mouse has in store for us. 
Key Features of the Cooler Master MM720 Gaming Mouse 
Lightweight Design Eliminating Motion Limits
The MM720's innovative new look featuring the honeycomb shell reduces the mouse's weight to only 49g. With that, you won't need to deal with missed snipes caused by limited range of motion. Plus, you won't have to suffer from wrist pain and fatigue after long marathons when using this lightweight mouse.
The Speed of Light
The MM720 gaming mouse comes with optical switches in its left and right-click. These switches reduce debounce time to zero so you can perform three times faster, unlike when using conventional mechanical switches. 
Added Durability with Optical Switches
Conventional switches suffer from wear and tear at some point due to repetitive clicking. But with the MM720 gaming mouse, you won't have to deal with this.
The MM720 utilises laser technology to register your clicks. Less moving parts equates to reduced wear and tear plus an extended lifespan. 
Ultralight Cable for Easy Movement
Cooler Master equipped the MM720 gaming mouse with an ultralight cable for easier movement. It's engineered in-house and made of durable, lightweight fibre.
Gaming-Grade Sensor for Professional-grade Gaming
The MM720 gaming mouse features a 16,000 DPI optical sensor that reduces lag, eliminates stuttering, and enhances accuracy. This optical sensor, together with the mouse's lightweight design, effectively improves your overall gaming performance.
If you need precision over speed, you can adjust the DPI in real-time.
PTFE Feet for Smooth Gliding
The PTFE feet is a common modification that mice enthusiasts use for effortless glide and high responsiveness. And to make things convenient for you, Cooler Master equipped the MM720 with the PTFE feet.
Stylish RGB Accents
The MM720's understated RGB LEDs in the scroll wheel and Cooler Master logo not only offers aesthetics. These are also useful indicators that show the DPI that you're currently using.
Extreme Protection
The MM720 00gaming mouse features a water and dust-resistant coating that helps prevent damages caused by spills, dust particles, and overly sweaty palms. It's rated and certified at IP58 protection.
Let's move on to the mouse's specifications and discuss everything about it in our Cooler Master MM720 Gaming Mouse review. 
Specifications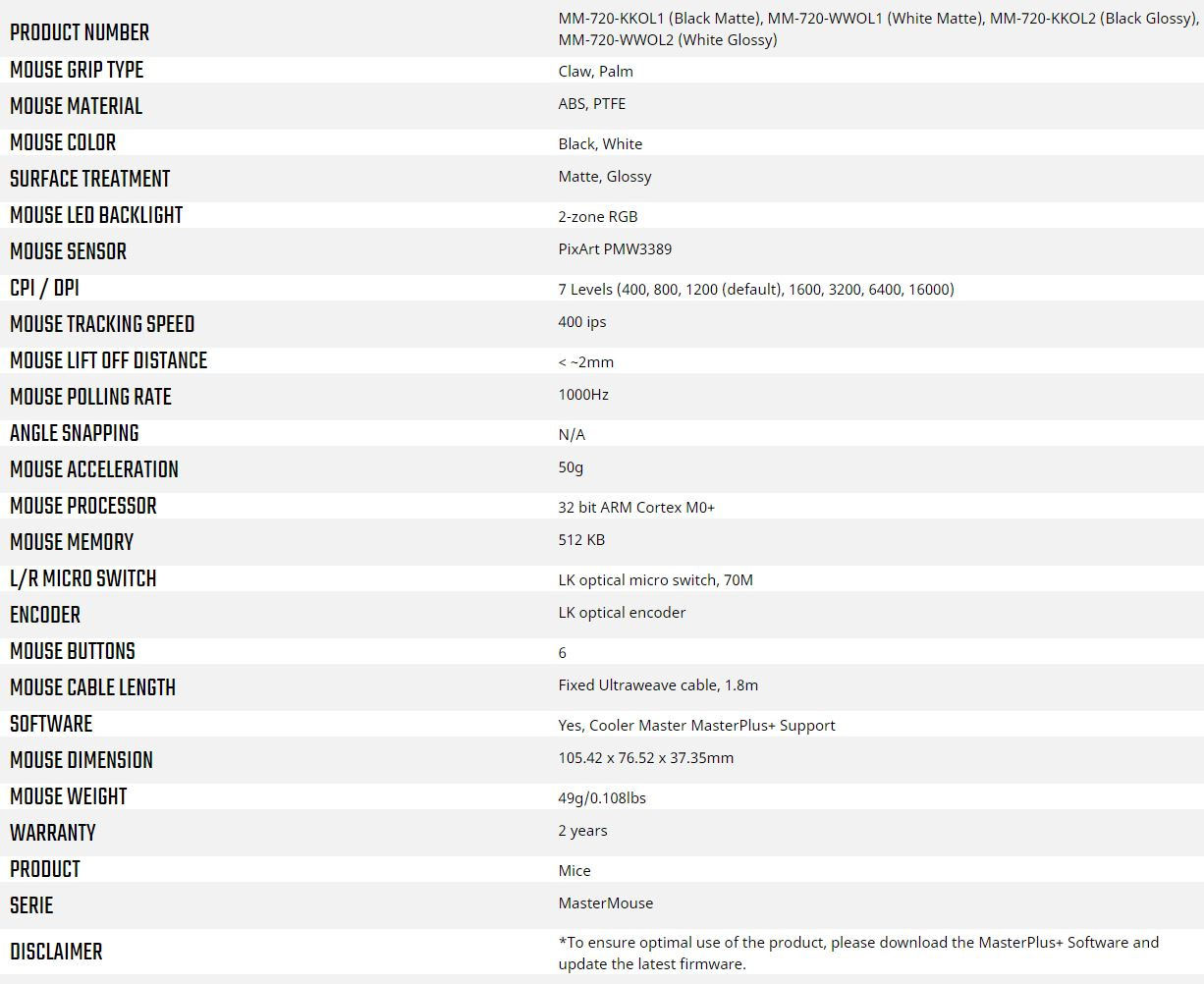 The MM720 gaming mouse utilises a PixArt P0WM-3389 sensor and has seven DPI levels in total. The default levels are 400, 800, and 1,200. Other levels are 1,600, 3,200, 6,400, and 16,000. 
Its mouse tracking speed is at 400 IPS, while its lift-off distance is ~2mm. 
Its polling rate is 1,000Hz, while the acceleration is 50g. Cooler Master utilised the LK optical microswitch (70M) and has an LK optical encoder too. The mouse has a total of six mouse buttons that can be utilised for specific functions. 
The MM720's fixed ultraweave cable is 1.8m long. Lastly, the mouse measures 105.42 x 76.52 x 37.35mm and weighs 49g. 
Curious about how the mouse performed? Continue reading our Cooler Master MM720 Gaming Mouse review to determine if its performance is up to your expectations. 
Hands-on with the Cooler Master MM720 Gaming Mouse 
Let's first talk about how it felt when we used it for gaming. We're glad to say that it's surprisingly comfortable, and it has the right fit on our hands. 
There were no instances of hand strains or pain despite gaming and using the mouse for extended periods. We think it's because of the spot to rest your ring finger on when you're playing. 
If you think about it, most gaming mice usually ignore the ring finger. But Cooler Master made sure to keep this neglected appendage in mind when designing the MM720. 
We can safely say that it gave us a great gaming experience when we used it for a few weeks. It's incredibly light, so we lowered our DPI to around 600 where we usually play using 1,000 DPI.
The mouse also sits well in our grip, and it's almost like an extension of our hands and arms. So basically, it appeared like the cursor was a part of us, thus, making it extremely responsive and efficient. 
There weren't any instances of staggering, waddling, lurching, or reeling when we used it. So overall, the Cooler Master MM720 performed perfectly, and we don't have any complaints about it. 
Of course, we can't miss out on the Cooler MasterPlus+ software since this is where you'll configure the MM720 gaming mouse. 
It offers a ton of details about your system. These include user percentage, temperature, and the voltage of your GPU and CPU by default. In addition, you can utilise it to manage other Cooler Master hardware, plus it checks for any new firmware available. 
The software provides different actions that let you disable some buttons. You can set them to work like other mouse buttons, DPI switches, or keyboard keys for controlling multimedia playback. 
There's even an available option for disabling the sensor. Plus, the DPI switch can be assigned to other functions too. 
The Cooler MasterPlus+ software features sliders. These are used for tuning the angles, button response time, and settings for pointer sensitivity and double-click speed. However, the software's premium feature is the Surface Tuning which works to enhance the sensors for your specific mousepad.
For its RGB settings, it's similar to those used by other utilities. 
Cooler MasterPlus+ offers five mouse profiles that you can rename, reset, export, or view as .exe via the software.
Cooler Master MM720 Gaming Mouse Review Summary
The MM720 from Cooler Master is an impressive gaming mouse that offers aesthetics, durability, and performance. This new and improved version of the Cooler Master's Spawn model is comfortable to use, making it great for gaming. Plus, its lightweight body and customisable settings allow for a better gaming experience.
We also liked its utility suite, the Cooler MasterPlus+ software. The simple layout made it easy to use, so we're sure even newbies won't have difficulty using it.
During our test, we had a great gaming experience with the MM720 and didn't have issues with it. So we're highly recommending this product to those looking for a lightweight, durable, and efficient gaming mouse. 
If you want to have this product, check out Cooler Master's store locator to find a shop near you.