In today's Corsair H100i Elite LCD AIO Cooler review, we'll dive into the product that people are continuously talking about. 
The H100i Elite LCD AIO cooler is an all-in-one liquid CPU cooler from Corsair. It sports excellent elements to enhance your PCs performance while catering to your own personality and style. 
Want to know more about this cooler? Think it's something worth adding to your rig?
If so, continue reading to learn more about its features, specifications, design, and more. 
Corsair H100i Elite LCD AIO Cooler Packaging
For starters, we'll look into the packaging and contents of this cooler. When it arrived for our Corsair H100i Elite LCD AIO Cooler review, it came in a standard Corsair-looking cardboard box.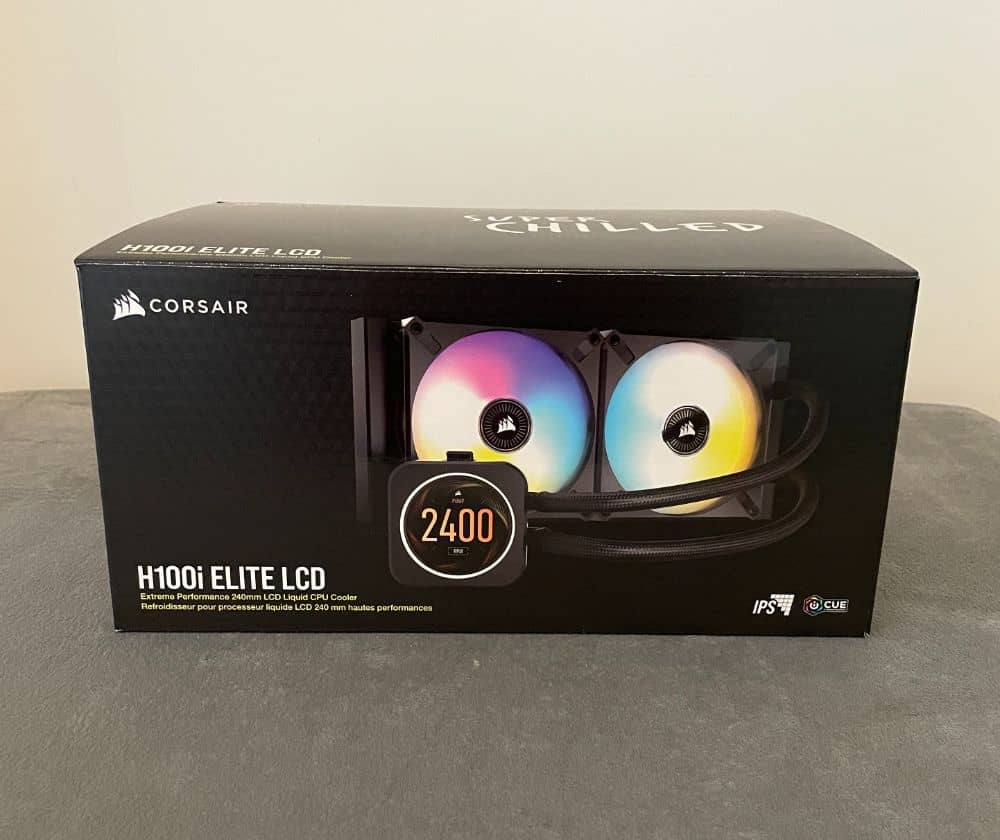 It's a simple black flip-open box that has "Super Chilled" written on the cover. Also here, you'll find Corsair on the top-left corner, while the name of the unit is on the lower-left section. 
On the sides of the box, you'll find the company and unit's name too. However, you'll find images of the cooler as well.  
Inside, everything was carefully and neatly packed to secure the product. Not only that, but each item was padded before bundling everything in the box. We greatly appreciate Corsair for doing this since they're not only well-protected, but everything was organised too. 
Like always, all the contents of the H100i Elite LCD AIO cooler were nicely and neatly packed by the company. Everything was organised and Corsair obviously ensured that everything would be secure during transit. 
So if you're someone who always worries about their shipped products getting damaged while on the road, don't worry. With how Corsair packed their LCD AIO cooler, you can be sure that no dents or damages will appear. 
Now when we began unboxing, the first thing we saw when we opened the box was the cooler itself. It consists of the fan, radiator, tubing, pump/cooling block, and more.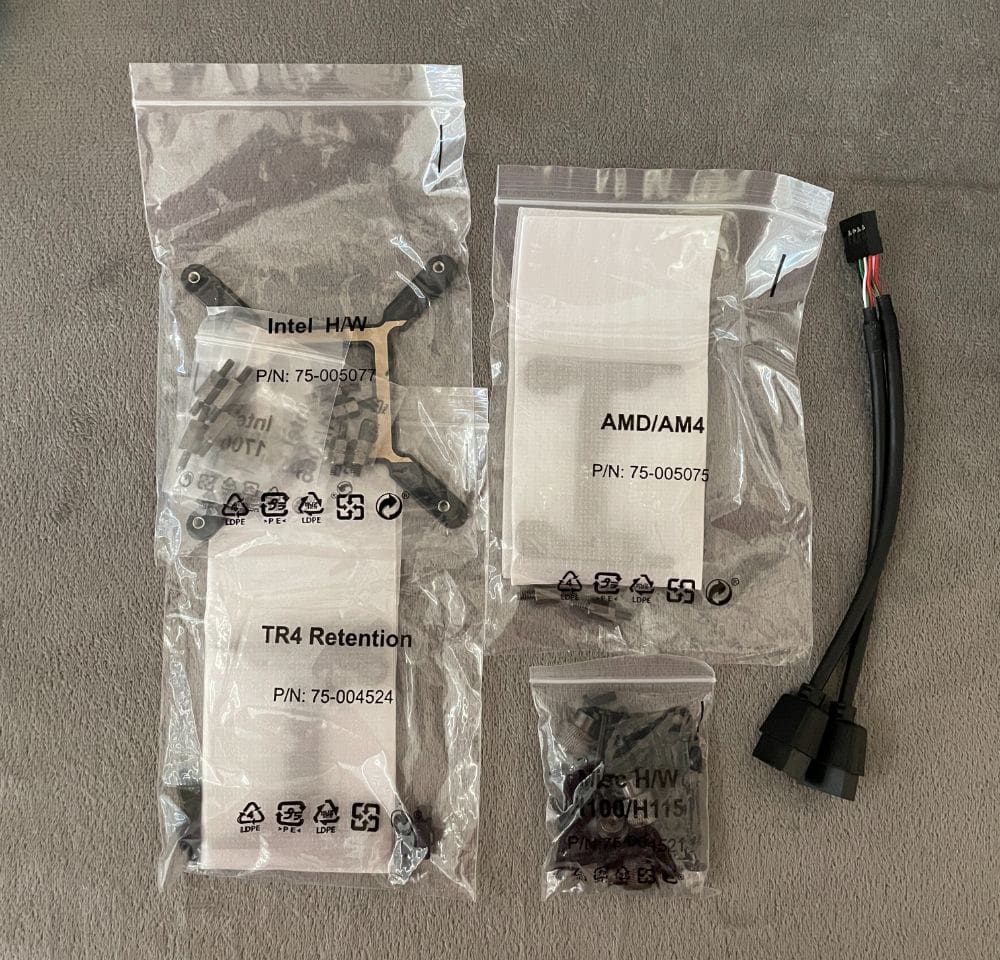 Most of the items came pre-assembled and ready to use. That means, you'll only need to attach/install the fans and the bracket to hold the cooler in place. 
Other than the H100i Elite LCD AIO cooler, you'll find a backplate designed to support different types of CPU sockets. Then, there are two ML Series PWM 120mm RGB fans, plus fan and radiator mounting screws. Lastly, you'll even find a USB Y-splitter, iCUE Node commander, and a quick start guide. 
Let's look at the design and functions of this cooler next in our Corsair H100i Elite LCD AIO Cooler review. 
Corsair H100i Elite LCD AIO Cooler Review – Design and Functionality
Of course, we'll also dig into how Corsair designed their cooler, and what its different functions are. To begin, we're focusing on the product's cooling block. 
The H100i Elite LCD AIO cooler is compatible with Corsair's iCUE. Because of this, you would expect it to have the typical cabling linked to the product. But instead, things were revised a bit, so you'll have just a single cable leading to the HUB (node). Then, there's another cable leading to the motherboard (the pump RPM). 
We flipped the CPU's cooling block/pump to see its rear. Then, we saw an all-copper base with TIM or thermal grease that was pre-applied for you. It wasn't an entirely perfect or smooth application, but it didn't affect the product's performance in any way. 
Additionally, this block also features an LED ring that has up to 24 ARGB LED lights. All these can be controlled and managed via the iCUE software from Corsair which is included with the display. 
Aside from the pump head, the H100i Elite LCD AIO cooler is equipped with a 2.1" IPS LCD screen. It's a smart addition to the product for easier and more convenient viewing. 
With it, you'll be able to display your PC's stats like its fan speed or even its system temperature. What's more, you can show these off in a wide array of graphical styles and themes which is great. 
We actually tried it out during our performance check for the Corsair H100i Elite LCD AIO Cooler review. And, we did find it pretty useful so we appreciate Corsair for adding it. 
The LCD screen has a 480 x 480 resolution and a refresh rate of 30 fps. It can be utilised as a vital dashboard for exhibiting the health of your computer system. 
If you want, you can choose to personalise the screen based on your preferences. Instead, you can put your own personal spin on it since the screen can display various images and animated GIFs. This will provide you with endless possibilities to show off your personal style. 
With this, you can display a team logo, unique animations, or your favourite meme at the heart of your computer. 
The LCD display of the H100i Elite LCD AIO cooler is encircled by a ring. Specifically, it's a ring of 24 individually addressable RGB LED lights that you can program via the iCUE software. This is necessary if you want to link with animations and sync with the rest of the iCUE RGB ecosystem. 
Also, it's another convenient and useful element that Corsair added to the mix. 
The Commander Core Fan / RGB controller allows you to focus cable routing in a more organised and easy way. Why? Simply because Corsair opted for a few wires on the pump / visual segment of the board. 
Here, we have the Commander Core RGB / fan hub linked to a USB header. The latter is on the board, and it's powered by a SATA cable. 
On this, you're able to link up to a total of six fans (PWM). Not only that, but you're also able to link six of your compatible RGB devices. To note, the USB header is necessary for accessing the Corsair iCUE software. 
Key Features of the Corsair H100i Elite LCD AIO Cooler 
What makes the H100i Elite LCD AIO cooler better than other products on the market? Let's find out by discussing its key features here in our Corsair H100i Elite LCD AIO Cooler review.
Your Personalised LCD Dashboard
The 2.1" IPS LCD dashboard of the H100i Elite LCD AIO cooler allows you to display anything. You can upload your images and videos, or select a pre-installed screen and lighting profile. With that, you can showcase your funniest meme, favourite animated GIF, team logo, and more.
This screen has a 480 x 480 resolution and ultra-bright 600cd/m² backlight, allowing you to enjoy groundbreaking customisation options.
Turn Your PC Case into a Smart Case with iCUE Commander Core
All Elite LCD AIO coolers come with the iCUE Commander Core. It can control lighting and rotation speeds of up to six fans.
High-Performance Pump Head With RGB LED Ring
With the H100i Elite LCD AIO cooler, you won't need to sacrifice your PC's performance due to thermal throttling. This cooler's powerful pump head performs with low noise and ensures that your CPU can maximise its performance.
Next Generation Fans To Elevate Your CPU Cooling with the Corsair H100i Elite LCD AIO Cooler
The H100i Elite LCD AIO cooler comes with two ML RGB Elite magnetic levitation fans. These have eight RGB LEDs per fan and AirGuide technology channel airflow for extreme cooling performance.
Zero RPM Mode
Corsair's iCUE Software offers zero RPM cooling profiles, allowing fans to completely stop spinning at low temperatures. As a result, it eliminates fan noise.
Compatible and Ready for LGA 1700
Like all of Corsair's Elite LCD coolers, the H100i Elite LCD AIO cooler is LGA 1700 ready. It comes with all the necessary mounting hardware to make it compatible with modern platforms. Plus, installing it only takes minutes.
Let's continue and discuss the specifications in our Corsair H100i Elite LCD AIO Cooler review.
Specifications
The H100i Elite LCD AIO cooler's radiator is made of aluminium. It comes with a five year warranty and it's compatible with Corsair's iCUE. 
The cooler's 380mm tubing is made from black sleeved low-permeation rubber. Then, it comes with a cold plate that measures 56 x 56mm. 
This cooler's screen size is 2.1″, and comes with a 480 x 480 for both native and maximum resolution. And to note, its refresh rate is 30Hz. 
Lastly, the cooler's radiator measures 277 x 120 x 27mm, while the fan is 120mm x 25mm.
This time, we'll see how the cooler performed once we've installed it to our build. Our Corsair H100i Elite LCD AIO Cooler review will discuss our experience with it to help you decide if it's something worth the purchase. 
Hands-on with the Corsair H100i Elite LCD AIO Cooler
Before we get hands-on with the product, let's check out how easy (or difficult) it was during the installation process. 
The H100i Elite LCD AIO cooler, like other models, was extremely easy to install. This was all thanks to the mounting bracket that the company included in the package. 
It was good that the unit was pre-filled with coolant in a secure and closed loop during manufacture. Now for the whole installation process, it was very simple. We started with installing the backplate & standoff screws before positioning the cooler then tightening the screws. 
We completed the installation process for our Corsair H100i Elite LCD AIO Cooler review. And once we were done, we realised that it would look great on any build. To put it simply, it's an excellent alternative to heat pipe coolers with the included benefits of being relatively silent. 
Aside from these notable aspects, the cooler also comes with an aesthetically-pleasing design which makes it even better. If you're worried about not having advanced skills to install it, don't worry since it isn't required. You'll only need around 10 minutes to complete the installation process. 
Let's focus on the iCUE software this time. When you utilise this, you can immediately sync RGB lights across all the compatible Corsair products with just one click. 
Plus, you can even monitor and observe system performance from a customisable dashboard while controlling hardware temperatures. You can do this simply with the help of pump speed and in-depth fan adjustments. 
At the core of all things Corsair, iCUE software provides smart controls with extensive possibilities for your benefit. This utility suite has a user-friendly interface, so any user will easily understand how to use it.
With industry-leading and quality RGB light controls, iCUE allows you to easily manage and light up your PC. You can readily sync your lighting across the entire setup while also exploring tons of easily customisable lighting presets. Not only that, you can get into multi-layer lighting effects that will amaze everyone looking at your build. 
From smooth and quick transitions to dynamic ripples and waves, the iCUE software's lighting controls go beyond your keyboard. It's the best way to brighten up and stylise your whole setup that you can show off to all. 
Though do take note that if you are already utilising CUE, installing the iCUE software will instantly replace CUE. Then, settings will be migrated in the process as well. 
The iCUE software is an ambitious operation that after improvements, will offer you extra lighting, monitoring and fan control capacities. It will be better than ever, so you can only expect the best from Corsair. 
The Corsair H100i Elite LCD AIO cooler excelled in acoustic performance. In idle mode, its noise level was only around 30 dBA. Under load, it sat at around 34dBa.
Since the cooler was highly capable of keeping temperatures low at low RPM, it provided lower acoustics with increased airflow.
Our CPU sat at around 33 degrees celsius during idle mode. Under load, it reached 68 degrees celsius. 
The H100i Elite LCD AIO cooler is an exceptional cooler that offers a significant amount of cooling. Sitting next to it is its aesthetics and noise levels. 
During our tests, we were able to install the cooler quickly and with ease. Its performance was excellent as well and we have no complaints about it. It delivered silent performance and efficient cooling which is excellent for today's platforms.
Corsair H100i Elite LCD AIO Cooler Review Summary
Liquid cooling systems have taken a left turn when acoustic and cooling performance couldn't get much better. Next to that is the addition of RGB in the pump and a small LCD screen for customisation. And of course, Corsair did this excellently for the H100i LCD AIO cooler.
This latest cooler from Corsair not only offers superior cooling performance. With its LCD screen, you have the option to present anything you want and enhance your PC's aesthetics. These made our overall system more visually appealing. So, this cooler is also a great choice if you want to showcase your build's design.
It also has the iCUE Command Core that allows you to control your fan speeds and RGB lighting with ease. Aside from the aesthetics, we really liked the noise-free performance of this cooler.
Overall, it's a solid AIO cooler that offers great aesthetics and performance. Plus, it's easy to install and using the iCUE Software allows for various customisations. It's an excellent option if you're looking for an upgrade without spending too much.
If you want to upgrade your PC build with this cooler, you can purchase it from the company's official website.