Corsair is known for selling a variety of peripherals and components. Today, we will discuss one of its offerings in this Corsair iCue H100i ELITE LCD XT Review. 
The iCue H100i ELITE LCD XT offers silent performance during multiple tasks. Its fan speed is also linked to the coolant temperature, preventing bursting fan behaviour. 
It integrates plenty of notable features, but with its price tag, is it worth considering? We tested this AIO cooler for our Corsair iCue H100i ELITE LCD XT Review. And other than its performance, we will also discuss its features, design, functions, and specifications. 
But before looking deeper into the product, we will check its packaging and contents. So first, let us find out if Corsair included everything you need to start. 
Corsair iCue H100i ELITE LCD XT Packaging
The cooler shipped in a typical-looking Corsair box that sports the standard yellow and black theme. In addition, you will find the words SUPER CHILLED together with the company branding and unit name. Finally, the sides of the box provide additional information about the product that you can refer to as needed.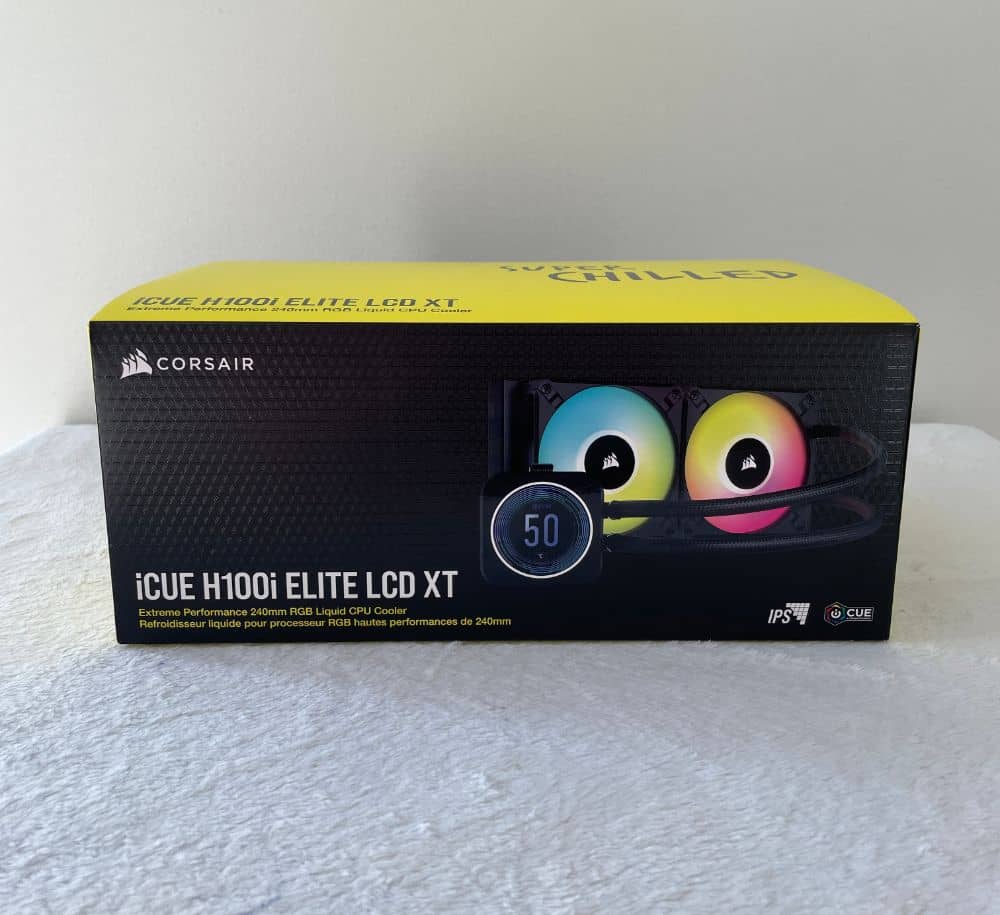 We also checked the package contents for our Corsair iCue H100i ELITE LCD XT Review. Inside the box, the H100i ELITE LCD XT ships with additional accessories to help you get started. These include the following: 
A mounting kit compatible with all current CPU sockets

Mounting screws for the fan and radiator

Two 120mm AF RGB ELITE PWM fans

One USB Y-splitter

The iCue Commander CORE fan + RGB controller

Pre-applied XTM70 thermal paste
Corsair iCue H100i ELITE LCD XT Review – Design and Functionality
You likely confused our Corsair iCue H100i ELITE LCD XT Review with the H100 ELITE LCD. We cannot blame you since the only difference is the XT in its name. Design-wise, the only difference is that the H100i ELITE LCD XT features new fans with nine blades instead of seven. 
There is also a difference in thickness by 1mm, and its weight also goes slightly lower. Corsair also included the AM3 and AM4 in its compatibility list since the release of AM55. 

Since the fans are missing pass-through connections, they will still require a PWM and ARGB port. These are from the six provided ports by the Commander Core controller. 
Another element to note on its design optimisation is that the AF120 of this cooler lists as FDB. If you notice, the fans of non-XT coolers list as magnetic levitation bearings instead. 
Remember, the magnetic levitation unloads the sleeve bearing only when the fan spins. So generally, these two will look physically similar.  

This cooling system integrates the CPU water block and pumps into a single unit capped with an LCD-covered lid. The H100i ELITE LCD XT boasts a 480×480 display that can showcase your preferred static images or GIFs. Corsair included various modes in addition to choosing a static image with a black backdrop for improved contrast.
Furthermore, the LCD panel still employs magnets to attach to the cover of the water block. The only difference is using a grid pattern for the factory thermal interface. It decreases the amount used by approximately 20%.
The cold plate of the cooler retains its brushed copper finish. Note that the mounting plate for Intel has two slip-in components. These slot into grooves on either side of its base. 
The LCD design allows for the removal of the plate. This style enables the installation of an alternative AM5/4/3 or sTR4/sTRX4 plate.
Key Features of the Corsair iCue H100i ELITE LCD XT
All-in-one Premium LCD CPU Cooler
This CPU cooler offers a premium all-in-one solution, delivering efficient cooling with minimal noise. In addition, it features a customised LCD that enhances the appearance of your system. Plus, it allows you to check its performance.
Your Personalised LCD Dashboard
You can select from pre-installed lighting profiles/screens or upload your animated GIFs/images. Whatever you choose will create a unique and innovative system lighting experience that reflects your style and preferences.
Vibrant IPS LCD Display 
Display your animated GIFs, memes, or a team emblem on a personalised 2.1-inch IPS LCD screen. It has a 480×480 and a remarkably bright 600cd/m² backlight.
High-performing Pump Head + an RGB LED Ring 
You do not have to sacrifice performance to achieve thermal throttling. Why? Because the H100i ELITE LCD XT has a low-noise and powerful pump head. It allows you to take advantage of every last MHz out of your CPU. 
Optimise Everything
While creating our Corsair iCue H100i ELITE LCD XT Review, we noticed how customisable the cooler can get. For example, the iCue COMMANDER CORE lets you control and manage fan speeds and lighting.
The Best RGB Fans
The cooler uses the Corsair AF RGB ELITE PWM fans. These offer AirGuide technology to provide low-noise airflow along a high-surface area of 240/360/420mm radiator for top-notch cooling. 
High-performance Thermal Paste
All liquid coolers under the ELITE LCD XT series have pre-applied Corsair XTM70 Extreme Performance thermal paste. It offers optimal heat transfer from your processor to the cold plate of the cooler.
Zero RPM
With the PWM control, you can adjust the exact fan speed you need for your PC. In addition, the H100i ELITE LCD XT supports zero RPM PWM signals to stop the fans from spinning at the lowest temperatures. As a result, it eliminates the noise of fans.
Easy Installation with Extended Tubing
The 400mm extended tubing and modular tool-free brackets simplify the installation of the latest Intel and AMD sockets. These include LGA 2066, 2011, 1700, 1200, and 115X for Intel plus sTRX4/sTR4, AM5, and AM4 for AMD.
Specifications
Like our other reviews, we listed the product specifications in our Corsair iCue H100i ELITE LCD XT Review. These will help determine if the iCue H100 ELITE LCD XT is compatible with your system and build. 
Radiator Material:

aluminium

Tubing Length:

400mm 

Tubing Material:

black-sleeved low-permeation rubber

Cold Plate Measurements:

56x56mm
Screen Specifications
Screen Size and Native Resolution:

21 inches | 480×480

Maximum Resolution:

480×480

Refresh Rate:

30Hz
Radiator and Fan Specifications
Radiator Dimensions:

277x120x27mm

Radiator Size:

240mm 

Fan Model:

AF RGB ELITE

Number of Fans:

Two

Fan Dimensions and Speed:

120x25mm | 500 to 2100 RPM ±10%
Other Specifications

Cooling Socket Support:


Intel 1200, 1700, 1151, 1150, 1155, 1366, 1156, 2911, 2066




AMD AM4, AM5, sTRX4, AM3, sTR4

Peak brightness:

600 Nit

Display Colours:

16.7 million (8-bit RGB)

Display Technology and Surface:

IPS | Glossy

Fan Airflow:

13.8 to 65.57 CFM

Fan Static Pressure:

0.17 to 2.68mm H2O

Noise Level:

5 to 34.1 dBA

Warranty and Compatibility:

5-year warranty | Compatible with Corsair iCUE
Hands-on with the Corsair iCue H100i ELITE LCD XT
We used the H100i ELITE LCD XT for over a week to see how it would perform. Then, we will share our experience in this Corsair iCue H100i ELITE LCD XT Review. But before doing so, let us look into the iCue Software. 
If you use Corsair peripherals or components, you likely have iCUE installed on your PC. This free program lets you control, manage, and customise your iCUE-compatible Corsair products. These include mice, keyboards, headsets, fans, coolers, and RAM. 
iCUE lets you customise lighting, adjust fan speeds, set key assignments, monitor PC performance, and change other device settings. It is a centralised interface providing full access to all connected devices supported by iCUE.
iCUE has a user-friendly interface, making it easy to navigate through different options. Moreover, since you can access everything here, you will not need to install additional apps for each device.
You can use iCUE to control all the fans connected to the Commander Fan Hub. In addition, it allows you to customise each colour on your setup.
One of the best things about the app is its preset lighting effects. In addition, you can choose from the quick transitions to do only a few customisations. 
Another option is to set the LCD to show the current temperature of your CPU or the liquid in the block. Plus, you can add personal images or an animated GIF on the LCD to make it more unique and personalised.
Corsair iCUE works well since it is an exclusive software interface for iCUE-compatible devices. However, it will require a little work to coordinate it with the motherboard ARGB if you connect case fans. But once you finish setting it up, iCUE will work smoothly, and you can easily do various customisations.
iCue has introduced Murals, which allows you to create an RGB setup that suits your style. This feature lets you adjust the settings dynamically, depending on your preferred digital content or visuals. iCue Murals is user-friendly and enjoyable, offering endless colour options for customisations.
In essence, iCue Murals is a feature that is easy to use. Moreover, you can enjoy using it while creating your custom RGB setup, as the colour options available are unlimited.
The Corsair iCue software allows you to track the statistics of a computer system. Conveniently, you can still manage and acquire these data even if some components are not from Corsair. 
The iCue Software also provides information on various hardware components' power and temperature usage. These include graphics cards, CPUs, power supplies, motherboards, and AIO liquid coolers. Moreover, you can check the speed of your fans and adjust them as needed. 
You can see the clock speeds and RAM timings for identifying issues with your computer parts. These are also essential for optimising the performance of your system. 
Monitoring the system performance while running tasks like gaming or rendering can help identify bottlenecks in the system. For instance, adjusting the Corsair power supply rails under specific GPU loads can increase stability and performance.
Update Firmware
Installing firmware updates is essential to rectify glitches and optimise device performance. Corsair iCue provides a convenient solution to update firmware for all your devices simultaneously. 
With just three clicks, you can scan your devices for updates and install them through the iCue Software. You no longer need to check each gadget for updates. Additionally, iCue sends notifications whenever updates are available, though you will need to do this manually. 
You need to open the program occasionally to check for updates.
Performance of the iCue H100i ELITE LCD XT 
The IPS LCD screen of the H100i is impressive, delivering clear visuals and vibrant colours regardless of the viewing angle. As a result, this AIO stands out from other LCD models, appearing as one of the best in the market. 
However, flashy features and aesthetics are inadequate if its performance is subpar. Fortunately, the H100i ELITE LCD XT lives up to its elite branding, providing exceptional performance that matches its aesthetic appeal.
At full tilt, the cooler produces a small amount of noise, which is to be expected. Despite this, it maintains low temperatures, making it a note-worthy option for cooling-to-noise quality. 
For others, the noise level might be concerning. Nevertheless, the cooling performance is impressive, thus, demonstrating its efficiency. 
Corsair iCue H100i ELITE LCD XT Review Summary
Liquid cooling systems are highly-common and available at different prices today. However, you must consider several points before selecting your liquid cooler.
Some low-budget coolers may have risks like leaks due to poor quality, which may damage your system. Other products are in the high-end category, but some can also be too expensive for their performance. Fortunately, Corsair released the H100i ELITE LCD XT, which offers everything users need from a liquid cooler.
This product performed efficiently during our tests for this Corsair iCue H100i ELITE LCD XT Review. In addition, we did not experience issues with it since the cooler kept temperatures low.
Many liquid coolers can deliver the same cooling and acoustic performance as the H100i ELITE XT. However, only some have an LCD screen that you can customise via a user-friendly software utility. Aside from that, the H100i ELITE LCD XT has other unique features that make it an excellent cooler.
Another thing we appreciate is you can opt for a customised display or show your PC stats on the LCD. So, it is suitable for users who want to enhance the appearance of their build. It is also excellent for enthusiasts who monitor their PC while overclocking.
We highly recommend this product if you want an efficient cooling solution with pleasing aesthetics. 
To learn more about the iCue HS100i ELITE LCD XT, visit the official product page of Corsair for additional details.