With a hefty price tag, will the Corsair K100 have its money's worth? Will you truly get what you paid for? We'll find out more in our Corsair K100 RGB Mechanical Keyboard review, the latest entry in the K series. It is their flagship keyboard after all. Will it meet our high expectations? Let's find out.
Keyboards can be defined as the centrepiece of a gaming PC setup, as it is positioned as such. Corsair has been known to release high-quality gaming keyboards for the past few years. Particularly, their K series has proven itself to be a mainstay in many gaming PC setups with its dazzling looks and unparalleled performance.
Corsair K100 RGB Mechanical Keyboard Packaging
Now let's take a look at the packaging in our Corsair K100 RGB Mechanical Keyboard review.
Once opened it contains a clear, plastic mould to keep the keyboard in place. The wires are neatly tucked inside a cardboard cutout at the top centre. And the yellow manual sits at the centre of it all.
Once the keyboard is taken off, and the centre is lifted off, you will see the padded, leatherette wrist rest and the wires inside. All neatly wrapped in recyclable plastic.
Corsair K100 RGB Mechanical Keyboard Review – Design and Functionality
The design and functionalities of the Corsair K100 are one of the key aspects we need to discuss with the keyboard, as we believe these are what defines it overall. That's why we'll take an overarching look of that here in our Corsair K100 RGB Mechanical Keyboard review.
Firstly, the Corsair K100 RGB Mechanical keyboard sports an elegant, brushed aluminium black finish.
Looks-wise, the RGB flashes pleasingly in all buttons, and there's even one that wraps around on the top of the keyboard. The lights are almost identical to that of Corsair's previous flagship, the Corsair K95.
Not only that but also each side has eleven zone light RGB edges. All of which are fully customisable via the Corsair iCue software.
In terms of functionality, there are six G keys located on the left side of the keyboard. It's the same with the K100's previous iterations, which functions as custom keys that you can set or bind to any function you desire.
There's also a rather large, fully-illuminated control wheel on the upper-left of the keyboard, in between the profile and the windows lock keys. It comes with a textured, metallic finish. There is also an iCue logo on the centre button.
They also have Corsair's new, ultra-responsive OPX Switches. We'll talk about in more detail later in the key features section of our Corsair K100 RGB Mechanical Keyboard review.
Moving on, towards the base of the keyboard, we have four non-slip rubber pads, which are hugely sized to ensure a perfect grip on the surface and a non-intrusive experience.
Additionally, the base also has to flip out stands, which, concurrently, also has rubber pads for even more friction to stop unwanted slips.
Even though Corsair didn't have to add all of these features, they did anyway. This truly reinforces that this is a premium product. The Corsair K100 RGB Mechanical Keyboard is their flagship gaming keyboard after all.
Key Features of the Corsair K100 RGB Mechanical Keyboard
Now that we've tackled the design and functionality of the K100, it's time to discuss the defining traits of the keyboard in this part of our Corsair K100 RGB Mechanical Keyboard review.
What makes Corsair's new flagship, the Corsair K100 RGB Mechanical Keyboard, stand out amongst the competition? Let's find out.
Corsair's new OPX Switches
The Linear, Optical-Mechanical OPX Switches featured with the Corsair K100 RGB Mechanical Keyboard uses infrared light to determine keystrokes. This allows for zero debounce.
Excellent Polling Rate
Moreover, the Corsair K100 RGB Mechanical Keyboard features a massive 4000Hz polling rate, which can be activated via the settings using the Corsair iCue software. By default, the K100 runs at 1000Hz for better compatibility, allowing for more reliable, better and faster response times.
Axon Processing Technology
Additionally, this is the other thing featured in front of the box, which, according to Corsair, is their "Axon hyper-processing technology". Which enables quick response times and a myriad of other features.
For one, the Corsair K100 RGB Mechanical Keyboard's processing technology can also save more than 200 profiles on it. This is a lot more than you'll ever need. Not only that, but you can also do up to 20 layers of hardware lighting.
This enables you to customise the keyboard in whichever configuration you see fit, down to the tiniest detail.
Full Customisation via the iCue Software
As mentioned above, the iCue software allows you to fully customise the K100's RGB to your heart's desire, down to the minute colour adjustments to their behaviour. The software also allows adjusting things such as the polling rate, reprogram keys, assign macros, and more.
Another important note to mention is that this software allows you to customise your iCue control wheel to do various functions, which we will discuss later.
iCue control wheel
Speaking of the control wheel, the Corsair K100 RGB Mechanical Keyboard has this as one of their new standout features. Complete with full, ring illumination and an iCue button. With a textured metal finish to ensure a good grip.
Assign the wheel to do vertical scrolling, switch between applications, rewind/forward media, and more.
Customisable Macro G Keys and Media Keys
Moreover, the K100 has six macro keys. These are compatible with Elgato Stream Deck software and can be bound to any macro or function you want via the iCue software.
The keyboard also features a dedicated volume wheel; a windows lock wheel and other media keys to make media consumption a more convenient experience.
Ergonomic and Comfortable Wrist-Rest
Lastly, the Corsair K100 RGB Mechanical Keyboard features a padded wrist rest to ensure no strain on the wrists during long periods of use.
With a closer look, the patterned memory foam cushion material enables maximum comfort, and the magnetic clips ensure a convenient, easy attachment.
All of this is achieved while having that tight, well-made, premium feel.
Specifications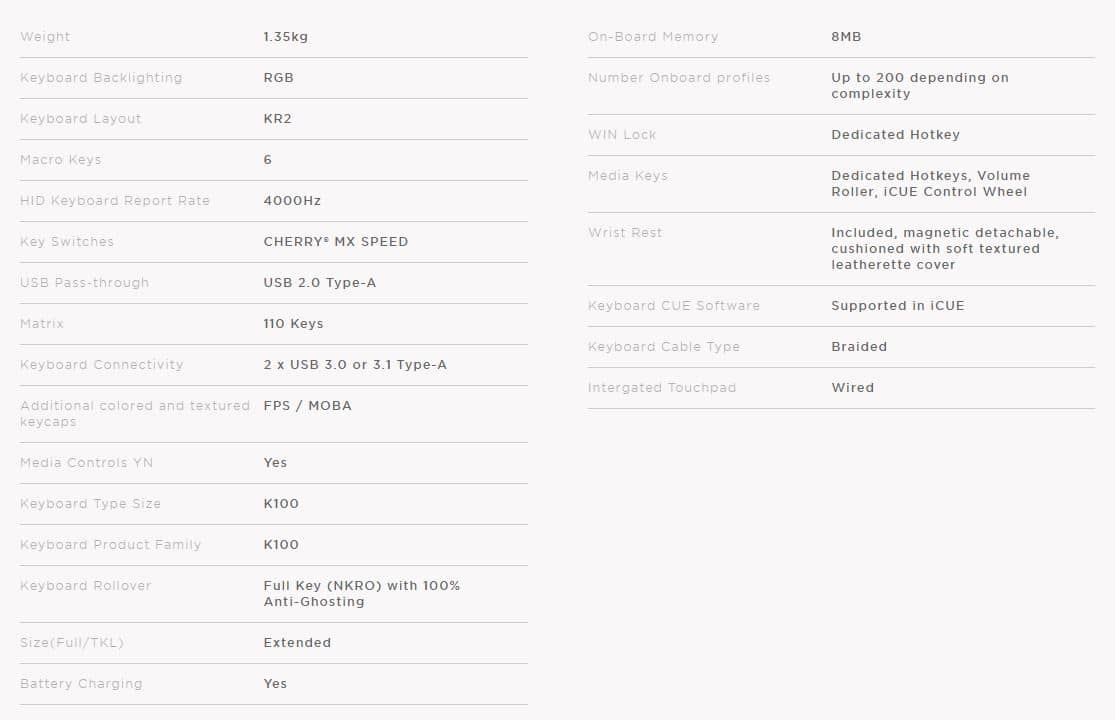 Being a full-sized keyboard, the Corsair K100 RGB Mechanical Keyboard is big at 470 x 166 x 38mm. It's hefty too, at 1.31 kilograms.
The K100 has a 22-Zone rear RGB light edge, and an 11-Zone right and left RGB light edges.
The keyboard has a USB 2.0 Passthrough port, an 82m braided cable, and lastly, two USB-As, one for passthrough as mentioned before.
Hands-on with the Corsair K100 RGB Mechanical Keyboard
Our expectations in this Corsair K100 RGB Mechanical Keyboard review are high, given the price tag and the K100 being Corsair's new flagship product. And we were pleasantly surprised after all the tests.
First and foremost, performance. Does the 4000Hz polling rate matter? In our experience, it depends on what setup you're using. With our 200Hz display, we couldn't really tell the difference. But when paired with an equally fast monitor and gaming mouse, this allows for a more fluid, reliable and responsive experience, at least in our experience.
Polling rate aside though, the performance was top-notch, perhaps the best gaming keyboard we've used this year. Corsair's new OPX switches did it for us with its infrared light detection technology.
With this innovative technology, Corsair has truly outdone themselves. Thus effectively turning the K100 into their new flagship keyboard by making the response time of its switches even faster than that of the previous K95's Cherry MX speed silvers, despite the latter's impressive actuation and travel distances.
And not to mention it feels and sounds great. It doesn't have that clanky, classic mechanical keyboard sound.
Next, we took a look at the iCue control wheel, the next, more obvious innovation Corsair did to their K100. Tactile feedback was present, and we were pleased how excellent its tactile steps were when turning the wheel.
While we felt like it's more of a gimmick at first, messing around with it via the iCue software helped us see its potential.
Hardware mode toggles between four functions when pressing the iCue button at the centre, which has corresponding RGB colours.
Blue controls the brightness of the RBG, while green tracks jogging with compatible applications such as Spotify or iTunes. White toggles between previous and next tracks; and our favourite, red, records macros on the fly.
In terms of design, and perhaps aesthetics, we found the colours striking and elegant with its brushed aluminium black finish. Needless to say, Corsair K100 is a big keyboard. Thankfully, the build quality is excellent throughout, with very little flex when the buttons are stressed. Also, no sound from inner parts when shaken. It feels like a truly polished product.
Corsair K100 RGB Mechanical Keyboard Review Summary
Altogether, along the wrist rests, and the myriad of iCue customisation, we truly felt that the Corsair K100 RGB Mechanical Keyboard is a top of the line and a premium flagship that Corsair offers to those who are willing to invest in it. You will get your money's worth with this one.
If you want the best of the best as your centrepiece, then we highly recommend the Corsair K100 RGB Mechanical Keyboard, an absolute beast in performance and a beauty in RGB aesthetics. It is flashy but has the internals to back it up. Our anxious excitement is filled with satisfying relief once we finally tested it ourselves. A pricy, yet true flagship keyboard.
We hope you enjoyed reading our Corsair K100 RGB Mechanical Keyboard review. If you want to know more and purchase, you can take a look through Corsair's website.