Today, we're offering you our Corsair Sabre RGB Pro wireless review which focuses on Corsair's newest wireless gaming mouse. 
It's a product designed for gamers and is tested by the top eSports professionals around.
The gaming mouse weighs extremely light and is even equipped with the SLIPSTREAM WIRELESS technology. This special feature offers lightning-fast and accurate responsiveness while gaming. 
The Sabre RGB Pro wireless gaming mouse is a notable product. And, it's even packed with some of the best features around.
So if you're interested to know more about it, continue reading our Corsair Sabre RGB Pro wireless review. 
Corsair Sabre RGB Pro Wireless Packaging
Let's begin this Corsair Sabre RGB Pro wireless review by checking out its packaging and the contents. When we got our hands on the mouse, it was delivered in a standard-looking mouse box. 
The front of the box displays an image of the mouse at the centre. Then, the company's name and its logo are placed on the upper-left corner of the package. The mouse's name is written below the product's image, and under it is a brief description of what it is.
When we started unboxing, we were greeted by a clean and sleek-looking gaming mouse. It had a premium feel to it and we loved how Corsair shaped its body. It was also nicely and neatly packaged, so we didn't have to worry about any damages on it. 
Then, it came with other inclusions like a USB charging and data cable, wireless USB transceiver, and a safety leaflet. Corsair also included a quick start guide and a warranty card for the wireless mouse. 
Corsair Sabre RGB Pro Wireless Review – Design and Functionality
What struck us after unboxing for our Corsair Sabre RGB Pro wireless review was the mouse's comfy size and shape. This product was designed, styled, and tested in collaboration with the best eSports players today. It's to create a mouse that ticks all the right boxes when it comes to shape, comfort, and performance. 
This is perfect for people with bigger hands than usual. And, it's also ideal for those who appreciate a gaming mouse that fits nicely against your palm. Corsair built this product to provide ultimate comfort when using the gaming mouse for longer gaming sessions.
The tactile feedback of the mouse's buttons is one of the best we've ever tried. It's bouncy, punchy, and doesn't need too much force for it to register. 
Corsair calls these the QUICKSTRIKE buttons that feature a design that offers zero gaps between the buttons and OMRON switches. This style gives you the responsiveness and speed that you need for competitive gaming. 
The Sabre RGB Pro wireless comes with a USB-C connection for charging. And, the company even included a 1.8m braided cable too. 
To go wireless, you can use the tiny RF or radiofrequency dongle. It utilises the company's low-latency SLIPSTREAM tech and the dongle can be found in a compartment at the bottom. However, be careful and avoid losing or breaking the little cover since it isn't tethered to the product. 
Speaking of its RGB, the Sabre RGB Pro wireless mouse is marketed as having two RGB light zones. Generally, these just turn out to be the company's logo and a little DPI indicator. 
So to put it simply, you really aren't getting much glow from the mouse. There were more light zones on the wired Sabre Pro, so the wireless version isn't as stylish. But we're assuming Corsair did this on purpose to minimise its weight and maximise its battery life.  
Other than the primary buttons and ratcheting RGB scroll wheel, there's a DPI button on the top of the mouse. There are even two extra buttons on the left portion which are adequately sized and in the right place for pressing. Specifically, this is ideal for the back or front of our thumb. 
Also, the bottom of the gaming mouse has a switch for moving between the SLIPSTREAM, Bluetooth, or charging/wired modes. Then, there's a button at the top to initiate Bluetooth pairing. 
We tested the mouse and both of its wireless and wired connections worked nicely. However, you'd want to utilise the dongle and Slipstream during gaming sessions since it offers lower latency. We'll talk more about its performance later on in this Corsair Sabre RGB Pro wireless review. 
Key Features of the Corsair Sabre RGB Pro Wireless
CHAMPION Series – Built for the Best
Like other products under Corsair's CHAMPION series, the Sabre RGB Pro Wireless is designed and constructed for the best. The top eSports professionals also tested this gaming mouse, so you can guarantee its quality and efficiency.
Increased Speed
The Sabre RGB Pro wireless has an ergonomic shape and replaceable PTFE glide pads. With these features, the mouse can support your quick movements and fast-paced gameplay.
Powered by SLIPSTREAM
SLIPSTREAM offers sub-1ms wireless transmission speeds and delivers clicks and movements faster by two times with 2,000Hz hyper-polling. This technology also maintains exceptional signal quality which makes it even better.
For compatibility with a wide range of devices and systems, you can connect the mouse via low-latency Bluetooth.
Corsair QUICKSTRIKE Buttons
The Sabre RGB Pro wireless have the Corsair QUICKSTRIKE buttons. With the spring-loaded design, these offer short travel for quicker clicks for superior speed, consistency, and responsiveness. And, that's for each button's guaranteed 50 million clicks.
Sabre RGB Pro Wireless and iCUE Software
For quick DPI adjustments, button remaps, custom macros, and lighting customisation, all you need is the iCUE Software. This utility interface will bring your entire setup together while creating a fully immersive ecosystem.
Specifications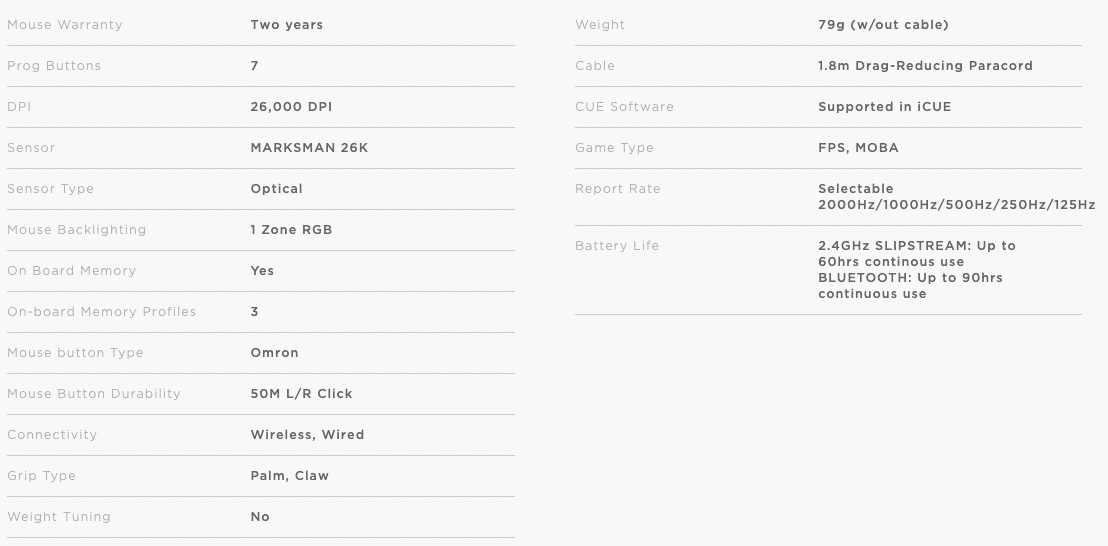 Now, let's look at the different specifications of this mouse here in our Corsair Sabre RGB Pro wireless review.
The Corsair Sabre RGB Pro comes with seven Omron buttons. It's equipped with the MARKSMAN 26K optical sensor and has 26,000 DPI, plus three onboard memory profiles. In terms of durability, its left and \right click buttons have a lifespan of up to 50 million clicks.
For its battery life, the wireless mouse has up to 60 hours of continuous use with the 2.4GHz SLIPSTREAM. When it comes to its Bluetooth, it can be utilised continuously for up to 90 hours. 
Of course, we also checked its weight for this Corsair Sabre RGB Pro wireless review. And here, we weighed it at 79g without the cable, which is a 1.8m drag-reducing Paracord. Lastly, this product comes with a 2-year warranty from Corsair.
Hands-on with the Corsair Sabre RGB Pro Wireless
Like every Corsair product, the Sabre RGB Pro wireless works with the iCUE Software. This device management program is where adjustments and customisations are made. iCUE Software offers RGB settings across compatible devices, as well as monitoring fan speeds and temperatures of various components & peripherals.
For the Sabre RGB Pro wireless, you can customise its six programmable buttons. These can be tweaked for macros, media controls, voice mod, and more.   
While checking out its interface, we also noticed the settings for adjusting the mouse's DPI levels. For this product, we had five different levels to choose from. There was even a sniper mode that allowed accurate timing when we played FPS games.
We were also able to calibrate the Sabre RGB Pro wireless via the iCUE Software. To do this, we had to move the mouse by forming a few spirals on any surface. This way, we were able to ensure that the mouse worked well.
We were able to save our settings as a specific profile. Switching to it via onboard memory by using the rear button was a breeze.
It was able to keep up with fast-paced and competitive games, and that was all thanks to its optical sensor. 
For shooter games, the mouse offered us the most consistent and precise performance compared to other gaming mice we've tested. We're assuming it's probably because it's a mix of everything. 
It has a perfect size that supports our grip style, adequate weight, plus solid and stable sensor performance. Aiming became effortless for us, and that's especially for both flicking and tracking movements. 
We tested and utilised the Sabre RGB Pro wireless for a couple of weeks. We didn't have any MOBA titles available, but we tried it with a couple of RTS titles and FPS shooters. During our entire game-time, the mouse quickly responded, was comfortable, and undeniably efficient. 
The buttons felt good and our fingers were positioned right where we expected them to be. Plus, its sensor never let us down, so we definitely loved the Sabre RGB Pro wireless' performance. 
Corsair Sabre RGB Pro Wireless Review Summary
The Corsair Sabre RGB Pro wireless is an excellent gaming mouse built for eSports professionals. It's packed with great features to improve your overall gaming experience.
This mouse has great highlights like its lightweight design, fast-action switches, and easily accessible side buttons. Plus, it comes with a convenient software that has a user-friendly interface.
Although its specs aren't as high as its wired version, it's lighter and has a higher polling rate. It's a great mouse with impressive features that will allow you to enjoy a better gaming experience and performance.
If you think you need this mouse in your gaming rig, you can purchase it from the company's official website.