To get the latest and best audio transmitter today, we've got you covered on our Creative BT-W3 review.
Creative is a known tech brand that has grown popular for their fantastic range of Sound Blaster sound cards. These kicked off the entire multimedia craze on PCs so many years ago.
Aside from that, they're also famous for creating computer speakers, sound cards, as well as Bluetooth headphones.
But here, we'll talk about Creative's latest handy little product. The BT-W3, which is ideal for devices like the Nintendo Switch, PCs, the PS4, and Macs. It's technically a Bluetooth audio transmitter that you can plug into an extra USB-C port.
This audio transmitter supports audio codecs such as apt-X for transmitting HQ audio signals and apt-X Low Latency. However, it's something that doesn't support AAC that's used for iOS devices.
If you're interested in this Bluetooth Audio Transmitter, continue reading our Creative BT-W3 review for more details. Yet before that, let's check out its packaging and what's inside the box.
Creative BT-W3 Packaging
This section of our Creative BT-W3 review will focus on the packaging and contents of the product.
When we received our BT-W3, it came in a simple-looking white cardboard box. It has Creative written on the upper left corner, while an image of the product is at the centre.
To the right of the image, you will find all the devices the BT-W3 is compatible with.
Inside the box, you will find the Creative BT-W3 that's kept securely to avoid any unnecessary damages. You'll also find one USB C to A converter, an analogue microphone, the quick start guide, and WW warranty leaflets.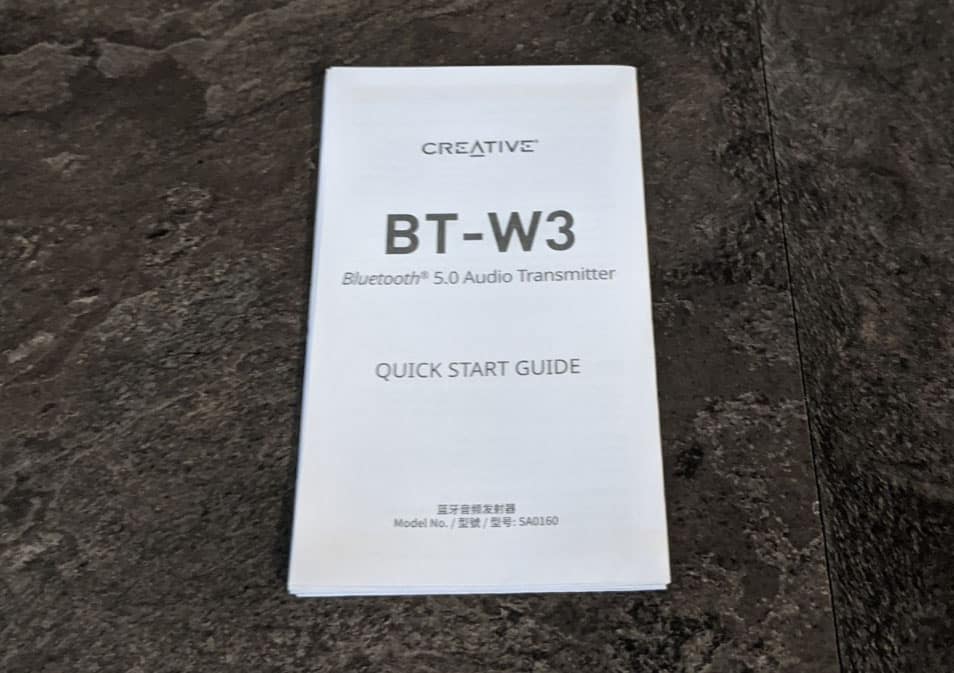 Creative BT-W3 Review – Design and Functionality
This time, we will focus on the design and functionality of the BT-W3 in our Creative BT-W3 review.
The Creative BT-W3 will provide you with excellent wireless audio on your Nintendo Switch, PS4, and more. This portable audio transmitter is equipped with the current 5.0 version of Bluetooth. Plus, it also features advanced audio codecs such as the apt-X HD and apt-X LL.
With its easy plug-and-play function, you can readily enjoy and take advantage of HQ Bluetooth audio. Use this with your PS4, PC, Nintendo Switch, or Mac.
In total, the BT-W3 supports a total of four different Bluetooth codecs. These include apt-X Low Latency, apt-X, apt-X HD, and SBC.
What's great about it is that it even comes with a marvelous codec switch. It allows you to easily choose the codec you prefer with a single press of a button. Plus, it's even complete with a vibrant colour-coded light indicator.
What this means is that you can immediately switch from codecs with ease. It'll then select the best and suitable option for what you're currently listening to.
While apt-X HD is excellent for HQ audio signals, apt-X Low Latency lets you fully enjoy games and movies. What's more, you can enjoy these with latencies reaching as low as 40ms.
The BT-W3's dongle plugs into the USB-C port. However, the package also includes a USB-C to USB-A adapter.
According to Creative, their BT-W3 can work with any device that can stream audio through the USB port. Just as long as it satisfies the USB Audio Standards, which includes your smartphone.
If you're worried about it draining the battery, it often consumes less than 40mA even when utilising power-intensive codecs.
When it comes to the light indicator and codec selection button, these are features that make the BT-W3 extremely useful. You can readily switch between audio codecs with ease, which is highly convenient.
Other than that, you can now make seamless, easy, and convenient wireless calls using the added HFP functions.
Key Features of the Creative BT-W3
This part of our Creative BT-W3 review will focus on the product's key features.
Easy Selection of Codec
The Creative BT-W3 features an indicator and selection button that allows you to choose a codec conveniently. The button displays which codec you're currently on, but you can easily switch to another codec you want to utilise.
Supports Four Bluetooth Codecs
The Creative BT-W3 audio transmitter supports a total of four different Bluetooth codecs. These include apt-X, apt-X LL, apt-X HD, and SBC.
This sound transmitter works with Bluetooth headphones and speakers. When it comes to the available codecs, these depend on what your peripherals support.
To use apt-X LL, you'll need a speaker or a pair of headphones that support this codec.
apt-X Low Latency to Eliminate Lag
When utilising Bluetooth headphones, latency is a common issue, and it's caused by the required time to decode audio. Here, the headphones may deliver out-of-sync audio while you watch movies or play games.
The apt-X Low Latency eliminates these lagging issues.
This audio codec is designed to reduce latency by up to 30 to 40 milliseconds. It is 4-6 times shorter than the latency you get when using a standard SBC codec.
All you have to do is connect your headphones that support apt-X LL to the BT-W3. After that, you can enjoy smooth and seamless audio transmission and synchronisation in real-time.
Plug and Play Design
Convenience was the primary goal of Creative while designing the BT-W3. With its button and compact design, setting up a device has never been easier.
No Batteries Used
The Creative BT-W3 utilises USB C, so it only consumes minimal power from the connected device. As long as it's plugged in, the audio transmitter remains switched on.
Also, the BT-W3 is battery-free, so you won't have to worry about charging.
Wireless Communication with Your Teammates
When playing multiplayer games, the Creative BT-W3 lets you share your tactics and call your teammates for back-up. Clear communication is key to victory, and that's why the company included a detachable microphone for your PS4 controller.
All you have to do is plug the microphone into your controller's 3.5mm jack. It'll allow you to freely communicate and lead your team to victory.
If you use the Nintendo Switch, you can download firmware to use the analogue microphone for in-game voice chat.
Specifications
We will focus on the specifications of the BT-W3 in this part of the Creative BT-W3 review.
The BT-W3 has an operating frequency of 2,402 to 2,480MHz. For its wireless technology, it makes use of the Bluetooth 5.0.
When it comes to Bluetooth, its available profiles include wireless stereo Bluetooth (A2-DP), and Bluetooth remote controls (AVR-CP). For audio codecs, the BT-W3 has SBC, apt-X, apt-X HD, and apt-X Low Latency.
This audio transmitter has up to 30m of operating range on an unobstructed line of sight.
System Requirements
If you're using Windows, you'll require Intel Core i3 or AMD processor. For the operating system, it's compatible with Windows 10 32 or 64-bit.
For Macintosh users, your operating system should be MacOS 10.12 or higher, and your RAM should be at least 1GB.
When using PS4, it should have the Firmware Ver 5.0 or later. For Nintendo Switch, Switch OS 5.0 or later.
Hands on with the Creative BT-W3

This section of our Creative BT-W3 review is where we'll get hands-on with the BT-W3. First, let's check out its set up process.
Since the BT-W3 is a plug-and-play audio transmitter, we had it up and running in no time.
First, we plugged the BT-W3 into our device. You can try it out on either your Nintendo Switch, PS4, Mac, or PC.
Then, press the Bluetooth button until the indicator light turns blue. This means that it's in pairing mode. Now, go to pairing mode on your audio Bluetooth playback device.
This time, you'll need to wait for your device to link with the BT-W3. Once you're connected, you're all set.
You can utilise the BT-W3 for devices with USB-A ports. Remember that Creative included a USB Type C to A converter in the package. To use, you simply need to link the audio transmitter to the converter before plugging it to your device. After that, you're done.
Now, you can follow the simple steps that we mentioned earlier, and you're ready to use the BT-W3.
Using the BT-W3 with your Nintendo Switch or PS4 is easy. First, link the BT-W3 to the USB C to A converter, then plug it in one of the USB A ports on your console for wireless gaming.
Overall, the Creative BT-W3 performed excellently. Setting it up with devices was seamless, and you don't need to be tech-savvy to do it.
We didn't experience any issues with the audio transmitter, and the sounds it produced were clear. The audio was powerful, voices were audible, and we don't have any complaints about how it worked.
Creative BT-W3 Review Summary
Creative BT-W3 comes with user-friendly features and an affordable price tag, which makes it an excellent product. Its plug-and-play feature makes it the ultimate Bluetooth audio solution for PC, Mac, and gaming consoles.
To conclude our Creative BT-W3 review, we highly recommend this product. If you want to get your hands on this audio transmitter, you can purchase it from the company's official website.