Today in our D-Link DIR-X1560 Wi-Fi 6 Router review, we will focus our attention on the DIR-X1560 Wi-Fi 6 router. It was released recently and is considered as the company's entry-level router.
It's an attractive-looking and compact router that offers adequate Wi-Fi coverage. Speed is good too, which is definitely a must for routers today. Technically, the router gives you an enhanced leap in capacity, range, and efficiency. It's perfect for device-dense and high-performance smart homes of today.
The DIR-X1560 is quite pricey compared to other similar products, and it's packed with an economical set of features. But considering that it's from D-Link, there's likely something interesting and worth purchasing in this product.
We'll see how well it performs and what this product has to offer. Our D-Link DIR-X1560 Wi-Fi 6 Router review will give you insights if this router is something essential for your home. But first, let's check out its packaging and what's inside.
D-Link DIR-X1560 Wi-Fi 6 Router Packaging
This part of our D-Link DIR-X1560 Wi-Fi 6 Router review focuses on the packaging and contents of the product.
The router came in a sturdy and neat-looking cardboard box. It sports a blue-black theme that's quite pleasant to the eyes.
An image of the DIR-X1560 can be seen at the centre, while key features are lined at the base. Above the image, you will read "EXO|AX Next Generation", as well as the name of the unit itself.
D-Link can be seen on the upper-left corner of the box, while "Wi-Fi 6" is at the opposite side.
Inside, you will find the DIR-X1560 router itself, but it comes with other items as well. These include the quick installation guide, quick installation card, RJ45 Ethernet cable, and a power adapter.
D-Link DIR-X1560 Wi-Fi 6 Router Review – Design & Functionality
This time, the focus in our D-Link DIR-X1560 Wi-Fi 6 Router review will be on the router's design and functionality.
The DIR-X1560 appears like your standard router with four fixed antennas that you can swivel. They're actually sticking out and protruding from the router's rear and sides. This D-Link router is slightly smaller compared to the Archer AX10 and is also a bit more lightweight.
On its rear, you'll find the standard ports: the Gigabit WAN port and the Gigabit LAN port. Other than that, there's no other notable element to find on the DIR-X1560. Underneath, you'll find a little label that shows the default network and Wi-Fi settings. Also, there are two mounting holes available in the area.
Key Features of the D-Link DIR-X1560 Wi-Fi 6 Router
Now in our D-Link DIR-X1560 Wi-Fi 6 Router review, we'll talk all about the DIR-X1560's key features.
More Connection and Less Congestion with OFDMA
The DIR-X1560 utilises Wi-Fi 6's cutting-edge OFDMA technology. OFDMA stands for Orthogonal Frequency Division Multiple Access, and it transmits small data packets together for multiple devices. As a result, queueing will no longer be necessary.
This feature is ideal for Smart Homes with bandwidth-hungry IoT devices that compete for bandwidth.
Wi-Fi 6 to Meet Your Demands
Wi-Fi 6 offers the next-gen Wi-Fi technology with an upgrade in speed, capacity, and range to meet all your demands. It's best for high-performance Smart Homes that require high-speed connectivity with wide coverage.
Next-Generation Speeds
Experience speeds as fast as that of the AX1500 as 1024-QAM enhances throughput to devices by up to 25%. It utilises 80MHz adjacent channel width to provide more bandwidth. With that, you can enjoy faster 4K streaming, online gaming, and more.
When it comes to wired devices, 4 Gigabit LAN ports allow for faster-wired connectivity. Also, the Gigabit WAN port can handle fast broadband connections.
Two-Way MU-MIMO
MU-MIMO aids in distributing data flow to multiple devices at the same time. With Wi-Fi 6 technology, the DIR-X1560 takes advantage of the multiple-user version of MU-MIMO and OFDMA. As a result, it improves the efficiency of downstream and upstream transmissions.
This is better than the previous Wi-Fi 5 that could only work simultaneously on downstream transmissions. This combination increases a network's coverage, capacity, and performance in high-density environments.
Real-World Scenarios and Results
D-Link tested the DIR-X1560 against the nearest competitors. It outperformed the other routers with faster and more consistent download speeds even from a distance. These results speak for themselves.
Extended Coverage, Reduced Interference
The DIR-X1560 extends the reach of your Wi-Fi with built-in amplifiers, high-gain antennas, and beamforming technology. It also provides a stronger signal directly to your devices for faster, stronger, and more reliable connection. The long OFDM symbol ensures better Wi-Fi range, especially outside home.
The Power Wireless Encryption
Privacy is a big issue with IoT devices. But with the newest industry-standard 128-bit encryption, the DIR-X1560 introduces the new era of wireless encryption. This provides more security for each device and network.
Conserve Energy, Save Battery Life
TWT or Target Wake Time is a feature that reduces battery consumption for connected devices. It makes the router communicate with the devices and decide how often each gadget will need data transfers.
With TWT, connected devices get more sleep time to conserve energy and save more battery life.
Always Updated
For a lot of devices, firmware updates can be a hassle. Fortunately, the DIR-x1560 offers automated upgrades that are smooth so you won't even notice them. Also, the router has a Dual Image functionality that saves a recovery image as a backup before updating the firmware.
In case its update fails, the system can still use the pre-existing configuration.
Configurable VPN
The VPN Wizard of the DIR-X1560 lets you adjust the settings of LAN-to-LAN and VPN connections. Simultaneously, the built-in passthrough feature allows any connected device to establish outbound VPN connections.
Easy to Set Up and Manage
Make sharing your internet connection easy by downloading the free D-Link Wi-Fi application for your smart device. Then, follow the step-by-step guide to set up your router.
You can utilise a web browser for accessing the wizard and manage your DIR-X1560. It also supports industry-standard WPS (Wi-Fi Protected Setup), allowing you to create encrypted connections for devices.
Real Internet Speeds Without the Guesswork
Some ISP's claim fast internet speeds but don't live up to these once you use it. There's no need to worry about this since the DIR-X1560's has integrated Internet Tests. This feature allows you to see the real speed of your Router-to-ISP connection via the D-Link Wi-Fi application.
Works with Alexa and Google Assistant
Hands-free voice commands enable switching your guest Wi-Fi on and off, rebooting your router, or asking for guest Wi-Fi credentials.
The DIR-x1560 is compatible with Alexa and Google Alexa, so just speak, and it will follow your commands. It's the best feature to use when your hands are full and when you're busy entertaining guests. Also, you can amaze them with your hands-free smart Wi-Fi since you won't have to lift a finger.
Specifications
This section of our D-Link DIR-X1560 Wi-Fi 6 Router review is all about the DIR-X1560's specifications.
Wi-Fi 6 technology offers higher capacity, faster speeds, and lesser network congestions. You'll receive speeds reaching up to 1.5Gbps with 1200Mbps on 5GHz bands, and 300Mbps on 2.4GHz bands.
This router offers dual-band Wi-Fi connection with up to four continuous streams. With that, you'll get to enjoy gaming, video chatting, and 4K streaming in a breeze. It comes with the MU-MIMO and OFDMA technologies that communicate added data to more devices while reducing latency.
Intelligent QoS or Quality of Service programs network traffic to lessen the effects of busy bandwidth. The router also offers backwards compatibility to guarantee support for earlier Wi-Fi standards, as well as all Wi-Fi devices.
The D-link DIR-X1560 uses a mesh system and comes with a 3-year limited warranty. NBN/UFB support includes FTTP | HFC | FTTC | fixed wireless | satellite. We appreciate that it has CD-less installation, guest network, parental controls, and is mydlink-enabled.
Additionally, the router has dual wireless bands and a Gigabit Ethernet for its WAN interface. Lastly, it measures 251.64 x 166.47 x 194.18mm and weighs 410g.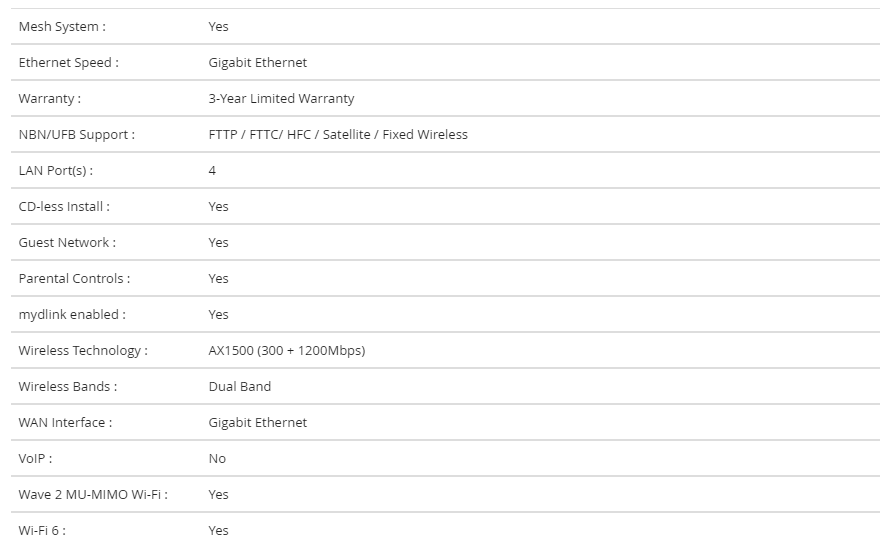 Using the Product
Let's get more hands-on with the router in this section of our D-Link DIR-X1560 Wi-Fi 6 Router review. This is where we'll see how it performs, and if it's as good as what D-Link claims it to be.
First, let's check out the setup process.
Like other routers, the D-Link DIR-X1560 utilises the same regular method of setting up.
From your connected PC, launch your preferred web browser, then go to your router's default IP. It's 192.168.0.1, or dlinkrouter.local. From there, you'll have a wizard that will help walk you through the entire process.
You'll simply have to follow instructions, and once you're done, you can utilise the router immediately.
The router's interface has no new feature to it. It's the same interface as the one introduced with the DIR-880-L which was a couple of years back. One of the same things that you'll see is the same tab to the menu layout.
You will see four tabs right at the top of the web interface. Hover your mouse on each of them, and you'll find a drop-down menu leading to various portions of specific settings. So even if there isn't a search function, you can readily and immediately access multiple sections of the interface.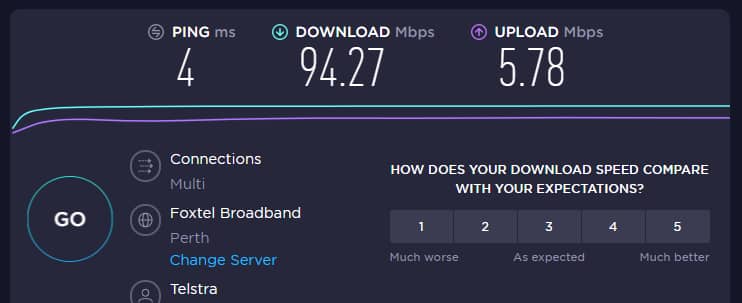 Having used the router for a while now we can say that it worked extremely well for its specifications, and we're very happy about it.
Using the 5GHz band, our Wi-Fi 6 clients connected easily and provided very fast speeds and we did not notice any connection issues at all. The same went for non Wi-Fi 6 clients.
This router from D-Link comes with another notable feature, which is Quality of Service, which is somewhat simple.
You can readily drag your device to a higher priority spot, then a couple of medium priority too. Just remember that you can't prioritise your internet based on application types. Also, the DIR-X1560 is the company's router that marks the end of their free Dynamic DNS server.
Though it supports DDNS, you're required to utilise a different domain service to make it work.
Here, you'll find a bunch of commonly vital settings. These include port forwarding, IP reservations, and more. In addition, the router can efficiently function as a VPN client.
We can easily say that the DIR-X1560 worked incredibly well and we would highly recommend it to anyone looking to purchase a new router for their network.
D-Link DIR-X1560 Wi-Fi 6 Router Review – Summary
D-Link is one of the top companies that develops, designs, and manufactures award-winning routers for homes, businesses, and service providers. Their network solutions integrate wireless, broadband, switching, IP surveillance, management of cloud-based networks. The DIR-X1560 is one of the company's newest products, and it comes with the latest Wi-Fi 6 for faster speeds.
This is a great entry-level Wi-Fi 6 router if you're looking for an upgrade to your AC or N model. It delivers the necessary bandwidth and processing to reduce congestion and enhance your network's efficiency. It's an excellent router to take advantage of when everyone's home and using their devices all day.
Additionally, it has excellent profile-based parental controls for easier management of Wi-Fi time for each family member.
If you need ultra-fast Wi-Fi connectivity, especially for streaming and gaming, the D-Link DIR-X1560 is perfect for you. It's equipped with a powerful dual-core processor, Wi-Fi 6 technology, and high processing power to handle all your networking tasks.
In conclusion to our D-Link DIR-X1560 Wi-Fi 6 Router review, we highly recommend this product. If you want to buy this router, it's available for online purchase from the company's official website. You can also check out the store locator to find other dealers and retailers.