Lots of people today aim to have constant, reliable wireless speed. If you're one of them, this D-Link DIR-X5460 Wi-Fi 6 Router review will be most beneficial for you.
D-Link's latest product, the DIR-X5460, offers excellent performance gains for all. It comes with the Wi-Fi 6 technology to give you enhanced speed, capacity and decreased network congestion.
It sports tons of essential features, making it an excellent router when it comes to your internet speed needs. So, the DIR-X5460 is definitely worth a look.
To begin our D-Link DIR-X5460 Wi-Fi 6 Router review, let's check the product's packaging and what other items they included.
D-Link DIR-X5460 Wi-Fi 6 Router Packaging
If you're searching for this router in the market, read more of our D-Link DIR-X5460 Wi-Fi 6 Router review. Here, you'll have an idea of how the package looks, and what other items D-Link included inside.
When we received our box, the DIR-X5460 Wi-Fi 6 router came in a typical-looking D-Link packaging. The front gives you an image of the router at the centre. Its name and series are above it.
The upper-left corner displays the company name, while some other details about the DIR-X5460 are written below. The opposite corner shows that the router comes with Wi-Fi 6, which is something that lots of people are after.
Below the image and to its right, there's a list that shows the key features of the product. More details about the router can be found on both sides and rear of the box.
Inside, you will find the router and all its accessories segregated to keep things neat and organised. Not only that, but these are all protected by plastic bags to avoid damages or scratches while in transit.
We appreciate how D-Link ensures the safety of their products. It'll prevent everyone from worrying about unwanted breakages when transporting the items.
Aside from the DIR-X5460 Wi-Fi 6 router, D-Link included a couple of other items that are necessary for the router. You'll find a quick installation guide and the quick installation card inside.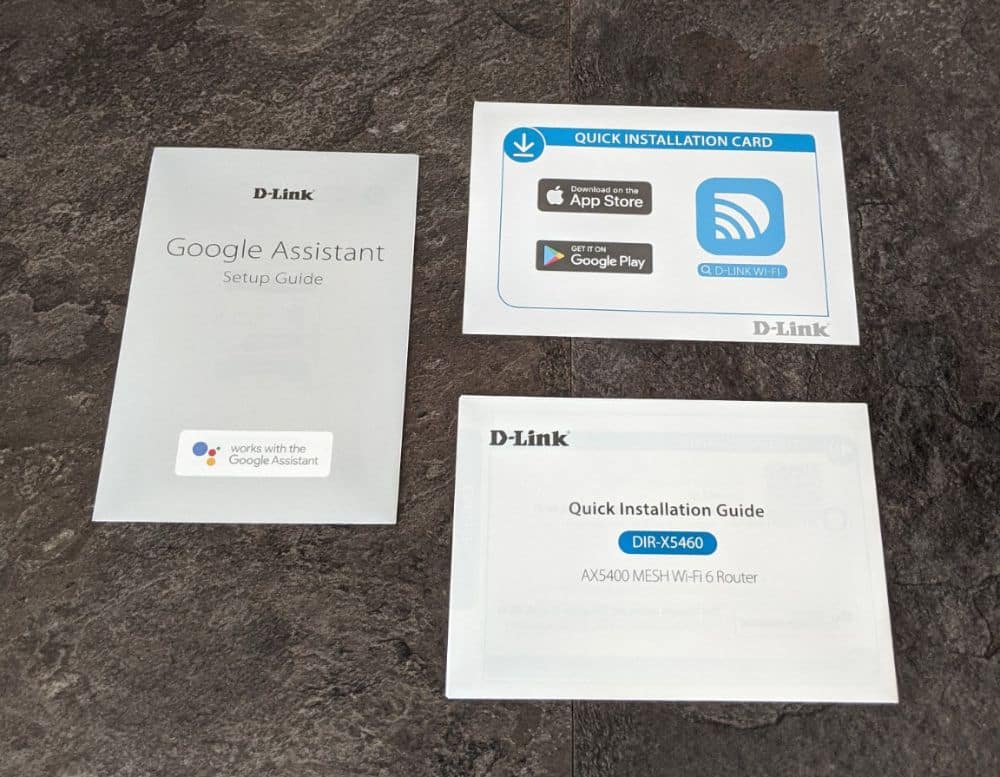 Plus, there's an RJ45 Ethernet cable, and a power adapter as well.
D-Link DIR-X5460 Wi-Fi 6 Router Review – Design and Functionality
Our D-Link DIR-X5460 Wi-Fi 6 Router review will now provide you with information about the DIR-X5460's design and functions.
The form and design of the DIR-X5460 have a spider-like aspect, and you know it's a top-of-the-line router from D-Link. We expect it to surprise us with its performance, and it's likely better than what your service provider sent you.
The router features a sleek-looking and sturdy metal housing, giving off a premium feel to it. Its LED lights are eye-catching and vibrant enough to let you see active devices. Plus, it also shows you the speed they communicate.
Looking at the router's front, you'll find six LED indicators. From left to right, you'll see the Power, Internet, Wireless 2.4GHz & 5GHz, USB 2.0, and USB 3.0.
On its rear, you'll receive a range of connection options like the USB 2.0 and USB 3.0. There are also four Gigabit LAN ports, plus other available Wi-Fi technologies.
Of course, you have your classic MU MIMO smart steering, as well as the recent OFDMA.
The presence of these two elements helps prioritise bandwidth to your devices that require it most when needed. That's even when a couple of high-demand devices function simultaneously.
Key Features of the D-Link DIR-X5460 Wi-Fi 6 Router
Now, let's proceed to talk about the router's key features here in our D-Link DIR-X5460 Wi-Fi 6 Router review.
Wi-Fi 6 for Higher Capacity
The DIR-X5460 router comes with Wi-Fi 6 technology for you to enjoy significantly higher speed, capacity, and range. It's the ideal high-performance router to meet all your network demands.
Next-Gen Speeds
The router offers AX5400 speeds, and the 1024QAM enhances throughput to devices up to 25%. For additional bandwidth, it features a contiguous 160 MHz channel width.
Additionally, the DIR-X5460 also comes with 4 Gigabit LAN ports plus 1 Gigabit WAN port for faster wired connectivity. With that, you can have a better online gaming and 4K streaming experience.
OFDMA for More Connection and Less Congestion
The D-Link DIR-X5460 Wi-Fi 6 Router utilises the OFDMA technology, which transmits small data packets together for numerous devices. With that, queuing will be unnecessary. OFDMA technology makes the router excellent for smart homes with IoT devices that battle for bandwidth.
Improved Quality of Service Features
The DIR-X5460's integrated QoS or Quality of Service engine lets you prioritise vital traffic. It provides optimal bandwidth for your favourite applications.
Two-Way MU MIMO
MU MIMO aids in simultaneously allocating the flow data to multiple connected devices. With Wi-Fi 6, the router takes advantage of the multi-user version of MU MIMO and OFDMA. As a result, the router delivers enhanced efficiency for upstream and downstream transmissions.
Previously with Wi-Fi 5, MU MIMO could only operate simultaneously in downstream transmissions. Now with OFDMA and MU MIMO, the router delivers increased capacity, coverage, and performance for high-density environments.
Wider Coverage and Less Interference
The DIR-X5460's integrated power amplifiers, beamforming technology, and high-gain antennas widen the reach of your Wi-Fi. Also, they focus stronger signals to your devices for a faster, stronger, and more reliable network connection.
The long OFDM symbol guarantees wider Wi-Fi coverage, reaching even outside your home.
The Future of Wireless Encryption
Privacy is one of the major concerns with Wi-Fi networks and IoT devices. The DIR-X5460 Wi-Fi 6 Router features 128-bit encryption, which is the latest industry standard. It's the most advanced encryption available today, which ensures enhanced privacy throughout users' network and devices.
TWT for Conserving Energy and Saving Power
TWT or Target Wake Time communicates with connected devices to help reduce their battery consumption. This feature works by deciding the necessary frequency of data transfers for each device.
Additionally, TWT increases the device's sleep time to conserve energy while saving power.
BSS Colouring Technology
Your wireless signal may have some interference with your neighbour's Wi-Fi; hence, slows things down. Yet with the D-Link DIR-X5460 Wi-Fi 6 Router's Wi-Fi 6, those issues will end due to the BS Colouring technology.
This feature helps in making transmissions more distinct by colouring these with their own code. It results in devices being able to determine if signals should be transmitted or ignored based on the colours.
You'll get lesser interference, fewer slowdowns, and enhanced range.
Always Updated
Firmware upgrades can be a hassle, but these are fully automated with the DIR-X5460. Not only that, but the upgrading process is also smooth.
To top that, the router has a Dual Image functionality that saves a recovery image for backup before each upgrade. Although upgrade fails are unlikely to occur, the system can still use the pre-existing configuration in case it happens.
VPN Your Way
The D-Link DIR-X5460 Wi-Fi 6 Router allows you to configure LAN to LAN, as well as remote access VPN connections. This is while the integrated passthrough feature lets other linked devices organise outbound VPN connections on the router.
Real Network Speeds Without the Guesswork
Usually, your internet speeds aren't as fast as what your service provider claims. With the DIR-X5460, you can utilise the integrated Internet Test to measure your Router-to-ISP connection's real speed.
It's also easily accessible via the D-Link Wi-Fi app.
Works with Alexa and Google Assistant
The DIR-X5460 supports Alexa and Google Assistant. With that, you can switch your guest Wi-Fi on or off and do other things hands-free via voice commands.
Speak, and your router will follow your commands. It's perfect when you're busy entertaining guests, and you can even impress them with your smart Wi-Fi.
Straightforward Setup and Management
The D-Link DIR-X5460 Wi-Fi 6 Router offers a quick setup process. All you have to do is download the D-Link Wi-Fi app via Android or iOS, then install the app. After that, you can start accessing your Wi-Fi settings, configure parental controls, and more.
To get necessary details for the router's specifications, read the next part of our D-Link DIR-X5460 Wi-Fi 6 Router review.
Specifications
The DIR-X5460's Wi-Fi speed is AX-5400 (600 + 4,800 Mbps), and its Ethernet speed is Gigabit Ethernet. For the ports, the router has four Ethernet, a USB 2.0 and the USB 3.0 port.
It comes with a guest network, parental controls (schedule/custom profiles), dual-band, and Wave 2 MU MIMO Wi-Fi. We also appreciate that it's Smart Home compatible with Amazon Alexa or Google Assistant.
The DIR-X5460 utilises Wi-Fi 6 technology (802.11ax), D-Link's standard Wi-Fi mesh, and Gigabit Ethernet for its WAN interface.
Internet protocols are IPv4 | IPv6, and it comes with the OTA, automatic, and manual firmware upgrades. Wi-Fi security is adequate with WPS | WPA / WPA-2 personal | WPA-2 / WPA-3 personal.
It's quick VPN-enabled, and QoS for the router is by device. Additionally, NAT forwarding is via port forwarding, virtual server, and DMZ. Its NBN/UFB support includes FFTP,  HFC, FTTC, fixed wireless, and satellite.
For its measurements, the D-Link router measures 318.69 x 241.35 x 61.5mm. It's an adequately-sized router so it won't take up too much of your space.
This router is also speed-test powered while app support for D-Link Wi-Fi is present as well. Just note that the latter requires an iOS or Android device.
Additionally, the router comes with a 3-year limited warranty for convenience.
The D-Link DIR-X5460 requires a computer with the following: Windows, Linux, or Macintosh-based operating system, plus an installed Ethernet adapter.
When it comes to its browser, you can utilise Internet Explorer 10, Firefox 28, Safari 6, or Chrome 28. Higher versions of these browsers can be used as well.
If you're a Windows user, remember that the latest version of Java needs to be installed. Simply visit their website to download its latest version if you still don't have it.
Hands on with the D-Link DIR-X5460 Wi-Fi 6 Router
Let's get hands on with the DIR-X5460 Wi-Fi 6 here in our D-Link DIR-X5460 Wi-Fi 6 Router review.
Like the earlier routers from D-Link, setting it up was a piece of cake. We utilised the smartphone app to do it, but you can opt for the web browser-based setup instead.
The only thing we needed to do was enter our ISP's details (user and password). After doing so, the router rebooted, and we were good to go.

We received strong signals across the entire house, even when passing through multiple brick walls. We never noticed any connection dropouts and everything was buttery smooth.
For us, we can say that the D-Link DIR-X5460 Wi-Fi 6 Router was able to deliver consistent connection speed. During the tests, we didn't experience any drops, and Netflix or YouTube was problem-free. We received a ping of 2ms, download sp[eed of 93Mbps and upload of 5.65Mbps.
To put it simply, the D-Link DIR-X5460 Wi-Fi 6 Router performed admirably, offering us reliable and constant Wi-Fi speeds. It's something we'd highly recommend, and it's ideal for anyone looking for optimised internet speed.
D-Link DIR-X5460 Wi-Fi 6 Router Review Summary
A lot of people are seeking for a reliable network to enjoy seamless video chats, media streaming, gaming, and surfing. If you're one of them, D-Link's DIR-X5460 Wi-Fi 6 Router is definitely something you'll need.
The DIR-X5460 is one of D-Link's latest Wi-Fi 6 routers, and it's also one of the company's best models.
The company developed this router for superior coverage, higher capacity, and decreased network congestion.
Wi-Fi 6 technology guarantees that the router is future-proof and will have firmware updates for the upcoming years. With its price, performance, and excellent features, we highly recommend the DIR-X5460 Wi-Fi 6 Router from D-Link.
We're hoping this D-Link DIR-X5460 Wi-Fi 6 Router review gave you all the details necessary about this router. And, you now have an idea what router you'll go for to get consistently fast internet speed. Check out the company's store locator to find authorised retailers, online shops, and partners.