Our D-Link DWR-956 4G LTE Router Review will show you how the DWR-956 works when your Internet goes down. This router helps you quickly shift to a 4G LTE secondary internet network every time your internet connection goes down. Plus, it allows you to utilise the Internet continuously without experiencing any interruptions.
During this time, the COVID-19 pandemic is taking a toll on everyone's lives. It even led to a massive number of the workforce to migrate to their homes.
This is a smart move for companies and businesses. However, the migration shows a boost in pressure loaded into everyone's broadband systems, causing a slight deterioration of services.
For this reason, you and probably other users, are searching for alternative options to boost their internet connection. And one of the best options around is the DWR-956 4G LTE Router.
But before anything else, continue reading our D-Link DWR-956 4G LTE Router Review to know what's inside the box.
D-Link DWR-956 4G LTE Router Packaging
We'll begin our D-Link DWR-956 4G LTE Router Review by checking the packaging and contents of the DWR-956 from D-Link.
When our DWR-956 Router arrived, it came in a standard-looking cardboard box which is at least thick and sturdy. The front displays an image of the router, while its purpose is written just below it.
One corner of the package displays "D-Link" and the model's name, while other details are on the other corner. Below the image, you'll see a row of all the essential features that the router has.
The box's sides display other details about the router, while the rear also provides more information about it.
Inside the box, you will find the DWR-956 along with an Ethernet cable, two antennas, and a power adapter. There's also a cigarette lighter adapter included in the package.
D-Link DWR-956 4G LTE Router Review – Design and Functionality
This portion of our D-Link DWR-956 4G LTE Router Review focuses on its design and functions.
The router is integrated with an LTE modem that offers 3G/4G mobile connection. It can equip your office with downlink speeds that reach 150Mbps while uplink speeds reach 50Mbps. You can do this by inserting the business mobile phone's SIM into its designated slot.
With the DWR-956, you can immediately establish a high-speed wireless connection at home or the office. You can even use it in any pop-up area requiring an immediate internet connection. It's to allow mobile devices and computers to access the Internet anywhere.
To have this level of flexibility, connectivity, and portability is excellent for workers and students staying at home. They can seamlessly work and function with high-speed Internet, and fast AC-1200 wireless networks whenever they need it. Plus, they'll be provided with Wi-Fi speeds reaching about 1,167Mbps.
4G/LTE
The 4G/LTE data speed offered by major Australian phone companies provide fast broadband data speeds. These are delivered to your phones or mobile broadband devices.
It's best to know what 4G is since it'll come in handy when selecting a phone service contract or provider. Today's newest smartphones come integrated with LTE/4G.
4G is a known network standard, while LTE means Long Term Evolution. LTE is a name provided by telcos like Virgin Mobile, Optus, Verizon, etc., to fast wireless internet services offered today. Also, it's a data access capacity that's categorised under the 4G standards.
Key Features of the D-Link DWR-956 4G LTE Router
This part of our D-Link DWR-956 4G LTE Router Review introduces the different key features of the router.
Voice Over IP Services
The DWR-956 4G LTE Router offers VoIP technology with advanced communication features. What's more, it's compatible with Optus 4G Plus and Telstra 4GX networks to receive and make calls reliably.
Utilise the DWR-956's FXS phone port to link all regular phone sets for VoIP calls. Then, use the router functions to connect everyone to the internet for faster online experience everywhere.
Reliable, Uninterrupted Internet Connection
The Gigabit Ethernet WAN port lets you link a DSL cable modem as the primary/backup link. For the auto-failover, it guarantees uninterrupted connection by instantly connecting to the 4G LTE network whenever the WAN link disappears.
The integrated QoS management feature prioritises traffic to guarantee that vital data receives adequate bandwidth.
Easy Setup, User-Friendly
You can set up the D-Link DWR-956 in minutes since it comes with a setup wizard that is easy to follow. It will get you up and running only in a few minutes.
The 802.11g/b clients and other older wireless devices are also compatible with the D-Link DWR-956 4G LTE Router. With that, you can get started without experiencing any issues.
Ready to Go
The D-Link DWR-956 4G LTE Router is preconfigured out of the box. It features global carrier profiles that will help you take full advantage of your LTE connection.
Failover mode
D-Link designed the D-Link DWR-956 4G LTE Router with stable and consistent Internet connection in mind. With the router, you can create failover connectivity in case your fixed line or mobile broadband fails.
For your primary broadband, connect this to the router's WAN port and follow the setup instructions. The D-Link DWR-956 will instantly switch to the secondary mobile Internet when most needed. With that, you can stay connected and enjoy uninterrupted wireless connection that keeps you productive.
Impressive Speeds
Connecting to your mobile 4G LTE internet with speeds reaching a maximum of 150Mbps gives you fast and responsive connection. The DWR-956 router simultaneously operates on wireless bands (2.5GHz and 5GHz) via contemporaneous dual-band technology. It utilises the newest Wireless AC structure and technology, which can offer coupling transfer rates ranging up to 1200Mbps.
Aside from that, you can also benefit from the enhanced reliability and range of the standard wireless connectivity. You can also send large emails in your home or small office while your children are streaming their favourite movies. At the same time, other users can even video chat with friends without losing connection.
Specifications
This section of our D-Link DWR-956 4G LTE Router Review informs you about the specifications of D-Link's DWR-956 router.
The DWR-956 4G LTE Router is a multi-WAN and a wireless AC for its Wi-Fi. It uses Fast Ethernet 3G/4G LTE via SIM WAN port and has a total of 4 LAN Gigabit ports.
This router uses a wireless AC-1200 and sports a desktop design with a single WAN port. It also comes with a WAN failover, is rack-mountable, and has a 3-year limited warranty included.
For its dimensions, the DWR-956 4G LTE Router measures 170 x 180 x 80mm.
System Requirements
The system requirements of the DWR-956 include a 4G SIM card that has valid Internet services. Another vital system requirement is a computer with Macintosh, Windows, or a Linux-based operating system. Your computer should have an installed Ethernet adapter.
Lastly, you will need internet explorer 8.0 or higher for the router's configuration usage.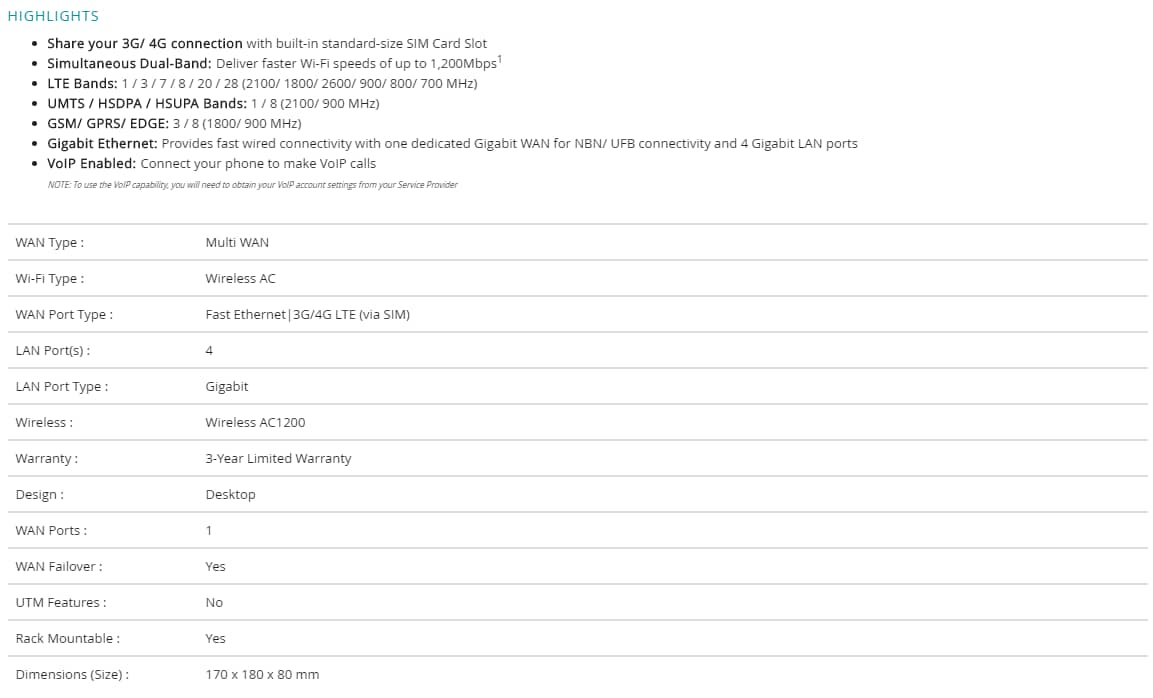 Hands on With the D-Link DWR-956 4G LTE Router
This is the part of our D-Link DWR-956 4G LTE Router Review that talks about the performance of the router.
After finding a good mobile and Wi-Fi spot in our home, we set the DWR-956 there, and everything performed excellently. When we attempted to transfer large files locally, the Wi-Fi speed was stable, and there were no limits to it.
The DWR-956 was able to handle a set of network functions efficiently. And based on how it performed, the router will keep both average and power users satisfied.
However, you should note that there will always be certain environmental factors that may affect the router's performance. These include the number of linked devices to the source and how the router can simultaneously handle multiple data streams.
With the DWR-956, there weren't any areas to complain about since it effectively improved our connection and offered excellent speed. Overall, we highly recommend the DWR-956 4G LTE Router from D-Link, and we're giving it five stars for performance.
D-Link DWR-956 4G LTE Router Review Summary
If you need a secondary router or dedicated 4G router, the D-Link DWR-956 4G LTE Router is one of the best you can get today. It can act as a substitute connection with a SIM card in it. This way, you'll have a wider variety of connectivity options to the outside world.
The D-Link DWR-956 4G LTE Router has 4G fallback, which is ideal to use in case your primary connection fails. It's not one of the most expensive routers on the market, but it offers excellent value for money.
Additionally, it doesn't require CCNA qualifications when setting it up. All you need is to have some understanding of networking and the benefits of having a secondary connection.
In conclusion to our D-Link DWR-956 4G LTE Router review, and again, we highly recommend this product. If you want to purchase the router, check out the company's store locator to see where you can buy it.