Nowadays, a lot of people prefer using Bluetooth headsets that easily reduce background noise. It's also common for people to opt for something convenient when it comes to multitasking. Of course, if it can easily switch between devices, the better.
If that's what you need, read through our EPOS ADAPT 360 review to learn all about this headset.
Here, we will discuss everything you'll need to know about the ADAPT 360. We'll check out its features, design, functionality, and how well it performs. It's a great way to help you decide if it's a product necessary for your needs.
So without further ado, let's learn more about this Bluetooth headset in our EPOS ADAPT 360 review.
EPOS ADAPT 360 Packaging
This part of our EPOS ADAPT 360 review is all about the headset's packaging and its contents.
When ours arrived, it came in a very simple-looking flip-open cardboard box. The only text you'll find on it is EPOS on the upper-left corner of the lid. On the lower right section displays a sticker with an illustration of the headset.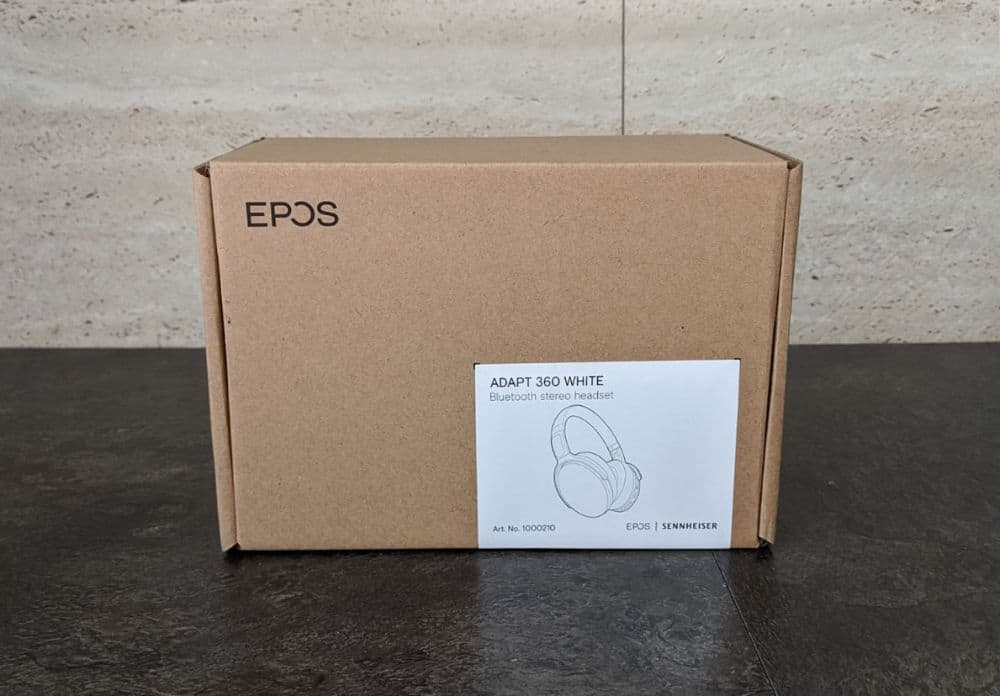 Aside from the illustration, you'll find the headset's name written, and EPOS | Sennheiser.
We have the white ADAPT 360 headset since it gives off a classy, minimalist look. It has that premium appeal to it, which is something we love.
Once we opened the box, we were met with a lot of essential accessories. The company ensures that their products come with all the things you'll need to readily utilise their headset.
In the box, you'll find a 3.5mm audio cable and a USB-C cable. There's also a Bluetooth (BTD-800) dongle if you have a PC that can't access wireless technology.
We appreciate EPOS including a storage bag in the package. It's to conveniently keep the ADAPT 360 that you fold up when it's not being used.
EPOS ADAPT 360 Review – Design and Functionality
This part of our EPOS ADAPT 360 review focuses on the headset's design and functions.
The headset features a minimalist compact design which can be folded then slipped into its pouch when not being used. Seeing its form, we love how solid its design is compared to other Bluetooth headsets we've tried.
We noticed that it doesn't come with a dedicated mic boom. But don't worry, the ADAPT 360 offers you two integrated microphones for clearer and crisp sounds.
In addition, these microphones feature state-of-the-art voice pick-up technologies. These are necessary to optimise speech while removing any background noise.
For its controls, the headset features buttons that are neatly set along the base of its right earcup. With its design and positioning, controlling the ADAPT 360 is seamless and easy.
Key Features of the EPOS ADAPT 360
This part of our EPOS ADAPT 360 review discusses everything you need to know about the headset's key features.
For Versatile and Efficient Workforce
Every workday differs for every busy person like yourself. Sometimes, you have to take calls while on the go; or, you need to focus working in a noisy environment. There are also more relaxing moments when you have some time to listen to music while working.
With the EPOS ADAPT 360, you can immerse in your favourite tunes or silence. Then, immediately and effortlessly switch between tasks, which is ideal for everyone who's busy or on the go.
ANC for Focus Even in Noisy Environments
EPOS ADAPT 360 features Active Noise Cancellation or ANC. It's a highly useful feature that reduces background noise.
It works with the large ear cups that provide excellent noise dampening. Plus, it helps reduce any distracting noise. With that, you concentrate better on whatever it is that you're doing.
Effortless Switching between Multiple Devices
ADAPT 360's multi-point connectivity allows you to simultaneously connect the headset to any two Bluetooth devices. You can also switch between these devices with ease.
Clear, Certified Business Calls
The ADAPT 360 is certified for Microsoft Teams and has a dedicated button for collaboration and communication. Like other EPOS headsets, it's designed for UC.
The industry-leading UC or Unified Communications is a solution offered by EPOS for all types of businesses.
Unified Communications makes the headset easy to deploy since it's fully compatible with a softphone client. Also, it supports all major UC platforms and deskphones.
The ADAPT 360 maximises the performance of your preferred communications solution by delivering the best design and audio quality. Additionally, it has productivity enhancing features.
Functional yet Stylish
This EPOS ADAPT 360 headset features a sleek, classy, and premium look. It also has soft and ergonomic ear pads that provide lasting comfort no matter how long you wear them.
Reliable Performance and High-Quality Stereo Sound
The EPOS ADAPT 360 performs excellently, allowing for streaming high-quality stereo music. With its long battery life, you can enjoy listening up to 46 hours.
Specifications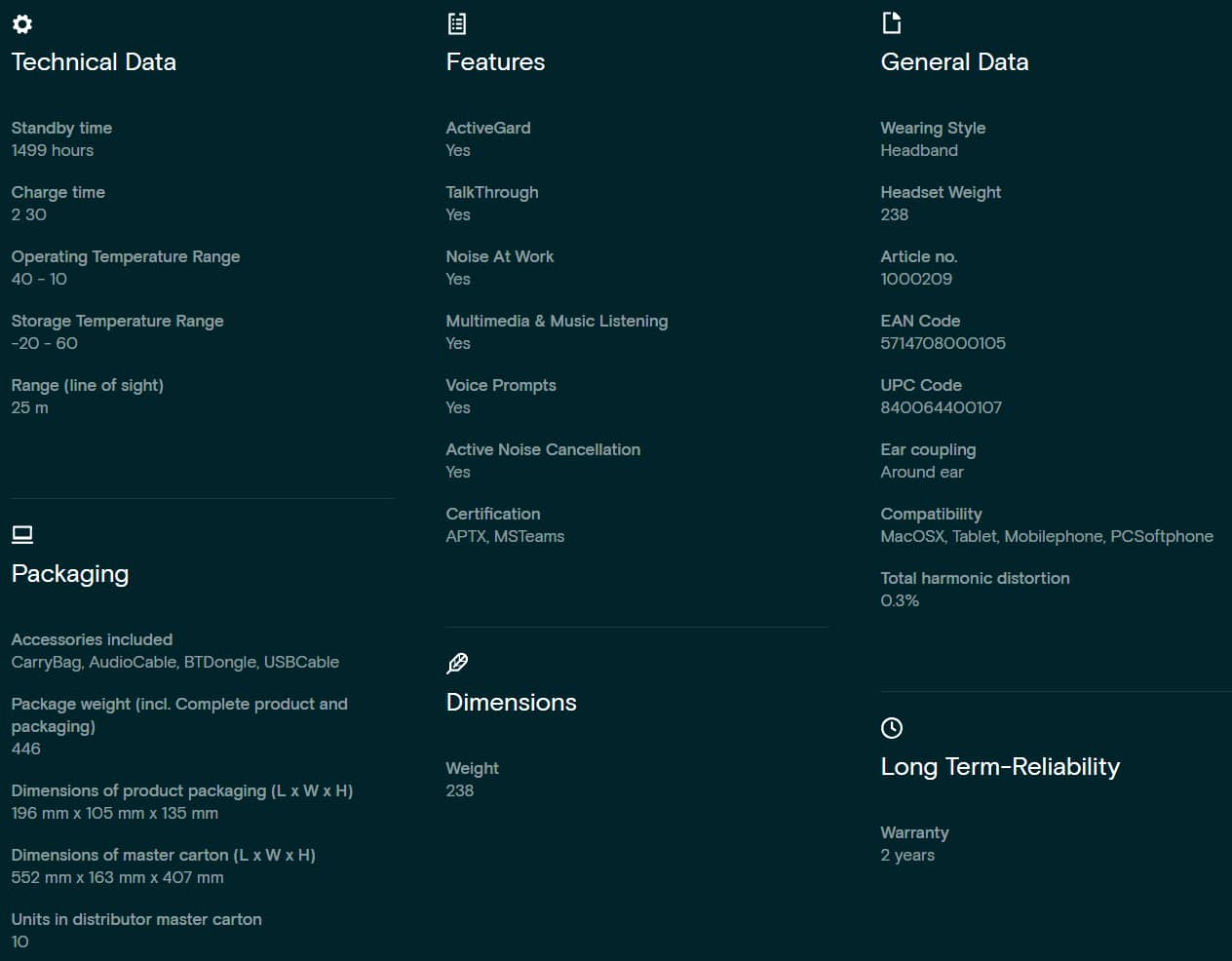 Now, we will talk about the headset's specifications in our EPOS ADAPT 360 review.
The ADAPT 360 is an over-ear headset with a double-sided headband. It weighs 238g and features a closed, dynamic transducer principle.
For connectivity, the headset makes use of Bluetooth 5.0. Its audio cables include a 2.5mm twist lock and 3.5mm jack plug.
Bluetooth profiles that it supports include the HFP (hands-free profile) and HSP (headset profile). In addition, the ADAPT 360 also supports A2DP (advanced audio distribution profile), and AVRCP (audio video remote control profile).
For supported codecs, these include AptX and SBC.
Charging the headset is done via the included USB-C cable and can take about 2.5 hours to fill. In terms of the battery life, listening time can last up to 46 hours with the ANC off. If you have the ANC on, it can reach about 30 hours.
Talking time with the headset's ANC off lasts about 39 hours. It reaches 28 hours when this feature is enabled.
Since it supports Bluetooth 5.0, the ADAPT 360 offers you an almost perfect wireless connection. Plus, it includes a range of up to 25m. The standby time for this headset can last up to 62 days.
If you're someone who wants voice prompts, it's readily available for the headset. Not only that, but you can toggle it off as well.
Audio Specs and Warranty
For its audio specifications, the ADAPT 360 has a speaker frequency response of 18Hz to 22,000Hz (-10dB). Its SPL or sound pressure level is limited by EPOS ActiveGard 108dB (1kHz/0 dBFS).
The headset has less than 0.3% for its harmonic distortion. It also comes with an available ANC or Active Noise Cancellation feature. EPOS included 2 beam-forming MEMS microphones that have a frequency response of 8-Hz to 8,000Hz.
Lastly, we greatly appreciate that the company included a 2-year warranty for their EPOS ADAPT 360.
Hands on with the EPOS ADAPT 360
This is the part of our EPOS ADAPT 360 review that primarily talks about the performance of this headset. Let's begin with the setup process.
Setting up the Headset
We first tried setting up the ADAPT 360 to our computer using its native Bluetooth connection. Of course, we tried utilising the included dongle and that was an easy process as well.
There were no issues during the setup, and we were immediately linked to our PC in no time. We tested the connection on our laptop as well, and we were connected in a snap.
For the entire setup, it's quick, simple, and you'll have the ADAPT 360 up & running in no time. Since you can also pair it with extra devices, we tried it using some smartphones with the ADAPT 360.
Interestingly, we didn't encounter any issues as well, which makes things even better.
Audio Quality
Now for the big question: does it sound as perfect as EPOS' claims?
Generally, it's difficult to find any faults or flaws with the ADAPT 360. When we tried using it, the headset offered clear and crisp communication despite noisy and busy environments.
That's all thanks to its ANC and the two integrated beam-forming MEMS microphones.
Not only that, but the headset is also versatile since it comes with the Bluetooth USB dongle. It's ideal when you have a couple of devices that do not feature Bluetooth and the 3.5mm audio cable.
The EPOS ADAPT 360's audio quality was excellent. The headset produces some outstanding levels of mids to highs, including perfect bass.
The entire time we tested it, we can definitely say that the headset will give you an immersive experience.
ANC & Advanced Microphone
Another highlight of the EPOS ADAPT 360 is with the Microsoft Teams, its advanced microphones, and again, the ANC.
Microsoft Teams is a collaboration and communication platform. It combines video meetings, workplace chats, file storages, as well as app integration.
Technically, the ADAPT 360 makes for an excellent headset both for leisure and work.
Of course, we compared the performance of the headset when using Bluetooth and the BTD 800 USB dongle. Surprisingly, the ADAPT 360 produces excellent sound quality for both.
Knowing this, you can readily and conveniently utilise the headset for any device you have at home or work.
It's also good to note that the ADAPT 360 isn't only efficient for voice communications. The headset is also perfect for listening to different genres of music.
Thanks to its multi-connectivity, it's seamless and quick to switch between different tasks. We were able to shift from listening to audio on the computer, then taking calls on our smartphone. No issues were experienced during these quick switches, and that's what we loved about the headset.
Microphone Performance
Although the EPOS ADAPT 360 doesn't have a dedicated microphone boom, it has two built-in microphones that perform well. These offered excellent sound quality and clear voices that allowed for smooth communication at all times.
We also tried the headset on various devices as well as different applications, and its microphone worked excellently on all.
Bluetooth Connectivity
Another great thing about the EPOS ADAPT 360 was its connection range. During our tests, the headset stayed connected even with a distance of 8m. Of course, we also checked its connectivity by going to different areas in the office. These places were separated by walls, and surprisingly, the headset remained connected despite these.
We were amazed by ADAPT 360's signal, as well as the audio quality it delivered from a distance. Although it strained through some drop outs, it didn't affect the high-quality audio that the headset produced.
EPOS ADAPT 360 Review Summary
The EPOS ADAPT 360 headset delivers high-quality audio while minimising distracting background noise. It features an excellent ANC technology that made our overall listening experience immersive and enjoyable. Also, it has a great design that comes with a 2-year warranty and everything you'll need to get started.
The EPOS ADAPT 360 is made for all kinds of environment, making it one of the best headset choices today. It has everything you need from a modern Bluetooth headset model: excellent design, audio quality, features and versatility.
In conclusion to our EPOS ADAPT 360 review, we highly recommend this product. If you want to purchase this headset, check out the company's store locator for authorised dealers.