In today's EPOS H3 Hybrid Gaming Headset review, we're going to discuss everything about EPOS' H3 Hybrid gaming headset. It's a headset that offers wired connectivity with console and USB cables plus simultaneous Bluetooth connectivity.
The headsets' angled and adjustable ear cups offer an ergonomic fit as well as long-lasting comfort. It even comes with a removable, lift-to-mute boom arm mic that provides crisp and smart game chat output. The H3 Hybrid gaming headset has a lot more to offer.
So, we're checking these out in our EPOS H3 Hybrid Gaming Headset review.
EPOS H3 Hybrid Gaming Headset Packaging
The EPOS H3 Hybrid gaming headset came in a simple yet durable white box. In front, you'll find an image of the product with EPOS' logo on the upper right portion. On the lower-left corner, you'll find the product's name with a short description above it.
The other sides of the box show various details about the product.
Of course, we looked inside the package for our EPOS H3 Hybrid Gaming Headset review. Here, you'll find the H3 Hybrid gaming headset along with a few accessories.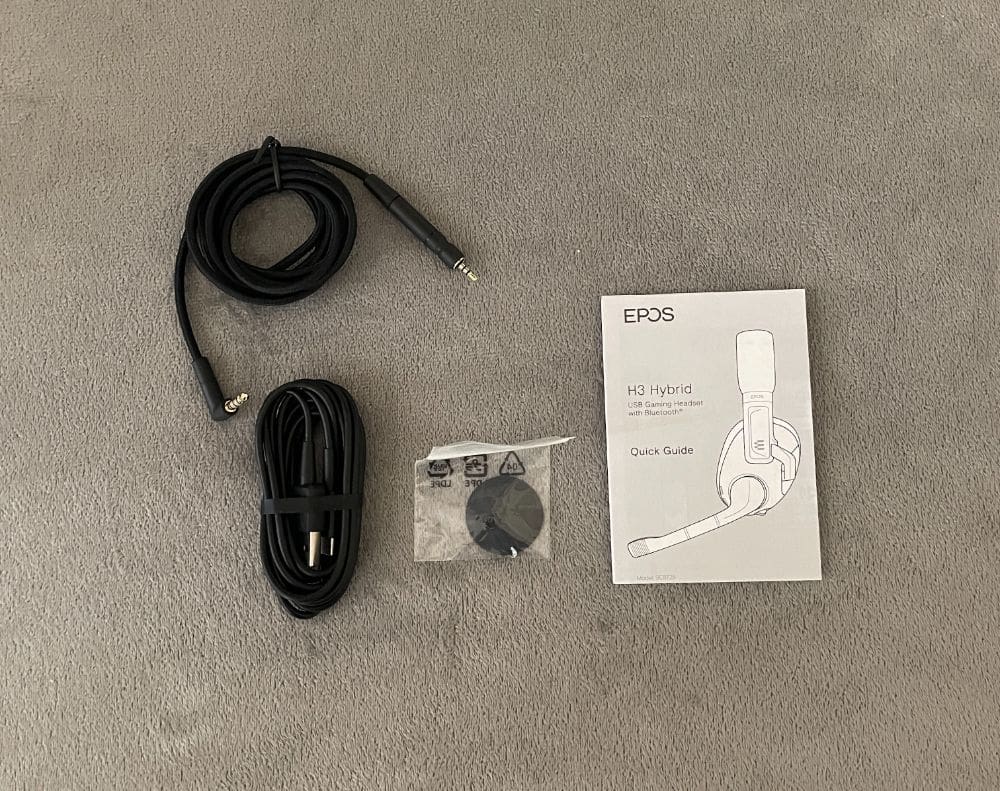 These include the GSA 25 cover plate, GSA 30 Console Cable, and GSA 31 USB Cable. For the included documentation, you'll find a quick start guide along with a safety guide. ​​
EPOS H3 Hybrid Gaming Headset Review – Design and Functionality
We also looked into the product's design and functions for our EPOS H3 Hybrid Gaming Headset review. It's to let you know its build, style, and how it will work for you. 
This headset features a sleek and sophisticated design which surprised us since gaming headsets are usually large with vibrant branding. It also has minimal lighting; and since it's small, it can easily fit in a bag.
Its overall design is similar to its predecessor, the H3 wired gaming headset. However, the difference is that the Hybrid model has additional buttons, ports, and a detachable microphone. Speaking of its microphone, it easily pops off to make the headset more portable. 
The headset also comes with a plastic cover to fill in the gap when the microphone is detached. In the ear cup, there's a secondary mic that allows for taking calls while on the go.
When it comes to its headband, it doesn't put too much head pressure. Plus, the ear cups cover our ears instead of resting on top of them, making the headset comfortable to wear.
The ear pads have a velour or cloth surface with a lot of padding. With these, the headset is comfortable to wear and feels less clammy compared to a UPVC surface. Unlike a lot of brands, it has replaceable ear pads so you won't have to worry about these wearing out.
To put it simply, the product is made up of high-quality materials which makes it a comfortable headset to use. 
We continued studying the headset's functions for our EPOS H3 Hybrid Gaming Headset review. There, we realised that it'll take some extra time to get used to its multiple functions. 
The H3 Hybrid features a USB connection for you to enjoy the optimal audio quality of consoles and PC. For supplementary sound, you can also combine it with Bluetooth.
You can use the console cable for wired connectivity by linking the headset with an Xbox or PlayStation controller. In this mode and with Bluetooth enabled, the headset relies on an internal battery so it will need charging.
It's good to note that the H3 Hybrid has a quick charging time and long battery life. With that, you won't have to worry about constantly charging it.
In terms of its functions, the H3 Hybrid gaming headset is an all-rounder. It's compatible with a range of consoles like PlayStation 4 and 5, Nintendo Switch, Xbox Series X, and Xbox One. You can also use it with Microsoft and Mac computers, mobile phones, and tablets.
Key Features of the EPOS H3 Hybrid Gaming Headset 
Multiple Connectivity 
The H3 Hybrid gaming headset lets you change between wired and wireless connectivity. That's because it offers unmatched versatility with USB, console cable and Bluetooth connectivity. 
Control Your Sound​
You can configure the H3 Hybrid's audio via the EPOS Gaming Suite for PC. Also, the headset lets you enjoy 7.1 Surround Sound, adjust audio levels, and fine-tune communication settings. 
37 Hours of Battery Life​
A single charge of the H3 Hybrid offers up to 37 hours of battery life when using it with Bluetooth. When connected to a console controller with the 3.5mm console cable, it lasts up to 24 hours. For dual connectivity (3.5mm cable and Bluetooth), it can last up to 19 hours.
The H3 Hybrid charges when plugged using the USB cable, so you can also play while charging it.
Simultaneous Audio Streams
When using the H3 Hybrid, you can play a game on your PC or console while chatting with friends. The headset allows two simultaneous audio streams and separate adjustment of volume levels.
We'll now discuss the product's specifications here in our EPOS H3 Hybrid Gaming Headset review.
Specifications
The EPOS H3 Hybrid gaming headset has a dynamic closed transducer principle and a total harmonic distortion of 0.5%. Its charging time takes 1.5 hours which gives a battery life of up to 37 hours. However, this will depend on the type of connection you use. 
The headset's dimensions are 90 x 183 x 176mm and weighs 298g. For its cable, it measures 2m long. Also, EPOS included a 2-year warranty for the headset.
Next in our EPOS H3 Hybrid Gaming Headset review, we'll see if this is as good as what EPOS claims. Did it perform well? Was it easy to use and set up? Were there any issues when we tried it? 
We'll find out. 
Hands-on with the EPOS H3 Hybrid Gaming Headset
The EPOS Gaming Suite is the H3 Hybrid's companion software. It's where you can customise sound profiles to get the most out of your audio. 
Here, you can make various tweaks like adjusting the treble, bass, and reverberation levels. It has a simple interface that allows you to easily navigate through different settings and make various adjustments.
Take note that you should be running the latest version of the software. Otherwise, it won't detect the H3 Hybrid gaming headset.
The software offers settings like virtual 7.1 Surround Sound, equaliser, and various microphone options. Tweaking these settings will help you get the best performance from the H3 Hybrid gaming headset.
In our EPOS H3 Hybrid Gaming Headset review, we also examined the difficulty of setting up the headset. It was super easy, simple, and quick, which is something we greatly appreciate. 
When using a PC or console, all you have to do is connect the headset with the included USB-C cable. It will start working immediately and the EPOS Gaming Suite will detect the headset as well. 
For wireless connectivity, you'll need to press the Smart Button. Its default function is to activate Bluetooth which enables pairing with a phone or other Bluetooth devices. 
In our tests, using both types of connections was easy. We tried connecting it to our PC, as well as several consoles, and these instantly detected the H3 Hybrid. Pairing our mobile phone to the headset via Bluetooth was also a quick process and we didn't experience any issues.
To know its audio quality, we also used the EPOS H3 Hybrid for listening. As expected from an EPOS headset, it delivered top-notch audio quality. With its closed-back design, it also isolated noise excellently. Plus, its soundstage was wide enough. 
There was slight emphasis on the bass and the mid-range was accurate. Its high frequencies were lifted, providing a slight U-shaped audio profile. We liked that the bass didn't drown out the mids and highs which was good for music and gaming.
In games, the H3 Hybrid kept dialogues clear and audible. There was a slight emphasis on the highs, but there were no noticeable issues when it came to its sibilance. For the V-shaped frequency curve, it delivered crisp highs and tight bass.
When it comes to the wired 7.1 Surround Sound mode, the Hybrid H3 delivered impressive sound quality. The wireless mode offered an excellent stereo sound that blocked out enough noise. This kept us focused but still aware of our surroundings at the same time.
Overall, the EpOS H3 Hybrid delivered exceptional audio quality. It worked excellently when we used its different connectivity options and we didn't have issues with it.
We tested the H3 Hybrid's microphone and to our surprise, its impressive audio extends to this part of the headset. It was excellent for entry-level livestreaming and its lift-to-mute function worked well.
For the dual connectivity, it also worked seamlessly. The audio and microphone functioned simultaneously between connections and we received notifications while gaming.
EPOS H3 Hybrid Gaming Headset Review Summary
The EPOS H3 Hybrid gaming headset is one of the gaming headsets that stand out on the market today. It may be a bit expensive, but its great features and performance make it worth the purchase.
We enjoyed using the H3 Hybrid since it was comfortable to wear and it delivered excellent performance. The headset's audio quality for both gaming and music was impressive. Plus, it's paired with a great microphone which makes it even better.
The combination of comfort, features, and performance makes the EPOS H3 Hybrid Gaming Headset a huge success. With that, we're highly recommending this product. To get your hands on this headset, you can purchase it from the company's official website.