Today, we are writing our Fnatic Bolt Wireless Mouse Review to discuss the latest gaming mouse from Fnatic. 
The Bolt is a lightweight gaming product with a collection of notable specs in a cost-efficient frame. Fnatic worked with eSport professionals to create a mouse based on the gaming requirements of the pros. 
It is no surprise that the company claims that the Bolt provides peak gaming performance. That is because of its gamer-focused specifications like a lightweight design, hole-free frame, super slick feet, and excellent battery life. 
But does the mouse match or surpass competitors and strike where things matter the most? Continue reading our Fnatic Bolt Wireless Mouse Review to gather more information about the product. 
Fnatic Bolt Wireless Mouse Packaging
The mouse arrived in a simple-looking black and orange cardboard box showing an image of the product in front. A large "Bolt" is next to the product image, while the Fnatic branding is in the upper-left corner.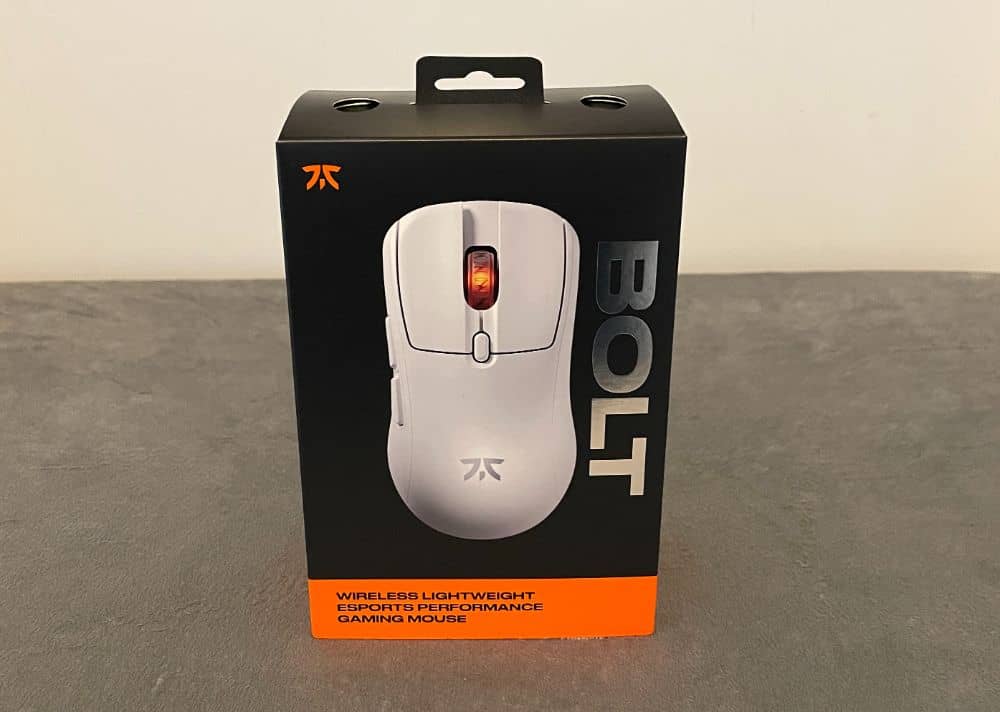 You will find other information on the package, which you can refer to whenever necessary. 
Inside the box, you will find the Bolt wireless mouse, a type-A to C charging cable, and a wireless extender. There is also a wireless dongle, a set of replacement feet, and a quick start guide for your reference. 
Fnatic Bolt Wireless Mouse Review – Design and Functionality
We are using the white-coloured mouse for this Fnatic Bolt Wireless Mouse Review. It looks sleek and premium, which gives a nice and sophisticated appeal. 
The Bolt has a small to medium, comfy, low-profile form with a hump along its rear. If you are familiar with BenQ products, the Bolt looks similar to its Zowie S2. It even looks slightly like the Razer Viper Mini but longer and has straighter sides.
The buttons on the mouse are well-placed, and its entire design is ideal for claw grips. Despite that, the mouse can still work effectively for palm and fingertip grips and is best for most hand sizes. 
Generally, the mouse is specifically for right-handed users, especially those with medium-sized hands. Although ideal, it can be too small of a mouse for people who prefer palm grips. But do not worry since it is far from tiny. 
Overall, we love its shape and size. 
The Bolt from Fnatic sports a simple, clean, yet sophisticated design with a matte white plastic form. It has buttons made of plastic, plus a translucent rubber scroll wheel. Additionally, the mouse has thunderbolt marks that are visible from the inside.
Aside from the marks, you will also find a Fnatic logo along its palm rest. Plus, there is one RGB lighting zone within its scroll wheel.  
We noticed that Fnatic utilised a coarse coating similar to what some competitors have been doing for years. This coating is ideal for gamers since it prevents the mouse from getting sticky. It also provides more grip and offers a better-quality feel. 
Mouse Feet of the Fnatic Bolt Wireless Mouse
The Bolt features non-dyed pure Teflon (PTFE) feet with slightly rounded edges. The presence of these gives the mouse excellent feet, allowing you to glide it over mousepads or on your desk. Also, you will find extra pairs of slightly thicker mouse feet inside the box.
However, we noticed a slight scratching sound from both surfaces, and there was also minimal drag. 
Key Features of the Fnatic Bolt Wireless Mouse 
Here is a list of the product features that make this mouse worth purchasing. See if these aspects are ideal for all your gaming needs. 
Made by Gamers for Enthusiasts
Fnatic produced the Bolt with professional teams and mouse enthusiasts to develop an ideal shape and form. With its design that suits different hand sizes and grip styles, you can achieve top performance.
We tested it for our Fnatic Bolt Wireless Mouse Review, and the mouse helped us perform efficiently in different games. This gaming mouse will help you unleash your potential across competitive eSports titles.
Lightweight Design Without Holes
The Bolt is a lightweight mouse without holes, allowing you to achieve consistent performance and lightning-fast flicks. It is ultra-lightweight without compromising its integrity and feel. 
Precise Movements with the Fnatic Bolt Wireless Mouse
Strike precisely with each flick when using the Bolt. It uses the flagship PixArt3370 sensor that will efficiently track your movements and help provide you with optimum performance.
Kailh GM 8.0 Switches
The Kailh GM 8.0 switches ensure satisfying crisp clicks and offer added durability. 
eSports-grade Wireless Connection
The Bolt is lag-free and offers only 1ms latency for untethered gaming to guarantee proper and real-time execution of movements. You can also switch to Bluetooth to connect to other devices conveniently.
USB-C Charging and Onboard Memory of the Fnatic Bolt Wireless Mouse
The Bolt charges using the paracord USB-C cable. It also has four onboard profiles and DPI settings, allowing you to toggle between them with the cycle button.
100% Virgin PTFE Skates
While doing our product tests for our Fnatic Bolt Wireless Mouse Review, we noticed its smooth glides. Thanks to the 100% virgin PTFE feet, the mouse slides easily on any mousepad. The bottom of the Bolt also has ridges to increase the durability of the skates.
An HID-compliant Mouse
The mouse works with Fnatic OP on Windows. It is also HID-compliant, and its standard functions will work with any device that accepts HID.
Specifications
Let us continue this Fnatic Bolt Wireless Mouse Review and discuss the mouse specifications. These details will help you know if the mouse will work smoothly with your setup. 
For starters, it uses wireless 2.4 GHz and Bluetooth 5.1 connectivity. The mouse has four profiles plus four DPI stages for its onboard memory. It also has RGB lighting with 16.9 million colours and a 1000Hz polling rate. 
Bolt utilises a USB-C cable, Kailh GM 8.0 switches, and a lithium-ion rechargeable battery. Its battery can last up to 110 hours with the 2.4GHz wireless or 210 hours on Bluetooth.
Lastly, the product measures 20.89 x 55.44 x 38.50 and weighs 66g. Also, Fnatic included a 2-year warranty for the product. 
Hands-on with the Fnatic Bolt Wireless Mouse 
We utilised the mouse for over a week to test it for our Fnatic Bolt Wireless Mouse Review. Here, we will share how good (or not) it performed. But before we get to that, we will discuss its software. 
Fnatic OP Software
Fnatic OP is the software suite for configuring the settings of the Bolt. It is compatible with Windows and macOS and has a simple interface that makes it easy to use. We noticed that it has most of the options you can find on similar customisation software for peripherals.
Fnatic OP allows changing the RGB lighting and adjusting various features like the CPI, debounce and lift-off distance. Currently, there is no option for reprogramming buttons or setting macros on the software. However, Fnatic may add these features in the future.
Remember, changing the mouse settings via Fnatic OP requires a USB connection. 
Performance of the Fnatic Bolt Wireless Mouse
When we tested the in-game performance of the Bolt, we used various mousepads. To our surprise, it was good to use on all the mousepads. 
We loved its lightweight body that allowed for swift movements, which was vital in many types of games. It felt like an extension of our arm instead of a separate piece of equipment.
We trust the performance of the PAW3370, but sensor performance always depends on the implementation of the sensor. In our tests, the Bolt performed flawlessly and tracked all of our movements.
We were impressed the Bolt delivered excellent performance despite being the first wireless mouse from Fnatic. The delay was only 1ms and on par with top-tier gaming mice from brands like Razer and Logitech.
The wireless connection was better than we expected. Whether we used 2.4 GHz wireless technology or Bluetooth, we enjoyed stable connectivity that never disrupted our gaming. The Bolt was responsive throughout our tests, which proves its reliability.
Although we did not monitor how long it lasted, we noticed the reliable battery life of the Bolt. We did not need charging even after playing daily for a week.
When we charged the mouse, it was fast and convenient since the cable was flexible enough. It did not restrict our mouse movements, so charging was possible while playing.
Because of its 470 mAh battery, the battery life of this mouse was strong. 
Fnatic Bolt Wireless Mouse Review Summary
The Bolt has specs on par with some expensive gaming mice, making it an appealing product. It may have a simple design, but it is a lightweight mouse with solid construction. 
While testing the product for our Fnatic Bolt Wireless Mouse Review, we noticed the tactile feedback of the main buttons. Plus, the side buttons were easy to access, which improved our gaming performance. We also loved its slick, scratch-free PTFE skates and the long battery life.
Like with all products, you need to spend if you want quality, and the Bolt is no exception. We highly recommend this product since it is an eSports-ready mouse offering good value and performance. 
It is lightweight, comfortable to use with different grip types, has a durable build, and delivers excellent performance.
Visit the official product page of Fnatic for more details about the Bolt Wireless Mouse.