This time, we're taking a look at this mid-tower PC chassis here in our Fractal Design Vector RS review. It comes from a new series from the company, where their trend of reskinning current internal chassis layouts continues.
Vector RS is the pioneer in a new collection of cases relying on the internals of the renowned Define R6. It sports three tempered glass portions outside, plus an addressable strip of RGB lighting.
Technically, Vector RS is efficiently the company's attempt to tailoring the Define R6. They're aiming for a different crowd without decreasing and sacrificing the core design.
Fractal Design Vector RS Packaging
This portion of our Fractal Design Vector RS review is where we focus on the product's packaging and its contents.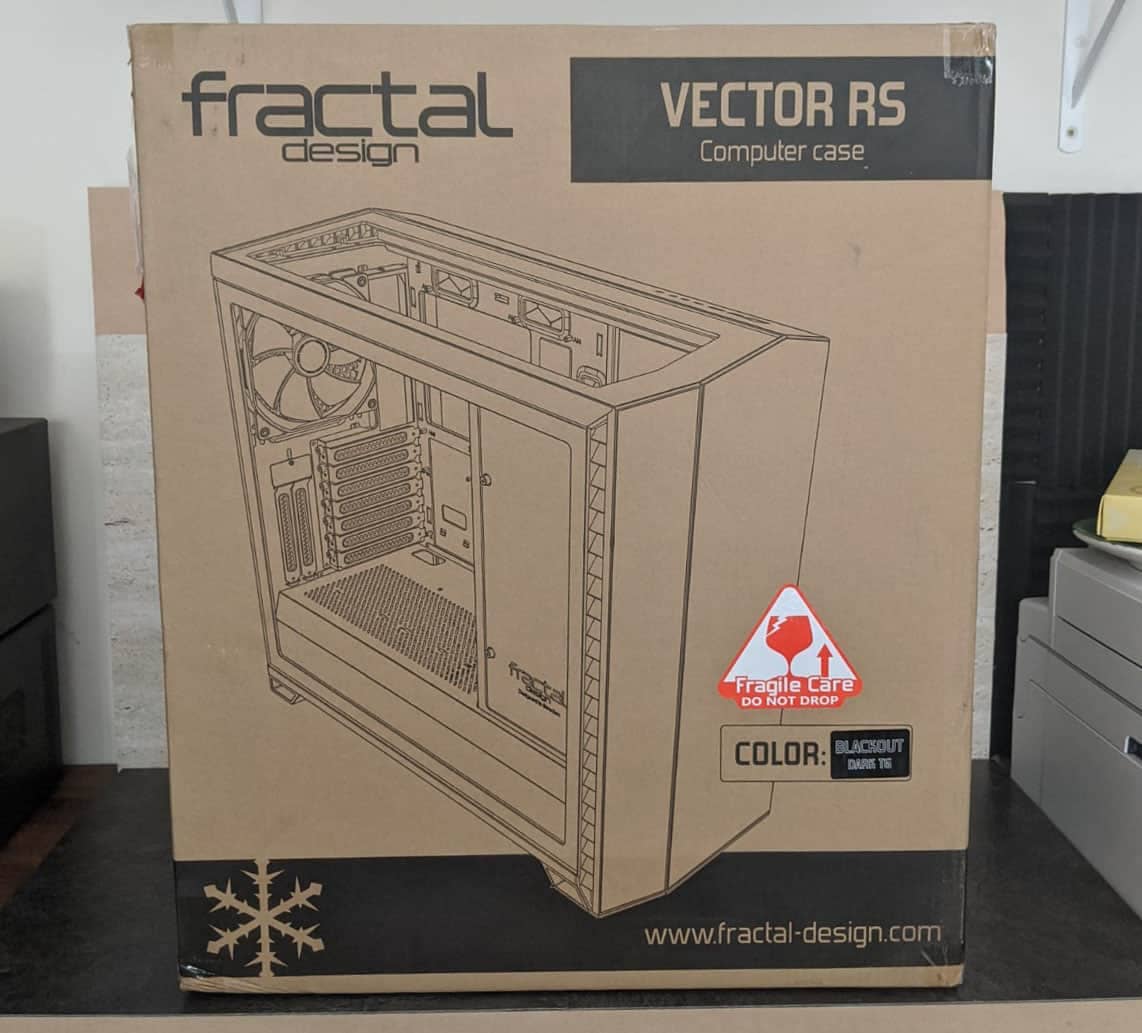 What we got was the Vector RS Dark Tempered Glass version. And as we expected, it came in a huge cardboard box with handle holes on its side. The front displays an illustration of the chassis while its name is on the upper-right corner.
To the left of the unit's name is Fractal Design, and on the lower-right section is the company's official website. The entire package weighs around 14kg, and technically, it's not exactly small.
Inside the box, the case is well-secured with a plastic bag and Styrofoam to prevent damages while in transit. Other than the case, you'll also find other accessories present. These include x4 PSU screws, x14 optional HDD tray and motherboard screws, and an MB standoff.
There's also a standoff tool, x6 cable ties, x32 SSD screws, x24 HDD screws, and x24 HDD dampeners. The company also included x4 thumbscrews for the side panels, plus an adjust R1-RGB controller.
Fractal Design Vector RS Review – Design and Functionality
Now in our Fractal Design Vector RS review, the focus will be on the case's functionality and design. To begin with, the Vector RS comes with three of the company's Dynamic X2 GP14 140mm fans. Two of these are mounted as front-intakes, while the other is set as a rear exhaust.
Note that the three-pin fans aren't PWM-controlled and have a total RS of 1,000 RPM which is slightly low. Despite this, the company reckons that the case is up to the delivery of sufficient airflow.
Even if its front panel blocks airflow to the fans, it's countered by the vented areas. The vented sections are located down the sides and are called counter-angled. With this layout, it means that the design helps deflect noise from the user without constricting airflow.   
There is enough room to boost the number of fans inside the Vector RS. With x2 140/120mm mounts at the base, x3 on the roof, plus a 3rd possible mounting area in front.
To maximise the usefulness of the roof, it's best to switch the tempered glass cover for a ventilated steel type. You can also utilise a three-part device with a fan or radiator bracket, a top cover, and dust filter. The swap is easy to do, and its build stays durable and rigid once complete.
The I/O ports' location makes it easier to access when the chassis is set on the floor and not on the desk. Either way, the case is still well-equipped. It offers users x2 USB 3.0 ports and USB 3.1 Gen2 Type-C connectors with fast-charging assistance.
With this, the company opted for a more classic process of dividing the headphones/mic functions to two dedicated jacks.
The front panels are easy to pull off, and its weight is an excellent indicator of its superb build quality. Removing it is necessary for swapping the roof to a ventilated piece. It's also needed to reach the bottom dust filter which has a full length and is removable from the front.
You'll also find removable filters integrated into the front panel's side vents, meaning, the Vector RS is completely shielded. Instead of cables for connecting the front and roof panels, Fractal opted for metal contacts instead. This setup allows the LED strips to easily communicate without wires getting in the way when working with the chassis.
Both the side panels utilise a circular front hinge and a latching mechanism to make accessing the sides simple. Its lock is sturdy enough so that you won't need any thumbscrews. However, there are some included to use for securing the panel when moving the Vector RS around.
Take note of the front panel since it requires a large amount of force to get it back on. Also remember that the steel side panel sports a noise-dampening element, which isn't utilised elsewhere on the case.
The large interior of the chassis is segregated by a PSU shroud that can hold E-ATX boards that are up to 285mm wide. These boards can also have standoffs pre-installed on them. Not only that, but there's clearance for CPU coolers reaching 185mm tall and 440mm-long graphics cards.
The vertical GPU mounting is also supported. However, you'll have to purchase the Flex VRC25 Vertical GPU Riser to allow it. Note that even if 2.5-slot styles are supported, Fractal recommends utilising liquid-cooling when using anything bigger than dual-slot cards.
The front of the chassis features a modular storage plate that holds 6 HDD trays fixed to it. There are a total of 11 slots that you can move around however you want. Plus, you can readily remove the unused ones for convenience.
Alternatively, you can purchase additional trays if you require more than six HDDs.
The chassis' trays are quality-made with steel construction, and its drives are fixed to rubber washers. You can tighten up the trays further by using extra screws per tray right after dismantling the blanking plate.
You'll also receive two dedicated steel mounting trays for the SSD, plus extra captive thumbscrews. By default, they're set to the motherboard tray's rear, but you can opt to switch them to the PSU shroud. This setup will allow you to give the drive/drives prominence to your build.
The Vector RS has a flexible interior that can have an open layout for airflow or a storage-focused one. What makes this a lot better is that changing from one layout to another can be done in five minutes.
Since the open layout promotes airflow, you will have to remove all HDD trays and the front fans. Also, you will have to remove the roof sections with the bit covering the IO port. With that, you can shift the modular plate to the opposite side.
The storage plate features a smart design that allows you to mount two 3.5″ drives vertically. Also, the setup is clear and doesn't obstruct airflow, plus there's a lot of room for a liquid cooler.
If you prefer liquid cooling for your build, the Vector RS has everything you need for it. First, you'll have to move to the open layout, then install the radiator bracket and ventilated roof. The bracket supports 360mm or 420mm radiators. If you use a 140mm fan, the RAM modules shouldn't be taller than 35mm.
For the Vector RS' front, it supports 280mm or 360mm radiators, but the former shouldn't be wider than 147mm. The supported sizes of the base are 240mm and 280mm.
The chassis also features the Nexus+ fan hub that simultaneously powers up a maximum of nine fans. Three of the fan headers are the 4-pin PWM type. You can connect the hub to your CPU fan header to allow the PWM signal to control the fans. Additionally, it's more straightforward since it's SATA-powered.
Fractal Design Vector RS offers up to 23mm clearance is available for cable routing. A pair of Velcro cable ties and 19 anchor points are also present for more convenience. Fractal also did a great job in surrounding the motherboard with adequately sized routing holes. For the grommets, these were of high-quality and didn't come out of place when we slipped cables through them.
The next part of our Fractal Design Vector RS review will be all about the chassis' key features.
Key Features of the Fractal Design Vector RS
This section of our Fractal Design Vector RS review will focus on the chassis' features.
Aesthetics to Attract Attention
The Fractal Design Vector RS features sharp angles, counter-angled air intakes, and expressive ARGB strip. Along with aesthetics, it has adequate air intakes to keep the interior cool without noise.
Dual layout design
With Fractal Design Vector RS' modular design, you can easily choose and convert between two layouts: Open and Storage. The chassis has two SSD and six HDD mounts with 4 SSD and 11 HDD positions. It also has six vibration-damped 2.5″ SSD brackets and 3.5″ HDD trays.
Moreover, you can independently reposition the universal SSD/HDD trays present.
Counter-angled Intake Vents
Counter-angled intake vents allow for more airflow to cool the Vector RS' interior while keeping it silent. This chassis traps noise with little airflow resistance. For excellent ventilation performance, it has three pre-installed Dynamic X2 GP-14 140mm fans from Fractal Design.
Additionally, the Vector RS has up to nine fan placements with clear airflow paths to achieve the greatest cooling capacity. A Nexus+ fan hub is present for managing these nine fans via your motherboard.
On the right side of the panel is a sound damping bitumen. You'll also find easy-to-clean high-airflow filters made of nylon at the chassis' top, base, and front.
Extensive Support for Water Cooling
The Vector RS from Fractal Design not only allows air cooling, but it also supports water cooling setup. It has adequate space on each side, and the top radiator comes with a cooling bracket for it.
Specifications
In this part of our Fractal Design Vector RS review, we will focus on the chassis' specifications.
The Vector RS measures 140 x 140 x 25mm, and it makes use of high-grade LLS (Long Life Sleeve) bearings. Its rotational speed is 1,000 RPM, sound levels are at 18.9dBA, and has 68.4 CFM of airflow.
The chassis has a static pressure of 0.71mm H20. Its actual input power is 1.32W while the total rated input current reaches 0.2A. Its MTBF reaches 100,000hs.
Hands-on with the Fractal Design Vector RS
This section is the part of our Fractal Design Vector RS review where we get more hands-on with the chassis.
Building in the case was an absolute pleasure. There was plenty of room to fit in all of the hardware and all of the edges are nice and smooth meaning no cut hands. The ability to change the layout of the interior is something that all builders will love as you really can build whatever system you would like.
The cable management in the case is great as you can easily tuck and hide all of your cables at both the front and rear of the case.
When it comes to the sounds produced by the chassis when in use, the fans in the case are hardly audible and ran almost silent. This is perfect for those that want to show off their case on top of their desk.
The case's open layout guarantees more air from the front fans, and it's directed towards the Vector RS case.
Overall, the Vector RS was an excellent chassis, and when utilised, it barely made any noise, which was great. It's something we'd recommend too, so based on its build, style, design and function, we're giving it five stars.
Fractal Design Vector RS Review Summary
Compared to an average chassis, Fractal Design Vector RS is large, and it comes with a lot of impressive features. It's highly compatible with wide E-ATX motherboards, 185mm air coolers, and advanced water cooling radiators. Also, it allows the installation of a lot of 3.5″ and 2.5″ drives.
The best thing about this chassis is that it allows for quick, easy and convenient installation. The latching mechanism eliminates the use of thumbscrews while keeping everything secure. Also, cable routing makes the interior look organised. Most importantly, it efficiently kept each component cool, regardless of which layout we used.
To conclude our Fractal Design Vector RS review, we highly recommend this chassis. To get this, check out the store locator to find authorised sellers near you.