PAX Australia was finally back in full swing for the 2022 Penny Arcade Expo. Fans from all over were able to once again gather together to enjoy and share the passion for gaming and gaming culture.
From October 7th – October 9th PAX Australia showcased some of the hottest upcoming games, highlighted some amazing indie developers, treated fans to some high level gaming tournaments, and answered gamers questions at the range of panels.
GIGABYTE AORUS was there front and centre to help support PAX Australia 2022, and to show-off some of the amazing products from GIGABYTE AORUS that helps gamers take their gaming to the next level.
GIGABYTE AORUS at the Mwave Booth
One of the hottest places to be at PAX Australia 2022 was the Mwave booth where gamers could see the latest and greatest gaming hardware. GIGABYTE AORUS were the exclusive providers for motherboards, graphics cards, and monitors for everything that was on show at the Mwave booth.
Gamers were able to get their hands on some of the best performing gaming hardware available and to see what is possible when you mix high performance hardware with some great PC building skills.
AORUS Themed Room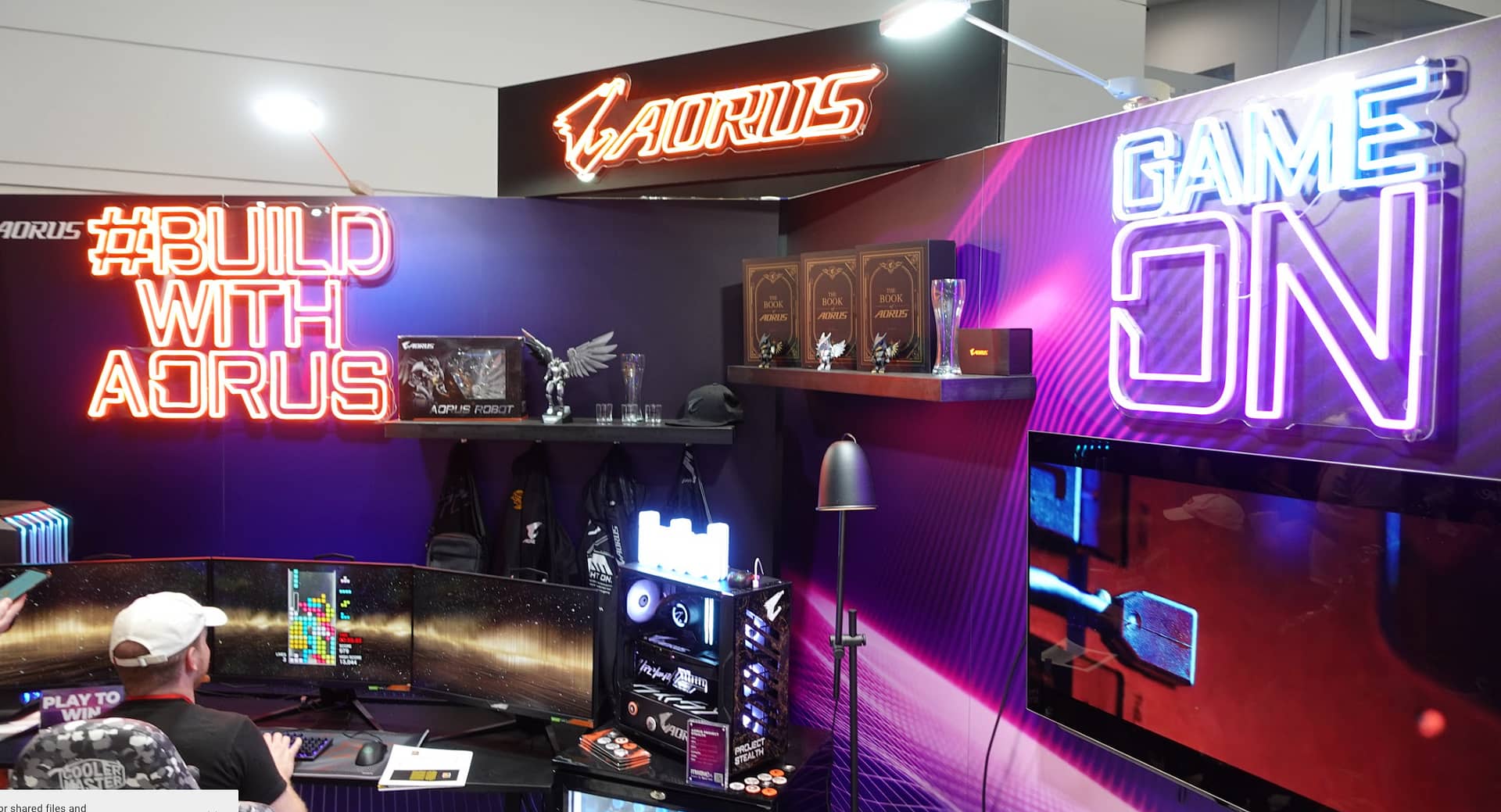 One of the most popular attractions at the Mwave booth was the AORUS themed room. 
This room was set up to emulate a gamers own living space and to show how GIGABYTE AORUS can seamlessly, and perfectly fit within a gamers lifestyle.
The AORUS themed room was split up into two of the most common room types, the living room and office, and made use of AORUS and AERO products to showcase how these rooms can be set up to create the perfect gaming space at home.
The AORUS Living Room
First up is the living room. The living room was kitted out with a range of AORUS and AERO products which turned the living room into every gamers dream.
AORUS Project Stealth by AORUS and SimpleModz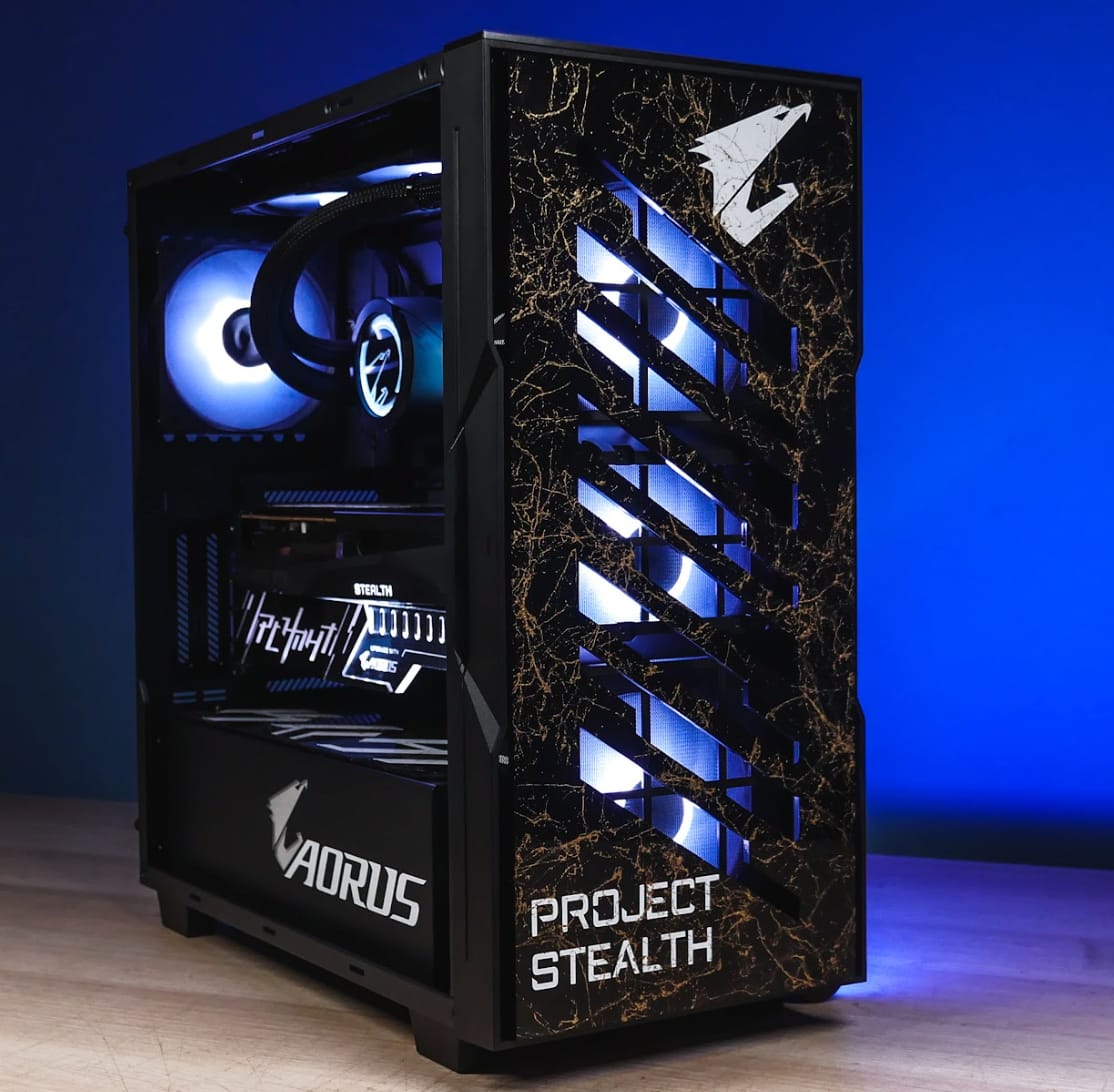 On show was the AORUS Project Stealth custom PC build from SimpleModz. This powerhouse of a gaming PC was loaded up with some of the best performing PC hardware around:
This build seamlessly fits within the living room and provides high resolution, high performance gaming, to those who take their gaming seriously.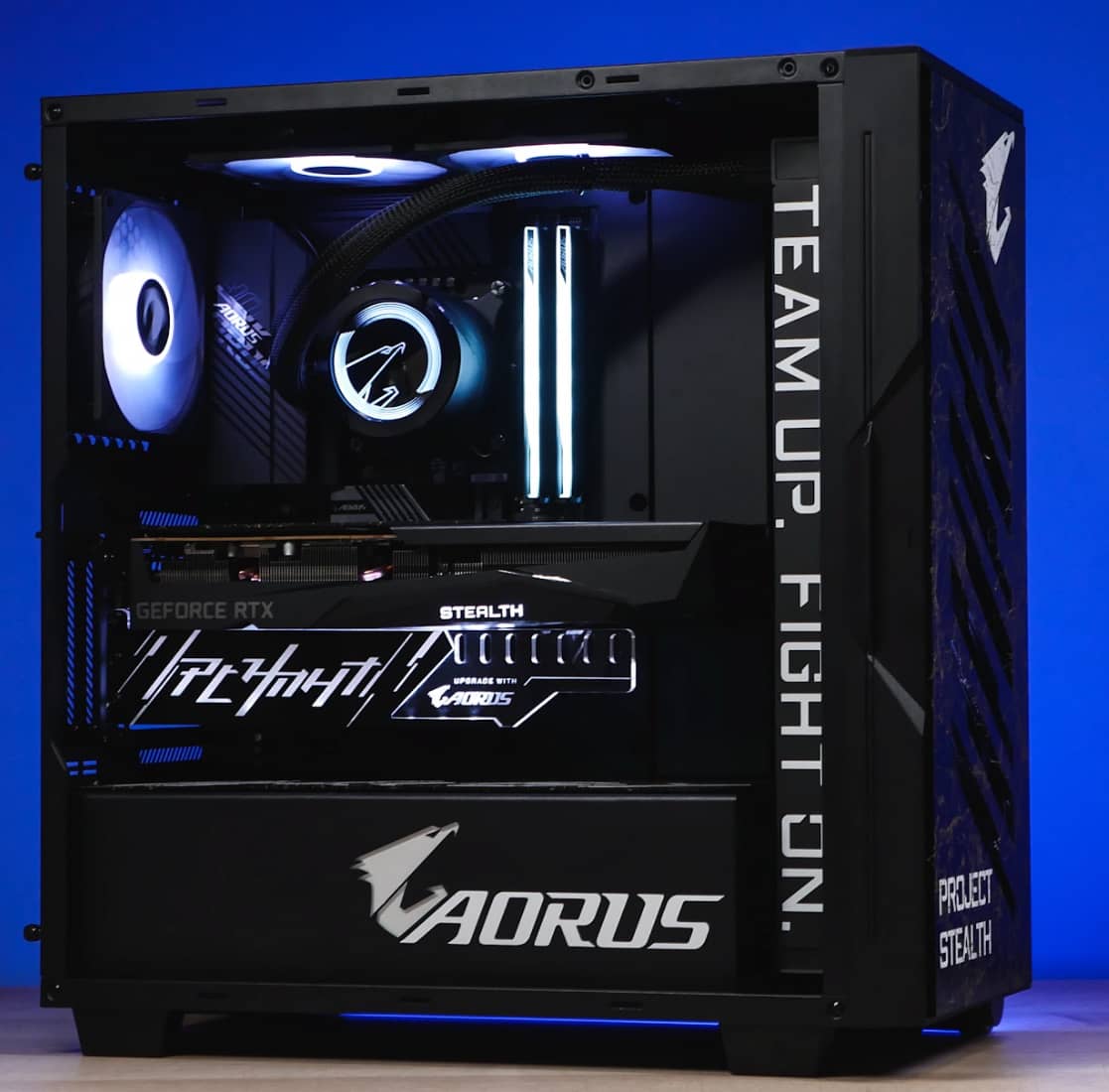 AORUS Upgraded PlayStation 5
In addition to a beast of a gaming PC was a PlayStation 5 console that was uploaded with an AORUS 2TB Gen4 7000S M.2 SSD. The AORUS SSD upgrade ensures that gamers have more than enough storage space available for even the heftiest of game installations. 
Not only does the AORUS 2TB Gen4 7000S M.2 SSD provide gamers with more than enough storage needs, but it offers the incredible speeds that ensures that even the most demanding games load fast and play smoothly.
AORUS FO48U 4K Display
The AORUS FO48U was the display choice used for the AORUS living room and is a display that offers a huge screen area and stunning 4K performance. This is largely thanks to the stunning OLED panel that offers realistic, true colours and strong deep blacks.
The FO48U is self-emissive which means that the display does not need to rely on backlights which leads to better image quality while also reducing the response time. This is a big plus for gamers.
The AORUS FO48U is the perfect choice for console gamers and those wanting to game on a larger display.
The FO48U comes packed with the following specs:
47.53 OLED display

98% DCI-P3/ 130% sRGB colour saturation

10bits display colours

135000:1 contrast ratio

1ms GTG response time

120Hz refresh rate

HDR10 / HLG

HDMI 2.1

KVM
AORUS 17 Gaming Laptop
When it comes to gaming on the go, there is no better choice than the GIGABYTE AORUS 17 Gaming Laptop. This laptop is the perfect choice for gamers that want to be able to play the latest games but want to do so in a smaller, portable form factor.
The new AORUS 17 is the definitive high-end gaming laptop. Packed with some of the best performing gaming hardware on the market today, it provides the kind of gaming performance that used to be only available to desktop PC gamers.
The AORUS 17 is powered by:
Windows 11

NVIDIA GeForce RTX 30 Series Laptop GPUs

12th Gen Intel® Core™ i7 Processor H-Series

WINDFORCE Infinity Cooling System

17.3″ FHD 360Hz NTSC 72% IPS Level Panel

DDR5 Memory

Thunderbolt™ 4
In addition to the amazing internals, the AORUS 17 also comes sporting a 17 inch IPS display and offers a blistering fast refresh rate of 360Hz, all while sporting a 90% screen to body ratio. 
AERO 16 Creator Laptop
In addition to the AORUS 17 Gaming Laptop, the AERO 16 Creator Laptop was also on show in the AORUS living room.
The AERO 16 is the go to choice for content creators that need a powerful computer that is able to handle the most demanding of tasks. This laptop provides that incredible performance that content creators require, all within a portable form factor.
Thanks to the included 12th generation Intel CPU and NVIDIA GeForce RTX 30 series GPU, the AERO 16 is perfect for content creators frequently performing operations such as video production, audio production, graphics and animation work, as well as high resolution content streaming.
This is all made possible thanks to the blazingly fast internals:
Windows 11

NVIDIA GeForce RTX 30 Series Laptop GPU

12th Gen Intel Core i9 / i7 Processor H-Series

3mm 4-side Super Narrow Bezel + X-Rite & Pantone® Certified Display

UHD+ AMOLED / QHD+ miniLED Panel
Thanks to its X-Rite Certified display, the factory calibrated and PANTONE certified AERO 16 is perfect for those that require complete colour accuracy.
The AORUS Office
Similar to the living room setup, the AORUS themed room also included an office setup. 
Cooler Master HAF 700 EVO by AORUS and SimpleModz
On display was another custom PC build brought to you by SimpleModz. This build is a monster of a PC that is perfect for high performance 4K gaming as well as demanding productivity tasks associated with content creation. 
If you are someone that enjoys playing the latest games at a 4K resolution, or a content creator loves to stream on Twitch or YouTube, this custom build makes it all possible thanks to the powerful hardware found inside:
Cooler Master HAF 700 EVO

Intel Core i9 12900K
This build looks right at home in the office or gaming room and provides more than enough power for the likes of high FPS competitive gaming, video production, streaming, and design.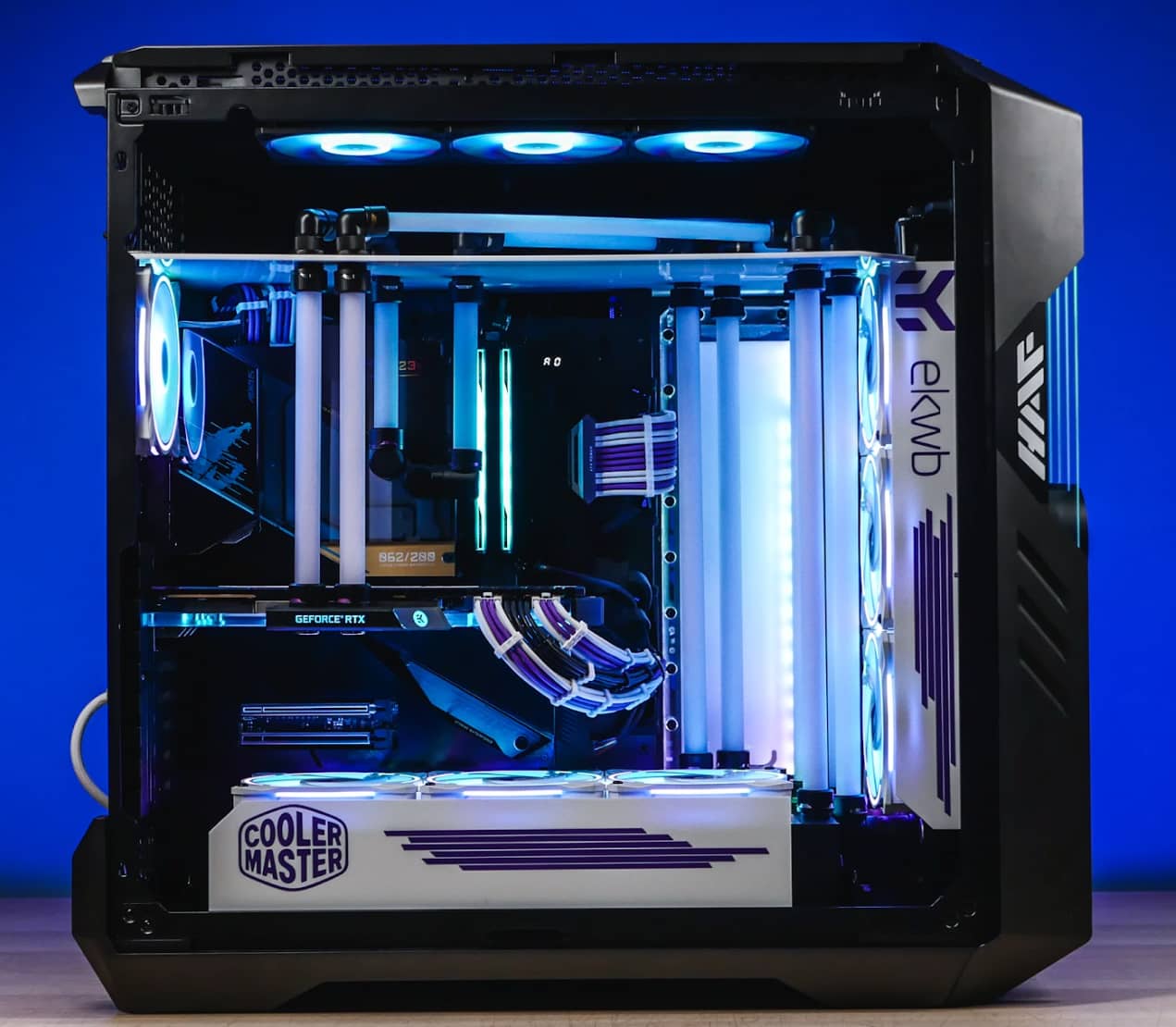 Triple AORUS FI27Q-P Displays
Powering the display of the SimpleModz beast of a build were ​​3 AORUS FI27Q-P monitors.
The AORUS FI27Q-P display provides gamers with glorious QHD 1440p gaming unlike anything else. The 27" ELED IPS display offers brilliant and vibrant colours whilst also delivering deep dark blacks. 
This display is the world's first DisplayPort High Bit Rate 3 (HBR3) tactical monitor, offering incredibly fast bandwidth speeds of 32.4 Gbits/s. This lightning fast speed means that gamers are able to enjoy 2K HDR and 10 bits colour with a high refresh rate of 165Hz.
Coupled with Nvidia G-Sync, gamers experience tear free visuals that offer a much more enjoyable gaming experience. 
Not only does the FI27Q-P come with Nvidia G-Sync but it also comes packed with the following specifications:
27 ELED IPS display

95% of DCI-P3

1ms (MPRT)

1000 : 1 (TYP) contrast ratio

165Hz refresh rate

Vesa Certified Display HDR

10bits (8 bits+FRC)
AORUS and TAGMods
GIGABYTE AORUS was not alone over at the Mwave PAX Australia 2022 booth, they also partnered with TAGMods to show off some incredible custom PC builds that only they can do.
The custom TAGMods build on display was the AORUS Project Stealth Scratch build. This build truly showed off what was possible when it comes to custom PC builds when you use a bit of creativity and thought process. 
Obviously, not only does a custom build needs to look killer, but it also needs killer hardware to help power it, and there is nothing better than AORUS hardware.
The TAGMods Project Stealth Scratch build was powered by the following AORUS hardware:
AORUS PAX Australia 2022 Giveaway
Showing off their latest hardware was not the only thing that AORUS was up to at PAX Australia 2022. GIGABYTE AORUS worked with Mwave to give gamers the chance to level up their own gaming rigs with some AORUS

AORUS and Mwave ran three daily shows where games were able to enter to win some AORUS merchandise and a major price each day of an AORUS monitor.
On Friday AORUS had Gear Seekers presenting and gave away an AORUS FI32U monitor. In addition to the giveaway, Gear Seekers also covered a lot of the action that showed off the happenings of PAX Australia 2022.
On Saturday AORUS had Twitch Cate presenting and a lucky PAX attendee went home with an AORUS FV43U monitor.
On Sunday AORUS had Twitch Kitty presenting and a lucky winner walked away with an AORUS FO48U monitor.
PAX Together Diversity Lounge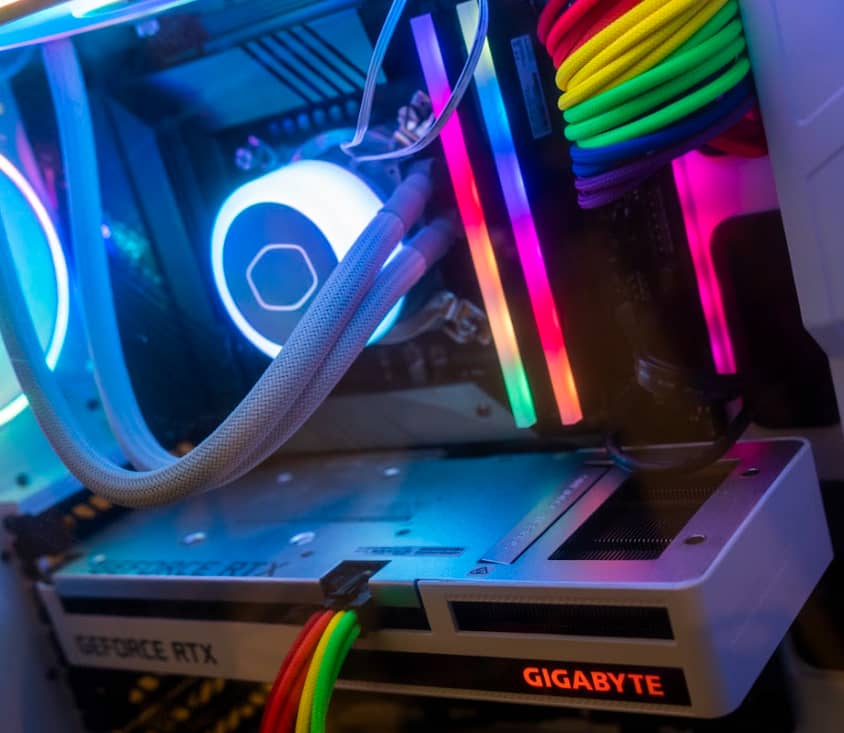 At this years PAX Australia 2022 was the PAX Together Diversity Lounge. PAX Together celebrates the diversity and underrepresented groups within the gaming community. 
The PAX Together Diversity Lounge provides a safe and welcoming place for gamers from all different groups to come together and enjoy and share in with what they love most. 
Gaming is for everyone, and everyone should be able to enjoy their passion whilst being who they are without discrimination. AORUS fully supports this ethos and they proudly supported the PAX Together Diversity Lounge with some of the best gaming gear going.
AORUS teamed up with TAGMods to create six GIGABYTE Z690 and RTX 30 series AORUS powered systems. These systems were driven by a combination of GIGABYTE RTX 3060 and RTX 3070 graphics cards, GIGABYTE Z690 motherboards, AORUS DDR4 memory and 1TB AORUS Gen4 7000S M.2 SSDs.
Topped off with QHD and 4K GIGABYTE AORUS monitors, these gaming systems provided some high FPS gaming fun for those at the PAX Together Diversity Lounge.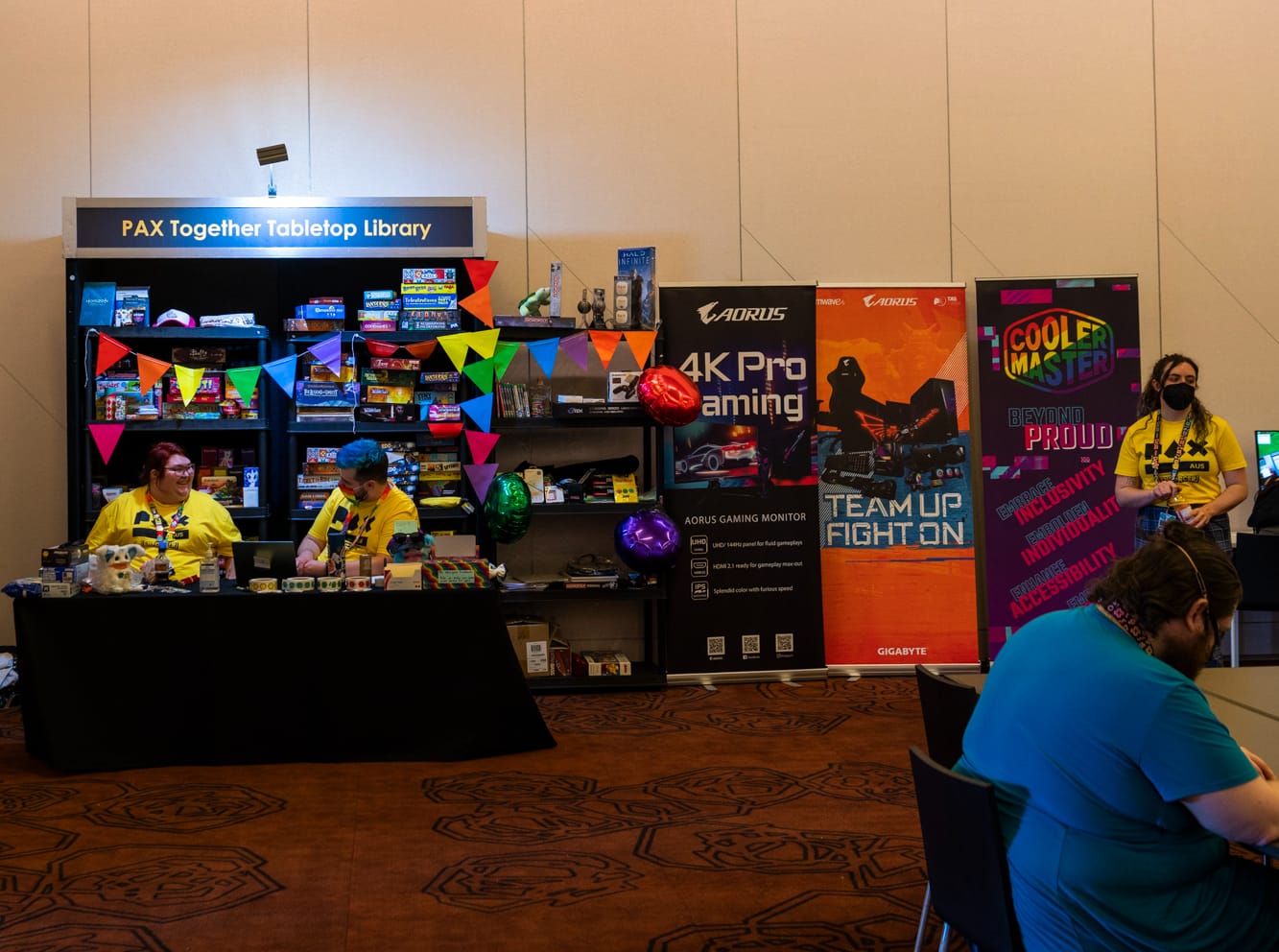 AORUS x Intel 
AORUS and Intel were back at it again at PAX Australia 2022, offering gamers the chance to win a bunch of prizes and walk away with some incredible upgrades for their gaming PC.
PAX attendees were able to enter the Intel Cash Box where they were required to catch tickets as they flew around the box. These tickets, once caught, contained instant win prizes or the chance to enter the draw for the major prize.
Instant prize winners were treated to prizes including the AORUS Gen4 7000S M.2 SSD, Intel i7 13700K, and a Z790 AORUS ELITE AX DDR4 motherboard.
The lucky winner of the major prize from the Cash Box went home with an AORUS 5 gaming laptop. Loaded with an Nvidia RTX 30 series laptop GPU and Intel 12th Gen i7 CPU, the AORUS 5 gaming laptop offers some of the best high refresh rate gaming of any laptop.
Also at the Intel booth was one Z790 AORUS MASTER powered gaming rig that was built by Mwave and sported an insanely fast Intel i9 13900K CPU.
AORUS x ESL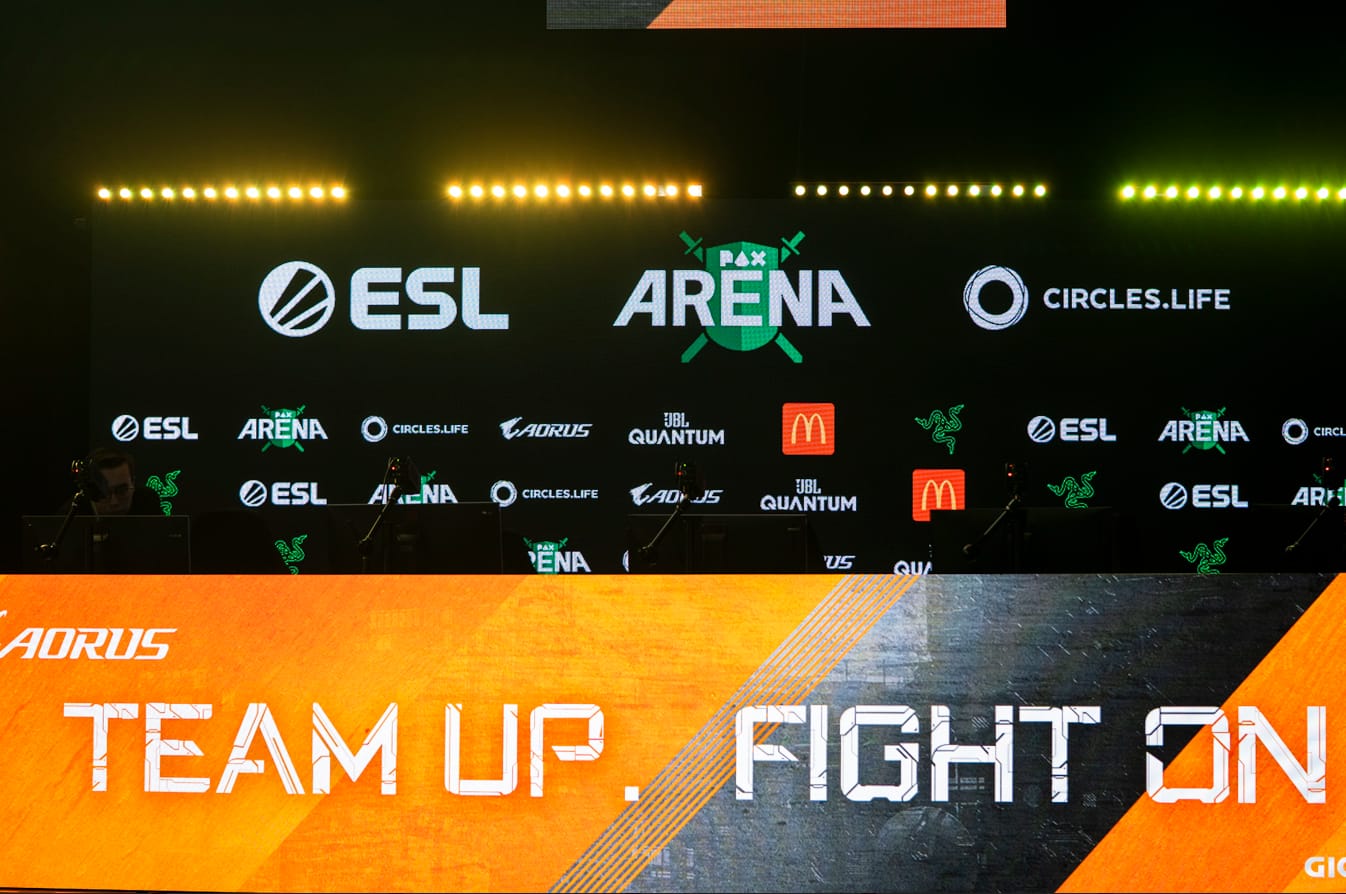 GIGABYTE AORUS also supported the main ESL stage with branding as well as providing GIGABYTE M27Q-P monitors in the free-play zone. These monitors provided gamers with stunning QHD 1440p visuals with a high refresh rate of 165Hz.
One of the best features of this monitor is the included KVM. The KVM allows you to use one single monitor across multiple devices using a single mouse and keyboard. This is perfect for those to use more than one device such as a Mac for work and a PC for gaming.
The M27Q-P sports the following specifications:
27" SS IPS

98% DCI-P3

1000:1 contrast ratio

1ms GTG

165Hz/OC 170Hz

10 bits(8 bits + FRC)
In addition to the branding and monitors, the casters and presenters at the main ESL stage were driving AORUS 17 and AERO 16 laptops.