Back in the second quarter of this year, Gigabyte announced an update of the AMD X570 platform – the X570S. So today in our Gigabyte X570S AERO G motherboard review, we're looking at the X570S AERO G motherboard. 
What's great about these is the updates made on the available I/O options while doing what their predecessors couldn't. And that's passively cooling the X570 chipset. 
This motherboard is perfect for the Storm-trooper build enthusiasts. And if you're one of them, you'll likely fall in love with this creatively unique board. If you find this product interesting and want to know more about it, you've come to the right place.
Our Gigabyte X570S AERO G motherboard review will discuss all the essentials like its design, features, performance, and more.
Gigabyte X570S AERO G Motherboard Packaging
When we received our motherboard, it came in a very simple-looking white cardboard box. Gigabyte opted for a minimalist design so you'll just see the company and board's name in front. 
Of course, we also checked the package's inclusions for our Gigabyte X570S AERO G motherboard review. And other than the X570S AERO G motherboard, you'll also find four SATA cables and four M.2 socket screws. There's even a WiFi antenna, two temperature sensors, a microphone, RGB extension cable, G-connector, a user guide, and driver disk.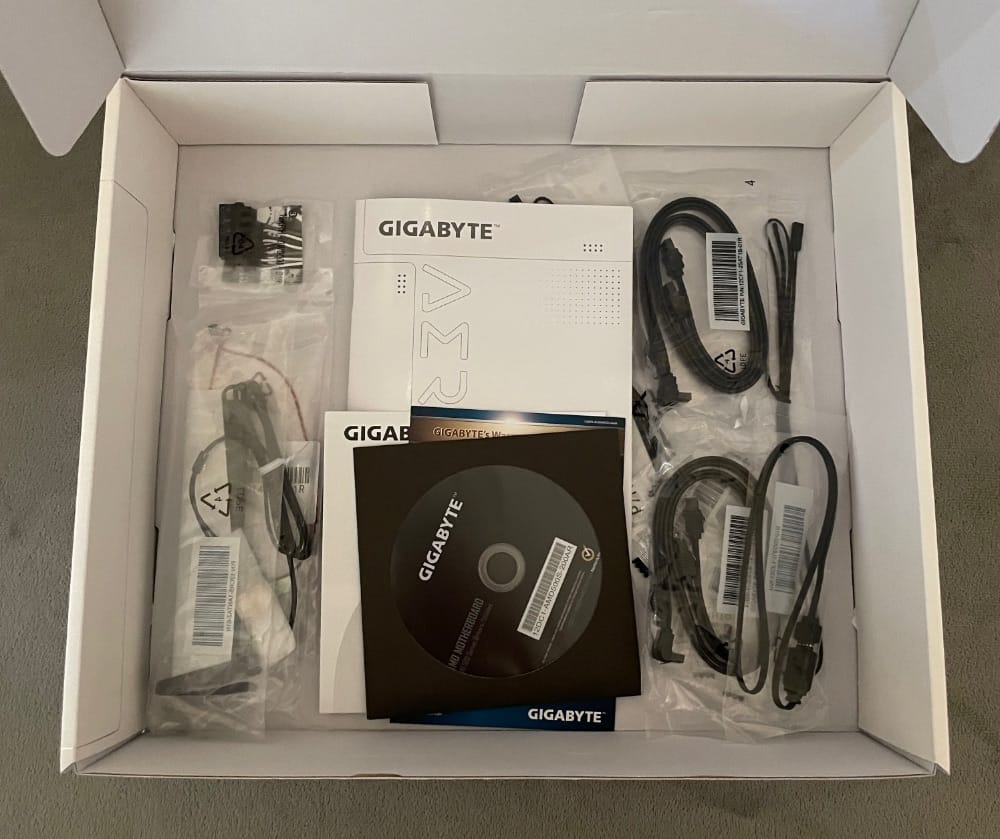 Gigabyte X570S AERO G Motherboard Review – Design and Functionality
Motherboards under the AERO Series offer a fresh approach to creators who want optimised features for their content creation. 
It's also a reliable board when it comes to computing performance. Plus, it offers impressive connectivity, extremely fast storage, and expandable graphics for those who deal with heavy design workloads. These include 3D rendering, as well as feature-length video productions.
The X570S AERO G motherboard even sports an updated look. However, it still features the black and white theme that's common in creator-focused boards from Gigabyte.
Though this time, a couple of angles were smoothed out. Plus, there's even more board coverage along the board's bottom half, specifically the heatsinks and shrouds. Now, it displays a more premium-looking appearance. 
After removing the board from its box, we saw a nice-looking matte black PCB plus white heatsinks. The shrouds were durable, and these were concealing the audio, VRM, and PCIe areas. 
The black heatsinks cool two of the available M.2 sockets, and these extend towards the chipset. For the chipset's heatsink, it sports quite a distinct look since it changes colour depending on your viewing angle. You don't always find this design so we think it's pretty cool. 
If you're aiming for built-in RGB lights, you'll have to look for a different motherboard. Or, you can utilise one of the four RGB/ARGB headers available. 
The top half of the motherboard is predominantly covered by heatsinks and shrouds along the socket area. Its off-white finish gives way to the quarter pipe-shaped heatsink for its left VRM bank. There's also a smaller black heatsink with white accent plates that cover the VRMs on top. 
Overall, the X570S AERO G motherboard's aesthetics are an excellent enhancement over the Z590 and B550-based Vision motherboards.
At the top of the heatsinks and shrouds are the 8-pin EPS power connector. You'll also find the optional 4-pin connector for powering the CPU.
To the right of the socket, you'll see four un-reinforced DRAM slots. This motherboard supports speeds that are up to DDR4 5100 (OC) for the 5000 Series processors, and capacities reaching 128GB. 
Like always, do remember that your mileage can vary from others, and it can even go above DDR4 3600/3733. This is the self-described "sweet spot" of AMD.
At the top of the DRAM slots, you'll find the first two of eight fan headers, CPU_OPT, and CPU_Fan. All of its headers support the 4-pin PWM and 3-pin DC devices, where each header can offer 2A/24W. This specific output is adequate to run most pumps, as well as piggyback a number of fans. 
If you want to include LEDs, you'll see the first 3-pin ARGB and 4-pin RGB headers on the upper-right corner. Just at the top of the M.2 sockets, you'll see another 4-pin LED for the CPU. There are also two ARGB/RGB headers sitting along the bottom edge of the motherboard. 
On the top-right edge is the 2-pin noise sensor header, 24-pin ATX power connector for the board, and QFlash-Plus button. The latter is for flashing the BIOS that doesn't have a CPU. 
Flanking the ATX connector is a 2-pin temperature header and four 4-pin system fan headers. You can utilise these to manage fan speed according to the temperature data of the sensor. 
Lastly, the front panel USB 3.2 Gen1 header protrudes from the motherboard. 
Now, let's focus on the audio section of the motherboard. It's positioned in a concealed spot under the shroud. And here, you'll find the premium Realtek ALC 1220-VB codec which also has red WIMA and gold Nichicon audio caps.
Generally, its audio quality will be adequate for most users, especially when it comes to standard use. However, those who are aiming for pristine audio may opt to upgrade to professional hardware instead. 
Taking the centre of the board are four M.2 sockets and three full-length PCIe slots. The top-two PCIe slots utilise reinforcements to better provide EMI shielding and support for heavy graphics cards.
The main (top) slot goes up to PCIe 4.0 x16. For the bottom slot, it goes up to PCIe 4.0 x8 speeds. 
If its second slot is occupied, the first slot will drop to x8 too. This setup supports AMD Quad GPU Crossfire, as well as 2-Way AMD Crossfire.
The bottom slot is linked to the chipset, and it also runs up to PCIe 4.0 x4 speeds. And to note, the M2C_SB socket distributes bandwidth with this slot. This disables the PCIe slot when a device is installed in that specific socket. 
Sitting between and around the PCIe slots are the four M.2 slots. All of these feature heatsinks and Gigabyte calls it the M.2 Thermal Guard III. 
The top socket acquires its bandwidth from the CPU, and it runs at speeds of PCIe 4.0 x4. This top socket is an M2A_CPU, and it fits 110mm PCIe and SATA-based modules. 
M2C_SB, M2B_SB, and M2D_SB gather bandwidth from the chipset. And, these can run up to PCIe 4.0 x4 speeds too.
Each of the sockets supports up to 110mm drives. So if you need over four M.2 modules, it's likely you'll need to purchase server-class hardware or go for add-in cards. 
Then on the right edge, you'll see six SATA ports that can handle RAID0 and 10. Below it, you'll see a front panel USB 3.1 Gen1 header for utilising more USB ports. 
Across the bottom section are a number of headers which include USB, RGB, and more. Here is a complete list of these from left to right. 
First is the front panel audio, followed by the 3-pin ARGB and 4-pin RGB headers. Then, you'll see the fan header, TPM header, COM header, 2-pin temperature header, and two USB 2.0 headers, 
Also present are the front panel USB 3.2 Gen1 header, fan headers, and the front panel header.
Rear I/O Ports
We also checked the rear I/O ports for our Gigabyte X570S AERO G motherboard review. Its area on the X570S AERO G motherboard still keeps the white theme that's on the board itself. Plus, it comes with a pre-installed I/O plate. 
Outside the white background, the first things you might see are the 10 USB ports. These include the two USB Type-C ports, specifically the USB 3.2 Gen 2×2.2 with VisionLINK and 3.2 Gen1.
The VisionLINK port offers an easy one-cable solution for transmitting data, power, (up to 60W) and video. This is while supporting a maximum of 10 daisy-chained devices. For creators, linking pen devices or other monitors is critical for a lot of workflows. 
Outside the ports, you'll see four USB 3.2 Gen2 ports, two Gen1 ports, plus two USB 2.0 ports. So, there's a ton of USB connectivity available on the board. 
Additionally, the X570S AERO G motherboard has a DisplayPort (input) and HDMI port (output) for video. Together with the 5-plug SPDIF audio stack, you'll spot a 2.5GbE port and WiFi 6 antenna headers. 
Key Features of the Gigabyte X570S AERO G Motherboard
Now, our Gigabyte X570S AERO G motherboard review will focus on the different features of the product. Let's see what the motherboard has in store for us. 
Do More with Less Cables
Gigabyte VisionLINK allows data transmission, video output, and fast charging via one Type-C USB cable to simplify your experience. It lets you multitask seamlessly and work productively and professionally. VisionLINK allows simultaneous transferring of data or videos and 60W power charging to your connected devices. 
Aside from fast performance, you can connect less cables. This technology provides a streamlined approach for connectivity which is helpful especially for artists who use pen displays.
Of course, you must take note that the compatibility of this technology may vary depending on your system's configurations. Also, check out the specifications of the devices you use.
Intel 2.5GbE Connectivity for Low-Latency and High Bandwidth
Adopting Intel 2.5G LAN offers up to 2.5GbE network connectivity with two times faster transfer speeds than 1GbE. It provides a quick boost to your network's overall performance and improves bandwidth for file transfers and heavy loads.
Multiple Card Support for Flexible Expansion
Multi-graphics configurations allow for better graphics performance which is needed for apps that demand the highest frame rates. Gigabyte X570S AERO G motherboard offers enhanced graphics performance without compromising the resolution.
Four PCIe M.2 Sockets to Enhance Speed and Increase Space
The X570S AERO G motherboard is equipped with quad PCIe M.2 sockets to deliver superior bandwidth and accelerate workflow. Plus, these four sockets upgrade your storage capacity. It gives faster data transmission by seven times compared to 2.5" SATA SSDs.
Innovative Thermal Technology
The X580S AERO G has an advanced thermal solution that adopts the large curved aluminium heatsink. This improves heat dissipation and maintains the system's stability when doing creative work.
The motherboard's innovative thermal solution prevents your system from slowing down, crashing, and unexpectedly shutting down.
Amazing Sound with DTS:X – Extreme Immersive Sounds to Enjoy
While creating our Gigabyte X570S AERO G motherboard review, we saw how efficient the DTS:X works. It can offer top-notch entertainment experience to users by surrounding and expanding the sound stage. This helps establish a more realistic and immersive environment for a more enjoyable experience. 
In addition, it takes interactive gaming, movies, and music experiences to a whole new level. 
Specifications
This is where our Gigabyte X570S AERO G motherboard review discusses the specifics of the motherboard. First off, it has an AM4 socket and makes use of an X570S chipset. The board also sports an ATX form factor and a 14-phase (12+2 50A MOSFETs for Vcore) voltage regulator.
The X570S AERO G motherboard has an Intel i225 (2.5 GbE) Ethernet controller. For its connectivity, it uses Intel WiFi 6 AX200 (az 2.4/5 GHz 160MHz) WiFi/Bluetooth. Its LAN chipset is the Intel 2.5GbE LAN chip while USB controllers are the ASMedia 3242. 
The motherboard has a Realtek ALC 1220-VB HD audio codec, 7.1 audio channels, and four RAM slots. Its maximum supported RAM capacity is 128GB and it comes with a 3-year warranty too.  
Hands-on with the Gigabyte X570S AERO G Motherboard
We tested the X570S AERO G to see how well it performed. This is to help you decide if this product is the upgrade that your system needs.
During our test, we saw that the X570S AERO G motherboard was an extremely versatile board. This is especially true when it comes to connectivity, which is its strongest feature. 
The X570S AERO G motherboard's 12-phase 60A Vcore MOSFETs were able to handle our processor well. We didn't see any significant issues on both stock, and also while overclocking the CPU.
At stock operations, the VRMs peaked around 42-degrees Celsius, while overclocking, the VRMs reached 58-degrees Celsius. 
Its smaller heatsinks worked great; in fact, these functioned even better than the passively-cooled boards we've tried. Basically, we didn't experience any issues with the VRM that utilises ambient cooling. 
Gigabyte X570S AERO G Motherboard Review Summary
The X570S AERO G from Gigabyte is an excellent option for X570 and X570S motherboards. It has integrated WiFi 6 and creative-focused features like four M.2 sockets for fast storage and VisionLINK. This motherboard is also great for general-purpose builders who want a lot of expansion and storage options.
During our tests, we enjoyed using our PC with this motherboard. It delivered excellent performance for creative tasks and we didn't experience any issues.
The X570S AERO G is an excellent choice if you don't mind not having RGB lighting. It has an updated I/O and delivers superior multi-threaded performance, making it worth the purchase. Although it's quite pricey, its comprehensive features offer creators a great solution for your AMD Ryzen-based system. 
Overall, we were satisfied with this product and we highly recommend it especially for content creators. If you want to have the X570S AERO G motherboard, check out the company's store locator for authorised sellers.