Today in our GIGABYTE Z490 Vision G review, we'll gather all the essential details regarding this motherboard from GIGABYTE.
It's technically a brand-new series that's aimed to be more affordable for its users. And although it doesn't feature any AX WiFi, the Z490 Vision G still sports an Intel 2.5Gbps Ethernet jack.
Plus, it's got all the vital standards you'd need, as well as some pretty impressive design options from an aesthetic viewpoint.
If this is your type of motherboard, just continue reading the GIGABYTE Z490 Vision G review. Don't worry, we've got your back. All the essentials you'll need to know about it will be featured.
But before that, let's take a look at the Z490 Vision G's packaging and what's inside the box.
Gigabyte Z490 Vision G Packaging
The first part of our GIGABYTE Z490 Vision G review is all about the package.
As a part of AORUS' Creator range, the Z490 Vision G shifts from the usual design packaging of the company. Instead, they opted for a minimal-designed box that offers a clear indication of the ideology behind Vision G.
The rear section gives you a nice change to the usual type of highlighted features often found on motherboard packages. Well, at least in terms of its layout.
Do note that the Z490 Vision G doesn't have a ton of accessories inside the package. And without the WiFi antenna, there isn't much to see aside from the included user manual and SATA cables.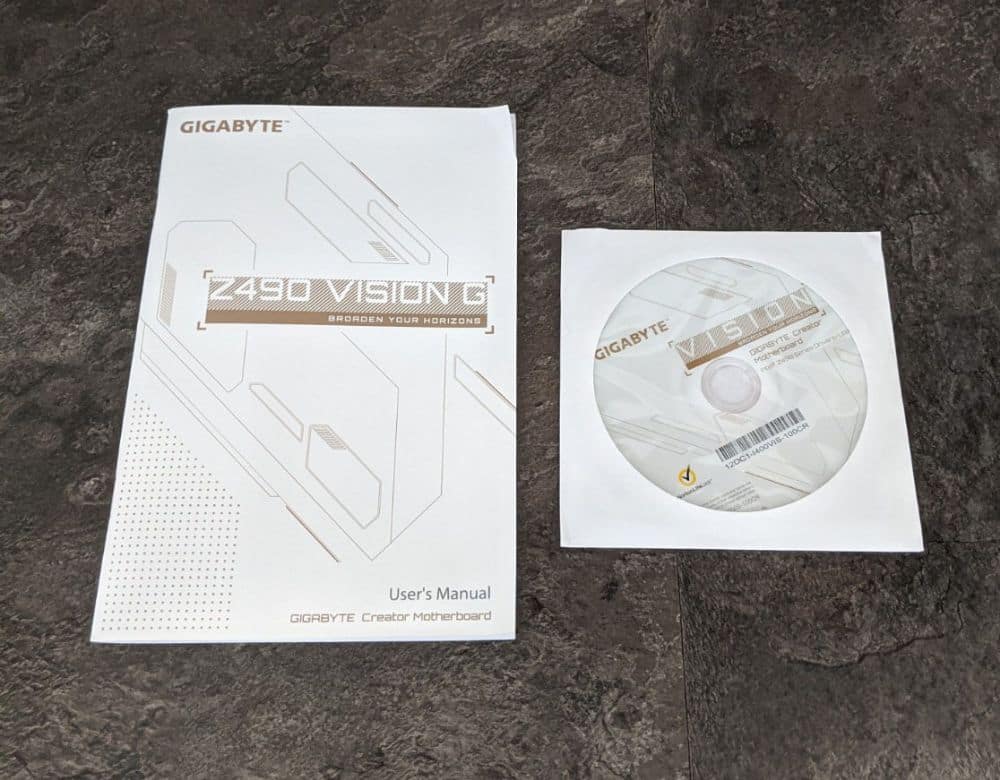 Gigabyte Z490 Vision G Review – Design and Functionality
This section of our GIGABYTE Z490 Vision G review focuses on the board's design and functions.
Here, the company provides every user with the GIGABYTE Vision G. Its Z490 boards feature what's called the "shielded memory routing", and is based on the 12+1 phase delivery.
In addition, the Z490 is backed by 50-A power stages, and are cooled off by a collection of aluminium-made heat sinks. In a nutshell, it's an excellent VRM range present in this top-notch product.
At the top-right portion of the motherboard, you'll find the standard selection of headers. It comes with two CPU fans for either a dual-fan tower cooler or a single fan AIO. Additionally, the GIGABYTE lighting ecosystem begins with one RGB strip header together with an addressable piece for fancier effects.
Beneath 24-pin ATX power, you'll find an additional fan header and two USB 3.2 front-panel connectors. Both of which are Type-A and Type-C. Moreover, its heatsink has an angular shape which is more appealing for us. Despite this, some people prefer having a design that leans more on the Bauhaus style.
The bottom-half continues to sport the theme present at the top. You'll find angular lines that brace all the vital slots. Plus, there's a heatsink with a cutout that allows you to see what's happening underneath.
We've seen various SATA ports on other boards and the usual numbers present are from four to eight. With the Z490 Vision G, GIGABYTE stuck to six ports which should be adequate for all. It's a perfect number for even the hardcore gamers who always have their Steam library installed.
At the bottom edge of the board, its dot pattern located on the PCB plays a few tricks with your eyes. Thankfully, all the available labels on each header are free from this type of design.
You'll find the usual front panel headers, as well as a system fan header. Plus, there's a Q-Flash button if you want to keep the BIOS of your board up to date.
Lastly, you'll find a set of USB 2.0 headers. There's also the COM header, as well as GIGABYTE's RGB LED system headers. We like the idea of having a separate M.2 heat spreader too. Of course, anything that saves one from dismantling the entire board simply to change its drive is welcomed.
Both its Z490 chipset and IO heatsink covers feature cutouts that offer you a clear view of the heatsink underneath.
Key Features of the Gigabyte Z490 Vision G Review
This section of our GIGABYTE Z490 Vision G review will focus on the motherboard's key features.
Support for NVIDIA QUADRO Professional Graphics
NVIDIA's QUADRO 3D Workstation Professional Graphics Solutions are specifically made for designers, artists, and engineers. The GPUs can power over a hundred professional applications across a wide range of industries.
A lot of professionals trust these solutions to deliver their best work using various applications. These include Adobe Creative Cloud, Autodesk Suites, Avid Media Composer, Dassault Systemes, Siemens NX, PTC Creo, and a lot more.
Direct 12 + 1 phase VRM with 50 amp MOSFET
GIGABYTE Z490 Vision G offers more efficient power delivery with improved thermal performance. It ensures stability even under heavy loading and high CPU frequencies.
The digital PWM controller allows for the delivery of appropriate voltage to the CPU. Each power phase of the 12+1 Direct DrMOS directly connects to the CPU. These are capable of handling a total current of 600 Amps.
With 8+4 Solid pin CPU power connectors, power delivery is secure, and heat dissipation is improved, which effectively prevents overheating.
2x Copper PCB
The GIGABYTE Z490 Vision G features a dual-layer PCB design for adequate power trace paths between components. These are capable of handling higher power loads than normal. It also removes heat from the critical delivery area of CPU power.
With this material, the motherboard can handle high power loading, which is essential when overclocking.
Up to 5000MHz XMP Speed
GIGABYTE's motherboards make use of a modified trace layout and high-quality yet low impedance server level PCB. It also comes with optimised routing by using daisy chain and implements on various layers to prevent signal interference.
Additionally, noise is minimised with the GIGABYTE XTREME Memory technology. There's no need to worry since the technology doesn't compromise the memory overclocking performance.
Shielded Memory Routing
All of GIGABYTE Z490 Vision G's memory routing is under the inner PCB layer. A large ground layer protects it from external interference.
The protective routing makes use of POOL technique. It forms a full ground cage which works by sealing the high-speed critical signal traces in layers that are interference-free.
Daisy Chain Memory Layout
The Z940 VISION G's optimised daisy chain routing offers a proven speed that reaches up to DDR4-4600+ MHz. It comes with a high-density DES-IGNARE 32GB Memory module.
Daisy chain eliminates stub effect and allows for hitting higher memory frequencies to provide higher speed and density. With that, content creators and gamers will enjoy a faster memory experience.
Single 32GB Support
For the maximum memory capacity of the Z940 Vision G, it's a total of 128GB. When Intel updated its memory reference code, the single slot can support up to 32GB. With populated 2 DIMM, its total memory capacity reaches up to 128GB, which was only available on high-end desktop platforms.
Those who always run out of memory capacity can take advantage of this additional bandwidth when using the Z490 motherboard. The 32GB support allows for smoother operation for memory-intensive tasks like video editing and rendering. As a result, creators will have better experience and productivity.
Micro-Block Heatsink Design
Micro-Block Heatsink Design allows for better airflow channel from Omni-Direction. It provides better heat dissipation, but it doesn't compromise the total air contact surface.
It uses LAIRD 5W/mK high thermal conductivity pads that are 1.5mm thick. These thermal pads make the heatsink capable of transferring 2.7x more heat compared to the conventional thermal pads.
M.2 Thermal Guard for Maximum Efficiency
GIGABYTE created the Z490 Vision G with durability in mind. With that, they utilised the M.2 Thermal Guard to prevent bottlenecks and throttling from high-speed M.2 SSDs. This thermal solution helps dissipate heat to prevent issues from occurring.
Support for PCIe NVMe and SATA SSDs
All of GIGABYTE's motherboards, including the z490 Vision G, are equipped with dual M.2 slots. It's built for adaptation and flexibility to meet most user's needs and requisites.
Intel 2.5GbE LAN for Faster Performance
The GIGABYTE Z490 Vision G adopts the 2.5G LAN that provides network connectivity of up to 2.5GbE. This speed is at least two times faster than the basic 1GbE networking. It's excellent for gamers and streamers to have the smoothest online experience.
The Intel GbE LAN also comes with cFosSpeed, an application for network traffic management that helps improve network latency. It maintains low ping times for better responsiveness, even in crowded LAN environments.
Intel's Native USB 3.2 Gen 2 Controller
The USB 3.2 Gen 2 host controller offers up to 10Gbps of speed to the USB 3.2 Gen 2 ports. With that, you receive twice the previous generation's bandwidth. It's also backwards compatible with Gen 1 and USB 2.0.
Additionally, the USB 3.2 Gen 2 protocol is also available over USB Type-C and the traditional USB Type-A connectors. It's to provide better compatibility with a wider selection of devices.
Specifications
This section of our GIGABYTE Z490 Vision G review is all about the motherboard's specifications.
It makes use of the Intel Z490 Express Chipset, hence, its name. It sports an ATX Form Factor that's 30.5 x 24.4cm. Not only that, but it provides support for the Windows 10 64-bit operating system.
When it comes to the memory, the Z490 Vision G has four DDR-4 DIMM sockets. These support up to 128GB or 32GB single DIMM capacities of its system memory. Moreover, the motherboard also sports a dual-channel memory composition.
The Z490 Vision G provides Intel HD graphics support with the help of their HDMI port. It supports a total resolution of 4096 x 2160 @ 30Hz which backs the HDMI 1.4 version + HDCP 2.3.
You'll also find a single DisplayPort that supports a total resolution of 4096 x 2304 @60Hz. It's specifically for backing the DisplayPort 1.4 version, HDR and HDCP 2.3.
For the total shared memory, it has an overall number of 512MB.
The Vision G boasts of excellent connectivity including ten USB ports like eight USB 3.2 and one 2.5 GbE LAN port. The latter takes advantage of the motherboard's built-in controller.
Inside, you will find three PCIe slots (16×4, 16×16, and 16×8) where two of them are reinforced. There are also two PCIe 1.0 slots, as well as x2 PCIe 2.0 X4 M.2 slots. Lastly, there are six SATA III ports that offer great support for RAID 1, 5, 0, and 10.
There's no lack of audio support with its codec Realtek ALC-1220-VB HD. It corresponds to a total of five inputs for 3.5mm jacks that have full 7.1 audio support.
Hands on with the Gigabyte Z490 Vision G
This portion of our GIGABYTE Z490 Vision G review is where we'll get hands on with the motherboard. It's also where we can see if it performs as well as they claim.
The RGB Fusion 2.0 now provides you with more LED customisations. With that, you can readily design your computers to show off your lifestyle and design.
Here, you'll get full RGB support, as well as a redesigned RGB Fusion 2.0 app. With that, all users can take advantage of ultimate control over the LED lights surrounding the motherboard.
BIOS is vital for everyone, especially during the initial setup, allowing for an optimal and enhanced setting. With the latest GUI, and easy to use functions, the company's been able to re-invent their BIOS better.
The BIOS allows users to have a better experience while setting up their latest system.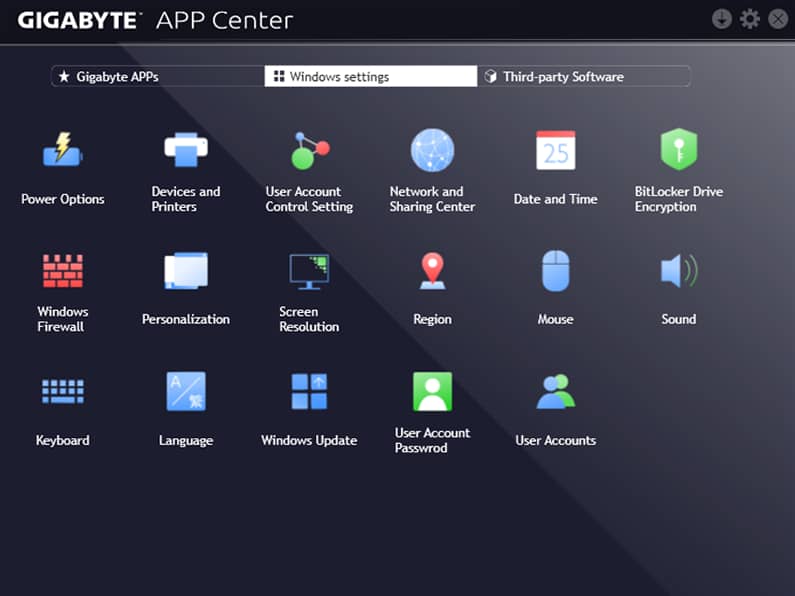 GIGABYTE's App Center is an extremely useful portal. It consists of all MB drivers and utilities; plus, you can utilise any preferred utility for installation.
Also, it will help keep you updated with the freshest drivers and utilities version.
EasyTune is an easy-to-use and straightforward interface that lets you fine-tune your system settings. It also adjusts the memory & system clocks, as well as the Voltages in Windows' environment.
With the Smart Quick Boost, just a single click is necessary to instantly overlock your system. This feature will give you an increased performance boost whenever you need it most.
The @BIOS app lets you update the system's BIOS from Windows via a simple graphical interface. The application can auto-download the newest version from GIGABYTE servers. If not, you can choose to update BIOS from a file located on your computer.
The System Information Viewer is a central location that offers access to the latest system status. You can monitor elements like the processor & clocks, set your choice of fan-speed profile, and create alerts during increased temperatures.
In addition to that, you can even record the system's behaviour whenever necessary.
We noticed that the structure offered by Z490 Vision G is user-friendly. It allows you to boost the CPU multiplier and voltage easily.
Overall, the GIGABYTE Z490 Vision G performed excellently. We didn't experience any issues, and we're satisfied with everything about it.
Gigabyte Z490 Vision G Review Summary
With its price, the GIGABYTE Z490 Vision G is a fair deal. It's a motherboard featuring all the aesthetics you'd need. Plus, it offers a wide range of features that make it an excellent product.
With that, we can say this motherboard offers a lot. It's a great choice if you need something that cuts the costs. If you don't plan to do extreme overclocks, the Z490 Vision G is an excellent choice that is worth recommending.
It has all the necessary features to deliver fast performance and smooth operation to increase productivity, which makes it a great choice.
In conclusion to our GIGABYTE Z490 Vision G review, we highly recommend his motherboard. If you want to purchase this product, check out the company's store locator for official dealers.