Today, our HIFIMAN Arya Organic Review focuses on an updated pair of headphones from HIFIMAN. The Arya is a pair of headphones featuring an industrial design. It sports wooden ear cups that give you an intense sound signature while retaining its expansive soundstage and neutral response.
Learn more about the headphones in our HIFIMAN Arya Organic Review, and we will discuss everything related. Here, we will share information on its design, functions, features, specs, and performance.
HIFIMAN Arya Organic Packaging
The packaging for Arya Organic follows the familiar design of other HIFIMAN products. It means you can expect a modest cardboard box adorned with discreet branding.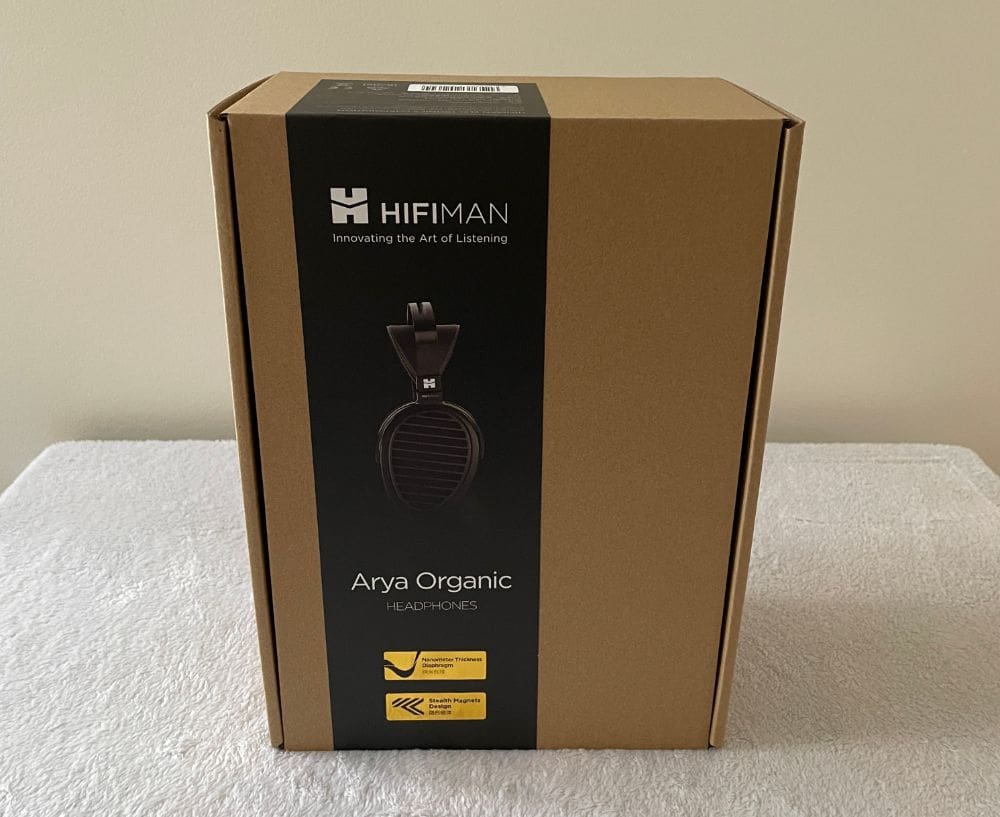 As with previous releases, this box serves a dual purpose as a storage case. Unlike portable headphones, Arya Organic does not have a carrying container.
Upon opening the package, you will discover the following contents:
Arya Organic Headphones

A 6.35mm termination cable

The User Guide

One Warranty Card

A Stealth Magnet Technology Leaflet
HIFIMAN Arya Organic Review – Design and Functionality
The Arya Organic is a pair of magnetic planar open-back headphones featuring Stealth Magnets exclusive from HIFIMAN. This element sports a distinct shape allowing waves to pass through without producing interference. 
The product integrates the design of its predecessors while featuring wood veneer rings on the ear cups. 
Arya Organic takes the design of its predecessors but also has several changes. But now, the product has wooden veneer rings on ear cups that provide a more organic look.
We also noticed its excellent build quality while writing our HIFIMAN Arya Organic Review. The product feels solid, well-made, and premium despite HIFIMAN setting the veneer on plastic ear cups. 
It sports an ergonomic design that comfortably fits most listeners. The super-thin diaphragm guarantees fast response and barely any distortion. It has a CNC-milled, hand-polished metal structure showcasing an attractive design aesthetic.
What makes these headphones a hit among users? Does its integrated features make it worth the purchase? Continue reading our HIFIMAN Arya Organic Review to find out. 
Key Features of the HIFIMAN Arya Organic
Nanometer Thickness Diaphragm
The diaphragm used in the Arya Organic is remarkably thin, measuring in nanometers. This ultra-lightweight design enables swift response times and minimises distortion. 
It excels in reproducing intricate nuances, bringing subtle elements compared to conventional diaphragms. As a result, the headphones deliver an elevated level of transparency and exceptional detail retrieval.
Aside from its sonic benefits, the diaphragm of this product displays outstanding internal damping properties. You will receive optimised audio accuracy and cleaner-sounding reproduction since the feature helps minimise resonance and unnecessary vibrations. 
Moreover, the diaphragm can maintain structural integrity even under heavy conditions. With that, you can guarantee consistent performance and longevity with Arya Organic. 
Stealth Magnet Technology
The headphones feature the Stealth Magnet technology from HIFIMAN, which allows waves to go through magnets without producing/generating interference. It has detailed and transparent sonics to expose each detail without additional noise. 
The acoustically transparent Stealth Magnet technology reduces wave diffraction turbulence. It lessens the integrity of sound waves while maximising sonic output accuracy. 
Innovative Window Shade of the HIFIMAN Arya Organic
We learned about the window shade design while writing our HIFIMAN Arya Organic Review. It is a feature that further optimises the acoustic performance of these headphones. 
Its design uses a strategically-placed grille on its ear cups reminiscent of window shades. These help control and manage the interaction between the surrounding air and drivers. 
This design aesthetic efficiently addresses the most common issue on open-back headphones. It is the interaction between the external environment and the drivers. 
It enables managing air movement with precision, preventing unnecessary resonances and reflections that lower the overall sound quality.
Craftsmanship by Experts from HIFIMAN
The hand-polished Arya Organic has a metal structure made using CNC milling. HIFIMAN sets critical standards; to meet these, meticulous experts handle the surface finishing.
3.5mm User-replaceable Connector Design
The Arya Organic allows convenient cable swapping. It is highly durable with improved customisability.
Ergonomics and Comfort
HIFIMAN always ensures to manufacture comfortable headphones, including the Arya Organic. It has a comfortable ergonomic headband design that is highly durable. Also, it has asymmetrical ear cups that follow the natural human ear shape.
Crystalline Copper Cables – Simplified for Your Convenience
HIFIMAN simplifies the Arya Organic with a Crystalline Copper cable. It has a 6.35mm connector and a black woven finish, perfectly complementing the Arya sound and aesthetic.
Specifications
On its specifications, the Arya Organic has an 8Hz to 65kHz frequency response and impedance of 16 ohms. Its sensitivity is 94dB, and the entire product weighs 15.5oz.
Hands-on with the HIFIMAN Arya Organic 
We can safely say that much like the other Arya's, its audio is excellent, resolving, and technically strong. Its tuning is more on the smoother side, which blends nicely with its warm and musical delivery. 
The bass response is the most prominent difference when shifting from the Stealth to the Organic series. It has more impact, rumble, and a definition of its sub-bass. 
Moreover, the bass on Arya Organic sounds more impactful, warm, and atmospheric.
Its bass was aggressive, fast, and hard-hitting, plus its character affects the entire sound signature. However, these headphones are not ideal if you love plenty of bass. But if you want neutral bass pleasantly, you can give the Arya Organic a try. 
The midrange of our HIFIMAN Arya Organic headphones is transparent and crisp. It has the necessary technical performance and excellent timbre, which is slightly musical and well-presented based on overall resolution. 
It also has adequate tonal balance, and its full-bodied instrument presence is welcoming. Its midrange gave us consistent and balanced performance, maintaining neutrality to deliver top-notch texture and detail.
The Arya Organic places less emphasis on warmth/thickness within this frequency range, instead prioritising a precise and neutral delivery. Despite this, its outstanding soundstage capabilities produce an engaging and immersive encounter. So, the midrange takes centre stage with its notable prominence.
The Arya Organic delivered a sparkly, fast, and detailed treble quality. However, it did not have the brightness of other headphones from the Arya series. But despite that, Arya Organic delivered highly-detailed audio.
Although fast and detailed, the audio of the Arya Organic had a more relaxed treble than previous Arya headphones. As a result, we did not notice any harshness in the audio or a fatiguing listening experience. When we played poorly mastered songs, the Arya Organic improved the sound and made the audio quality more acceptable.
One of the things we noticed while testing the product for our HIFIMAN Arya Organic Review is the broad soundstage. It had sufficient depth with a bolder and warmer presentation. 
These headphones delivered excellent layering and texture with adequate spaciousness and air, while vocals and instruments also had balanced separation.
Overall, the top-end of the frequencies is fast, well-textured, and detailed when listening to music with the Arya Organic. HIFIMAN made this model less extreme, resulting in a more pleasant listening experience for long hours.
HIFIMAN Arya Organic Review Summary
The Arya Organic is an excellent pair of open-back planar headphones. Like other Arya headphones, it has an outstanding design, durable build and delivers high-quality audio.
The Arya Organic is a pair of open-back planar headphones that offer the best sound quality. Its audio is warm and more balanced and combines musical delivery and technical performance. 
For more details about Arya Organic, visit the HIFIMAN official product page.