In our HIFIMAN Arya Stealth Headphones Review, we will look at the Stealth Magnet version from the Arya series. It is a revised and optimised version of the original HIFIMAN planar headphones that sport a new stealth magnet design. 
It has many notable features to look forward to, which we will discuss in the review. Also, we will discuss its specifications, design, functionalities, and more. 
If you need more details about the product, continue reading our review to know its features, design, performance, etc. 
HIFIMAN Arya Stealth Headphones Packaging
Let us start our HIFIMAN Arya Stealth Headphones Review by discussing its package and contents. The headphones shipped in a premium-looking rectangular box with a product photo on the front. You can see the HIFIMAN branding, product name, and a sticker below Arya. It indicates the product you have is the new Stealth Magnet version.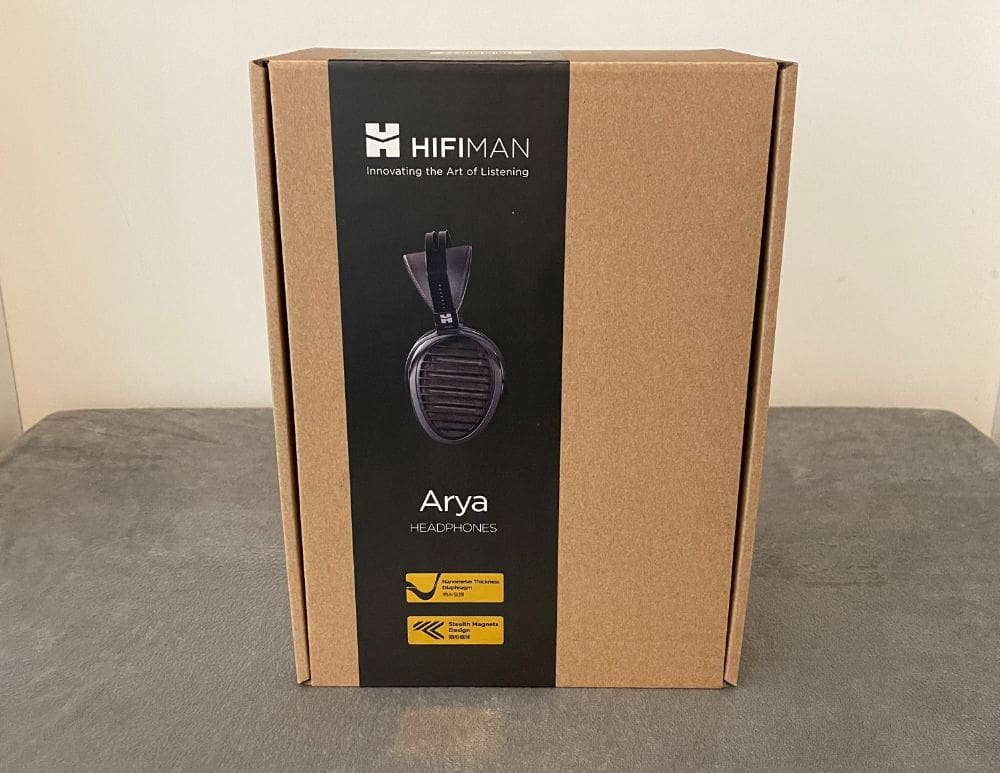 The rear portion of the box shows the product specifications and a few other details written in Chinese. 
We also looked inside the box for our HIFIMAN Arya Stealth Headphones Review. Aside from the headphones, you will find a 1.5m-long cable with 6.35mm to dual 3.5mm plugs. Lastly, the package also includes an Arya headphone stand. 
HIFIMAN Arya Stealth Headphones Review – Design and Functionality
The Arya Stealth takes the design of its HE1000 flagship headphones. It sports the patented Window Shade system of the company that protects the driver. Plus, it has an optimised open-back design. 
Its aesthetic almost-teardrop shape is taken from the HE1000 series, giving off a striking visual due to its elongated earcups. Aside from this, the headphones also have big open grille plates and a spring-steel headband. The latter comes with a tensioning pressure strap located underneath. 
The materials used are a mix of steel and plastic. However, it is not one of the lightest planar, full-sized headphones available. Although it weighs 430g, it has a dual-sided magnet construction which provides properly distributed weight.
According to HIFIMAN, the product manufacturing involved hand polishing and CNC milling.
On both sides, you will find tabs you can slide to adjust the height suspension. You can also turn the driver yoke since it has a hinge linking it with the headband. 
The Arya Stealth utilises a regular 3.5mm TRS connector for its right and left channels. It does not feature a lock, yet it does not feel loose. 
If you accidentally pull on the cable, do not worry since it will not damage the product. That is unless you tug the cord from a specific angle. 
Our HIFIMAN Arya Stealth Headphones Review will also look into its comfortable ear pads. It is replaceable, detachable, and features an asymmetrical shape. We appreciate this design since it follows the form of your ears. 
Also, the ear pads are bevelled, so the rear is thicker than its front. We even noticed its foam concealed in various surface types. 
Its outer one is made of pleather while its inner part uses fenestrated pleather. Meanwhile, the surface touching your head consists of polyester. 
Yes, the pads are comfortable, and so is the foam padding. However, we are slightly disappointed with the materials HIFIMAN chose. Even a simple lifestyle headset priced a fraction of the Arya uses genuine leather. 
But luckily, it has replaceable pads, so you can go for good aftermarket ear pads that use better materials. 
The Stealth Magnets feature a convex shape that lets waves pass through magnets without inducing interference. It even decreases wave diffraction turbulence that lowers sound wave integrity. This feature produces a detailed, clean, and transparent sound. 
In the earlier versions of the Arya headphones, the magnets had a rectangular shape with sharp edges. But the Stealth Magnets feature a convex or curved surface. 
Aside from the Stealth Magnets, the diaphragm of the Arya Stealth is very thin, and so is its conductor. The former is measured in nanometres while the latter in submicron thickness. 
We cannot find the source or any information that specifies the exact thinness of the diaphragm. HIFIMAN also did not indicate this information in its marketing materials. 
Key Features of the HIFIMAN Arya Stealth Headphones
In this section of our HIFIMAN Arya Stealth Headphones Review, we will share a list of the product features. All these are elements that make it stand out from its competition on the market.
Acoustically Invisible Stealth Magnet
The Stealth Magnets and their unique shape are better than sound waves produced by conventional magnets. It allows waves to pass through without creating interference. 
The advanced magnet design from HIFIMAN is acoustically transparent, which decreases wave diffraction turbulence. The latter lowers the integrity of sound waves.  
Reduced distortion has a pure sonic output that is full-range and precise. 
Nanometre-thick Diaphragm
This feature is a breakthrough core technology developed by the company. It is also the first of its kind applied to headphones creation. 
The company claims that working with this advanced material is challenging. However, its successful incorporation as the planar driver of headphones is the cornerstone of its outstanding sound quality.
Metal + High-Grade Plastic Construction of the HIFIMAN Arya Stealth Headphones
HIFIMAN designed the top-notch Arya Stealth metallic headband with additional strength. It also incorporated a special high-grade plastic for durability and comfort. 
The 3.5mm user-replaceable Connector Design allows convenient cable swapping, allowing for versatility and customisation.
"Window Shade" System Patent
It is a feature created to meet the needs for an optimised open-back design and driver protection. This design primarily combats second-hand reflections since its distinct style gives the headphones as much open sound as possible. Also, it keeps the headphones free from vibration and distortions. 
The secondary function of this system offers the driver a level of protection. It is against knocks and bumps within the large open cups. 
Asymmetrically Shaped Ear Cups
The asymmetrical ear cups are a highly-essential feature since it follows your ear shape to provide utmost comfort even when used for long periods.
Crystalline Copper Cable
The Arya Stealth keeps things simple with one Crystalline Copper cable, which features a 6.35mm plug. It also has a black woven finish, which is an ideal complement to the style and aesthetics of the headphones. 
3.5mm User-replaceable Connector
The presence of this element allows for convenient cable swapping. It is also highly durable and more customisable. 
Bold and Premium Black Aesthetics of the HIFIMAN Arya Stealth Headphones
The headphones sport the classic HE1000 style and shape. When combined with its all-black exterior, glossy-black headband, and matte-black ear cups & grille, you will receive a premium-looking product. 
Specifications
We will share a quick list of its specifications in our HIFIMAN Arya Stealth Headphones Review. 
The impedance of the Arya Stealth is 32Ω, while its sensitivity is 94dB. Its frequency response is 8Hz to 65kHz. Also, the headphones weigh 404g.
Hands-on with the HIFIMAN Arya Stealth Headphones 
Now, we will share our hands-on experience with the headphones in our HIFIMAN Arya Stealth Headphones Review. We used the product for over two weeks, so now, we will share how well (or not) it performed.
Tuning the headphones leans more to the neutral side. However, it has a more musical and softer delivery. We consider its primary characteristics speed, control, energy, and dynamics. 
You will not go wrong with the Arya Stealth. It is one of the headphones that will make you want to listen to more of your favourite songs. 
Soundstage-wise, the headphones are impressive in depth and width, especially when setting them in balanced mode. We received great layering, plus decay and note extension was excellent. 
It sounds spacious and airy, but it remains natural-sounding and realistic. By going balanced, we increased the soundstage in depth and width, giving us better levels of separation and spaciousness. 
Speaking of imaging, it sounds complex yet still precise. It is evident in the mids, which are more controlled, unlike the hollowed-out and diffused staging of the Ananda. 
The bass performance of the Arya Stealth was excellent. It delivered a good amount of extension to the sub-bass region. We think it sounds precise and clean without the over-emphasis often audible on warm-sounding or bassy headphones. We managed to provide the bass region with some bumps using the EQ. 
As we speak of the bass presentation on the Arya Stealth, we can say it is better than just good. We received bass that was powerful, fast, and impactful. Also, its drivers were always manageable in delivering detailed sounds with adequate sub-presence. 
For us, the Arya Stealth performed well and shone best in the mids. It had adequate balance and did not sound forward-leaning or laid-back. Although the upper mid-range around the 3kHz frequency had slight emphasis, it did not negatively affect the audio quality.
We loved the energetic musical delivery of the mid with its pleasing timbre. It had the right amount of presence and body, which sounded balanced with the bass. Plus, every single detail connected perfectly.
The Arya Stealth offered a lively treble section, which made listening to our audio fun and exciting. We never noticed it becoming sharp or harsh since the treble frequencies had the same amount of body. As a result, the headphones delivered fairly balanced sounds.
The improved treble presence also enhanced the nuances and cues, giving enough air for vocals to come through properly. As a result, we heard voices clearer and cleaner than usual. 
Although the audio was not as spacious or airy as the HE1000 C2, its staging was more rounded. Despite that, it did not sound congested or vague for the instrumental placement.
The Arya Stealth delivers bright-leaning and lively-sounding audio. It may be a little too bright or sibilant for those who use warm-sounding headphones more often. Nevertheless, these headphones offer impressive audio quality and are easy to recommend.
HIFIMAN Arya Stealth Headphones Review Summary
The Arya Stealth are excellent end-game headphones that satisfy most audio preferences. It is a pricey product designed and built by enthusiasts who seriously invest in audio products. Like all products, it has a few caveats but offers an enjoyable listening experience.
We loved the impressive tuning of the Arya Stealth, which was powerful yet pleasing and not overwhelming. The audio had good presence, body, depth, and impact, which made us understand why many users recommend these headphones. These headphones have proven in our tests for our HIFIMAN Arya Stealth Headphones Review that it is a top-notch product.
When used with a high-quality desktop amp, the audio of the Arya Stealth scales up perfectly, even without additional amplification. It delivers a remarkable sound, and amplification offers more room for improvement.
With its superior audio quality, we highly recommend the Arya Stealth.
Learn more about the Arya Stealth Headphones by visiting the official product page of HIFIMAN.