Today we are writing our Jabra Evolve2 55 Review. It is an in-depth read to share all the information you need about Evolve 2 55. 
It is engineered to go with the flow and does its job no matter what you do. It delivers professional audio, whether for calls or music, with its ANC (Active Noise Cancellation) feature. 
The headset has more to offer, but are these enough to bring you to purchase this headset? Continue reading our Jabra Evolve2 55 Review and get insights about its design, functions, features, specs, and performance. 
Jabra Evolve2 55 Packaging
The headset shipped in a standard-looking package featuring an image of the product in front, its name, and company branding. Some features are in front, while others are at the back.
We have seen plenty of excellent packaging from other companies, but Jabra took things to the next level.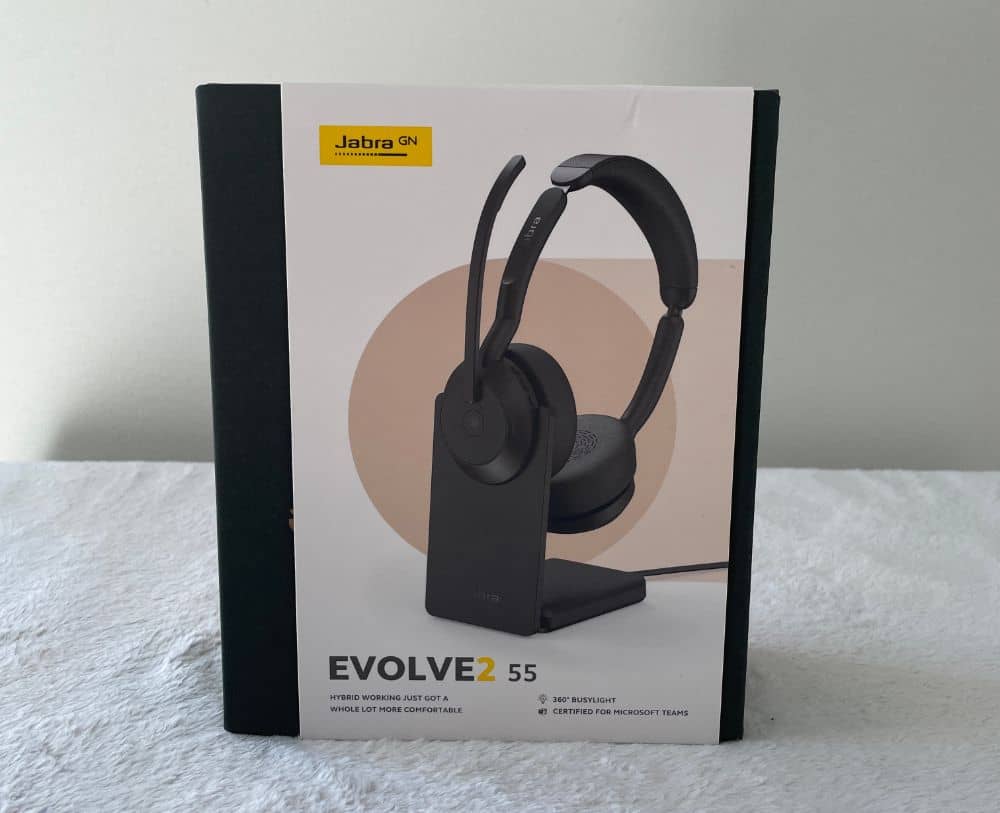 In this Jabra Evolve2 55 Review, we saw how well-protected the equipment was. The company ensured to protect the Evolve2 55 with a solid, two-piece cardboard container.
Jabra makes it clear that the cardboard they use comes from responsible sources. It only shows us that the company made a serious effort to consider the environment and reduce waste.
Other than the headset, here are the accessories available inside the package: 
Link 380 Bluetooth Adapter

Carrying Pouch

USB cable 1.2m

User Documents

Desk Stand (SKU dependent)
Jabra Evolve2 55 Review – Design and Functionality
Wearing the Evolve2 55 feels good since its ergonomic ear cups are flexible enough to rotate however you want. We tested this headset for this Jabra Evolve2 55 Review and saw its flexibility and efficiency. 
These rotate every time you do, so you can focus on daily tasks without the headset getting in the way. Moreover, the product ships with an optional charging stand that is sturdy and clips nicely into the ear cup base.
Key Features of the Jabra Evolve2 55
This part of our Jabra Evolve2 55 Review focuses on the features offered by Evolve2 55. Are these elements enough to make you want the product? Continue reading to find out. 
Optimised Comfort of the Jabra Evolve2 55
Usually, back-to-back meetings mean wearing your headset all day. So Jabra created the Air Comfort technology, which features redesigned ear cup cushions, to keep you comfortable.  
This proprietary comfort technology from Jabra uses ultra-soft, perforated foam layers in the cushioned headband to reduce pressure buildup. In addition, air Comfort uses a new material and pattern to distribute pressure evenly. As a result, it has a light-as-air fit, so you will not feel the headset even if you wear it for long hours.
Aside from the comfortable headband, the Evolve2 55 has ergonomic ear cups to increase comfort. These rotate and move when you do, letting you focus on your work without interruptions.
With years of perfecting the Air Comfort technology, the engineers from Jabra deliver an excellent headset with top-notch comfort.
High-quality Conversations with Active Noise Cancelling
Powerful ANC technology suppresses background noise effectively. Moreover, it works with noise-compressing microphones for better voice transmission. As a result, you can enjoy crystal-clear communication.
Jabra ClearVoice for Intelligible Voices in Noisy Environments
Jabra ensures your voice will be perfectly audible, even in noisy locations. The company implemented ClearVoice, an advanced proprietary technology that combines top-notch algorithms, beamforming, and a multi-microphone system. As a result, this premium microphone delivers a precise balance between background noise cancellation and speech clarity enhancement. 
By adding a microphone for hybrid, open offices, Jabra meets the demands of users with the Evolve2 55. This headset makes calls and meetings possible even in the noisiest environments.
Quick and Easy Plug-and-play 
Use the pre-paired Link 380 USB Bluetooth adapter. With the adjustable boom arm and mute function, you can directly control your calls on the headset.
Collaborate Seamlessly with the Jabra Evolve2 55
You can choose between two variants when purchasing the Evolve2 55: Microsoft Teams-certified or UC (Unified Communication). The latter version is Zoom and Google Meet certified to guarantee a seamless collaboration experience. Furthermore, with optimisation for other UC platforms, you can rely on the headset and keep in touch with your team.
Excellent for All-day Work and Play
The Evolve2 55 can do almost everything. Its efficiency-boosting technology keeps you work-ready, while the busy light helps you stay focused. Plus, you can immerse yourself in rich-sounding music during a break between meetings. A single tap lets you use your preferred voice assistant for hands-free control.
18-hour Battery Life
The Evolve2 55 offers up to 18 hours of battery life, allowing all-day use without recharging. In addition, you can move away from the audio source while on a call since it connects wirelessly via Bluetooth.
Note that 18 hours is the longest time for its battery life before recharging. Therefore, results may vary depending on your use. We will further discuss this later in our Jabra Evolve2 55 Review.
Google Fast Pair for Convenience
Jabra made the Evolve2 55 convenient and lightning-fast with Google Fast Pair. You will receive a pop-up notification when the headset is in Bluetooth pairing mode and next to an Android device. Then, tap once on the prompt to pair the headset.
All supported gadgets on Android 6.0 and run Google Play Services 11.7+ can use Fast Pair. However, advanced features for personalisation and the Find My Device integration will only work with Android 10 and higher.
Specifications
Before purchasing, check the product specifications to ensure this headset will work with your system. Check our quick list before reading how the Evolve2 55 worked during our tests.  
Active Noise Cancellation (ANC)
Speaker Size:

28mm

Speaker Max Input Power:

30mW

Speaker Frequency Range:

20 Hz – 20000 Hz

Audio Codec Supported:

ACC, SBC

Speaker Bandwidth:

20 Hz – 20000 Hz (music mode) & 150 Hz – 6800 Hz (speak mode)

Microphone Type:

2 Analogue MEMS / 2 Digital MEMS (Stereo) and 1 Analogue MEMS / 2 Digital MEMS (Mono)

User Hearing Protection:

G616

,

PeakStop, Jabra SafeTone, EU Noise at Work

Microphone Sensitivity:

-38 dBv/Pa (analogue mic) | -26 dBFS/Pa (digital mic)

Microphone Frequency Range:

20 Hz – 1000 0Hz (analogue) | 100 Hz – 6300 Hz (digital)

Connectivity:

Bluetooth, USB-A, USB-C

Wireless Technology:

Bluetooth 5.2

Operating Range

(Bluetooth): Up to 30m

Paired Devices:

Up to eight Bluetooth devices

Simultaneous Bluetooth Connections:

Two

Music Time:

Up to 18 hours (with ANC off) | Up to 15 hours (with ANC on)

Talk Time:

Up to 16 hours (with ANC or busy light off) | Up to 10 hours (with ANC or busy light on)

Charging Time:

Up to 120 minutes

Battery Level After 30 Minutes of Charging:

Up to 50%

Battery Type:

Rechargeable Lithium-ion battery

Main Unit Dimensions (WxHxD):

185mm x 65mm x 175mm 

Warranty:

2 years
Hands-on with the Jabra Evolve2 55
We tested the product to share our hands-on experience with it in this Jabra Evolve2 55 Review. We used it for a week to see how well the product performs.
When using the Evolve2 55, Jabra encourages downloading the software to personalise your audio experience. Jabra Direct is the computer-based software for this headset, while the Jabra Sound+ app works for mobile. Another option is Jabra Xpress, which is a web-based solution. 
These software interfaces allow you to manage, personalise, and update your Evolve2 55. Plus, you can access features like sleep mode, equalisers, and personalised alert tones. Other functions in Jabra Direct include the following:
Sidetone – allows hearing your voice while blocking others. 

PeakStop and IntelliTone – technologies that let you access more sounds while safeguarding your hearing. These work with the G616 standard required by Australian regulators.

Direct Dashboard – provides the latest firmware with updated features and bug fixes.
Both computer and mobile-based apps are user-friendly, which makes navigating menus and settings easy.
Connectivity and Audio Quality of the Jabra Evolve2 55 
Regardless of how we connect the Evolve2 55, it delivers crisp, crystal-clear audio.

The headset has perfectly centred speakers in both ears, which can smoothly handle a broad range of base sounds. There were no signs of crackling or shaking, even when we listened to different music genres.
The Evolve2 55 can connect with multiple devices simultaneously. As a result, it quickly plays the most recently triggered sound when switching between paired gadgets.
One of the things we noticed is it stays comfortable for long periods. The headset feels soft, like tiny pillows on the ears. 
Most headsets feel hot and uncomfortable on the ears when worn after a few hours. However, we did not experience this while using the Evolve2 55.
Its microphone performance. It captures our voices well and delivers adequate clarity.

Jabra Evolve2 55 Review Summary
The Jabra Evolve2 55 is a highly-versatile headset that combines unparalleled clarity, comfort, and convenience. Although it is not the most affordable model on the market, it makes up for its quality.
This headset has multiple connectivity options and a seamless Bluetooth connection, making it excellent for calls. It is also highly comfortable when worn, which we enjoyed while testing the product for our Jabra Evolve2 55 Review. Most importantly, it delivers high-audio quality, especially in voice communication.
Overall, the Evolve2 55 meets the demands of many users, and we highly recommend it. Learn more about the Evolve2 55 by visiting the official Jabra product page.