JBL is known for creating big, powerful, and portable Bluetooth speakers that look and sound great. However, one specific model is much smaller, affordable, and more portable. Today, we're checking their GO 3 on our JBL GO 3 Bluetooth speaker review and see what makes it click.
The JBL GO 3 Bluetooth speaker can fit any tote bag or backpack without issues. Not only that, but it's entirely waterproof, making it perfect for outdoor use.
It comes with JBL's rich Pro Sounds and an attractively bold style that's edgy, eye-catching, and aesthetically pleasing. And with its colourful materials and distinct details, the GO 3 Bluetooth speaker is definitely a must-have for everyone on the go.
JBL GO 3 Bluetooth Speaker Packaging
Let's begin our JBL GO 3 Bluetooth speaker review by discussing the packaging and what's inside the box.
We received our JBL GO 3 in a plastic container that has a transparent section on the right. Before you even open the container, you'll get to see how the speaker looks, and that's something we greatly appreciate.
The GO 3 that we have has cool colours of black and orange. We appreciate JBL's colour choices since it goes with the overall design of the speaker.
The box displays the logo of JBL on the upper-left corner of the package. When you flip it, the rear shows additional details about the product.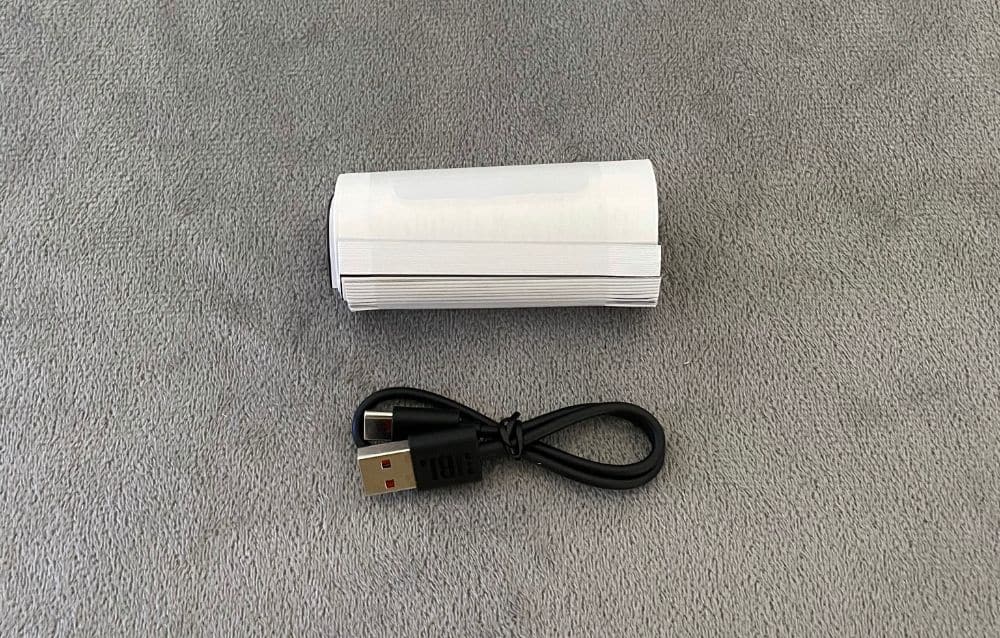 After opening the box, the first thing we saw was the GO 3, but it comes with other items too. Other than the speaker, you'll find a type-C cable, a quick start guide, safety sheets, plus a warranty card.
JBL GO 3 Bluetooth Speaker Review – Design and Functionality
Our JBL GO 3 Bluetooth speaker review will now focus on the functions and design of the speaker.
The GO 3 from JBL is a little speaker that weighs 7.4 ounces. With its compact size, you can fit it in any bag, and you can even slip it in some pockets.
It has a rectangular body that features rounded edges; plus, it's mostly concealed with a cloth grille. To avoid any slips, JBL made sure to add rubberised feet on its base.
It's good that they integrated a hook on the speaker's side, so you can easily hang it from your bag.
The speaker has an impressive build quality, and just like JBL's Clip 4, the materials used are solid and premium. It comes with a tight netting that covers most of the speaker, as well as its carrying strap. For its rear and sides, the speaker has a rubber finish to it.
Yet compared to the Clip 4, the GO 3 features a simpler box-like design, making it easier to stand upright. This allows you to play audio in a more directional manner than having it blast music at the ceiling.
You'll find buttons at the top to control the volume, the play, and the pause functions. If you press it twice, the play/pause button will skip the track forward. You can't play the track back, which is something we consider an oversight.
Additionally, it doesn't come with a speakerphone function, yet we can't really complain given its price point. For the speaker's right side panel, you'll find the power button and the Bluetooth pairing button.
Generally, we liked how the buttons are made since they're easy to press. Plus, there's an audible feedback once you reach the maximum volume and when you're in pairing mode. In addition, a little light flashes once the battery gets low.
Key Features of the JBL GO 3 Bluetooth Speaker
Our JBL GO 3 Bluetooth speaker review won't be complete without discussing the product's key features. With that, let's check them out.
Original JBL Pro Sound
Although its size is ultra-compact, the GO 3 delivers the JBL Pro Sound. When streaming music, you'll enjoy big audio and punchy bass, which is the sound that JBL is known for.
Bold Colour and Portable Design
JBL's GO 3 is a compact speaker that features a portable design, allowing you to carry it wherever you go. Plus, it has a colourful rubber finish that makes it look great with today's fashion.
IP67 Rating
The IP67 rating is GO 3's best feature. This means the speaker is waterproof and can be submerged up to a meter in water for a maximum of 30 minutes. With that, you won't have to worry about it being soaked, and you can clean it under running water.
5-hour Playtime
The GO 3 from JBL offers up to five hours of playtime on a single charge.
Wireless Streaming
There's no need for cables to play your music. Stream music from your phone, tablet, or other mobile devices via Bluetooth.
Specifications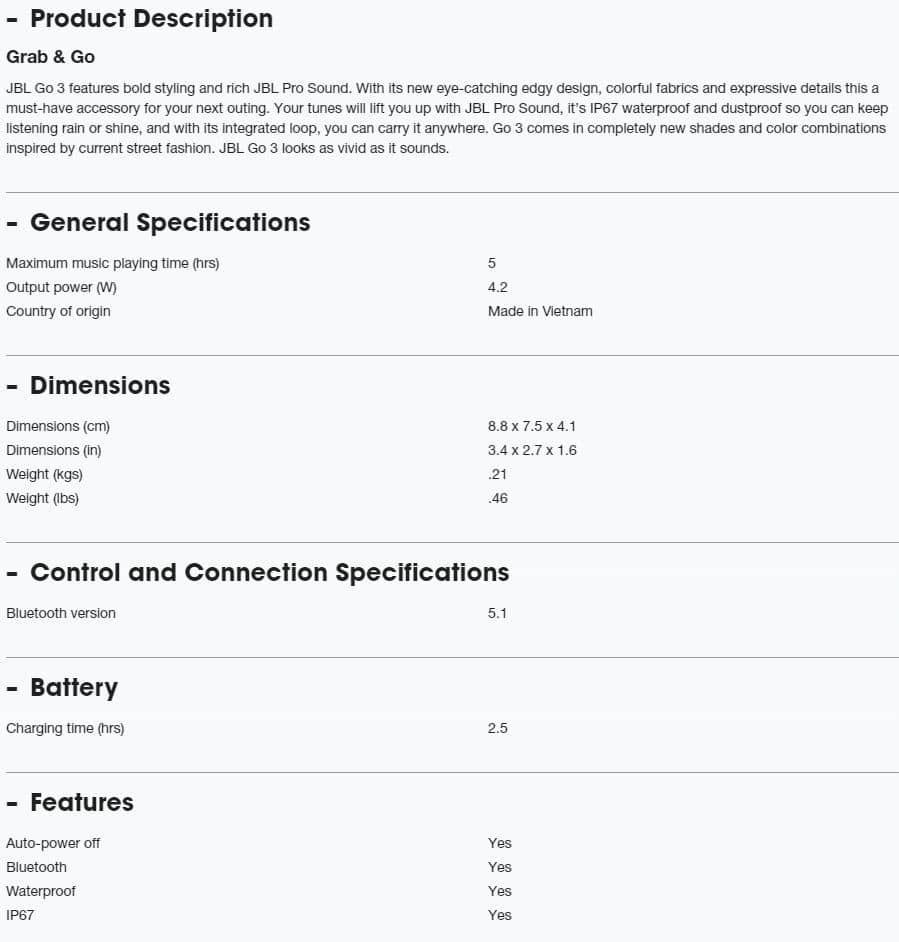 This time on our JBL GO 3 Bluetooth speaker review, we'll explain the product's specifications. We'll begin with the speaker's general specs.
The GO 3 has a maximum playtime of five hours, and its output power is 4.2W. To complete its battery life, charging the speaker takes 2.5 hours. Its Bluetooth version is 5.1, the latest in wireless connectivity.
For the speaker's measurements, it's 8.8 x 7.5 x 4.1cm and weighs 0.21kg. Let us now share our personal experience with the Bluetooth speaker in the next section.
Hands-on with the JBL GO 3 Bluetooth Speaker
We're sharing our hands-on experience in this part of our JBL GO 3 Bluetooth speaker review. First, we'll talk about the speaker's audio quality.
The JBL GO 3 offered more volume and better sound than expected from its size and price. The bass sounded good and had a little punch to it. However, it wasn't audible when we played music in open spaces.
It sounded great at 50 to 75% volume levels, particularly with acoustics that was strong in the midrange. The speaker's audio quality was also best with songs that didn't have lots of instruments playing simultaneously. At max volume, the driver was able to prevent distortion, which was another thing we liked.
Additionally, it worked excellently for supplying rich audio for movie playback. In fact, it was even better than a smartphone/tablet's built-in speaker.
For tracks with intense sub-bass, the GO 3 had perfect bass depth for its size. It doesn't sound thin, so we were satisfied with what it was able to deliver.
For the sound signature, it was entirely balanced for a compact speaker. The low-mids were full, while the high-mids and highs sounded crisp. When we played orchestral tracks, these were subtle and rich.
We also played in audiobooks and podcasts to see how the GO 3 would reproduce voices. Everything we played was clear due to the balanced mids and treble ranges that accurately reproduced voices.
The speaker's dynamics were satisfactory. As expected from this compact-sized speaker, it won't be loud enough to use for parties. There wasn't a lot of compression on the audio at max volume, so we still enjoyed clear and clean sounds.
Overall, it's a great speaker to play music that will exceed people's expectations for audio quality.
According to JBL, the GO 3 gives up to 5 hours of playtime. But like every speaker, the battery consumption usually depends on the volume level you set during playtime. To see if the company's claims are true, we used it the whole time after a full charge.
We were able to listen to music for exactly five hours, so we have no complaints regarding its battery capacity. Although it's better if the speaker had longer battery life, we think that five hours is acceptable. However, if you plan to take it with you while camping, it'd be wise to have a portable charger too.
When we left the speaker without audio playing, it automatically shut off after around 20 minutes. This effectively helped in conserving its battery.
The GO 3 was fully charged in 2.5 hours. What we liked is it uses USB-C, which is a must since it's becoming the standard connection nowadays.
Connectivity
For its Bluetooth connectivity, the GO 3 had an extensive range. We didn't have to keep our paired device close to the speaker, which proves that it's excellent for outdoor use. Plus, the audio latency on Android and iOS was low, so it was great for watching videos.
JBL GO 3 Bluetooth Speaker Review Summary
Before ending our JBL GO 3 Bluetooth speaker review, we'll summarise everything we think about this product.
You can't expect grand features and performance for its price, but the GO 3 got the job done. Its portable and solid build make it ideal for outdoor use, and its audio is loud yet clean.
Of course, the GO 3 has its limitations as it is an affordable compact speaker. But what it gives is definitely bigger than its size. It looks better and feels more durable than its predecessor.
If you want a compact Bluetooth speaker that offers high-quality audio, the GO 3 is a great option. It's the best choice if you're looking for an affordable speaker with a solid, durable build.
If you want to have this Bluetooth-powered speaker, you can purchase it from the company's official website for just $59.95.
We hope you enjoyed our JBL GO 3 Bluetooth Speaker review! Stay tuned for more reviews like this.