Today, we are writing our JDS Labs Element III Review, which focuses on the latest offering from JDS Labs. 
The Element III is the flagship DAC/AMP from the company and features a built-in OLED display on the chassis. It is a first-time feature for the product; the company also opted to switch to digital volume controls. 
This product offers outstanding channel balance down – minimum volume. You will not have channel imbalances even when using the most sensitive IEMs. 
Moreover, there are other improvements to its PCB, which we will cover later in our JDS Labs Element III Review. 
But before getting deeper into the product, let us check its packaging and contents. 
JDS Labs Element III Packaging
The product arrived in a thick, sturdy cardboard box sporting a simple design. You will not see much on the package, just the words Element Line and Sound as Science on the sides.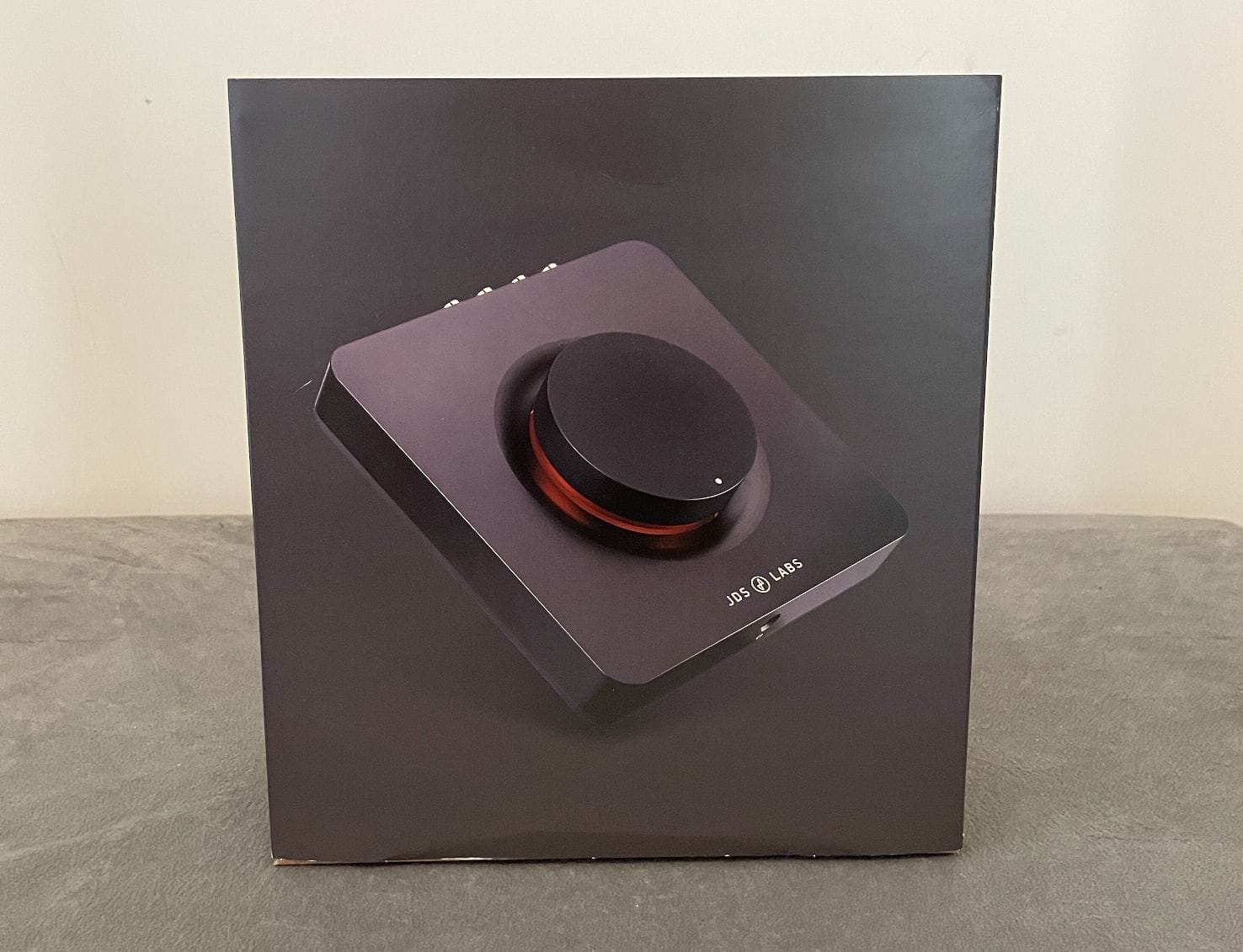 Since everything in the package is secure, you will not have to worry about damages during shipping. 
Aside from DAC/AMP, the box contains a 16VAC power adapter and a 0.9144m (3ft) USB-A to C cable with Ferrite. 
JDS Labs Element III Review – Design and Functionality
The Element III looks magnificent straight out of the box. We think it is the most elegant DAC/AMP we have tested. The product is intelligently designed and does not compromise on features, looks, or performance. We took advantage of the free custom laser engraving service that JDS Labs offers.
One primary difference between Element II and III is the volume knob. The large volume knob is on a flat, squarish aluminium chassis that is chic, stylish, and compact. These elements result in a style that is functional and aesthetically pleasing. 
Along its volume wheel, you will find a copper ring that adds more style and flair to the DAC/AMP. 
It may appear similar, but the DAC/AMP now integrates a digital attenuator instead of an analogue volume one. So, you can get an audibly-perfect channel balance down to -127.5dBFS.
It lets you listen to audio at lower volumes while getting the same sound quality. 
Below the volume wheel, you will see a soft glowing white LED light that has a circular shape. The lights do not distract you despite leaving it in a dimly lit room since it is not very bright. 
Front and Rear Ports
We also looked at the front and rear ports of the DAC/AMP for our JDS Labs Element III Review. It has a headphone jack at the centre of the front panel, while other elements are on its rear. 
The rear features other I/O ports and the necessary buttons concealed from view. This design layout adds to the sense of minimalism and simplicity, making the DAC/AMP pleasing to the eyes. 
While the layout gives off a cleaner and more premium look, it also has some disadvantages. One is that the essential buttons are more challenging and hard to access. 
Behind the DAC/AMP, you will find the following positioned from left/right: 
USB-B Input

RCA Outputs

Optical Inputs

Optical Switch Button

Power Button

Barrel Power Socket
We have conflicting feelings about the power button in this spot. But once you get used to it, the positioning will not be an issue. 
Auto Gain
Instead of a toggle or switch for gain on the DAC/AMP, the company created the Auto Gain feature. It makes the entire process more practical and convenient. 
And because Element III utilises a digital volume control, its knob does not feature an endpoint. Also, you can turn it indefinitely and set its volume between 1-127dB and +13dB. 
You can adjust its volume steps by 0.5dB or 1dB, and its volume wheel lets you make precise adjustments. Once you reboot DAC/AMP, it will also remember your earlier volume levels. 
Depleting negative values makes Element III shift to high gain to generate enough power. Doing so will let it deliver 1.3W into 32 ohms. It means the DAC/AMP can drive planar and dynamic headphones available on the market. 
OLED Screen
The Element III has a small OLED screen to display essential information such as volume and output selection (HP/pre-out). It is a convenient feature that previous models lacked; plus, it is ideal for tabletop use.
The company also separated the power for the screen from its audio channels. The layout helps ensure that there is no interference with audio quality. 
JDS Labs also added a menu to the product for changing brightness. The menu also lets you manage volume knob LED behaviour, DAC tuning, and timeout intervals. 
Filters, DPLL bandwidth, S/PDIF de-emphasis, and harmonic compensation are all included.
JDS Labs Element III Controls
Our JDS Labs Element III Review will also discuss the controls of this product. You can access its menu by pressing and holding its volume wheel for four to five seconds. 
If you want to shift between titles, rotate the volume wheel, then press it to confirm your choice. 
Generally, Element III has a rich menu. You can adjust the screen brightness, change screen timeout time, switch LEDs off/on, adjust auto gain speed, etc. 
Moreover, to change the behaviour of its knob button, you can change things via this menu. You can choose from the available options: toggle input/output, mute USB, and mute RCA. 
Its navigation and controls are user-friendly, while menus and categories are easy to comprehend. So, you will not take long to get the hang of using the DAC/AMP. Also, the OLED screen resolution is ideal for regular use.
We love the tactile feedback of all its buttons since these are excellent to the touch. 
Key Features of the JDS Labs Element III
Auto Gain
The auto gain is one of the interesting new features of Element III. JDS Labs added this to solve the problem of confused users who do not know when to use gain. 
The Element III automatically toggles gain at the right volume level. It activates on high when you turn the knob beyond 0dB. 
When it sets the gain, the product compensates for volume to achieve a seamless transition to higher listening levels. 
Excellent Channel Balance
Element III offers the perfect channel balance as low as -127.5 dBFS, making soundstage accuracy highly audible.
OLED Display & Options
With the OLED display of Element III, you can track the status information. It powers down to reduce distractions. You can adjust backlighting behaviour, DAC filters, and other settings in the options menu.
Exceptional Power
While working on our JDS Labs Element III Review, we also noticed the exceptional power of this DAC/AMP. Its rail-to-rail gain stage offers additional headroom without distortion penalty when listening under high gain vs low gain. 
With +/-15VDC rails and continuous clean power, Element III can drive headphones on the market to exceptional levels.
Preamp Outputs
Element III has preamp RCA outputs for controlling the volume of your powered speakers. The preamp output is managed separately from the headphone output volume, allowing quick switching. 
Input and Output Selection
You can use tactile volume controls or the Mode button to listen to USB/Optical Input. This feature will let you shift between headphones and powered speakers without disconnecting cables. 
Relay Muting and Safety
JDS Labs designed Element III for desktop listening. Its relay muting reduces thumps and pops during startup via the headphone and preamp outputs. To increase safety, it has dual-independent processors that constantly monitor internal communications while verifying the ESS DAC volume.
MEMS Oscillators of the JDS Labs Element III 
MEMS oscillators clock Element III to deliver excellent frequency stability for pristine, jitter-free audio in USB and optical modes.
USB Audio Class 2 – PCM and DSD
With the second-generation XMOS XU208 engine, the DAC/AMP can support up to 32/384kHz PCM and DSD128. This product will enhance your high-fidelity listening experience thanks o its UAC2 with ASIO endpoint. 
Mains Isolation
An external AC transformer powers Element III. It has 13 regulators to ensure consistent rail voltage, mains isolation, and low ripple.
Specifications
Before discussing our hands-on experience with the product, our JDS Labs Element III Review will share its specifications. Element III has a 20-20kHz +/- 0.11dB frequency response, while SINAD 1kHz low/high gain is 112.5/112dB, respectively. 
Its THD+N Sweep 20-20kHz is below 0.0004%, while the IMD CCIF 19/20 kHz -6 dBFS is -101dB. Additionally, the DAC/AMP IMD SMPTE @-20dBFS is -95 dB. 
This product has a 117.7dB signal-to-noise ratio and a -112dBV noise level. If you are wondering what its A-weighted dynamic range is, the DAC/AMP has 120 dB.  
It has a channel balance of -∞ to 0dBFS +/- 0.01dB, while the output impedance is below 0.7 Ω. 
Lastly, the DAC/AMP measures 14.73 x 14.73 x 4.06cm and weighs 19oz. Plus, it works with the following operating systems:
Windows XP, 7, 8, 10, 11

macOS

Linux

iOS

Android

Nintendo Switch 
Hands-on with the JDS Labs Element III 
We used the DAC/AMP for our JDS Labs Element III Review and tested it to see how it performs. 
The company knows what the best is, so they implemented the necessary changes to benefit sounds. Their updates allowed us to see how much Element III improved from its predecessor. 
We still noticed the signature JDS Labs sound; despite these, everything was smoother and sounded better. 
We received the perfect channel balance while listening to various audio. It is an addition we greatly appreciate. 
The DAC/AMP allowed us to listen even with a highly sensitive IEM. So there were no hisses or noise. We also did not experience channel imbalance at low volumes, leaving us highly satisfied with these results. 
Element III performed admirably. We received a proper three-dimensional soundstage with excellent width and depth. There was also heard all the instruments playing in our audio. 
There was adequate space between the instruments for each to follow on stage. And due to its high technical capacities, the DAC/AMP successfully handled traffic well. 
Simply put, its imaging was excellent. Element III coherently and accurately portrayed an airy and spacious headroom. 
Element III generated layers of sound that were entirely independent of one another. Its soundstage was wide and primarily determined by the headphones we used. All these were because of the outstanding crosstalk separation, linear phase response, and low noise levels of the DAC/AMP. 
The bass was rich, perfectly controlled, and fast while remaining excellent.
The mid-bass was quantitatively sufficient and tightly controlled, while its midrange was clean and detailed. It highlighted every nuance in a guitar passage or vocal performance. 
Tonality felt natural, without colouration in the human voices.
The midrange had outstanding detail and resolution with spaciousness and breath. Element III delivered a controlled yet extended midrange without splashy hi-hats, resulting in natural, spacious, and airy sounds.
The treble was clear and open, unlike most ESS-based DACs with a harsh treble. It delivered relaxed, airy and natural audio that filled the whole space. 
Element III had no sound signature since it retained the natural, clean, and neutral sound. It did not colour the sound but did not result in flat and poor recordings. 
If you enjoy the sound signature of a specific pair of headphones, we recommend using it with Element III.
Like its predecessor that we reviewed before, Element III is a simple DAC/AMP that delivers outstanding performance. We love the enhancements JDS Labs implemented on this product since all these elements resulted in higher-quality audio. Its audio output allowed us to enjoy our music better than ever, no matter which headphones we used. 
JDS Labs Element III Review Summary
Element III is a superb compact DAC/AMP that delivers excellent performance. It uses high-quality materials and is visually appealing when displayed on a desk.
We enjoyed using the DAC/AMP during our product tests for this JDS Labs Element III Review. It had no difficulty driving different headphones and also delivered high-quality audio.
We highly recommend Element III if you want a capable DAC/AMP with a neutral sound signature. It is one of the finest options on the market, and you can also use it with most devices. Plus, you can enjoy excellent after-sales service since JDS Labs constantly provides firmware updates for the product.
For more details about Element III, visit the official product page.