Every gamer needs a quality and top-performing gaming headset. And in our Logitech G635 review, you'll get in-depth details and information about one of the best headphones around.
The G635 is a gaming headset designed specifically for gamers around. It incorporates all the features and aspects that make an excellent gaming headset.
Allow yourself to fully immerse in the game environment, and hear all the cool soundtracks of your game. Logitech combined endurance materials and the most advanced audio technology, producing expansive cinematic sounds for you to enjoy.
The G635 is the company's flagship gaming headset that sports a set of 50mm drivers. It also has an amazing build quality, sounds, and Light Sync RGB, among others.
If this sounds like something vital for your gaming needs, then continue reading our Logitech G635 review.
Logitech G635 Packaging
We received our G635 in a clean and sleek-looking cardboard box that sports a simple grey theme. The front shows you an image of the headset, along with its name written lengthwise on the left. On the lower-left corner, you will find "Logitech" and its logo. On the upper right corner, you'll find the key features of the product.
Flipping the box to the rear, you'll find images of different parts of the headset. There are indications present to note the functions of each portion.
Inside, you will find the G635 headset itself, as well as a braided USB lead, and braided mini jack lead. Aside from these, there are also user manuals present in the package.
Next on our Logitech G635 review will all be about the headset's functionality and design.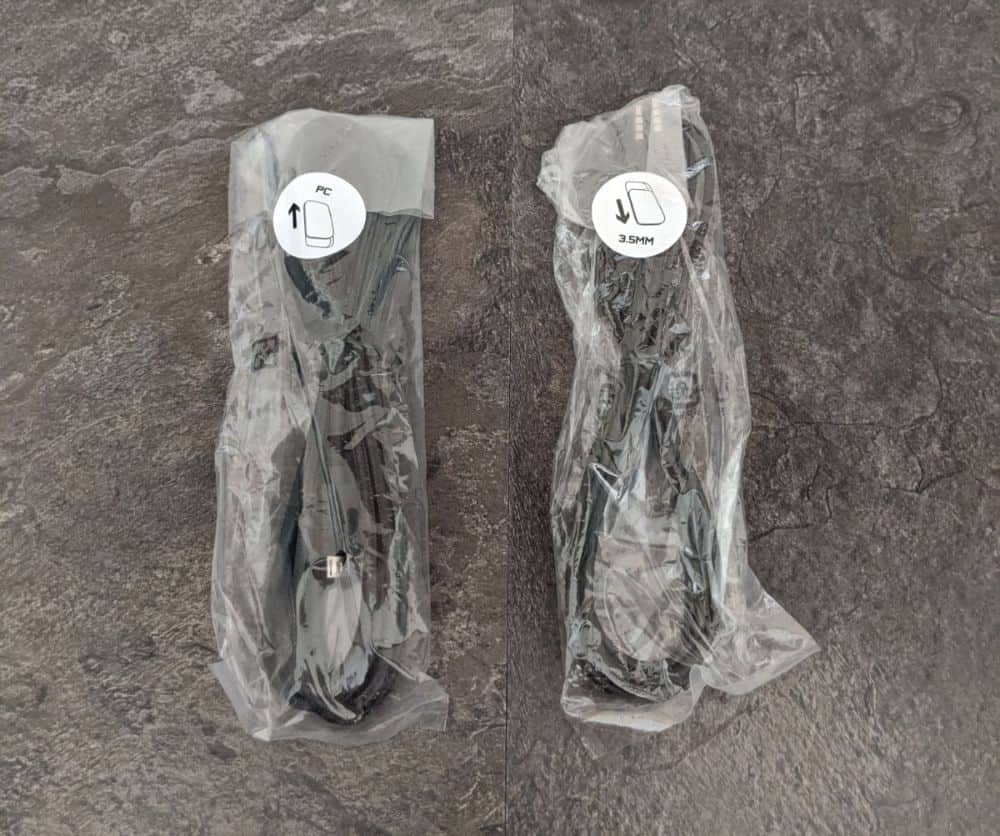 Logitech G635 Review – Design and Functionality
On this part of our Logitech G635 review, we will focus on the build and functions of the G635. Let's begin with the controls, buttons, and its built-in microphone.
Logitech G635 offers convenience with all the controls onboard the headset. On the rear to the left cup, there's a switch to change the mode from USB to 3.5mm jack. When switched to 3.5mm jack, you can connect the headset to any gadget that supports 3.5mm input.
Next to the switch, you'll find three mappable buttons that are customisable via the Logitech G HUB software. A volume wheel and a button to toggle DTS on or off are also present. Instead of a mute button, the G635 features a flip-to-mute system which is more convenient.
The ear cups feature an almost sport-like mesh that is comfortable and breathable. This type of material prevents sweating to keep you comfortable even after long hours of use. The design also has minimum pressure on the soft tissues. To keep these clean, the ear cups are removable and washable.
As expected from Logitech, the G635 is a well-constructed headset. It has a solid build quality and durable components, and despite that, the headset remains lightweight and comfortable. Using the headphones for a long time won't cause strain due to its excellent design and material.
Key Features of the Logitech G635
This portion of our Logitech G635 review focuses on the unique features of the headset.
Pro-G Drivers for Clearer and More Detailed Audio
The Logitech G635 comes with enhanced Pro-G 50mm drivers made with a woven hybrid mesh. These drivers produce more depth, clarity, and better sonic detail. The increased diameter allows for the Pro-G to deliver better performance.
Low frequency sounds like rich soundtracks and explosions sound full and more cinematic. For high frequencies like voices, gunshots, and footsteps, these are cleaner and precisely recreated.
Completely Customizable
You can set your audio preferences with unique profiles via the Logitech G HUB gaming software. Aside from the sounds, you can also customise the macros, in-game commands, and LIGHTSYNC RGB for each game and app.
Surround Sound – Better than the Standard 7.1
With DTS Headphone:X 2.0, the G635 brings better precision and performance compared to the standard 7.1. This feature is only available for Windows, and it requires the Logitech G HUB software.
It's a unique feature that offers accurate in-game spatial awareness. As a result, you can detect the source of sounds in a full 3D soundscape.
Boom Microphone that Captures Loud and Clear Sound
The G635's 6mm boom mic is a flip-to-mute type, allowing for easy muting when needed. It captures clear and precise voices, making it one of the best integrated microphones today. It features an indicator LED that shows if the mic is muted. When not in use, you can flip the boom mic up into the headset to mute this.
A Single Headset for all Platforms
The Logitech G635 is one headset that you can use for all devices. It mixes audio from up to two devices simultaneously. Use it with a PC, gaming console, smartphone, tablet, and more.
Made for Endurance and Comfort
No need to worry about discomfort when you wear the G635 during a long gaming session. These headphones provide extreme comfort with the mesh padding in the ear cups and headband. It also comes with large-diameter circumaural earpads that fit around the ears without direct pressure on soft tissues.
Specifications
This section of our Logitech G635 review is all about the technical specifications of the headphones and microphone.
For the G635's technical specifications, it features a 50mm driver and has a frequency response ranging from 20Hz to 20KHz. Its passive impedance is 39 Ohms, while the active impedance is 5,000 Ohms. The headset's sensitivity is 93dB SPL/mW.
It has a unidirectional cardioid microphone measuring 6mm. Its frequency response ranges from 100Hz to 10KHz.
For its dimensions, the G635 is 188 x 195 x 87mm (H x W x D), and it weighs 344g without the cable. The length of the PC cable is 2.8m, while the mobile cable is 1.5m long.
Lastly, the Logitech G635 comes with a limited 2-year warranty for everyone to take advantage of.
Hands-On with the Logitech G635
This part of our Logitech G635 review focuses on the product's performance. We'll let you know about the software, the headset's audio quality, as well as the microphone's performance.
The Logitech G635 is compatible with the Logitech G HUB application. You can download this on Windows and Mac for free.
The software is one of the most comprehensive apps, offering a lot of customisation options. You'll find Surround Sound, LIGHTSYNC RGB Lighting control, a 10-band equaliser, as well as controls for the headphones and microphone.
Here, you can readily customise the G635's buttons to different sound profiles, commands, and functions related to your system settings.
When we tried gaming with this headset, we were able to hear the subtle details that we wanted to be amplified. Each footstep was sharp and clear, plus it makes the experience more enjoyable, no matter what game you play.
For its overall performance, we can't praise it enough. The experience we had with this headset during gaming and enjoying media was simply amazing. Unlike other headsets that we've tried and tested, the Logitech G635 feels like the perfect go-to headset for everyone. It provides comfort despite prolonged use.
Overall, the Logitech G635 is an impressive headset that provides comfort and delivers superior quality audio.
The Logitech G635's boom mic was above average. In quiet environments, it can record and transmit speech that sounds detailed and natural. When there's moderate noise in the surroundings, it can separate speech from background noise.
Overall, the Logitech G635 delivered an excellent performance. The audio quality was impressive, and the microphone's transmission and recordings were clear. Because of that, we're giving five stars for the headset.
Logitech G635 Review Summary
The Logitech G635 are great gaming headphones that stand out on the market due to its excellent audio reproduction. It comes with a convenient software that offers a lot of settings and customisation options. Additionally, it provides long-lasting comfort, making it perfect for the most intense gaming sessions.
One of the best things about these headphones is that it's compatible with a lot of devices and gaming consoles. Because of this, G635 is one of the excellent choices for headphones that will meet your audio needs.
To conclude our Logitech G635 review, we highly recommend these headphones to improve your gameplay experience. To purchase this, visit the company's official website.