Based on what we've seen with the NH-U12S, Noctua's classic fan style can still be a winning design. And generally, any efficient cooler requires adequate fans to provide quality and top-notch performance. For the best, you need the right balance of the surface area, flow, disturbance, and a compact size for a cooler. And today, our Noctua NH-U14S review will give you that.
The NH-U14S is a 14cm top unit of the company's classic U series. It's a single-tower CPU cooler with six heat pipes, plus an NF-A15 140mm fan with PWM support for maximum auto-speed controls. And with its slim shape of 52mm, the cooler ensures total compatibility with tall RAM modules.
The Noctua NH-U14S is topped off with a high-quality pro-grade SecuFirm2 multi-socket mount system, and the NT-H1 thermal compound. Plus, Noctua included a 6-year manufacturer's warranty, making it a comprehensive premium solution combining superior performance, quietness, and high compatibility.
Next on our Noctua NH-U14S review is the packaging and its contents.
Noctua NH-U14S Packaging
First, on our Noctua NH-U14S review, we're taking a look at the packaging of the cooler and the accessories included.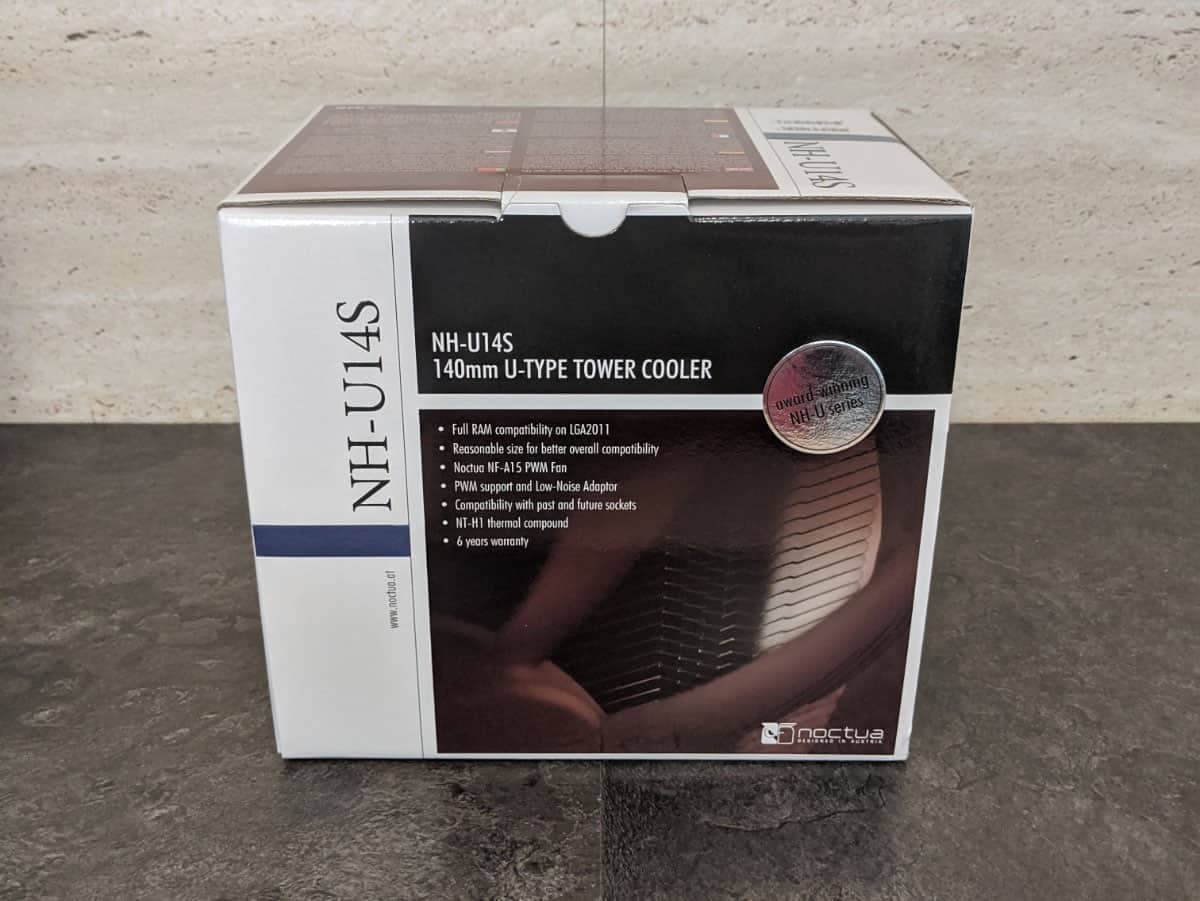 The NH-U14S came in a secure and durable box that is enough to protect it while in transit. Generally, it's like your typical packaging for other Noctua coolers, so you'll get the standard white and brown background.
In front, you'll find the name of the cooler, Noctua's logo, and an image of the cooler there. When you check its rear, you'll see a couple of the cooler's key features listed as well. Some of the key features also include thorough explanations about them.
There is a couple of information about the cooler's specifications, which are on the box's side. The information that's present includes the dimensions, CPU socket compatibility, and the unit's weight. The other side of the package displays a brief description of the U14S written in a variety of languages.
Inside, everything is neatly and separately packed. The cooler has its separate cardboard box, and so does the accessories. Aside from NH-U14S, other accessories that are present include the user manuals, fan clips, a long screwdriver, and anti-vibration pads. Noctua also added an NT-H1 thermal paste, a metal case badge, and one low-noise adapter.
Noctua NH-U14S Review – Design & Functionality
In this section of our Noctua NH-U14S review, the primary focus will be on its design and functionality.
The NH-U14S is the company's version of a single tower cooler and utilizes a 140mm fan for more efficiency. It sports a design made to provide the best overall performance while staying clear from the LG-2011 / LGA-2066 slots.
Noctua describes this product as a slim cooler, yet its dense fin collection is 52mm x 150mm (D x W). This design and measurement offer more than necessary heat dissipation surface. Based on Noctua's claims, the cooler can handle over 200W of thermal load, and that's all thanks to its design.
There are six thick heat pipes on the NH-U14S for transferring heat from the cooler's base to its fin array. Each heat pipe expands to either side of the fin array. Also, these extend at different distances from the array's centre. It results in a total of twelve evenly distributed thermal energy transfer lanes from the NH-U14S' base to its fin array.
Its heat pipes are made using copper and are nickel-plated. Its joints are soldered to guarantee heightened mechanical cohesion and thermal transfer. Note that only the bottom portion of the cooler makes contact with the copper processor. The top half section of the base is aluminium, while nickel-plated steel makes up the mounting bracket.
Key Features of the Noctua NH-U14S
Most Recommended Series
The NH-U14S is the first 140mm model under Noctua's most recommended NH-U series. Top global hardware magazines and websites have given it more than 400 awards and recommendations through the years. It's an excellent choice for premium quality CPU coolers that operate quietly.
Fully Compatible on LGA20xx
The NH-U14S features the LGA2011 and LGA2066, which have a 52mm slim design. With that, you won't have problems with placing tall memory modules in your build, since these will be fully compatible. This cooler will not overhang your RAM slots.
Reasonable Size and High Compatibility
With a height of 165mm, the NH-U14S is compact enough for most high-end chassis in today's market. When the fan and its clips are attached, the cooler has a total width of 150mm. These measurements offer better compatibility than tower coolers that are wider than 150mm.
140mm NF-A15 PWM Fan
The NF-A15 is a top-notch silent fan with a round 140mm frame. It complies with Noctua's AAO standard. Its new aerodynamic design measures such as Flow Acceleration Channels improve its cooling performance and quiet operation.
Low Noise Adaptor and PWM Support
You can reduce the maximum fan speed of the NF-A15 from 1500 to 1200 RPM with the Low Noise Adaptor. The fans come with PWM support, allowing you to control speed automatically and conveniently via the mainboard.
Additional Anti-vibration Pads and Fan Clips
The NH-U14S comes with extra anti-vibration pads and fan clips. You can use these accessories for creating a push/pull setup if you want to add another NF-A15 fan.
SecuFirm2 Mounting System
The NH-U14S comes a SecuFirm2 mounting for maximum contact pressure and convenience for every new socket. SecuFirm2 systems provide quality, convenience, as well as safety and it supports a wide range of AMD and Intel sockets.
Next on our Noctua NH-U14S review are the specifications of this CPU cooler.
Specifications
The Noctua NH-U14S is compatible with Intel LGA2066, LGA2011-3 (Square ILM) & LGA2011-0, LGA1156, and LGA1155 sockets. It also works with the LGA1151, LGA1150, AMD AM2, AM2+, AM3+, AM3, FM1, FM2+, FM2. For the AM4 with the NM-AM4-UXS, it requires a backplate for use.
Without fans, Noctua NH-U14S measures 165 x 150 x 52mm (H x W x D) and weighs 770g in total. With fans, the cooler is 165 x 150 x 78mm (H x W x D) and weighs 935g.
The material used for NH-U14S' heat pipes and base are copper, while the cooling fins use aluminium. Other elements include soldered joints and nickel plating.
This cooler is compatible with fans that are 120 x 120 x 25 in measurement. It also works for 140 x 150 x 25 & 140 x 140 x 25 fans with 120mm mounting holes. Plus, the cooler comes with a 6-year warranty from Noctua.
Noctua NH-U14S has an SSO2 fan bearing, and its max rotational speed is 1500 RPM (+/-10%). The maximum rotational speed with LNA (+/-20%) is 1200 RPM, while minimum rotational speed (PWM +/-20%) is only 300 RPM.
For the airflow, maximum amount it reaches is 140.2 m³/h, while it's 115.5 m³/h with LNA. Acoustical noise is at 24.6 dB(A), and with LNA, it's 19.2 dB(A). The input power of Noctua NH-U14S is 1.56W while its Voltage ranges at 12V. Lastly, it has an MTTFF > 150.000 hours.
Hands on with the Noctua NH-U14S
On this part of our Noctua NH-U14S review is where we get hands on with Noctua NH-U14S cooler. Let's begin with its noise levels.
The noise levels of the Noctua NH-U14S amazed us because even under full loads, the fans were barely audible. You'd have to be close to the unit to hear anything. We had to check the readings a couple of times to make sure that we were getting the right rating. It was surprisingly quiet, and we're delighted about it.
When it comes to its thermal performance, the NH-U14S still worked remarkably. We first utilized the single fan setup and saw high efficiency over the other coolers we've tested.
We were able to achieve a temp of 51 degrees with a single fan and 44 degrees when running 2 fans. This is an excellent result and the cooler performed very well.
Overall, the NH-U14S from Noctua is a performer, and it was extremely quiet despite working on heavy loads. We were surprised by the results that we received but were amazed further with its superiority. So, we're rating Noctua NH-U14S with five stars in this Noctua NH-U14S review.
Noctua NH-U14S Review – Summary
The NH-U14S from Noctua is a heatsink that performed exceptionally well. It's a little single-tower heatsink that surpassed our expectations. It even beat some of the high-end devices that we've tested way back.
Its design allows it to fit perfectly, and it won't interfere with taller RAM. To further enhance its cooling, you can purchase the NF-A15 then set it by the rear of the heatsink.
With the extra thick pads included, it provided an adequate balance of acoustics and performance, making it a highly reliable cooler.
To conclude our Noctua NH-U14S review, we'd highly recommend Noctua NH-U14S. If you want to get your hands on it, check out the company's store locator for the nearest dealers.