Our NZXT H710 review will focus on the successor to their earlier H700 PC case. This is the H710, which has an exterior and features that are almost similar to the earlier model.
Today, we're going to focus on discussing any changes and optimisations done to the chassis. Plus, we're looking into its specifications, features, design, and our hands on experience with it.
But before that, let's take a look at the package and contents here in our NZXT H710 review.
NZXT H710 Packaging
This NZXT H710 review won't be complete without us looking into NZXT's package presentation and what they included for us.
We received our matte black H710 in a basic-looking cardboard package. But despite its appearance, the box was sturdy and tough enough to protect the chassis inside.
The name of the PC case and NZXT is written in bold letters on the box's front. So basically, you won't miss out on those.
Below the chassis name are printed texts stating what type of case is inside the box. Other than these details, there's no other interesting information present on the package.
Inside, the NZXT H710 is packed and neatly together with other accessories for installation. We appreciate that NZXT kept things neat and well packaged, so there are no chances of anything getting damaged.
Other than the H710, you'll also find some installation screws, ten cable ties, and a headset audio jack splitter. Specifically, the splitter is a 4-pole to 3-pole type.
NZXT H710 Review – Design and Functionality
Let's now discuss the design and functions of the chassis in our NZXT H710 review.
The H710 may look a bit familiar if you're a fan of NZXT's products. That's because the company sports a common theme for their H-series chassis. But when it comes to its looks and iconic design, everything's the same for these cases.
Even the official site lists their cases as the H-Series refresh, and numbers simply distinguish them. So to put it simply, the original chassis was the H700. The version we're currently focusing on in our review is the H710.
The differences between the cases are the fixes and enhancements for each. Otherwise, the design of these remains the same.
Exterior
First, let's check out the chassis' exterior. For this part, the highlights of the H710 are the tempered-glass side panel and its matte black design.
First, let's talk about the exterior of the H710, specifically its glass side panel. This part is the most visible and compelling change on the chassis. It has a great build, and the steel side panels were tough and fixed to the body.
The side panel does have an extremely secure fit, and we like it this way. This portion hooks at the bottom then snaps right to the plastic sockets on top. Then, it's fastened securely with a captive thumbscrew.
Technically, it's a better solution, and it can take advantage of glass' inflexible nature to decrease the need for screws.
When it comes to the front and top panels of the chassis, it can be closed easily. Plus, you get greatly increased airflow and side ventilation. You'll also get adequately-sized dust filters above the fan mounts which is a great addition to the case.
For the top panel, it's nice that you get a lovely textured finish. It'll give you an extremely clean and stylish appearance.
NZXT also included a USB Type-C to the case, and we think that it's a convenient and awesome addition. The previous dual jacks are now a 4-pole jack, which means you can plug in your smartphone headphones into this.
The rear panel of the case sports a nice solid black panel. Don't worry about not getting enough ventilation because of this design. The edges of the case provide adequate ventilation so the H710 will stay cool even under loads.
The notable changes that were made to the case are the mounting of its panels. The rear panel is tool-free, so you simply need to push a button to unlatch it.
There's also an Aer fan set on the rear that you can readily adjust for a better fit. These will help the AIO coolers in your rig.
You'll find the usual expansion slots below the fan, and you can slip the ATX motherboard here. There are a pair of vertical slots as well, which is ideal if you plan to add a riser cable.
As for the PSU, it mounts along the bottom. However, it's best to remember that it utilises a detachable mounting bracket and can't be installed from the sides.
Interior
The case's PSU shroud allows for adequate amounts of airflow because of the side intakes' punch-hole design. It comes with many cut-outs as well. So, you can readily have the cables pass through vertically.
We did mention that there's a ton of room in this CPU case. So, you can use a huge air cooler with it. It's possible to include a range of mounts in front. The top and back of the case can work for radiators and extra fans too.
If you're opting for custom or AIO liquid cooling, there's more than enough space for this as well. Of course, we do suggest that you check the product page for figures on the exact compatibilities.
With the stock airflow of the H710, we can say that NZXT did a good job with it. You'll find four Aer fans that are pre-installed, where three of these are set in front to provide adequate airflow. For the one positioned in the rear, it'll work as the exhaust to release hot hair from inside the case.
All these are linked to the new Smart Hub, which is set just above the divider of the case. It's technically a fan and lighting controller. Plus, a strip of RGB lights is pre-installed at the top. There's also one between the gap behind the divider that will give subtle lighting from there.
The NZXT H710 features a total of five SSD mounts, which you can easily remove whenever necessary.
Compared to the previous generations, the H710 comes with simple single-piece plastic SSD trays that are more cost-efficient to create. Moreover, they're much easier to utilise, especially the one located on the PSU shroud's side.
There's a detachable HDD cage found at the base, providing you with additional drive mounts if ever you need them. Do note that you can remove these if you need extra room for pumps, cables, and more.
The HDD cage of the H710 comes in a new design that's simpler. It can fit a total of three drives, yet it's only one steel box that doesn't have sleds.
The cage's position in this chassis can be adjusted either forward or backwards. It can move between the front panel and PSU while still having enough space for extra drives.
The cage utilises similar rail spaces as the 3.5-inch drives. With that, you can mount multiple HDDs to the bottom of the H710 even without the cage. Doing this will easily free up more space for cables.
Cable Routing
We greatly appreciate that there's a ton of room present in this case. And with the massive cable routing hole and PSU shroud, there's plenty of room to hide all the excess cables.
We noticed the little cable tie points at the rear portion of the cable management bar. This will allow you to route some LED or fan cables up to the glass side panel without anyone noticing. It's another great improvement from NZXT since the cable management bar is wide enough to tie anything properly.
For the PSU shroud, it comes with a nice passthrough hole. It means you can tuck in cables towards the GPU, instead of having them trail under or over the GPU.
Overall, we have an excellent design for the NZXT H710. You get less visible cables, enhanced airflow, and an entirely neat appearance. Also, there's space for extra cards present, but that all depends on how you utilise the vertical mounts.
Key Features of the NZXT H710
This time, our NZXT H710 review will talk about this PC case's key features. Let's see what makes this product unique compared to other chassis on the market.
State-of-the-Art Design
The H710 features a clean and modern design. With its tempered-glass side panel and convenient cable management bar, you can showcase your build.
Aside from impressive exterior design, it features a USB 2.1 Gen 2- compatible USB Type-C connector. Having this allows you to easily connect the latest smartphones, newest peripherals, and high-speed external storage devices to your PC.
Improvised Cable Management
When building your rig, cable management often consumes more time than assembling your system. NZXT's patented cable routing kit has straps and pre-installed channels, allowing for straightforward and intuitive wiring.
The Excellent PC Case for Most Builds
The H710 is the dream PC case of any builder. It has a lot of room for most builds and offers spaces for installing two 360mm radiators. Also, you can install 120mm or 140mm cooling fans to enhance ventilation.
For storage, it has a 3.5-inch HDD cage that is removable and repositionable and seven 2.5″ drive trays.
With these clearances, building your PC is easier than ever.
Simplified and More Efficient Cooling
The NZXT H710 comes with four Aer F120mm fans for optimal internal airflow. Aside from that, the PC case's front panel and PSU intakes have removable filters.
The reversible and removable top-mounted bracket is designed for radiators measuring up to 360mm. With that, you can enjoy easy installation, whether you use a custom-loop or closed-loop water cooler.
Specifications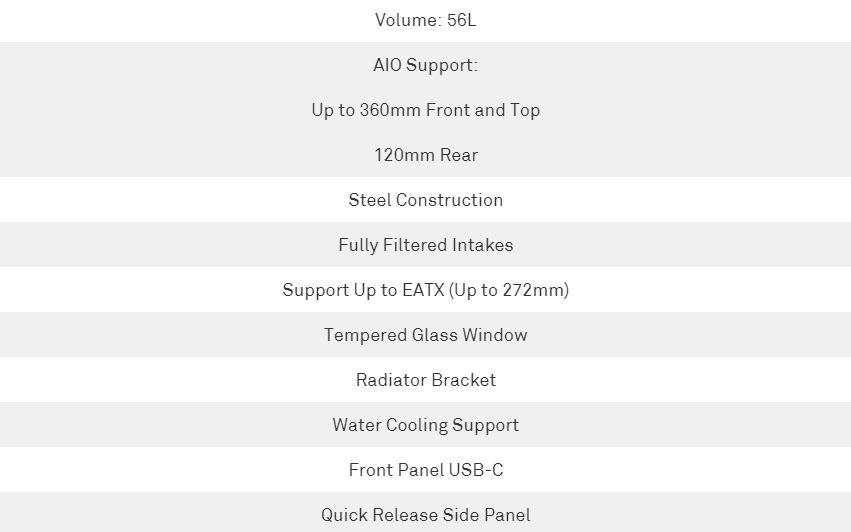 Our NZXT H710 review will now discuss the specifications of this CPU case from NZXT.
The case measures 230 x 516 x 494mm with its feet (W x H x D). It weighs a total of 12.1kg and is made of SGCC steel and tempered glass. For the motherboard you're using, the CPU supports the mini-ITX, EATX, and ATX up to 272mm.
Its front I/O ports include the USB 3.1 Gen 2 type-C and two USB 3.1 Gen 1 type-A. In addition to these, it features a headset audio jack.
When it comes to the front I/O internal header, you'll find a USB 3.1 Gen 2 internal header. There's one USB 3.1 Gen 1 internal header, plus an HD audio header as well.
The H710 has a total of seven expansion slots, seven 2.5″ drive bays, and four 3.5″ drive bays.
The front of this CPU case allows either two 140mm or three 120mm radiators with push/pull features. The top can handle two 140mm or three 120mm radiators, while the rear works with a 120mm radiator.
When it comes to the fan, the chassis' front portion supports three 120mm or two 140mm fans. Though do note that three Aer F120 case versions are included in the package.
The top of the case can handle three 120mm or two 140mm fans. Its rear can go for a 120mm or 140mm fan. Again, there's an Aer F140 case version included in the package, which you can readily utilise for installation.
Speaking of the Aer F120 fans, these have a speed of 1200 ± 200 RPM and 50.42 airflow. CFM noise is at 28 dBA and has a rifle-type bearing.
The Aer F140's speed is 1,000 ± 200 RPM, 68.95 CFM airflow, and noise at 29 dBA. Like the Aer F120 fans, these have a rifle bearing too.
For cable management, the case provides a clearance of 18 to 22mm while GPU clearance is up to 413mm. When it comes to the CPU cooler, it goes up to 185mm.
The NZXT H710's front radiator measures 60mm whereas its top radiator is 30mm. When it comes to its reservoir and pump, it's up to 224mm along its cable bar.
Lastly, we're glad that NZXT included a 2-year warranty for their H710 chassis.
Hands on with the NZXT H710
Now, our NZXT H710 review discusses our hands on experience with this chassis.
First off, we have to say that the chassis looks extremely sleek and classy because of its matte black finish. It's ideal if you're building a rig that has a classy aesthetic. But of course, you can build it pretty much however you want.
When it comes to the task of building systems with the H710, everything was straightforward and easy. It's quite huge for a mid-tower, but we're not complaining about it since it wasn't too big.
Everything fit perfectly, and we didn't have problems moving parts here and there. Plus, the cable routing space was a big plus since everything looked neat and clean once the setup was done.
And with the cooling hub present to take control of the fan speed, checking your casing's cooling is easier. You'll get to monitor temperatures, dBA, RPM, and more directly from the CAM app.
As for the RGB, it helps brighten up the rig nicely. So if you want a great case to display your new hardware, the H710 is your best option.
In terms of cooling performance, this PC case performed excellently. It has four pre-installed fans, so even if they run slowly, these will still produce uniform airflow throughout the case. With that, it will efficiently keep your system's components cool at all times.
The fans in this case are extremely quiet. This quiet performance is surprisingly good, given that it has four fans, which are always in use.
Compared to other PC cases we've tested, this is one of the most efficient in cooling. This isn't unexpected since the case's cooling performance highly relies on the included stock fans, which are great.
Overall, we appreciate the NZXT H710. It was easy to install, and when it comes to cooling, it delivered impressive performance. Installing it was easy, and we were able to keep it organised, thanks to the cable management features.
We didn't experience issues with throttling and overheating even when we tried performing heavy tasks, which is great.
With that, this PC case is a great option if you're looking for aesthetics, easy installation, and excellent cooling.
NZXT H710 Review Summary
NZXT produces high-quality PC cases with solid construction and impressive designs, and the H710 is nothing different.
The company truly takes note of the customers' feedback and makes changes on what needs to be improved. This can be seen in the H710, which is an improved version of the previous H700.
Although pricey, the H710 is a premium case with superior features that are worth paying for. If you're a PC building enthusiast, you'll enjoy its aesthetics, excellent ventilation, and easy setup. Also, it has a lot of room for various components, allowing you to make the most out of your build.
Summing up our NZXT H710 review, this chassis is one of the best cases today, and we highly recommend it. If you want to get your hands on this product, you can find retailers via the company's official website.