The very first turntable was introduced in the late 90s. Back then, it was the hi-fi industry's revolution. Today, we're going to talk about an excellent turntable here in our Pro-Ject Debut Carbon Esprit SB review.
After the arrival of compact discs, and during the "end" of vinyl records, one analogue product re-appeared in the market. This product is something that every audio lover would enjoy and afford.
The Debut Carbon DC Esprit SB is designed to bring about new standards in this category. Its re-appearance is perfectly timed since the analogue is again, becoming a respected source.
But is it as good as its earlier pieces? Does it perform excellently and efficiently? We'll find out here in our Pro-Ject Debut Carbon Esprit SB review. But first, let's look at its packaging and contents.
Pro-Ject Debut Carbon Esprit SB Packaging
This part of our Pro-Ject Debut Carbon Esprit SB review focuses on the packaging and contents of the product.
The Debut Carbon arrived in a simple and clean-looking white cardboard box. It was robust and sturdy enough to protect the turntable inside.
Its box is simple, and you won't find any other information on it. You'll only see Pro-Ject's name and logo at the centre, while audio systems are written beneath it.
Inside, you will find the Debut Carbon Esprit SB set nicely in place. We got a white coloured one, and it looks absolutely brilliant. The company made sure that it's wrapped securely to prevent any damages while in transit.
Pro-Ject Debut Carbon Esprit SB Review – Design and Functionality
In this section of our Pro-Ject Debut Carbon Esprit SB review, we'll talk about the product's functionality and design.
Instead of having an aluminium build, the Esprit SB sports a semi-transparent acrylic body. It's rigid, robust, and also unique.
When it comes to the hardware alone, you'll know that the turntable only means business.
If we had to describe the Debut Carbon Esprit SB with a single word, it'd be elegant. Pro-Ject is one of the few brands that know how to produce a turntable that looks good despite being simple. And it looks incredibly amazing that you'd want to put it on display for everyone to see.
When you're worried about dust, don't. The Esprit SB features a plastic lid that only a couple of "serious" turntables offer. When it comes to its power, it's given by a wall-wart supply.
Its arm base comes with a pair of RCA phono output sockets, plus an earth point. With that, it's easy and quick to upgrade its arm cable. The thing is, its Connect-IT E cable is a smart sample with a transparent casing. It also comes with a twisted pair of wires inside.
Its base is glossy, clean, and filled with wide-open surfaces. And when we think about it, if the speed select switch weren't there, it'd be the cleanest turntable around.
Despite its presence, it still looks stunning. And in terms of size, it's almost the same as other turntables around.
As for build quality, it's incredible, and you definitely get what you pay for. Plus, it has tight tolerance all around which is even better. Overall, it's one of the best-designed and functional turntables in the market.
Key Features of the Pro-Ject Debut Carbon Esprit SB
This time on our Pro-Ject Debut Carbon Esprit SB review, we'll check out the turntable's key features.
8.6″ Carbon Tonearm
The best improvement of the Debut Carbon Esprit SB is the carbon tube included for the tonearm. This adds stiffness and reduces unnecessary resonance.
The material is extensively utilised in high-end tonearms but wasn't used in low priced products to cut the costs. Aside from that, the Debut Carbon Esprit SB also comes with an increased platter size and weight for smoother rotation. As a result, it delivers better audio quality.
Belt Drive Design
The new belt drive design delivers effective motor decoupling with the use of TPE (Thermoplastic Elastomer) damping. It also offers a low noise AC motor and a highly precise frequency.
The TPE isolates the motor's vibration from the casing to prevent the transfer of noise to the cartridge. It also stops transmitting noise to the speakers and amplifier. With that, the turntable delivers impressive performance that you cannot easily find on turntables within the same price range.
Brand-New Integrated Electronic Speed Changer for Precision
The Debut Carbon Esprit SB is a well-executed turntable that allows for easy electronic speed switching. Thanks to its integrated electronic speed changer, pressing once makes the 33.3rpm light flash until it stabilises the speed. Another long press switches it off.
If you move the belt to the larger pulley, you can also set the platter to spin at 78rpm. To do this, you will require changing the cartridge.
2M Red Magnetic Cartridge
This turntable has the Ortofon 2M Red moving magnet cartridge installed in carbon-fibre tonearm's headshell. With this setup, you can run 33 ⅓ and 45rpm records.
DC Power Supply
The Pro-Ject Debut Carbon Esprit SB's AC generator is powered via DC for more stable speed. It also prevents unnecessary vibration.
Heavy and Non-Resonant Acrylic Platter
With the Debut Carbon Esprit SB's full-width acrylic platter, the turntable has more weight and produces less resonance. It also has a beautiful design that is easy to display in your home. Aside from that, you won't have to place it on a mat like what most do with other models.
Because of this feature, its maker calls this model the ideal platform for playback. It's good to note that only three of Pro-Ject's products are made with this type of platter. You can find all of these within the budget range of turntables.
Crafted for True High-Quality Audio
The Debut Carbon Esprit SB's single-piece carbon fibre tonearm is stiffer than the usual aluminium tonearms. It lessens unwanted resonance that colours sound. With the turntable's sturdy MDF chassis resting on shock-absorbent rubber feet, vibration is further reduced.
Improved Isolated Motor
The improved motor dampening utilises Sorbothane for better audio isolation. As a result, the reproduced audio has less background noise while being more revealing and dynamic.
The decoupled motor has a synchronous design that works together with a precise belt drive system. This results in a seamless and high torque drive.
Attention to Detail
The Debut Carbon Esprit SB features a rigid plinth with anti-vibration feet to deliver a solid, tightened sound. With the stainless steel axle and brass bearing housing, the platter hub is excellently engineered and constructed. Because of that, it ensures durability and longevity.
Since the turntable also has the Ortofon cartridge, it's ready to use out of the box.
Get the Best Audio with Ease
Setting up a turntable is challenging for newbies, and Pro-Ject is aware of that fact. This is why the company created the ready-to-use Debut Carbon Esprit SB.
It comes with pre-matched, factory-mounted tonearm and phono cartridge that eliminate the hassle of installation. Aside from that, these optimise audio quality with reduced effort.
You don't have to do a lot for this turntable to deliver detailed and spacious music. Simply dial in key settings such as anti-skating and tracking force, and you're good to go. If you haven't experienced the impressive audio that vinyl offers, then get your hands on the Debut Carbon Esprit SB.
Specifications
This is the part of our Pro-Ject Debut Carbon Esprit SB review that talks about the Esprit SB.
The electronic and manual speed change of the Debut Carbon Esprit SB is 33, 45/78 respectively. It sports a belt drive for its drive principle, a stainless steel mains bearing, and 300mm acrylic platter.
Its wow and flutter is +/- 0.19%, while speed drift is +/1 0.60%. Signal to noise reaches 68dB. For its carbon tonearm, it's 8.6″.
The turntable's arm length is 218.5mm while its mass is 6g. Tracking force is 10-30mN, and power connection is 110/120 or 230/240V – 50/60Hz.
When the lid is closed, the Debut Carbon Esprit SB measures 415 x 118 x 320mm.
Hands on with the Pro-Ject Debut Carbon Esprit SB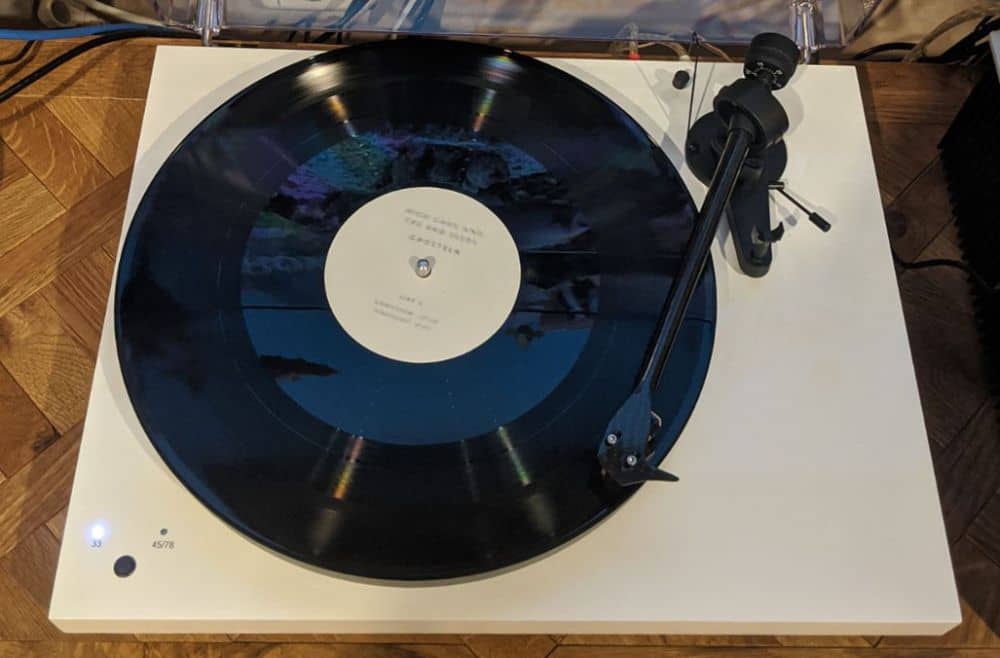 Now, we're getting hands-on with the product on our Pro-Ject Debut Carbon Esprit SB review.
Loading our favourite record then setting the tonearm at the beginning results in pleasurable music listening. For such a model, Pro-Ject Debut Carbon Esprit SB provided us with a kind of performance that's definitely better than its competition.
The turntable delivers great numbers of detail. What's great is that it doesn't focus on any specific elements of the music, so everything blends perfectly.
Timing and dynamics were great. There were also no pops, hums, and other kinds of audio impurities. It was all just pure analogue sounds that were deep, saturated, and wide, throughout the test.
When it comes to the electrical and mechanical aspects, there were no motor noise, hums, and buzzing. Plus, there weren't any of the irritating audible issues that plague some turntables that are available today.
If you want to make this turntable even more amazing, pair it with a Pro-Ject Phono Box S2.
Overall, the Pro-Ject Debut Carbon Esprit SB's audio was excellent which is no surprise as the quality is something we can expect from other products from Pro-Ject. All in all, the Pro-Ject Debut Carbon Esprit SB performed amazingly. It looks great, and it sounds perfect too. With that, we'd definitely recommend it to everyone.
Pro-Ject Debut Carbon Esprit SB Review Summary
The Debut Carbon Esprit SB from Pro-Ject is a smooth and user-friendly turntable. It rendered the flow of music excellently, regardless of the genre. The Debut is the perfect partner if you're someone who likes listening to music while relaxing.
For the price, it delivered a flawless performance, which is why it's an excellent choice for audiophiles today.
Overall, the Pro-Ject Debut Carbon Esprit is a sure winner in the turntable market. It excellently reproduces sounds even without fancy features and functions. Also, it comes at an affordable price, which makes it an even better option.
Since it offers a quality build, high-quality sound, and affordable price, it's capable of going against other expensive units.
To conclude Pro-Ject Debut Carbon Esprit SB review, we were satisfied with this product, and we highly recommend it. If you want to have this product, check out the store locator for authorised sellers.