Today we have this Pwnage StormBreaker Review, focusing on one offering from Pwnage – an industry leader in top-notch gaming peripherals. A few months back, the company released StormBreaker, its ultra-lightweight mouse for gaming incorporated with magnesium alloy.
Experts engineered the mouse to ensure top-notch, quality gaming performance and an Ergonomic shape design. Pwnage also incorporated several notable features to make the mouse one of the best options. But is it as good as claims?
Continue reading this Pwnage StormBreaker Review, then decide whether this product is worth purchasing for your setup. But first, let us start unboxing. 
Pwnage StormBreaker Packaging
We immediately unboxed our mouse to use and test the product. What we have for this review is the olive-coloured version. However, other options are available if you prefer another colour.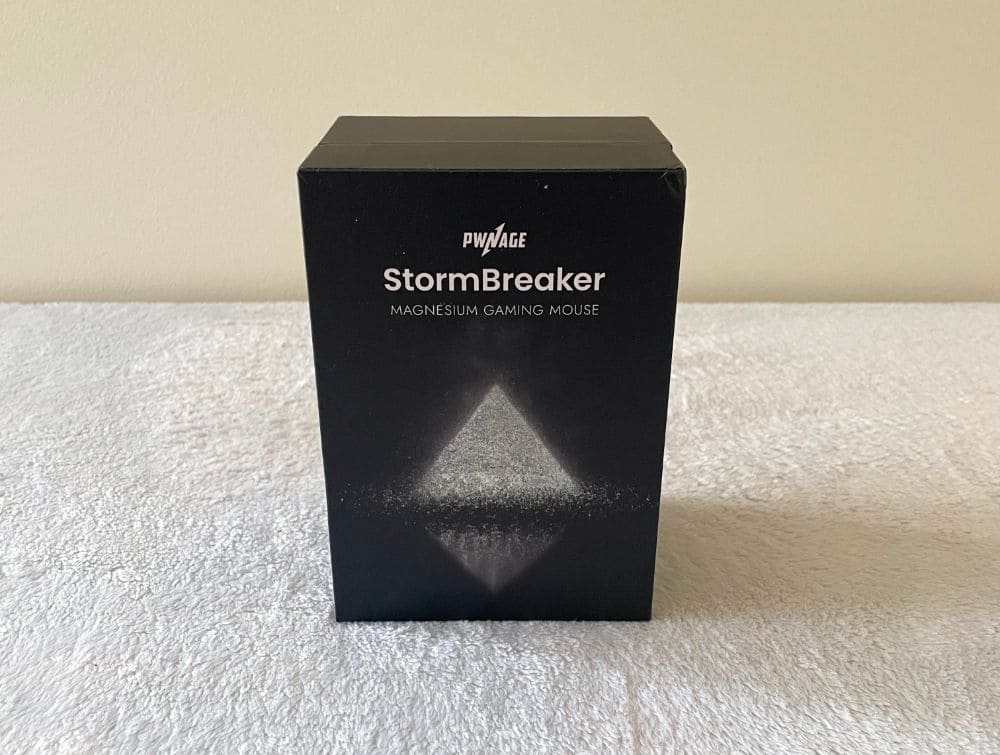 The mouse shipped in a premium-looking all-black box with its name, company branding, and a pyramid-like image on its front. Inside, the StormBreaker ships with the following:
USB-A to C Charging Cable

Adhesive Grip Tape

High-Speed Receiver Pyramid

Screwdriver Keychain

User Documentation
Pwnage StormBreaker Review – Design and Functionality
We noticed the fairly aggressive, rugged visual style when we unboxed the mouse for this Pwnage StormBreaker Review. You will see a narrow triangle plus diamond-shaped cuts on its top shell made from magnesium. It also features embossed motifs on its left and right-click buttons. 
One of the reasons why this mouse is super lightweight at 52g is because of its hole-filled body. It also sports a LED indicator within the product and is visible through its cutouts. When the battery is low, it will immediately flash red to indicate its status. 
The Pwnage StormBreaker boasts an exceptional and cohesive construction. Its upper casing is crafted from magnesium alloy, lending a robust feel, while the lower plate optimises wireless signal integrity. 
You will not find any loose parts that cause rattling sounds on the mouse. Plus, its left/right clicks barely have wobbles. 
Looking under the mouse are four skates on each corner. These are available in glass or PTFE. You will also find more holes in this area with a power switch, laser, and screws. 
However, remember that the alternative glass feet for StormBreaker are not in the package. Instead, you can purchase them separately on the official site of Pwnage. These provide a smoother gliding experience, but they may be too sensitive for some. 
Aside from being lightweight, the mouse is also easy to move around with precision. Its adhesive grips add extra weight to the product when installed. 
We love its weight balance since it is well-centred when the sensor is in its default position. However, it is worth noting that making adjustments can affect its balance.  
Furthermore, its adjustable location is distinct to the company. And it helps users aim and control better in eSports titles such as CS: GO, Valorant, etc.
While testing it for our Pwnage StormBreaker Review, we realised the mouse has a right-handed, Ergonomic shape. This form is ideal for claw or palm grip users with medium or large hands. 
Its buttons are well-positioned for most hand sizes, but if you have smaller hands, it may feel too bulky. 
Also, its narrow cutouts may be uncomfortable to some; however, the included adhesive strips offer more grip.
Key Features of the Pwnage StormBreaker 
Top-quality Magnesium
Experience the efficiency and power of this mouse while having total control at your fingertips. Unlock full aiming potential since the StormBreaker consists of magnesium. It is among the lightest structural materials since it is more lightweight than aluminium, titanium, and steel. 
Light as a Feather 
Unboxing the mouse for this Pwnage StormBreaker Review made us feel how lightweight it is. It has the same weight as other mice. However, the SpeedBreaker offers easier control since it is lighter, faster, and quicker to drag over surfaces. 
Its magnesium chassis lets you enjoy a low-density mouse that is perfect for gaming. 
Premium and Stronger
The mouse is more durable without any flexing, and it is also better than plastic. Its lightweight design and low density make it an excellent option without any compromises. 
It is the lightest Ergonomic gaming mouse on the market, making it a distinct product among its competitors. 
Get Optimised Aim with Customisable Sensor Position
Not everyone has the same optimal sensor position, optimal meaning the lowest error margin during points A to B flicking. Instead of adjusting the StormBreaker, the mouse conforms to your needs to improve and maximise your aiming accuracy. 
Enhanced Accuracy and Aim Control
Pwnage features the newest patented sensor adjustment technology, allowing you to optimise your mouse based on your needs. 
100% PTFE Skates, Replaceable With Glass Skates
The StormBreaker has virgin PTFE skates out of the box. These have custom rounded edges for buttery smooth gliding and excellent movement control. Also, you can replace these with glass skates that Pwnage sells separately.
Carefully Selected and Sorted Omron Switches
Pwnage handpicked and tested the Omron switches on the StormBreaker before and after assembly. As a result, each mouse delivers highly reliable performance with minimal latency. 
The Omron switches have a lifespan of 20 million clicks, guaranteeing long-lasting durability.
PAW 3395 Sensor
The PAW 3395 is an impressive optical sensor with the lowest error rate. Plus, its sensitivity reaches up to 26,000 DPI. Later in our Pwnage StormBreaker Review, we will discuss how well this sensor worked during our tests.
High-Efficiency Lag-Free Wireless
Pwnage built the StormBreaker with the Nordic nrf52840 MCU chip to deliver advanced lag-free wireless performance. It also allows you to enjoy maximised stability and power efficiency.
Wireless Technology for the Next-Generation – 2000 Hz Polling Rate
The StormBreaker offers a 2000 Hz polling rate without double reporting or interpolation, setting a new standard for gaming mice. Unlike mice with the conventional 1000 Hz polling rate, the StormBreaker offers better responsiveness and accuracy for improved gaming experiences. As a result, the mouse can track movements more accurately, allowing faster reaction times.
This polling rate benefits games that require speed and precision, like FPS and strategy games. The mouse also offers enhanced tracking capabilities on high-resolution monitors.
Specifications
Coating Style:

Matte Coating

Dimensions:

122 x  64 x 42mm (HxWxD)

Battery Life:

Up to 120 Hours

Full Recharge:

100% Charge Within Two Hours



Hands-on with the Pwnage StormBreaker
Before we discuss the mouse performance in our Pwnage StormBreaker Review, let us look into its software. Generally, it is straightforward to use since it allows you to customise options like the following: 
Button Programming

CPI

Macro Creation

Motion Sync

Polling Rate

Battery Settings

Lift-off Distance
You can also save your settings to the onboard storage via the software. It means you do not need to run it in the background. Since Pwnage ensured simplicity, the company gave only three menus for customising the mouse. 
Its Main Menu allows you to select buttons on the StormBreaker for remapping. However, it is good to note that the mode is limited to what Pwnage offers. 
The Advanced Settings enables you to set up to eight DPI stages., adjust polling rates, lift-off distance, sleep settings, etc. Lastly, its Macro Menu allows you to set up customised macros, or five on the StormBreaker.
Performance of the Pwnage StormBreaker
The StormBreaker offered impressive raw performance with low and consistent click latency. Its sensor provided superior accuracy and precisely translated our physical motions to cursor movement on the screen. 
This mouse was highly responsive, making it excellent for FPS and games that require quick action. Of course, it also performed well in other genres and was suitable for casual and competitive gaming.
Its sensor had good sensitivity levels, delivering excellent tracking accuracy and latency performance. Our movements registered at the perfect timing, which made it even better.
Thanks to its pronounced steps, the scroll wheel was quiet but precise. It delivered satisfying tactile feedback and did not require much force for actuation.
The StormBreaker was excellent for FPS due to its lightweight design and sturdiness. It was also suitable for MMOs, but the side buttons may not be enough for some users. But despite that, these are programmable via its complementary software.
Although Pwnage did not design it for work purposes, the StormBreaker also performed well. Its side buttons were handy for shortcuts to boost productivity.
Pwnage StormBreaker Review Summary
Pwnage made a unique gaming mouse with the StormBreaker. It is one of the few mice consisting of magnesium, making it highly durable and lightweight. Its most remarkable feature is the adjustable sensor location, allowing you to optimise your experience further.
Aside from the sensor, we noticed its excellent performance in various game genres while testing for our Pwnage StormBreaker Review. Its response time and tracking are ideal in any gaming competition. Also, its long battery life and quick charging feature allow you to enjoy nonstop gaming.
We love the premium design and ergonomics of this mouse. Its shape, size, and lightweight build kept our hands comfortable even after long gaming sessions. Our mouse was a beautiful olive shade, but you can choose from grey, blue, mint, white, black, or red.
We highly recommend this gaming mouse if you want something lightweight and durable with unique features. Visit the official product page of Pwnage for more details about the StormBreaker.