QNAP has been a popular name in the market, and they're known for specializing in NAS or network-attached storage appliances for file sharing, surveillance apps, and storage management. They were all about NAS, thus, they were considered the primary innovators of NAS devices in the industry. But just a couple of months ago, the company introduced their QNAP QSW-308-1C – a 3-port 10G SFP + & 8-port Gigabit Unmanaged Switch. Today, we are going to talk about this device in our QNAP QSW-308-1C Review.
We think that it's an excellent move for the company to release such a product since network switches are one of their fastest-growing and improving areas of expansion.
Today, we're going to focus on this specific switch from QNAP, learn more about the product, and check out its features, specifications, and how well it performs.
QNAP QSW-308-1C Packaging
When it comes to its packaging, we found the QSW-308-1C in a simple-looking and compact cardboard box. It's quite interesting since it's a relatively small switch device, but QNAP was able to pack a ton of excellent features in such a small case, and we sure aren't complaining about it.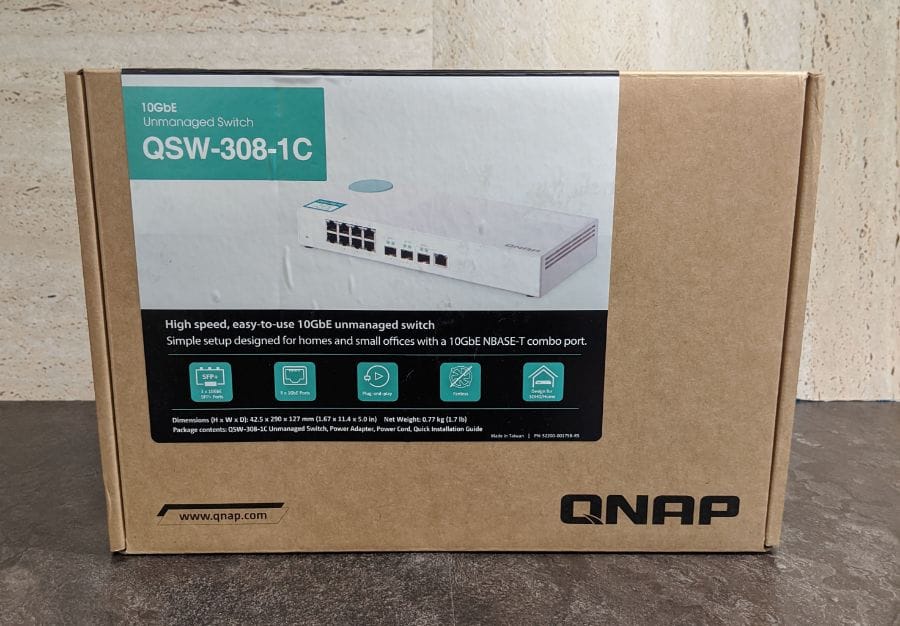 The box displays a boldly-written "QNAP" on the lower-right portion, while the opposite side shows the company's official website. A sticker on the box displays an image of the QSW-308-1C, as well as the unit's name. Below the switch's image, you will find a couple of essential features promoted, which is something very convenient if you want to have quick insights into what the product offers.
Inside, you won't find a lot of accessories included, but we appreciate that QNAP neatly and securely packed each of the items to prevent them from getting damaged while in transit. However, we did notice that there weren't any LAN cables included, but this isn't an issue since the device is relatively cheap, so we already expected this. Other than the QSW-308-1C, other items in the package include the external power supplier, an external power connector, an installation guide, and the quick start guide.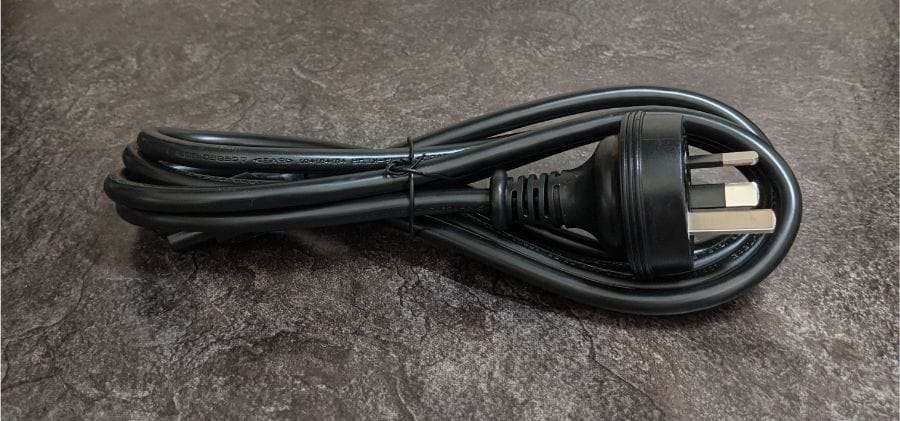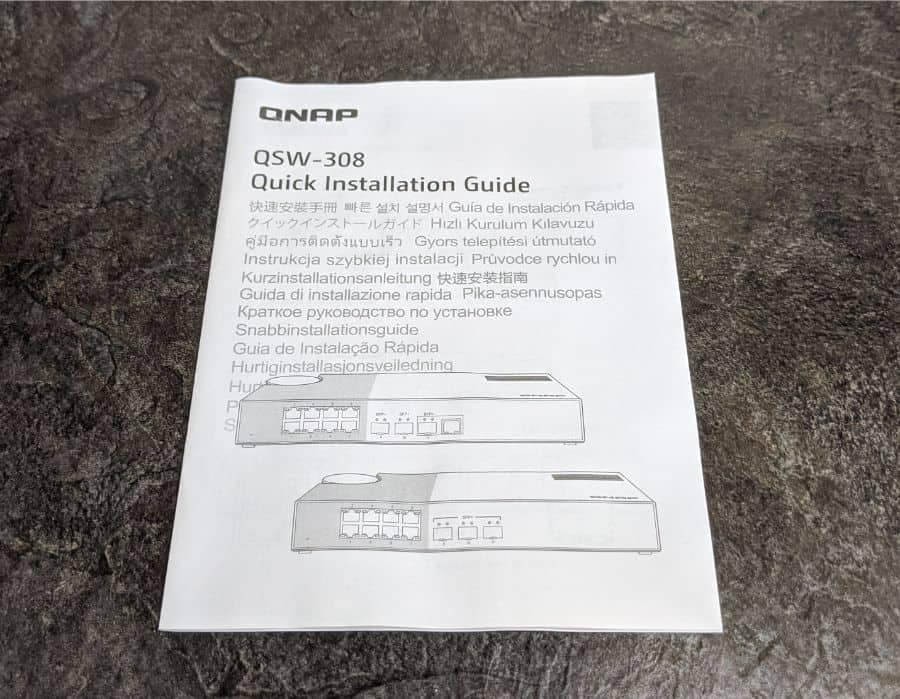 QNAP QSW-308-1C Review – Design & Functionality
As we mentioned earlier, the QSW-308-1C is a 3-port 10G SFP+ and 8-port Gigabit Unmanaged Switch that offers a total of three 10 GbE SFP+ ports with a single 10GbE SFP+ / RJ-45 combination port. In addition to this, it also comes with eight Gigabit ports, which makes it even better.
The QSW-308-1C switch lets you immediately upgrade and enhance to a high-speed network environment at a very economical price. Plus, it efficiently works with the NBASE-T and 10 GbE technologies to back up to five speeds in total, specifically 10G | 5G | 2.5G | 1G | and 100M.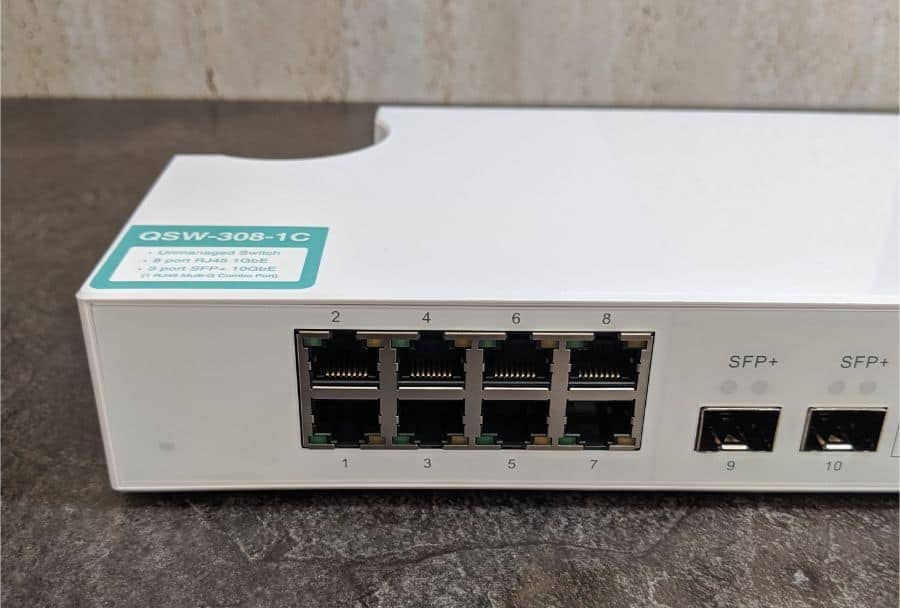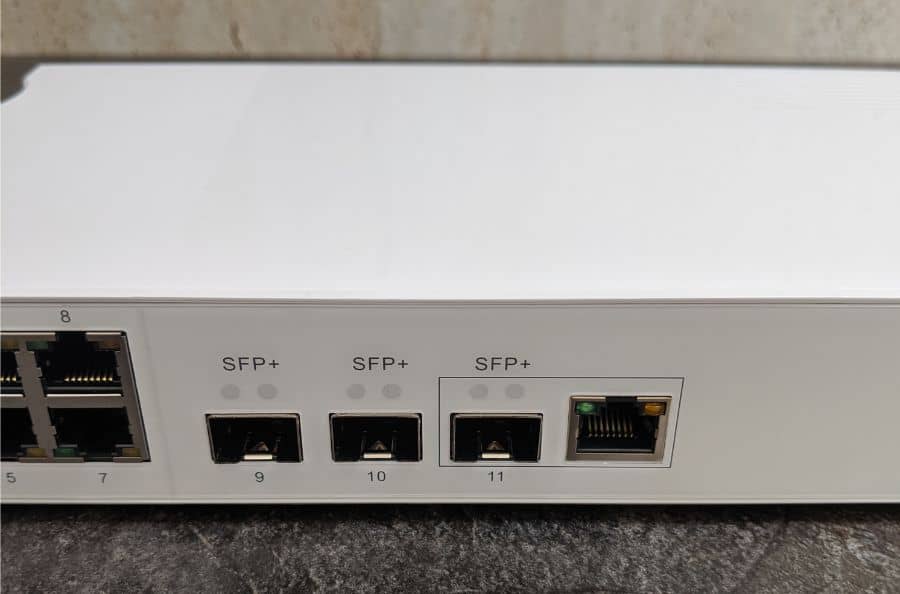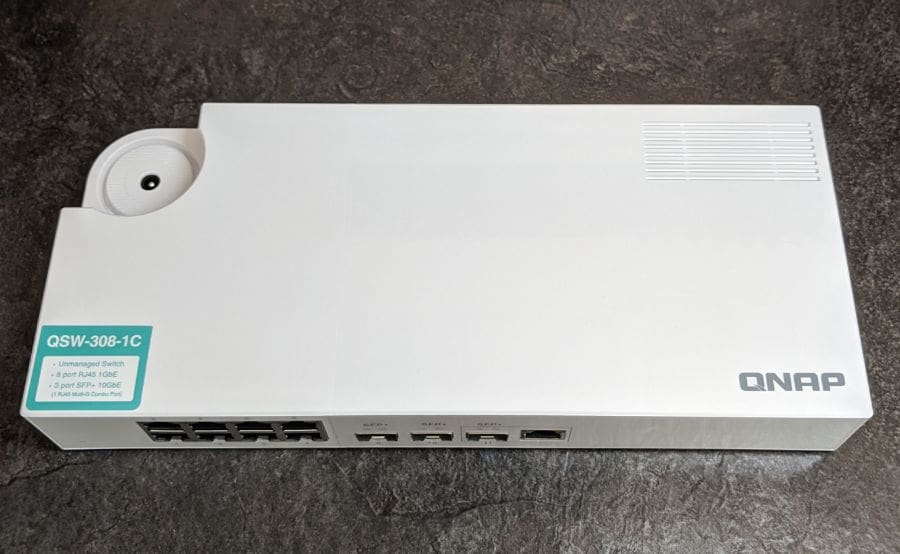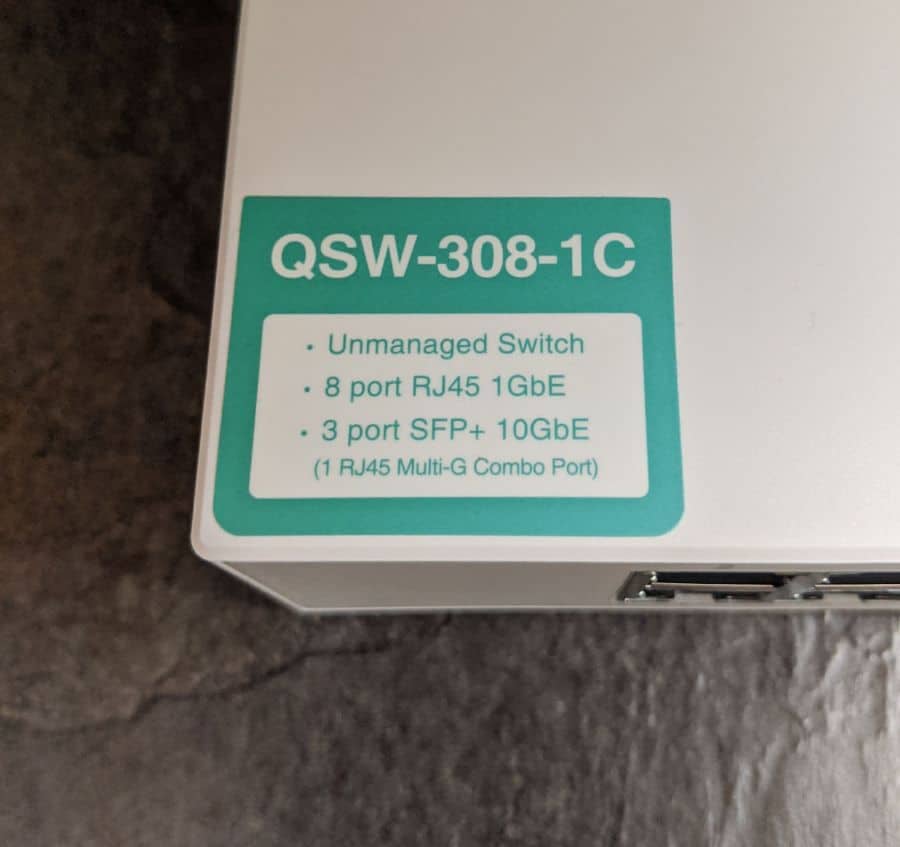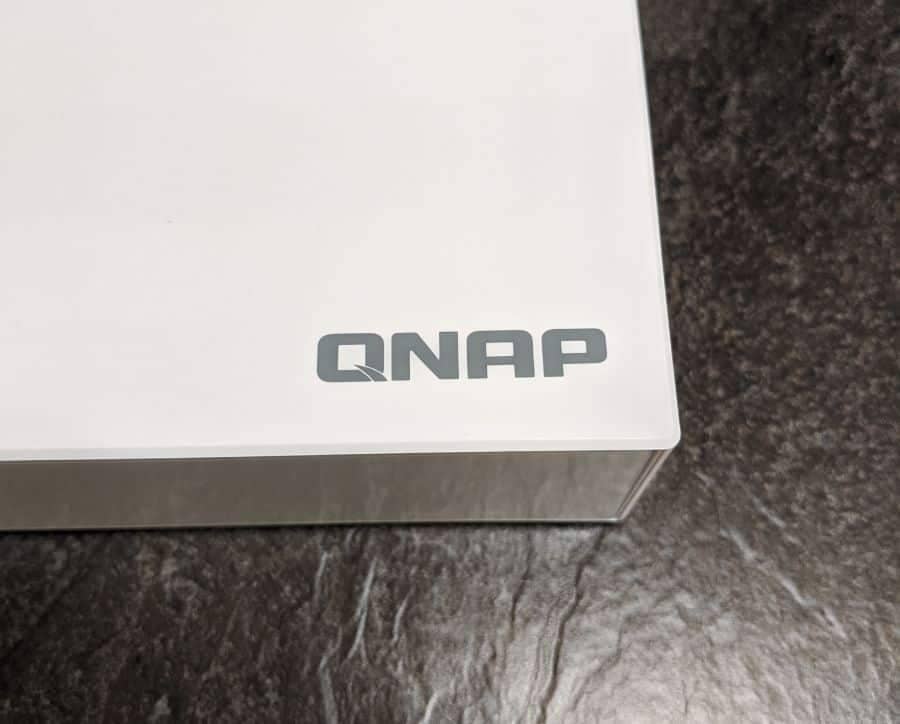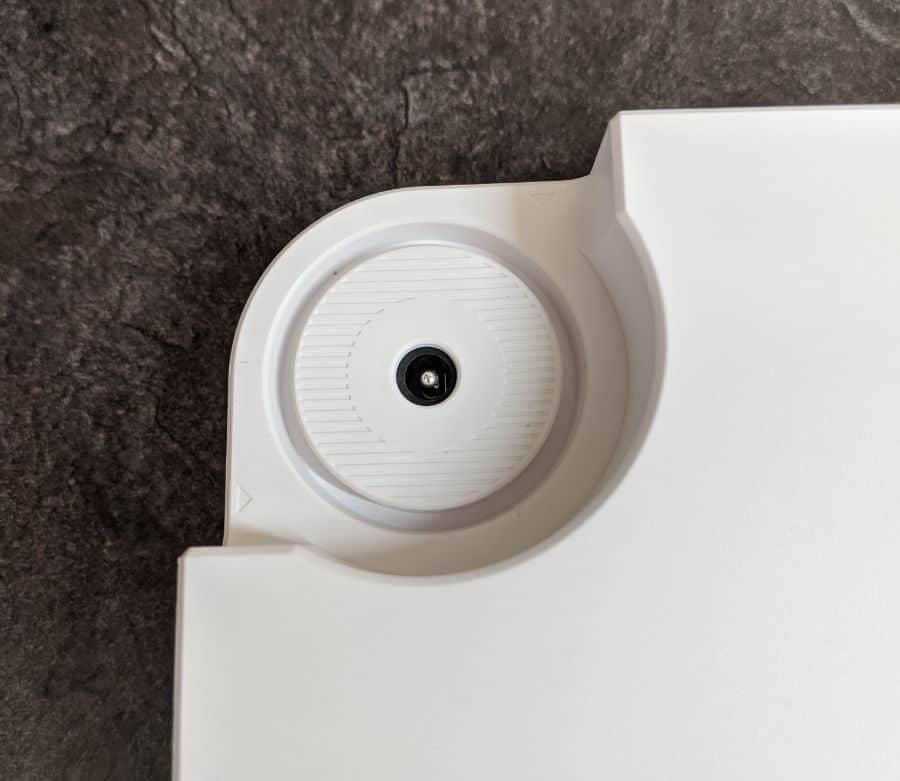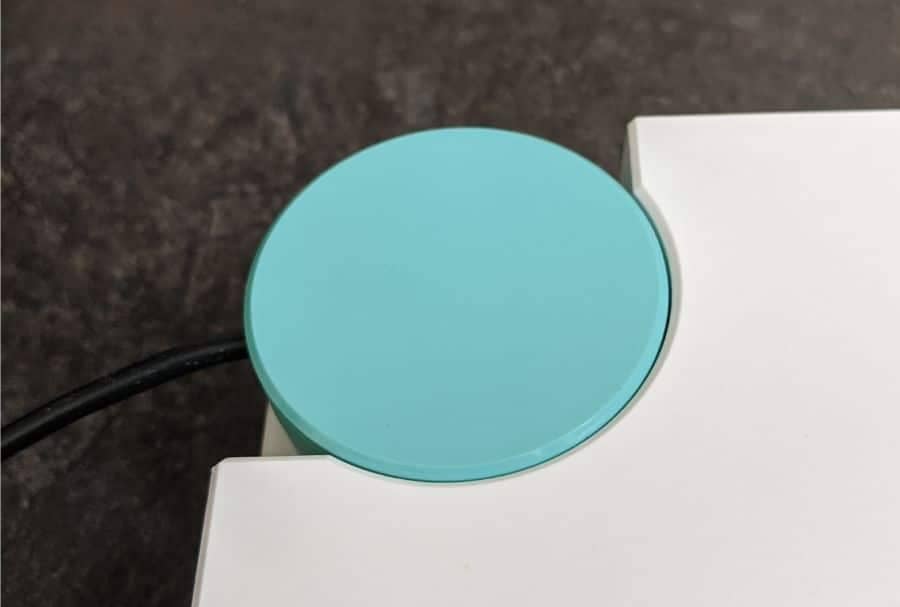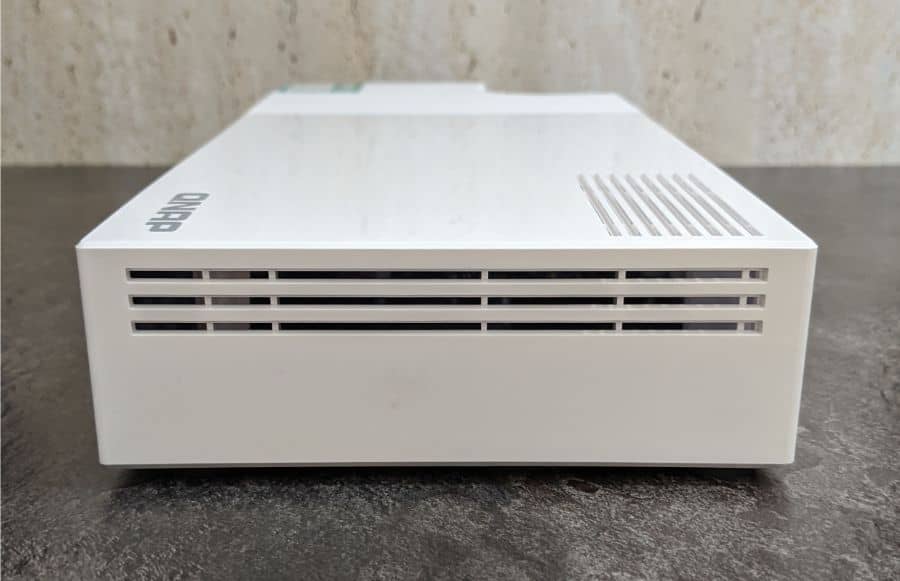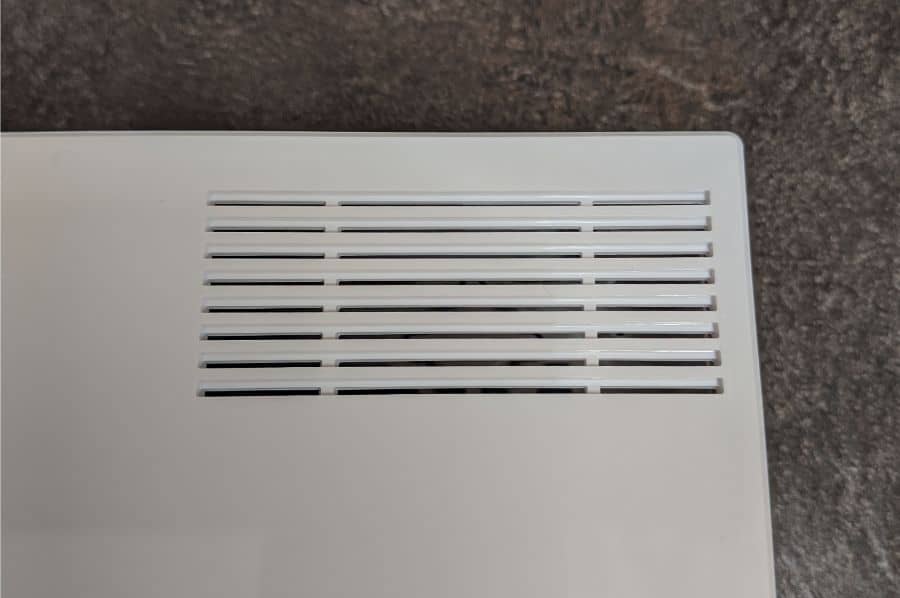 The SFP+ / RJ45 combination port offers enhanced transmission speeds when you utilize these with existing cables. And with the switch's silent operation and desktop size, the QSW-308-1C blends nicely with your home or office's aesthetics while also offering optimized performance, outstanding functionality, and low latency.
What's more, the QSW-308-1C's distinct fanless design, yet with a ventilated construction, gives you extremely silent operations while simultaneously keeping its enhanced performance.
Setting up and configuring the switch is easy, you only need to link the QSW-308-1C to your device, and it will do everything else. The switch backs auto-negotiation for excellent speed, as well as duplex detection when connecting to a variety of devices.
Taking a good look at the QSW-308-1C, we can say that QNAP did an excellent job of putting together all 12 ports in one compact, clean, and premium-looking switch. And since it only measures 42.5 x 290 x 127 millimeters, it sure is a secure device to deploy.
The switch device looks great with any theme you're sporting. Plus, it is perfect for those who have limited space in the area.
The QSW-308-1C is well-built and covered by a simple yet clean-looking white plastic case, and the top of the device is where you can find the rotational PSU point. This device has proper airflow since it features a couple of ventilation points to promote passive cooling and airflow while the switch is in use. If it's your first time using this kind of device, you're probably unaware of the amount of heat a network switch can generate compared to routers offered by an ISP (internet service provider).
The vents allow the heatsinks, as well as the processors built into the QSW-308-1C, to keep an efficient working environment. Without these, the device would be susceptible to damage due to overheating and the like.
It also comes with several processors and controllers that work simultaneously to retain high speeds despite the device's unmanaged nature. Even with the fanless design, the multiple ventilation areas on different sides of the QSW-308-1C guarantees passive airflow to keep the internal temperatures at bay.
We also liked that it features rubberized feet to help stabilize the device. But the most critical use of these is for elevating the device from a flat surface. It helps guarantee proper heat dissipation from underneath while the QSW-308-1C works.
The front area of the switch comes with a ton of indicators and ports, and each of its network ports has twin LED lights that stand for network traffic and active connections.
Standard connections that you'll find on the QSW-308-1C include the copper RJ-45 10 GbE connectivity. You'll find this on the left portion of the switch, and they serve as a means for seamlessly exchanging data packets on your network environment. Since it's an unmanaged switch, you won't be able to access a back-end setup through an application, or a browser-based UI for aspects like adaptable port priorities and port-trunking. You're also going to see the 10 Gigabit Ethernet SFP+ next to the RJ-45 ports.
Key Features
This switch device from QNAP may be compact, but the company integrated it with a ton of notable elements that make it a very efficient product. Let's learn more about its key features in this part of our QNAP QSW-308-1C review.
Responsive Deployment with 10G SFP+ Fiber & Gigabit Ports
The QSW-308-1C conveniently gives you three 10 GbE SFP+ ports, as well as eight Gigabit ports. These are essential for linking a variety of products to allow a hybrid high-speed network in your home and office.
With the SFP+ interface, the DAC or direct attach copper cables are perfect for directly linking to SFP+ devices. You can also utilize 10G SFP-T copper transceiver modules to connect the 10 GBASE-T / NBASE-T devices via the RJ-45 category 5, 6, or 5e cabling. The exchange capacity of the switch is 76 Gbps, ensuring maximum potential for each of the available ports.
Increased Speeds via Existing Cables with 10GBASE-T & NBASE-T
The switch is suitable with the NBASE-T and 10 GbE technologies, allowing support for up to five different speeds: 10G | 2.5G | 5G | 1G | and 100M. Its copper combo port provides optimal transmission speed with current cables. And depending on the type of cables and their length, you'll receive different numbers of speed for a speedier and more efficient data transfer.
Improve your productivity with a 10GbE-enabled QNAP NAS
A lot of NAS devices from QNAP are 10GbE ready, and you can immediately upgrade with a 10GbE network adapter. QNAP's NAS also comes with 10GbE SFP+ and 10GBASE-T for supporting high-speed networks, so it can work with IOPS-demanding apps, including databases, high-resolution video editing, virtualization, and sharing workflows.
Easy Building of a High-Speed Network with QNAP's Network Adapters and Expansion Cards
QNAP offers a wide variety of network devices that help home and business users in upgrading their network infrastructure to meet their higher bandwidth needs. You can use any of QNAP's 10 GbE network expansion cards, USB 3.0 to 5GbE network adapters, and Thunderbolt 3 to 10 GbE network adapters with the QSW-308-1C to build a comprehensive high-speed network environment. With these devices, you can boost the performance of virtualization, large file transfers, photo, and video editing, as well as other demanding tasks that require high bandwidth.
Cool and Noise-Free Operation
The QSW-308-1C's design is fanless to prevent noise during operation. Instead of fans, it features a ventilated construction to keep the switch cool while maintaining its top-notch performance.
Desktop Size for Home and Office Use
The QNAP QSW-308-1C features a modern and compact design that fits perfectly next to your other devices. It's a great addition to your current digital home or office. Its white polished surface allows for quick identification of each port, and it comes with a flexible DC power connector that helps in universally deploying the switch.
Cost-Efficient Cross Connectivity for Every Platform
The QSW-308-1C comes with combo support that lets you link a 10 Gbe SFP+ connection and a 10 Gbe RJ-45 connection. This feature will allow both of the ports to share the same network environment without causing any issues.
Specifications
In this part of our QNAP QSW-308-1C review, we will talk about the switch's specs.
The QNAP QSW-308-1C is a fanless switch device that features 10k jumbo frames and a Class B UL-62368 electromagnetic compliance. Also, the switch comes with CE, VCCI, FCC, and BSMI RCM certifications.
It has 5 ~ 95% non-condensing relative humidity, and an operating temperature that ranges from 0 to 40-degrees Celsius (32 ~ 104-degrees Fahrenheit).
The fanless QNAP QSW-308-1C sports a desktop form factor with the IEEE 802.3 Ethernet, IEEE 802.3u 100 BASE-TX, IEEE 802.3 ab 1,000 BASE-T, IEEE 802.3an 10 GBASE-T, IEEE 802.3bz 2.5G / 5G BASE-T multi-gig Ethernet standards. This switch comes with a total of 11 ports and has a switching capacity of 76 Gbps. Its total non-blocking throughput reaches 38 Gbps with a 16K MAC address table.
Furthermore, the QSW-308-1C has an AC input power type, and an input voltage that ranges from 100 – 240V AC | 50 / 60 Hz, and the device consumes a total of 36 Watts of power.
The QSW-308-1C also comes with a total of eight 1 GbE (RJ-45), a 10 GbE SFP+ / RJ-45 combo port, and two 10 GbE SFP+. It measures 42.5 x 290 x 127 millimeters, and weighs a total of 1.19 kilograms (gross) | 0.77 kilograms(net).
Lastly, the QSW-308-1C is supported by the company's 2-year warranty for convenience.
Hands-on with the QNAP QSW-308-1C
Of course, we tried and tested the QSW-308-1C, to see if it worked as efficiently as QNAP claimed. With our tests, we'll be able to share our experience in our QNAP QSW-308-1C review for you to know if this device is for you. First, we were able to connect a variety of devices in the office easily. It was all thanks to the available SFP+ ports and Gigabit ports on the switch.
It didn't fail us when it comes to speed since the QSW-308-1C delivered and gave us notably fast speeds and excellent data transfer. Aside from that, it performed quietly, as the company claims. Even without fans, the switch remained cool, thanks to its ventilation. It continued to deliver fast speeds, and as a result, we were able to run demanding apps and edit photos & videos smoothly. Transferring our largest files also didn't become a problem while we were using the switch. While operating quietly and staying cool, its speed remained high during data transfers.
Overall, the QNAP QSW-308-1C delivered excellent performance, and we didn't experience any issues with it, so we're giving this QNAP QSW-308-1C two thumbs up for its efficiency.
QNAP QSW-308-1C Review Summary
QNAP offers a wide range of devices to enhance your network's speed, and the QSW-308-1C is one of these. It's an unmanaged switch that provides aesthetics and great performance for an affordable price.
Although it's not the perfect device for everyone, the QNAP QSW-308-1C was able to deliver the performance we expected, and it lived up to the company's claims. For a low price tag, it provides high levels of performance that is excellent for users who want to upgrade their network to the next level without spending a fortune.
The QSW-308-1C is an excellent device for users who want to level up from Gigabit Ethernet to multi-Gigabit environments and move with 2.5G, 5G, and 10Gb. As we end our QNAP QSW-308-1C Review, we can say that this is an efficient and affordable choice if you're looking for a fast and straightforward way to upgrade your network. If you work with regular day-to-day data or create content as a Youtuber, we highly recommend the QNAP QSW-308-1C.
If you want to have the QNAP QSW-308-1C, check out the store locator on the company's official website to see the stores where you can buy this.