Today, we have our QNAP TS-1655 Review, which discusses everything about the TS-1655. This NAS sports a tower form factor that can handle 12 3.5-inch HDs. Plus, it can hold four 2.5-inch SSDs. 
The product has a hybrid storage architecture and features several noteworthy aspects like PCIe expansion, 8-core computing power, etc. The TS-1655 is ideal in business environments and for collaboration, file sharing, disaster recovery, and much more.
Continue reading our QNAP TS-1655 Review to learn more about this large-capacity NAS. Aside from its features, functions, design, specs, and performance, we will also look into the software it can use. 
But before looking deeper into the product, let us check its packaging and included items.
QNAP TS-1655 Packaging
The TS-1655 arrived in the standard QNAP cardboard package with the company branding and a sticker label with product details. Inside the box, you will find the NAS with additional items and accessories, which include the following:
Ethernet cable

Power cord

Drive tray keys

x36 Flat head screw  (for 3.5-inch HDD)

x36 Flat head screw x (for 2.5-inch HDD)

Quick installation guide
QNAP TS-1655 Review – Design and Functionality
Before looking deeper into the product, our QNAP TS-1655 Review will focus on the design and functions of the NAS. Like the other 16-bay storages, the TS-1655 has a finely-built exterior thanks to the sturdy steel cover and chassis. 
Its LFF and SFF bays utilise plastic carriers that are tool-free and hot-swappable. These can lock via the supplied key. 
Behind the NAS are a pair of installed 2.5GbE multi-Gigabit data ports. However, note that the TS-1655 is the first in this series that does not feature 10GbE ports. But despite this, it provides us with three spare PCIe slots for adding additional network adapters. 
QNAP offers an eye-catching selection of 10GbE and 25GbE cards you can choose from. 
While writing our QNAP TS-1655 Review, we also saw that removing the lid shows the motherboard on the right-hand portion. Moreover, you will also find the large heatsink of the CPU, which goes together with a dual-fan blower module. 
The case has three more 9cm diameter fans along the rear. Interestingly, the product is pleasingly silent, making it a huge plus. 
Key Features of the QNAP TS-1655
In this part of our QNAP TS-1655 Review, we will discuss the features of this NAS. Knowing what these are will help determine if what the TS-1655 offers is enough for your needs. 
Multi-version Snapshots Prevent Ransomware Threats
Using multi-version snapshots effectively addresses the risks posed by ransomware. 
The TS-1655 offers the capability of block-based snapshots, which captures the system condition at any given time. This feature is crucial in safeguarding data, allowing easy restoration to a specific moment. This feature helps significantly reduce the impact of ransomware threats.
The QNAP TS-1655 for Cost-efficient and Faster 2.5GbE That Meets High Bandwidth Requirements
The NAS has two native 2.5GbE RJ45 LAN ports that are backwards compatible with 1G/100M). It boosts network speeds from 1GB to 2.5GB via Cat 5e cables. 
Failover support and port trunking better assist bandwidth and reliability-demanding tasks. These include large file transfers, virtualisation, high-speed restoration/backup, and real-time applications. 
The company also provides several managed/unmanaged 2.5GbE/10GbE switches. These assist organisations in carrying out secure, high-speed, and scalable network environments without spending too much. 
Accelerated AI-Powered Image Recognition and M.2 Slots for SSD Caching
It has two M.2 PCIe Gen 3 slots for installing NVMe PCIe Gen 3 SSDs with 2280 form factors. The features also allow you to install Edge TPU (sold separately) to enhance NAS performance.
Greater I/O Capabilities with PCIe Expansion with the QNAP TS-1655 
With three PCIe Gen 3 x4 slots, you can install several expansion cards for optimised application potential.
2.5GbE Direct Connectivity for up to 14 PC and Workstations
For a high-speed productivity and environment boost, the NAS offers two 2.5GbE ports for your needs. By installing the three 4-port PCIe cards, the TS-1655 can immediately link up to 14 workstations/PCs without any switches.
Overall, this feature allows for faster large file backup/transfers, video editing, etc. 
Comprehensive Backup + Disaster Recovery Solution
The NAS supports different apps that can handle all your backup needs. Follow safe IT habits by always backing up your files and content, so you can easily restore them when necessary. 
File Storage and Collaboration Centre 
The TS-1655 utilises rich apps for managing, storing, syncing, searching, and archiving your files. It supports AFPT, SMB/CIFS, and NFS protocols for centralised file sharing across Mac, Windows, and Linux/UNIX. Additionally, it offers one of the most intelligent NAS solutions to professionally manage and organise your files.
Establish an Affordable Fibre Channel SAN Environment with the QNAP TS-1655
Standard Fibre Channel Storage Area Networks or SAN devices are costly. However, installing the QNAP dual-port 16Gb Fibre Channel expansion card to the TS-1655 will give you cheaper options. You can add a NAS to the SAN environment without trouble from there.
You can also set up a Fibre Channel Target via the iSCSI and Fibre Channel app. In addition, the LUN Masking and the Port Binding features offer increased data security.
24/7 Security with Outstanding Surveillance Solution 
QVR Elite, the subscription-based surveillance solution, allows the convenient building of a surveillance system with higher scalability and lower TCO. It saves recordings as MP4 files to enable playback on most devices.
By integrating AI-based solutions, QVR Elite can build facial recognition. The system allows arranging an independent dedicated storage space for surveillance on the TS-1655. Plus, it offers live camera viewing and playback plus simple camera management.
Flexible and Economical Storage Expansion
QNAP offers the best ways to expand storage capacity to accommodate business growth and more data. These include attaching QNAP expansion enclosures, mounting remote cloud/file servers, upgrading RAID capacity, and migrating to a new NAS.
Health Checking of Hard Drives
Hard drives are the core of your NAS, so you must ensure their future-proof health and reliability. QNAP provides multiple tools and methods to aid in monitoring hard drive health. The company also ensures that you take proactive decisions to keep your files and data safe and protected.
Extend the Warranty of the QNAP TS-1655 up to Five Years
The TS-1655 has a limited three-year warranty without additional charges. However, you can purchase an extension to prolong your coverage up to five years.
Our QNAP TS-1655 Review will also discuss the NAS specifications to help you determine if it meets your requirements.
Specifications
CPU:

Intel Atom C5125 8-core processor (2.8GHz)

CPU Architecture:

64-bit x86

Floating Point Unit and Encryption Engine:

Yes

System Memory:

8GB UDIMM DDR5 (1×8 GB)

Memory Slot:

4x U-DIMM DDR4 Support, ECC memory

Flash Memory:

5GB (Dual boot OS protection)

Maximum Memory:

128GB (4 x 32 GB)

Drive Bay:

12×3.5-inch + 4×2.5-inch SATA 6GB/s and 3GB/s

2.5 Gigabit Ethernet Ports

: 2x (2.5G/1G/100M/10M)

M.2 Slot:

2x M.2 2280 PCIe Gen3 x2 slots

Form Factor:

Tower

USB 3.2 Gen 1 ports:

4x

Dimensions (HxWxD):

29.4 × 37 × 32cm

Weight

: 13.15kg

CPU Fan:

2x 97mm, 12VDC

System Fan:

3x 92mm, 12VDC 
Hands-on with the QNAP TS-1655 
This section of our QNAP TS-1655 Review focuses on the performance of the TS-1655. We put it through several tests to see how it fares. But before we share our experience with it, we will discuss 
QVR Pro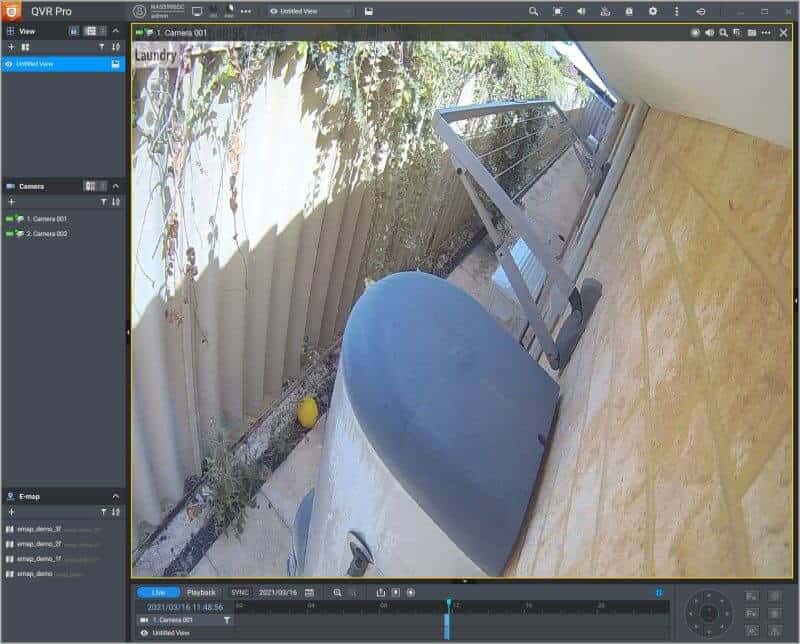 Some time ago, the QVE Pro only gave us event recordings and notifications. These were also only for expensive cameras integrated with motion detection. 
Fortunately, QVR Pro now provides motion detection even for the more budget-friendly USB webcams and cameras. This feature is possible if the cameras/webcams stream footage to the QVR Pro. 
The software lets you establish a secure and improved surveillance system for your office and home environments. The good thing is you can have these on an affordable budget. 
QVR Pro offers comprehensive support for all mainstream fisheye cameras in the market. It incorporates advanced Qdewarp technology to rectify distorted portions of captured images and render them in accurate proportions. 
Moreover, QVR Pro boasts cutting-edge capabilities. An example is the simultaneous viewing of a single fisheye camera feed from nine distinct angles across various channels.
Additionally, it leverages cross-platform hardware-accelerated decoding specifically designed for fisheye camera imagery. With its commitment to superior surveillance performance, QVR Pro delivers enhanced security while ensuring flexible deployment options.
You can install the QVR Pro software on Windows and Mac devices. Or, you can have it in the QNAP HDS Station on your NAS. Doing so will allow you to monitor and observe via different platforms. Then, you can flexibly shift from live view/playback mode for full control over your monitored spot. 
QVR Pro Client Live View and Playback
The QVR Pro Client offers an exceptional live viewing and playback experience, enhanced by a custom display panel. Every ratio can be adjusted, allowing you to arrange the display according to your unique surveillance requirements. 
Moreover, the built-in display module caters to diverse surveillance needs.
Effortlessly monitor the live view of multiple channels and seamlessly access recordings through a unified interface. You can switch between live viewing, individual playback, and sync playback modes with a click. You have two convenient options to access specific moments. One is to click on the intuitive timeline, and the other is to choose a desired time range.
The Region of Interest (ROI) feature receives optimisations in the latest update. Now, you can leverage this feature during live viewing and playback modes, supporting multiple regional images from the same camera. 
Without any limitations or the need for additional licenses, you can easily define and enlarge multiple areas of interest. You can do this on the comprehensive overview image.
Enjoy an unparalleled surveillance experience with the QVR Pro Client. Here, live viewing and playback functionalities are seamlessly integrated. With that, customisation options empower you to optimise your surveillance workflow.
Efficient Management of Recording Space Flexibility
Allocate the storage capacity, then designate exclusive storage spots. These are for each recorded camera footage arranged according to the monitoring range and significance. 
Moreover, you can establish specific minimum/maximum recording durations for each camera. You can do it while accessing a comprehensive overview of recording space utilisation. 
Qdewarp Technology
This innovative technology lets you see standard fisheye camera recordings in corresponding sizes and ratios. The best part is it does not affect your original recordings. 
Distorted portions on the edges can be shifted into excellent panoramic views. 
Multiple Notification Methods
The software allows for multiple notification processes. It offers numerous ways of getting informed of emerging events, like alert buzzers, flashing red channel borders, and motion icons. You can find the latter on the e-map.  
Designate System Resources for Event Recordings
The software allows you to assign individual streaming resources while distributing dedicated storage spaces for events and general recordings. It guarantees that vital events have more available system resources. 
An example is recording events to SSDs that ensure read/write performance to boost event alerts. In turn, it will decrease your response times.  
Failover Recording Area for Non-stop Recording
Here, you can set up a spare volume in the recording area of your recordings. 
These will be saved on the spare volume if its original volume fails. 
Abundant Capacity for Long-term Archiving
The optimised scalability of the QNAP NAS offers key benefits to the QVR Pro. If you're running low on recording space, do not fret. You can expand the storage capacity by linking expansion enclosures to the NAS. 
If not, you can use the VJBOD of QNAP to utilise unused storage space of another QNAP NAS. 
Container Station
Container Station influences the efficient hardware of the TS-1655 to deploy the best storage environment and Docker container. It happens while ensuring availability and security. 
More Convenient Settings
Previously, you could only repeatedly input frequently-used commands during container changes. With Container Station 3.0, you can include frequently-used commands and apply them directly. 
Moreover, it also alters online configurations and updates by recreating stopped/running containers. Also, it supports numerous network modes and VLAN for adaptable deployment. Moreover, you can upload images via PC or NAS to the Container Station. 
Deploy K3s Simulation Environment with the QNAP TS-1655
It is said that about 85% of organisations worldwide will have containerised apps running in their environment by the year 2025. There is a growing popularity of containers and an increasing number of deployed apps. With that, your NAS can deploy single-node K3s development to test before shifting to the cloud. 
The service is not only free, but it also offers more powerful hardware.
Low-cost, Rapid Distribution for Various App Scenarios
More than 100,000 apps are available from the integrated Docker Hub/LXD/Kata Image Server Registry. In addition, you can select from web servers, databases, programming languages, and development suites. From there, install these seamlessly like applications on a Smartphone. 
Alternatively, utilise a Linux container to work with multiple apps. These make the Container Station an excellent option to meet the needs of developers, various sectors, and the community (Linux). 
Virtualisation Station
This software is one powerful and useful hypervisor on your NAS that lets you establish a cost-efficient virtualisation environment. It supports plenty of resource management and boosts functions, offering an affordable virtualisation platform with outstanding performance.
On your TS-1655, you can run numerous virtual machines with Linux, QuTScloud, and Windows operating systems. Moreover, you can even download them immediately and then utilise virtual appliances via VM Marketplace. 
Overall, the Virtualisation Station provides disaster recovery tools to safeguard against data loss. You can go for one-time/scheduled tasks, local/remote backups, etc. 
Enhance Virtual Machine Performance with Hardware Acceleration
Choose QNAP NAS and device support going through hardware resources to the virtual machines. Doing so can strengthen the capabilities and performance of the VM.
Flexibly Manage Resources with the QNAP TS-1655 to Boost VM Usability
You will find a couple of resource allocation settings in the Virtualisation Station. Use them whenever necessary to keep VM machines working at optimal reliability and efficiency. 
Run QuTScloud on Virtualisation Station To Get a Multitenant QNAP TS-1655
The QuTScloud is a virtual NAS based on the QTS operating system of QNAP. Its benefits include budget flexibility, resource elasticity, and more. 
Workgroups and enterprises can set up the QuTScloud as VMs in current on-premises data centres. Deploy the QuTScloud with the Virtualisation Station to shift a NAS into a multitenant environment. It is excellent since it is space-saving, cost-efficient, and flexible. 
Hybrid Backup Sync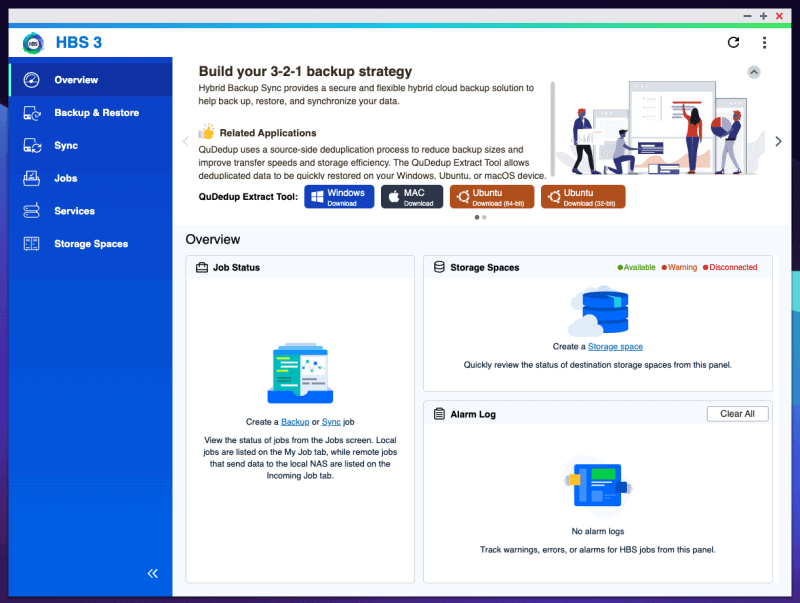 Another software for the TS-1655 is Hybrid Backup Sync which performs everything. It does recovery, backup, and sync data to/from cloud services, local storage, or remote servers. These use Rsync, FTP, CIFS/SMBm, RTRR, WebDAV, and more. 
Create a sync/backup job in three easy steps. Plus, its settings are flexible, including choosing source and destination folders, detailed rules, and backup schedules. 
Hybrid Backup Sync for Completing a 3-2-1 Backup Plan
This feature is the primary way to guarantee data safety, and the Hybrid Backup Sync makes things simple. All you need to do is schedule the backup jobs, and it does the rest.
Easily Recover Data with the QNAP TS-1655 
Data recovery is easy and quick with an efficient web GUI that allows you to minimise service downtime when disasters strike.
Lessen Overall Data Size with QuDedup
QuDedup is a unique QNAP innovation supporting encryption and block-level data deduplication from the source, decreasing backup data size. By completing recovery/backup jobs faster with optimised bandwidth, QuDedup reduces the backup size by around 75%.
You can backup Deduped, compressed or encrypted data to a NAS. From there, remote server/cloud storage, QENC Decrypter, or QuDedup Extract Tool allows recovery via Ubuntu, Windows, or macOS. 
TCP BBR for Increased Transfer Speeds
Supporting the TCP BBR algorithm for congestion management is possible. By doing so, businesses using hybrid storage can back up/sync their NAS-based data to the cloud with increased transfer speeds.
Relink Function During Cloud Seeding
For first-time massive cloud file migration, hardware from cloud service providers can be utilised to immediately transfer terabytes of data. The Hybrid Backup Sync gives us a relink function to build a connection between the on-premises original and cloud copy. It means you can continue gradual sync or backup tasks. 
QNAP TS-1655 Review Summary
The TS-1655 is a reliable multi-functional NAS that meets the needs of businesses. This excellent storage system has advanced safety features, file-sharing functions, backup capabilities, and centralised management. 
SMBs looking for the most expansive NAS product should consider the TS-1655. Its massive capacity makes it excellent for various tasks like backups, disaster recovery, and surveillance recording. Plus, it offers better value for money than other NAS systems.
Aside from its high capabilities, the TS-1655 can host virtual machines. It also prioritises data security with its malware remover, antivirus, and QuFirewall apps. Moreover, QNAP uses predefined scan policies to detect vulnerabilities.
Although it lacks embedded 10GbE ports, you can upgrade it easily. The M.2 NVMe SSD slots and SFF bays offer a hybrid solution. QTS also offers an impressive collection of data protection services and business apps.
We highly recommend the TS-1655, especially for SMBs looking for a highly efficient NAS. Visit the official QNAP product page to learn more about this NAS.