Today, we are writing our QNAP TS-464 4 Bay NAS Review to discuss this compact NAS with outstanding performance.
The NAS is ideal for everyone since it offers reliability features and professional-grade performance. Unlike the QNAP TS-453D, the TS-464 sports the Intel Celeron N5105/N5095 quad-core processor, 16GB of memory, and more. 
To get more details about this product, let us get into detail in this QNAP TS-464 4 Bay NAS Review. Here, we will discuss its features, design, functions, specifications, and how well (or not) it performs. 
QNAP TS-464 4 Bay NAS Packaging
The TS-464 arrived in a simple yet thick cardboard box. Like other QNAP products, its packaging has few designs. The only thing worth observing is the sticker with details.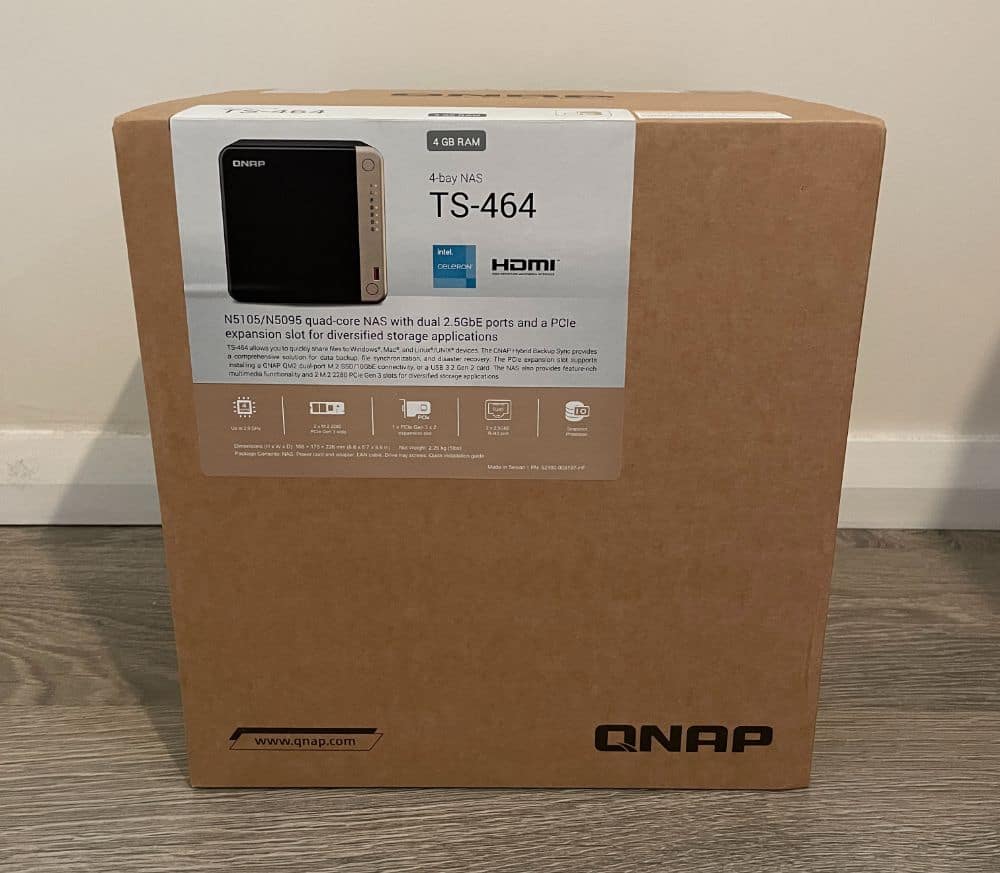 The sticker displays an image of the NAS, its name, and its primary features. Other details highlight the product, which you can refer to before unboxing. 
Inside the box, the NAS ships with accessories like an Ethernet cable and one power cord. There are 12 flat head screws for the 3.5-inch HDD and 12 flat head screws for 2.5-inch HDDs. Additionally, QNAP included an AC adapter, plus a quick installation guide inside the box. 
QNAP TS-464 4 Bay NAS Review – Design and Functionality
Let us continue our QNAP TS-464 4 Bay NAS Review and look into the product design and functions. 
The NAS appears sleek and compact and gives off a premium vibe. QNAP used the same standard design for its exterior, making it look similar to the TS-253D 4G. 
However, it is wider than the other NAS since it can accommodate four drive bays. Also, it features a black and gold colour scheme instead of a black and grey one. 
Behind its detachable front panel, you will find four drive bays. These support hot-swapping and have tool-free drive slots, which can accommodate either 2.5/3.5-inch drives. 
Like other NAS, the TS-464 does not ship with hard drives, so you will need to provide them. 
On the right portion of its removable panel, you will see LED indicators for its status and power. The NAS also has LEDs for LAN, USB, and drive activities. 
Additionally, you can find a power button, USB 3.2 type-A port, and the One-Touch Copy button. The latter is for a USB external drive.
QNAP TS-464 4 Bay NAS Rear Panel
We will also discuss the rear panel in this QNAP TS-464 4 Bay NAS Review. Here, you will see two 2.5GbE LAN ports that you can combine to create a 5GbE connection. 
Aside from the LAN ports, you can also find other elements here. These include a second USB-A 3.2 port, an HDMI 2.0 output, and two USB 2.0 ports. There is also a power jack and a reset button in this area. 
A cover for its low-profile PCI Express slot is also present. It can accommodate a QNAP QM2 card, a 10GbE network card, or a USB 3.2 Gen 2 card. Additionally, it has a 120mm fan to prevent the internal elements from overheating. 
Key Features of the QNAP TS-464 4 Bay NAS
We listed the product features of this NAS in our QNAP TS-464 4 Bay NAS Review. These are the elements that highlight the efficiency of the product and what it can offer.
Top-notch Performance at Your Fingertips
The NAS has a compact design while offering superior performance. It can support up to 66TB of storage at an affordable price. 
With its build, the TS-464 can fulfil all your multitasking necessities for backup, file management, collaboration, and video conversions. 
2.5GbE for Quality Speed and Efficiency
The TS-464 is a speedy single-port 10GbE NAS with up to 589MB/s transfer speeds. You can achieve this by setting up port trunking via the two integrated 2.5GbE ports. 
Quad-core for Outstanding Multitasking
With this feature, you can perform extra tasks, stream more media, and have more apps working simultaneously. It is because of the Intel quad-core processor enhanced for top-notch multitasking. 
Upgrade to the Dual-port 10GbE
The best way to work without any hassles and disruptions is by futureproofing your network connection. Do this by installing the PCIe dual-port 10GbE network card. It can deliver up to 1647 MB/s transfer speed for unparalleled efficiency. 
Faster and Reliable USB Transfers
The two USB 3.2 Gen 2 (10Gbps) ports let you enjoy quicker backups from/to your USB devices. 
Smooth Video Conversions with the QNAP TS-464 4 Bay NAS
The integrated GPU for optimised video conversion allows you to stream videos smoothly from the NAS to mobile devices. You will not have to worry about lagging and stuttering. 
With this feature, you can enjoy smooth and seamless conversions without any hitches. 
Need More? Then Get More! 
If you need more than two M.2 slots, you can install the QM2 PCIe expansion card for added M.2 SSD slots. 
Install M.2 NVMe SSDs for Cache Acceleration + Efficiently-tiered Storage
If you have plenty of small files that need read/write operations, you can increase the IOPS of the TS-464. You can achieve this by configuring the two M.2 SSDs of the NAS as cache discs.
When sending many files, you can set up a storage pool with two M.2 SSDs. TS-464 offers exceptional application performance. It moves hot data to SSD and cold data to hard drives via Qtier.
Accelerate AI-powered Image Recognition Using TPU
The TS-464 can perform high-speed face/object recognition. It is possible by connecting an Edge TPU to QNAP AI Core – the AI-powered tool for image recognition. 
The Edge TPU lets QuMagie process thousands of photos in seconds via high-speed AI image recognition and classification. It also uses QVR Face to analyse real-time video for instant facial recognition.
Abundant I/O Capabilities + PCIe Expansion
QNAP provides a variety of expansion cards to optimise the functionality of your NAS. The TS-464 has a PCIe Gen 3 x2 slot to support various expansion cards for better application potential.
Use the QNAP TS-464 4 Bay NAS like Your PC
The exclusive Virtualisation Station from QNAP allows you to use multiple Windows/Linux virtual machines. You can easily use the TS-464 as a PC by linking a mouse, keyboard, and HDMI monitor. This feature is perfect for running virtual machines.
Smart Storage
The proprietary apps from QNAP offer simple file storage and collaboration tools. Snapshots also aid in protecting critical data from Ransomware and other similar issues. 
Smart Surveillance
The TS-464 offers professional and top-notch surveillance solutions. These are compatible with 6,000+ IP cameras from 190+ brands, plus thousands of ONVIF network cameras.
All-in-one Solution for Hosting Virtual Machines + Containers
You can deploy multi-tenant environments and apps on the TS-464 by running multiple virtual machines and containers. It increases management efficiency and lowers hardware costs.
You can allocate physical and virtual network resources to simplify network deployment with the Network & Virtual Switch app. The latter improves interoperability between containers, virtual machines, QNAP NAS, and other physical devices on the network.
Account Security
The NAS Supports Azure Active Directory Domain Services (Azure AD DS), LDAP, and Windows ACL. These will help IT staff manage user accounts and access rights for NAS systems more efficiently. 
To protect against brute force attacks, use 2-Step Authentication for all your user accounts.
Secure Remote Access
myQNAPcloud link enables easy remote access to NAS via the internet. 
Alternatively, you can use QVPN to establish a secure VPN connection to the NAS.
The QNAP TS-464 4 Bay NAS Firewall
Based on user rules, QuFirewall restricts and blocks suspicious packets sent by proxy servers and onion routing (Tor). This feature also dynamically updates its block list in response to malicious packets detected.
Malware Protection
Scan your TS-464 regularly with the most recent malware definitions. When detected, the removal of infected files is immediate to ensure the security of all data.
SMART + Back Block Scanning
Whenever a SMART value is abnormal or wrong blocks are detected, taking immediate action is an option. What you can do is replace drives before potential data loss occurs.
DA Drive Analyser
The DA Drive Analyzer uses ULINK cloud-based AI to predict drive lifespan. It will help you plan future drive replacements to avoid NAS downtime and data loss.
Specifications
Let us continue our QNAP TS-464 4 Bay NAS Review and discuss its specifications. These will help you see if the NAS is adequate for your needs. 
The NAS has an Intel Celeron N5105/N5095 4-core / 4-thread processor with a burst of up to 2.9GHz. Plus, t uses the 64-bit x86 architecture and Intel UHD Graphics processors. 
This tower NAS has a floating point unit and an AES-NI encryption engine. It also allows hardware-accelerated transcoding. 
The system memory of this NAS is a 4GB SODIMM DDR4 (1x4GB), while its maximum memory is 16GB (2x6GB). 
Available memory slots include two SODIMM DDR4 for dual-DIMM configurations. To use it, you will need a pair of identical DDR4 modules. Additionally, it uses 4GB of flash memory. 
As its name states, the NAS has four 3.5-inch SATA 6Gb/s drive bays. And for your reference, here are the following drive compatibilities: 
 3.5-inch SATA HDDs

 2.5-inch SATA HDDs

 2.5-inch SATA SSDs
The product is hot-swappable, has SSD cache acceleration support, and has 2x M.2 2280 PCIe Gen 3 x1 slots. There are also two 2.5 Gigabit Ethernet ports and one (Slot 1) PCIe Gen 3×2 slot. 
Aside from these, there are two USB 2.0 ports, an HDMI 2.0 output, and two type-A USB 3.2 Gen 2 ports. 
Another thing to note is its power consumption. In HDD sleep mode, it uses 21.618W and 40.536W when operating. Also, its power supply is a 90W adapter, 100-200V. 
Dimensions-wise, the NAS measures 167.89 x 169.93 x 226.06mm and weighs 2.26kg (net)/3.60kg (gross). Then, its fan is 1 x 120mm 12VDC.
Hands-on with the QNAP TS-464 4 Bay NAS 
We used the TS-464 for more than a week to see how it performed. We put it through some tests, and we will share our experience in this QNAP TS-464 4 Bay NAS Review. 
Hybrid Backup Sync
If you need backups, QNAP offers an all-inclusive strategy with numerous options and steps. Using the classic backup allows automation with backup jobs. These backups are saveable on the NAS, an extra NAS, external storage, or the cloud. 
The current version, QTS 5, has Hybrid Backup Sync, public/private cloud storage integration, and block-based snapshots for data backup. It also offers virtualisation apps and helps with monitoring systems, etc.
Hybrid Backup Sync can perform data backup, recovery, and sync data to/from local storage, cloud services, and remote servers. The software uses Rsync, RTRR, WebDAV, FTP, and CIFS/SMB protocols.
Create backup/syncs in just three easy steps while its settings are also flexible. These include choosing your source and destination folders, detailed rules, and backup folders.
The 3-2-1 backup plan is the primary process to guarantee data security and safety. And to make it simple, Hybrid Backup Sync is the key. All you will need to do is schedule backup jobs then Hybrid Sync will do the rest.  
Data recovery is seamless and fast with an easy-to-use web GUI, allowing you to decrease service downtime when disasters occur.
Container Station
Containers are a compact process for simulating varying operating systems and application services. The QNAP Container Station exclusively uses LXD and Docker, Kata lightweight virtualisation technologies. 
These allow you to run multiple isolated Linux systems on a QNAP NAS. It also lets you download apps from the integrated Docker Hub/LXD Image Server Registry.
When it comes to setting up the Container Station, it is fast and easy. It features an auto-configuration detection element that allows single-click installation. 
Using container apps is as quick and easy as clicking the create button. 
The QNAP TS-464 4 Bay NAS for Plex
Think of a pre-built NAS that has a 4K transcoding. You will need capable processors when you run a Plex Media Server on it. Fortunately, the TS-464 4 has this feature. 
Its specifications are as notable as the available IR receiver and HDMI port, but it can offer more.
The Intel processor can manage to do 4K transcoding, thanks to the built-in Intel Graphics GPU. This area is where QNAP steps up its game and is above its competitors like Synology. 
You can stream 4K content seamlessly while running some RAID drives and firing the Plex Media Server simultaneously. These tasks are manageable without any issues and performance hitches, even when the HDMI port is in use.
Virtualisation Station
The Virtualisation Station is a powerful and efficient hypervisor on QNAP products. It lets you establish a cost-effective virtualisation environment that is adequate for your needs. 
On your TS-464 4 Bay NAS, you can run numerous virtual machines using Linux, Windows, and QuTScloud operating systems. Additionally, it supports plenty of resource acceleration and management functions. These offer an affordable platform with excellent performance. 
It is also possible for you to download and immediately use virtual machines from the VM Marketplace. 
This aspect makes the TS-464 4 an ideal NAS for running virtual machines. Plus, it comes with enough RAM to run light VMs.
Virtualisation Station has several resource allocation settings which you can use to keep VMs running at optimal efficiency. It also offers numerous disaster-recovery tools to secure against data loss. 
WD Red Pro Hard Drives
We used the WD Red Pro Hard Drives with the NAS. It is one of the best NAS drives on the market, offering outstanding performance and reliability.
The WD Red Pro line integrates technologies that help optimise its performance and compatibility with the NAS. These include comprehensive thermal burn-in testing, 7K spindle speed, and hardware-based vibration coverage. It even has a five-year warranty.
These features make the Red Pro drives better than non-Pro Red HDDs. It also enhances on a significant margin and offers impressive numbers.
Not only that, but these drives feature NASware 3.0 – the firmware from WD that optimises system performance and reliability. It also decreases consumer downtime while simplifying integration processes.
Main Features of the WD Red Pro NAS Hard Drive
The NASware 3.0 Technology is an exclusive and advanced firmware from WD. It allows smooth integration, optimal performance, and excellent data protection for NAS systems that work under heavy loads.
It is integrated into each WD Red Pro hard drive since its advanced technology optimises storage performance. This feature boosts integration, compatibility, reliability, and the capacity to upgrade.
The WD Red Pro hard drive has elements that make it perfect for NAS compatibility. Since it has NASware technology, you will not have to bother guessing which drives to choose.
Since it is NAS-optimised, the unique algorithm helps balance reliability and performance in RAID and NAS environments. Simply put, WD Red Pro drives are the best and most compatible drives for NAS enclosures.
Another notable feature is the NAS Bay Shock Protection. The Red Pro drives from WD have multi-axis shock sensors that instantly find subtle shock events. It also detects dynamic height technologies that adjust every read/write function to protect data. 

The combination of technologies better secures and protects drivers in larger 24-bay NAS environments, increasing the reliability of hard drives. 

These drives also feature 3D Active Balance Plus – a dual-plane balance control technology to optimise overall drive performance.

Generally, hard drives that are not adequately balanced can cause excess noise and vibrations in multi-drive systems. These can also decrease the lifespan of said hard drives and degrade their performance over time.
The Error Recovery Prevention feature is for NAS and RAID environments, thus, comes with every WD Red Pro drive. These controls are part of NASware 3.0 to aid in the reduction of drive fallouts in RAID apps. 

Each WD Red Pro drive features Extended Drive Testing, which helps guarantee that everything goes through tests.


These are essential to ensure that every drive provides extended and reliable performance.
Using the WD Red Pro HDDs
During extensive tests, we opted for a RAID10 configuration for our NAS. From there, the hard drives and TS-464 gave us strong and notable performance results in most workloads. 
In our 4K random performance, the WD Red Pro hard drives gave us results that ranked high. These were for both latency and transfer speed readings. 
The hard drives with NASware 3.0 display top-notch performance and efficiency, which is essential for enterprises. It is specific for those using massive rackmount or tower NAS form factors. 
QNAP TS-464 4 Bay NAS Installation
For a convenient and user-friendly foundation to create something for everyone, the TS-464 is the best option. It has everything needed to get you started, which makes it highly recommended.
The processor (Celeron N5095) inside the NAS is not one of the most high-performing CPUs from Intel. However, it is powerful enough and more than adequate for servers like NAS enclosures. 
Plus, it can effectively run at speeds of 2.0GHz per core and go as fast as 2.9GHz.
You can aggregate the two 2.5GB LAN ports to establish a connection to the network that has higher bandwidth. It can welcome enhanced transfer speeds for writing &/or reading the four drives. 
It may be a vital step to consider if you plan to max the link with M.2 SSDs and clients.
QNAP TS-464 4 Bay NAS Review Summary
The TS-464 has impressive features like onboard 4K video transcoding, HDMI monitor output, and high-speed networking connections. The NAS may be small, compact, and affordable, but it integrates the best features that make it a powerful solution. Because of its functions, it makes for an excellent starter NAS for Plex. 
It also offers pro-level performance, which we noticed during our product tests for our QNAP TS-464 4 Bay NAS Review. Additionally, it has excellent backup features to keep your data secure, making it reliable for business or personal use. 
This product is an excellent NAS, and we highly recommend it to home users and SMBs. It is an affordable network-attached storage solution that offers
To learn more about the TS-464 4 Bay NAS, visit the QNAP official product page.