If you are searching for a good quality light for streaming, our Razer Key Light Chroma Review can help you. This review will focus on the Key Light Chroma. It is an impressively vibrant light with 2,800 lumens and built-in RGB light effects.
The light panel is among the latest offerings of Razer. It is an efficient product that will upgrade and make a big difference for your streams. 
Our Razer Key Light Chroma Review will focus on product specifications, features, design, functions, and performance. We used the light panel for over a week to allow us to share our experience with you. 
Razer Key Light Chroma Packaging
Razer created an excellent light panel featuring an ideal build. The company also gave its packaging a premium feel. When it arrived in our office, we noticed how it takes a step away from the standard-looking boxes. 
We love its more understated and minimalist design. And inside, all the items were in a neat compartment kept in an organised manner. 
You will find the Key Light Chroma with other items inside the box. These include an extendable pole, table clamp, two cable management clips, a pole adapter, a power supply, and an extension cable. Also, Razer added multi-country adapter plugs for the convenience of all users. 
Razer Key Light Chroma Review – Design and Functionality
The design and functions of any product are interesting to discuss. So, we will include these in our Razer Key Light Chroma Review. 
The Key Light Chroma is a massive panel featuring a regular tripod and table clamp. It is slim but robust, and its build is something you would expect from Razer. 
Its pole can reach 553mm to 1350mm to acquire the best lighting angle. You can also work on a top-down view using the light and tripod, making it ideal for unboxing content. 
It has a white shade temperature that ranges from 3000K to 7000K. Plus, it has a total brightness of 2800 lumens. 
The panel light measures 360mm x 260mm and features an A/C cord. Additionally, the product is also powered using an A/C adapter. 
It has diffused lighting. That means there will not be any harsh light beams overpowering your vision while streaming. 
Included Accessories
After unboxing the product for our Razer Key Light Chroma Review, we saw the quality of their extra accessories. The mount and desk clamp is sturdy and solid, making it better since the Key Light Chroma is on the heavier side. 
The clamping mechanism also allows you to detach its handle from turning the screw. So, you can tighten it in smaller spaces which is very convenient. 
However, you should know that the clamp requires at least 15cm of space under your worktop. It may pose an issue for gaming desks featuring cable management trays. 
Key Features of the Razer Key Light Chroma

Pro Lighting at its Finest
Set the scene and environment and make your stream shine with the Key Light Chroma. It is an all-in-one tool for pro studio lighting, no matter the setup. 
If you want to look your best, set the mood, or boost your engagement, you can manage all these via wireless control on your PC or phone. 
Customise the Light Spectrum and Set the Tone
Because of the 3000K to 7000K colour range, you can easily fine-tune the Key Light Chroma. It will acquire a balanced, warm, or cool white tone to complement your skin, making you look perfect in streams.   
Razer Chroma RGB to Set the Mood
While creating our Razer Key Light Chroma Review, we saw how excellent its lighting effects were. With more than 16.8 million colours and lighting effects, you can secure signature colours to establish your image. Do this while synching with the Razer Chroma ecosystem to set the mood for your stream. 
With it, you can sync and connect up to 11 devices using the Razer Synapse and Razer Streaming app. 
Use Interactive Lighting to Engage Your Audience
Take the engagement with your audiences to the next level with superb lighting that reacts to stream events. These include subs, donations, and more. 
Convenient Control via PC and Mobile
Control the light of your Key Light Chroma via Razer Synapse on PC and Razer Streaming app on mobile. Before customising its lighting, you will need a 2.4GHz WiFi network.
Razer Synapse allows lighting customisation to interact with your stream and adjust features like warmth, brightness, and colour. On the other hand, the Razer Streaming app lets you view device settings, set Chroma effects and manage essential elements.
Streamline Your Setup with a Slim Profile & Clamp Mount
The Key Light Chroma is easier to secure on your desk with the included slim clamp mount. It also has an extendable pole that allows for achieving the ideal position.
Specifications
Our Razer Key Light Chroma Review will discuss the specifications of the Key Light Chroma. It has white 3000K to 7000K adjustable RGB colours. Then, it has 2800 Lumens for its brightness, which you can adjust from 0 to 100%. 
The light panel has an on/off switch button, a reset button, and a table clamp to support the product. Its clamp ranges from 2.5mm to 75mm, and the light measures 360mm x 260mm. 
The minimum measurement is 553mm, while the maximum is 1350mm (pole+adapter+table clamp). For just the Key Light Chroma, it weighs 1600g, while the pole, adapter, and table clamp are ~760g.
Lastly, the product makes use of aluminium for its build. 
Hands-on with the Razer Key Light Chroma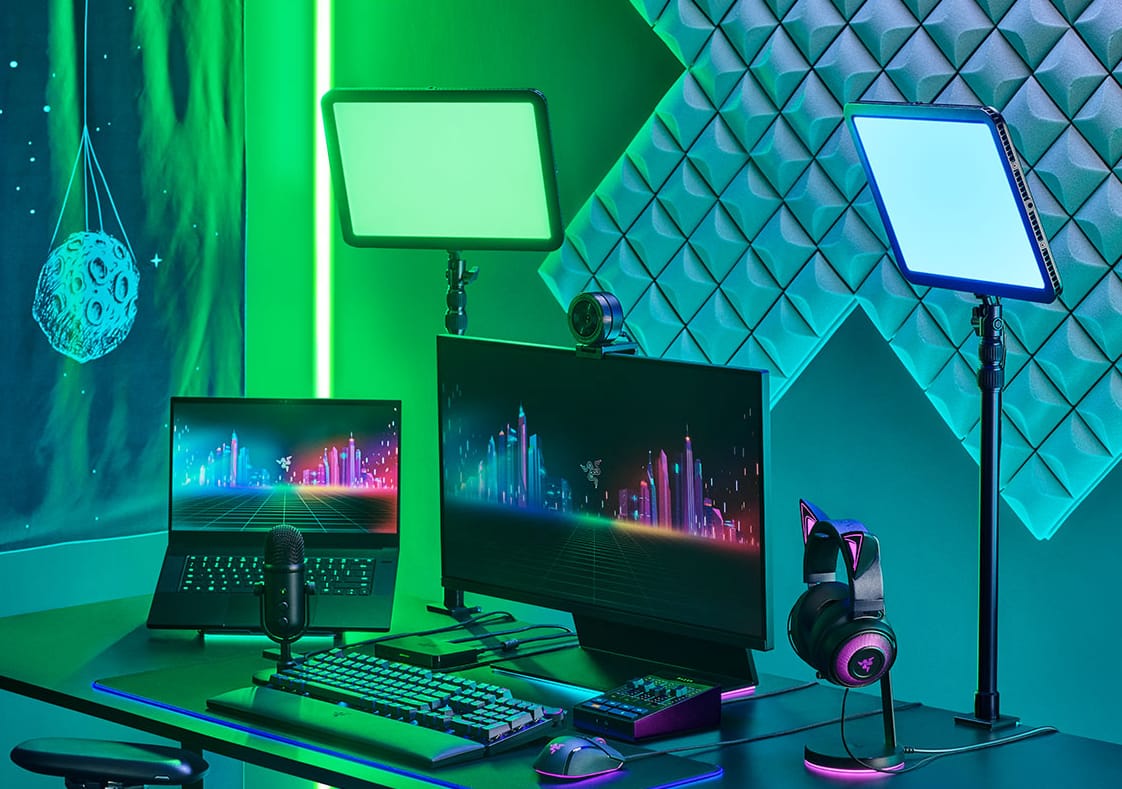 Since we tested the product, we will share our experience with it in this Razer Key Light Chroma Review. But before we share how it performed, let us discuss how its entire setup process went. 
Setting up the Razer Key Light Chroma
When we unboxed the product, we knew immediately that the Key Light Chroma was well-made. With its perfect build and measurements, we did not encounter any problems setting it up in less than 10 minutes. 
The only thing we had to do was screw the desk clamp to the telescopic arm. Then, we armed it to a joint before screwing the Key Light Chroma via one of its mounting points.  
We love that extending the arms was possible since it gave us a lot of additional headroom. Its clamp opened up and reached up to 75mm. So, we did not experience any compatibility issues with it on our desk.
As for setting up the Key Light Chroma from scratch, it was entirely painless. However, you will carry around 2kg of equipment while screwing in bolts/nuts. We suggest pre-planning before clamping it to your desk and mounting the light at the top.
Light Controls 
We controlled the lights via app or PC. However, one thing we are concerned about its PC integration is how we go through the menu to add software. 
Compared to other Razer products, we had to enter the menu to add a wireless device. When using mobile, it is easy to set up, so we wonder why Razer did things this way via PC. Since there is only a single button, all we did was sync it via WiFi, and the rest happened immediately. 
Razer Synapse / Razer Streaming
Once we installed the Key Light Chroma, we started customising the lighting settings. We could choose Razer Synapse for PC and Razer Streaming for Android and iOS mobile devices.
Both software suites were easy to use once up and running. Its interface is simple, and we did not need to go through complex steps to change settings.
However, we adjusted the Chroma effect brightness separately to enable the most intense RGB effects. It did not work when we only adjusted it via the core brightness functionality of the Key Light Chroma. Instead, it produced washed-out Chroma effects when we did not change these settings.
We went through some submenus to find the Chroma effect brightness slider on mobile. Using the toggle switch, we set the main brightness slider off. Next, we navigated to the Chroma settings.
After sliding up the hidden menu, we set the Chroma effect brightness to max.
When we used Razer Synapse on PC, we opened the Key Light settings, which we found under the Streaming tab. Here, we disabled the Panel Light toggle and ensured the Chroma Brightness slider was at 100.
Once done, the Key Light Chroma offered fantastic RGB effects.
Performance

Of course, we will not skip discussing the product performance in our Razer Key Light Chroma Review. Its overall performance was excellent, and we will let you know why.
When we used the RGB LEDs, the brightness of the Key Light Chroma went to 15%, which was effectively bright. To achieve a richer colour, we chose to output the RGB LEDs without mixing white.
We also liked its excellent synchronisation and integration with all Chroma products we had. Everything was seamless in our experience, and the synced lights offered an impressively immersive experience.
The backlight off caused saturation to the RGB of the Key Light Chroma but had an impressive amount of colour. 
Razer Key Light Chroma Review Summary
Razer has gone beyond peripherals and expanded its product line with streaming accessories. The company continues to put effort into becoming more than keyboard and mouse specialists by building an ecosystem. As streaming continues to trend, Razer produced the Key Light Chroma.
We loved the convenience this product offers. It is easy to set up and provides instant professional studio lighting. Also, the Razer Synapse and Razer Streaming app make configuring the Key Light Chroma a quick process.
Because of its unique features, user-friendly apps, and exceptional performance, we recommend the Key Light Chroma.
Visit the official product page of Razer for more details about the Razer Key Light Chroma.