Today in our Razer Viper review, all eyes are on the Razer Viper gaming mouse. After Razer introduced the Huntsman Elite, their first optical gaming keyboard, they decided to add optical switches into their mice. We now have the Razer Viper – a wired gaming mouse that uses infrared beams instead of mechanical switches. This option is a better and more efficient way to register mouse clicks.
It's the best for competitive gamers out there who need the advantages to step up in competitions. Razer Viper is the latest addition to Razer's collection of gaming mice designed specifically for gamers. It comes in at just 69g and sports optical switches, as well as top-notch sensors. The mouse also has an ergonomic design to keep you at the top and on target.
But can it achieve everything seamlessly? Let's find out in our Razer Viper review.
Razer Viper Packaging
The Razer Viper comes in a thick and sturdy package that sports a dark theme with green highlights to it. The front of the box displays an image of the mouse. 5G is on the upper left corner, while the Razer logo is on the top right corner of the box.
You'll find the mouse's name written on the box's lower left portion, while underneath this are the mouse's vital features. On the box's sides, you'll find some other details about the mouse, but the back has more information about it. There, you'll find another image of the Viper, but with arrows depicting each part and function it has.
Inside the box, you'll find the gaming mouse itself, which is nicely and securely packed to avoid damages. Other than the Razer Viper, other items included inside are the Speedflex cable and the instructional guide.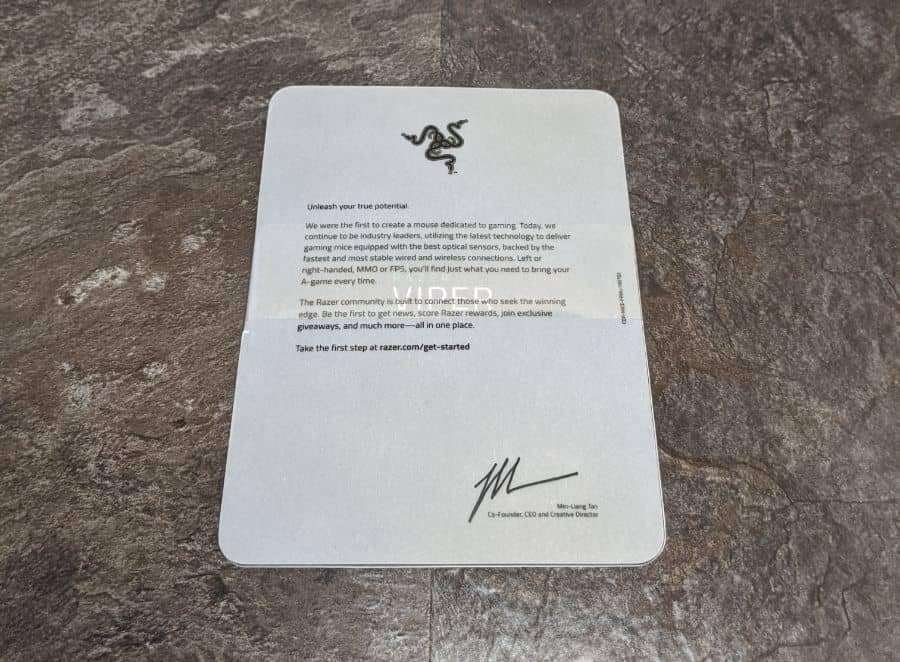 Razer Viper Review – Design and Functionality
The Viper is an ambidextrous gaming mouse that has a total of eight buttons which includes two side buttons. These two extra buttons are on both the right and left side of the mouse. For the DPI profile switch, you can find it at the Razer Viper's base. Technically, this is your regular 5-button form factor.
The mouse sports a minimalist design, but it took us a couple of hours before discovering all its subtle touches. It also features slightly textured grips and curves on both sides, giving it a straightforward yet ergonomic feel to it.
If you notice, the company didn't use the upper shell design just like what's on their high and mid-level products. Instead, they used Viper's old design where the mouse's shells had three ABS plastic pieces, with symmetrical designs.
The Speedflex Cable
The Razer Viper also sports the company's new Speedflex cable. It's a sleeved cable with a tighter and finer stitch. The sleeve on this new cable is looser and slightly thicker compared to Razer's previous gaming mice. However, it's more flexible, and it also doesn't drag often.
The Mouse's Grip
Speaking of its grip, most palm-grip users will find comfort with the Viper's low height. However, it may be a bit too long for those who prefer the claw style grip.
But no matter how you hold the mouse, its eight buttons are all easily accessible by the fingers. For the right and left clicks, they're the only buttons on the mouse that use Razer's new optical mouse switches.
Let's go on to the next section of our Razer Viper review, which is all about the mouse's key features.
Key Features of the Razer Viper
Gain Full Control
With the Razer Viper, you can control the result of any battle. It's lightweight, comes with high precision, and offers the fastest actuation. This mouse comes with the industry-leading technology designed and tested by the athletes of Team Razer.
Razer Optical Mouse Switch
Each click on the Razer Viper is as fast as the speed of light. It makes use of an infrared light beam for registering clicks, so it gives you 0.2 milliseconds of response time. It eliminates unintended clicks and debounce for you to have full control as you execute actions.
Razer 5G Optical Sensor
With its 99.4% tracking accuracy and DPI of up to 16,000, the 5G Optical Sensor offers high precision. Combining these features with your skill and dexterity, the Razer Viper can achieve an in-game extension of yourself.
69g Lightweight Design
In competitions, the slightest advantage can make a significant difference. With its weight of 69g, the Viper allows for quick and more controlled swiping to increase your speed in battle.
Razer Speedflex Cable
Razer designed the Speedflex cable to give you the highest level of competitive advantage. It offers unobstructed control with no drag.
Specifications
This time on our Razer viper review, we'll learn more about the Viper's different specifications.
The Razer Viper uses the 5G advanced optical sensor with true 16,000 DPI. It can go for up to 450" per second (IPS) / 50G acceleration plus 1,000Hz ultra-polling. For its optical mouse switches, these have a total of 70 million clicks for its life cycle.
Razer Viper also sports the Speedflex cable, a gaming-grade tactile scroll wheel, and a 69g lightweight & ambidextrous design. This mouse also conveniently has eight programmable hyper-response buttons and the Razer Chroma lighting. This lighting has a total of 16.8 million customizable colour options for your preference. This gaming mouse has an onboard DPI storage of up to five DPI stages, and it's also Razer Synapse 3-enabled.
The Viper measures 4.99" (L) x 2.61" (W) x 1.49" (H) and weighs 69g excluding the cable. For its cable length, it measures 2.1m in total.
Hands on with the Razer Viper
Gaming with the Viper is like using your regular mouse. However, it allows clicks at the speed of light, which is great. Clicking with the mouse's optical switch is as tactile as that of a classic mouse. With that, you don't need to worry about any weightless button presses on the mouse. These optical switches allow fast-clicking, which will make a huge difference when it comes to pro-level gaming.
Since the Viper is an esports gaming mouse, we didn't play all types of games to test this. Instead, we focused on FPS, RTS, and MOBA titles. Of course, we weren't surprised that it performed excellently since it utilizes the 5G optical sensor. This feature allows the mouse to deliver extreme precision to enable gamers to fully control their moves. What surprised us is that the mouse exceeded our expectations.
Targeting our opponents became easier with the Viper. It was not only precise, but it also responded to my commands quickly and accurately. Most importantly, we did not experience any issues while using it. Because of that, we can ensure that other esports professionals would not have any problems with this mouse.
If you need to make certain adjustments for other games, it's easy to program the buttons via the software. Overall, the Razer Viper's delivered top-notch performance, which impressed us a lot.
Razer Synapse Software
The Viper mouse runs on the company's Synapse software. When we tried the program, it worked fine. It allowed us to reprogram each button on the Viper with ease. Aside from configuring button settings, you can also calibrate your mouse's optical sensor. Calibration improves tracking on your mousepad, gaming desk, or any surface you use for your mouse.
You can assign any of the Viper's buttons to trigger a Windows shortcut or a macro. Here, the DPI is adjustable from 100 to 16,000 by increments of 100. It also supports polling rate of 125Hz, 500Hz, and 1,000Hz.
For the RGB lighting, customization was straightforward, and the software offered a lot of eye-catching patterns. It's because the Viper only had one RGB zone, which was the logo of Razer.
Razer Viper Review Summary
The Razer Viper is a quick and accurate gaming mouse. With its optical switches and quick sensor, any user is sure to win any competition.
With its competitive price, it's one of the ideal gaming mice for esports professionals. It offers excellent ergonomics, performance, as well as user-friendly software for customization and configuration of the mouse. Another great thing is that it's an ambidextrous mouse, making it comfortable for both left and right-handed people.
In terms of performance, the Razer Viper was exceptional. It was fast, highly responsive, precise, and accurate. Aside from the features, its weight and design also help enhance user experience and overall in-game performance.
These factors make the Viper one of the best gaming mice in the market. If you're looking for the excellent mouse that will help you win competitions, this is something you should consider.
To conclude our Razer Viper review, we highly recommend this mouse, especially for esports gamers. If you want to buy the Razer Viper, it's available for online purchase from the company's official website.