Today we are writing our Reolink RLC-823A Review to focus on this Smart security camera from Reolink. It sports numerous features like four IR LEDs, 5x optical zoom, colour night vision, etc.
The product also has a waterproof housing and sturdy design, making it ideal for outdoor activities. The RLC-823A has plenty more offerings, which you can find here in our Reolink RLC-823A Review.
If you are interested, let us look into its design, functions, features, specs, and performance. Learning more about these will help you decide if this camera is what your home needs.
Reolink RLC-823A Packaging
Other than the RLC-823A, which ships in a standard-looking Reolink package, it comes with accessories, including the following:
Power Adapter 

Network Cable (1m)

Wrench

Pack of Screws

Waterproof Lid

Wire Rope Anchor

Surveillance Sticker

Mounting Template

Quick Start Guide 

Pry Tool
Reolink RLC-823A Review – Design and Functionality
While writing our Reolink RLC-823A Review, we realised this version looks completely different from other models. Its body uses aluminium with a matte finish and curved corners. 
Underneath, you can find a glossy-black component with the following: 
Three Spotlights

Motorised Varifocal Lens

Daylight Sensor

Four Infrared (IR) LEDs
Its mount features pin holes for screws. You cannot install the RLC-823A in a free-standing position, so you mount it onto the wall. Make sure to have heavy-duty screws on-hand to secure the camera on its mounting spots.
The rear of the camera features several slots (SD card, network cable, and power cable slot). There is also a built-in speaker & mic, plus a reset button in this area. 
Since the RLC-823A is a PTZ camera, you can use it for video surveillance inside or outside your home. So, you can use it for office buildings, warehouses, and stores since it can capture images in 4K ultra HD.
Additionally, the camera is PoE-powered, so the voltage transfers via an Ethernet cable to the camera. Fortunately, you do not need to charge any batteries. Instead, you run a wire from the camera to the router.
Next, we will discuss all the product features in our Reolink RLC-823A Review. 
Key Features of the Reolink RLC-823A
16X Optical Zoom – Sharper Details, Even from a Distance
This feature allows the camera to accurately capture distant objects without affecting the quality. With 3D zoom, the RLC-823A will immediately tilt, pan, and zoom to focus on your chosen area. That means you do not require manual control setups with this feature.
Detection Response
Exact alerts will notify your device when a person, pet, or vehicle is detected. Hear and be heard using two-way audio to communicate with visitors. Also, you can talk with your pets or use it to ward off dangers while away from home.
Night Security 
The darkness of the night will no longer be a challenge to capture a clear view. The integrated infrared LED lights illuminate what is outside your door, whether an animal or a stranger.
Gorgeous Time-Lapse Videos
Long-running dynamic events are boosted for you to view them in a few minutes. These gradual changes are challenging to perceive with the human eye but will appear perfect in time-lapse videos. 
Watch in 4K for Superior Video Quality
When suspicious people or vehicles move, the RLC-823A will rotate its lens automatically and follows the movement. Combined with 4K high-resolution, it will record the moving object and its details, providing a comprehensive event. 
Reolink RLC-823A Stunning Time-Lapse Videos
The RLC-823A boosts long-time running events, allowing you to view them in minutes. Seeing or noticing these gradual changes will be challenging with just the human eye. However, these will appear crystal-clear in time-lapse videos. 
PoE – Faster, Easier & Low-cost Installation
The RLC-823A transmits videos charged using a single network cable with this feature. So, immediately installing the camera is possible. 
IP66 Weatherproof for Increased Durability
Even if it rains cats and dogs, the solid waterproof housing can handle various weather conditions. Plus, you can enjoy its increased durability whether it rains, shines, snows, etc. 
Remote Management at the Palm of Your Hands
Always maintain the connection with your business or home. Access them with just a few clicks via the Reolink Client App. 
Instant Accurate Alerts
We tested this feature while writing our Reolink RLC-823A Review. It immediately alerts you with a push notification when the camera detects danger or unusual movement.
Remote Live Viewing with the Reolink RLC-823A
Wherever you are, you can check the current status of your children, pets, and property. This camera lets you know what is happening in/out of your home, even if you go out of town.
Easy and Smart Playback with Reolink RLC-823A
The RLC-823A allows filtering and replaying saved videos. In addition, you can manage the timeline to capture the primary details. 
Customised Motion Zone
To avoid receiving alarms from specific areas of your home, you can set that up via the Reolink App. The RLC-823A lets you focus on what matters and eliminate unnecessary alerts.
Hands-free Control on the Reolink RLC-823A 
The Reolink RLC-823A works with voice assistants like Google Assistant and Alexa. Control the camera as you speak. This feature lets you see live streams via Google Nest Hub, Chromecast-enabled TV, Echo Show, Echo Spot, and Fire TV.
Specifications
Here is a list of the product specifications you can refer to in our Reolink RLC-823A Review. These will determine if your system is compatible with the product. 
Image Sensor:

1/2.8″ CMOS sensor

Video Resolution:

Default: 3840X2160 (8.0 MP) @ 25fps

Lens:

f= 5.3-86mm Zoom Module

Video Format:

H.265

Optical Zoom:

16X

Field of View:

(horizontal) 54.2°-3.6°, (vertical) 41.7°-2.1°

Day & Night:

Auto-switching + IR-cut filter

Infrared Night Vision:

Up to 80m (LED: 7pcs/28mil/850nm)

Audio:

Two-way Audio

Pan & Tilt Range:

Pan: 360° | Tilt: 0° ~ 90°

Pan Speed:

1.4°-281°/s (can be set)

Tilt Speed:

1.4°-56°/s (can be set)

Preset:

64

Dimension:

Φ132*281mm

Weight:

1.6kg

Warranty:

2-year limited warranty
Hands-on with the Reolink RLC-823A
We tested the product for two weeks to share our experience in this Reolink RLC-823A Review. Before we discuss its performance, let us focus on the Reolink App. 
Reolink App
The Reolink App provides access to the camera feed and lets you view your footage. It is a free downloadable iOS, Android, Mac OS, and Windows application.
Thanks to its user-friendly interface, the Reolink app makes setting up the camera quick and easy. This centralised platform works with any Reolink security camera, making viewing and management more convenient.
This application is where you can control the pan & tilt feature of the RLC-823A to get the exact coverage needed. It also allows using person and vehicle detection to trigger recording. 
Aside from those functions, the Reolink App can send push alerts when something triggers the camera. It will also indicate what the RLC-823A detected.
The Reolink App makes the RLC-823A more convenient and user-friendly. Once installed and paired with the camera, it is ready to use. What makes it better is it does not require subscriptions.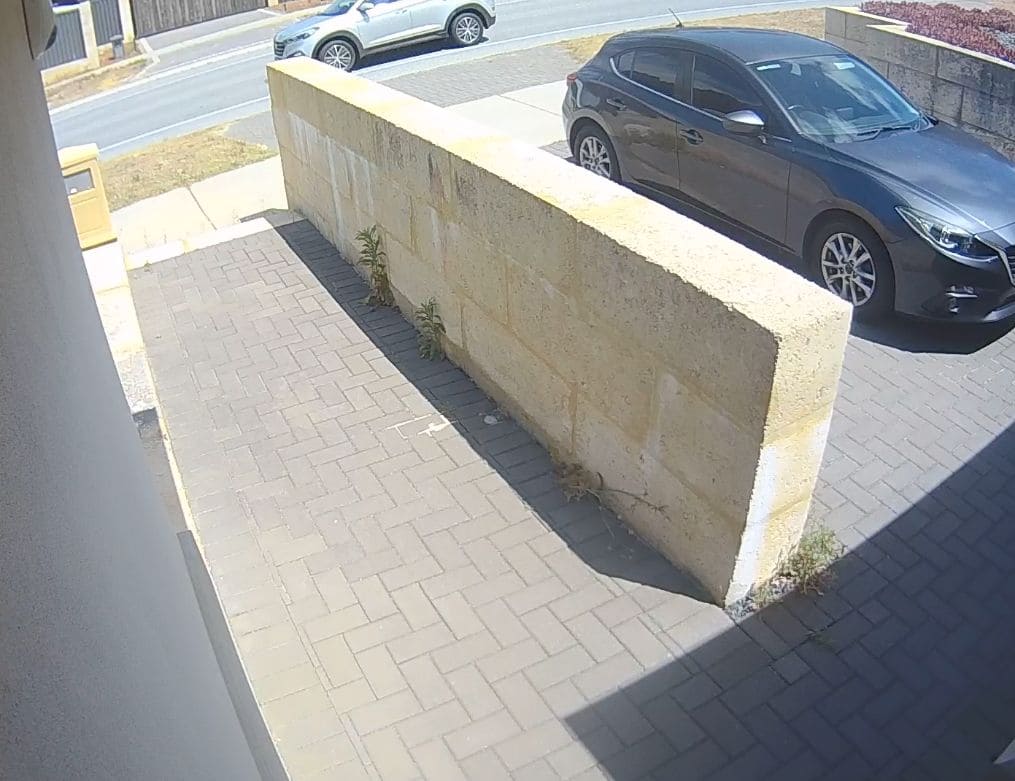 The video quality of the RLC-823A makes this product shine. Its 8.0 MP resolution delivers more detailed images since it is almost equivalent to 4K. One of the most notable aspects of this camera is it can capture ultra-fine details even at night.
The Active IR Night Vision is also sharp and outperforms other IP cameras on the market.
Aside from its video quality, the RLC-823A has a maximum viewing angle of 96 degrees. We can keep it hidden in a corner, and the camera can still capture a broad area.
The RLC-823A can only move up to 27 degrees at the highest zooming level. We recommend using 1x zoom to cover an entire corner.
Another feature we like is the 360-degree pan and 90-degree tilt function, which covers a broader spot. Using it allows us to see more of what is happening in the surroundings.
After positioning the camera, we were impressed with its reliable performance. It consistently sends notifications when it detects people or vehicles. Plus, the RLC-823A returns to its original orientation when the subject leaves the field of view.
Reolink RLC-823A Review Summary
The RLC-823A from Reolink is not the most affordable security camera on the market. It has unique features, durable design, and user-friendliness that offer excellent value for money. 
Aside from its features, we loved its video quality and recording capabilities. Its 4K resolution delivered crisp, sharp images with vivid colours and details. Plus, the camera recorded high-quality videos during the daytime and nighttime.
Thanks to its excellent performance, we enjoyed our user experience while testing the camera for our Reolink RLC-823A Review.
Another thing we liked about this product is its user-friendly application. It has a simple interface with comprehensive functions and settings, including motion zones, playback, and scheduled recordings. Also, it is accessible via mobile devices and computers.
Overall, the RLC-823A is a well-rounded security camera with innovative features. It delivers top-notch videos & images, making it ideal for home security. Plus, it works with PoE and does not need batteries, which is cost-efficient in the long run.
Overall, we highly recommend this camera from Reolink for anyone who wants Smart security at home.
Visit the official product page of Reolink to learn more about the RLC-823A.