Smart doorbells have continuously become a popular and safe way to see who is outside your door. Today, we will check one promising product in our Reolink Video Doorbell WiFi Review.
The Video Doorbell WiFi is a convenient product that records occurrences before a motion event/doorbell press. It also features dual-band WiFi, local video storage, 2k video capture, and voice controls. 
The product has other essential features, but can it meet your needs and requirements? Find out in our Reolink Video Doorbell WiFi Review as we discuss its design, features, functions, specs, and performance.
Reolink Video Doorbell WiFi Packaging
The doorbell ships in a blue and white coloured package that is typical of Reolink products. Its front features an image of the doorbell, its name, the company branding, and MP. There are several details on the sides that you can refer to when needed.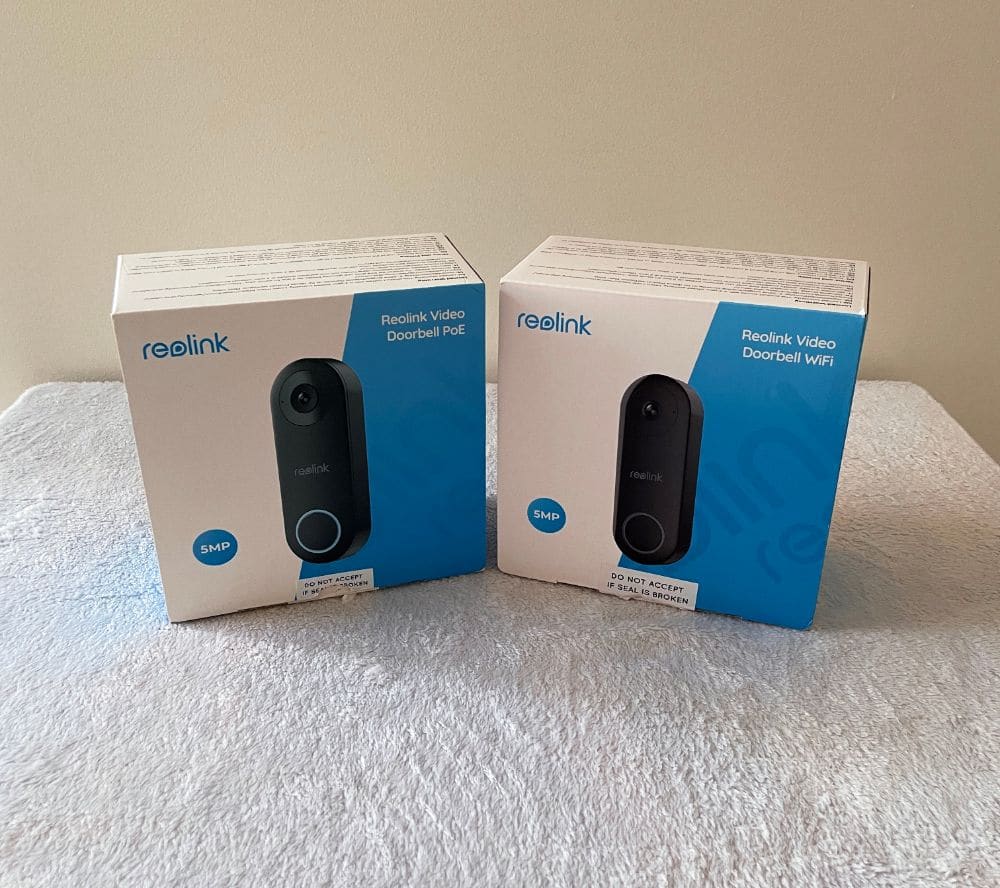 Inside, you will find the following items Reolink included in the package:
Reolink Video Doorbell WiFi

Reolink Chime

1.5m Power Adapter

1m Network Cable

4.5m & 0.1m Power Extension Cables

Jumper Cables

Mounting Plate

Mounting Hole Template

Wedge

Pack of Screws

Quick Start Guide
Reolink Video Doorbell WiFi Review – Design and Functionality
Let us look into the product design and functions in this section of our Reolink Video Doorbell WiFi Review. 
The Video Doorbell WiFi is a sleek, innovative Smart product that blends into any home exterior. It features a camera lens at the top portion and a button on the bottom half within a slender plastic casing.
Reolink opted for an elegant black matte finish to enhance its aesthetic appeal. The colour also complements various wall colours and door styles effortlessly. 
Measuring 13.3 x 4.8 x 2.3cm, the Video Doorbell WiFi is among the most compact options today. It offers an advantage in terms of space-saving and unobtrusive design.
Two integrated microphones are next to the lens to hear the person in front of or underneath the doorbell. Additionally, it also comes with a daylight sensor, which is a handy element. 
Considering its size, Reolink disregarded the floodlight to the product. Instead, it has IR LEDs to provide black-and-white footage. Moreover, a status LED surrounds the doorbell button, which lights up white when not connected to a network. 
The LED turns solid blue when communicating. Then, it flashes blue when it detects motions and people. You will find other status details via the LEDs, and you can determine these by checking the manual.
The Rear of the Reolink Video Doorbell WiFi 
At the back of the product, features and connections come into view. Its focal point rests at the centre. 
Here, you will find two wiring screws, a LAN port, alongside a microSD card slot. The LAN port operates at 10/100Mbps or Fast Ethernet, which proves adequate for this product. 
Typically, the data transfer rate for such devices remains below 1Gbps. Adjacent to the wiring screws, a reset button is also present, restoring the doorbell to its default factory settings.
The next part of our Reolink Video Doorbell WiFi Review focuses on all the product elements. These add charm and efficiency to make it stand out from the crowd.
Key Features of the Reolink Video Doorbell WiFi
2K+ Heightened Clarity
The Video Doorbell WiFi offers twice the clarity of 1080p (2MP) with its 2K+ (5MP) resolution. It delivers more detail and a broader range to make recognising people easier.
Dual-Band WiFi for Stable Connection and Quick Installation
This doorbell supports 2.4GHz and 5GHz bands for better and more stable connectivity.
You can place it anywhere within your WiFi range or connect it to your existing doorbell wiring. Reolink included a 15-degree wedge you can use for angle adjustment.
Higher Accuracy and Fewer Distractions
The doorbell only sends alerts when it detects people since it only ignores non-humans. It also has a feature that allows you to set a motion zone and black out areas that do not require alarms.
Later in our Reolink Video Doorbell WiFi Review, we will discuss its performance and speed in sending alerts.
Monitor Your Property at Night
The infrared LED allows for recording high-quality videos during the evenings. People remain visible in the footage, even in the dark.
Rich Notification – Detailed with Snapshots
The Video Doorbell WiFi instantly lets you know what happened with Rich Notification, available for Reolink Cloud users. Each alert has photos rather than words, allowing you to respond quickly.
Quick and Convenient Communication
With its built-in mics and speaker, you can greet your visitors instead of hurrying to the door. You can also live talk with visiting friends from wherever you are when you are not home.
Hear the Doorbell from Any Room
Reolink packs each Video Doorbell WiFi with one chime. Once plugged into an electrical socket, you can immediately know if there are any visitors.
Recording Before Detection
The Video Doorbell WiFi records a six-second coloured footage before detection and sending alerts. It is a handy feature that will help you know the possible causes or likelihood of criminal identification.
Answer the Door Faster with Preset Voice Messages
Let the doorbell speak for you by adding a voice message preset. Set automatic responses like telling the delivery man to leave the package outside or an intruder to leave the property.
We used this feature while testing the product for our Reolink Video Doorbell WiFi Review.
Versatile Doorbell with Multiple Storage Options
The Video Doorbell WiFi can save recordings in a 256GB microSD card, Reolink Cloud, and the Reolink NVR.
The Reolink Cloud is an encrypted storage that ensures data safety and security. Its Basic plan with 1GB storage is free. You can also opt for paid plans that offer up to 80GB and support for up to five cameras.
Reliable in Harsh Weather
The Video Doorbell WiFi has a water-resistant design that can withstand harsh weather. Whether it rains or shines, this product will perform optimally.
Specifications
Default Video Resolution:

2560 x 1920 (2K+ equivalent to 5MP) @20 FPS

Video Format:

H.264

Horizontal / Vertical / Diagonal Field of View:

134° / 97° / 180°

Operating Frequency:

2.4GHz or 5GHz

Wireless Standard:

IEEE 802.11a/b/g/n

Wireless Security:

WPA-PSK, WPA2-PSK

Weight:

96g

Dimensions (H x W x T):

133mm x 48mm x 23mm

Warranty:

Two years
Software Specifications
Mainstream Frame Rate:

2FPS – 20FPS, default is 20FPS

Substream Frame Rate:

4FPS – 15FPS, default is 10FPS

Mainstream Code Rate:

1024Kbps – 6144Kbps, default is 4096Kbps

Substream Code Rate:

64Kbps – 512Kbps, default is 256Kbps)

OS Support:

Windows, Mac OS, iOS, Android

Supported Browsers:

Chrome, Safari, Firefox, Edge
Hands-on with the Reolink Video Doorbell WiFi
Before sharing our experience with the product in our Reolink Video Doorbell WiFi Review, let us discuss the Reolink App.
The Video Doorbell WiFi uses the Reolink app, which other products from the company also use. This application is free and downloadable on Android and iOS. 
Once set up, the Video Doorbell WiFi will appear in a panel on the Cameras screen. The app will launch a live video stream when tapping on this panel. You can take snapshots, record a clip, change the video quality, and more while watching the footage.
At the bottom of the screen are three buttons: Playback, Quick Reply, and Tap to Talk. Playback is for viewing events and recordings, while Quick Reply is for creating/selecting responses for visitors. Finally, Tap to Talk allows you to talk freely to the person in front of your door.
On the top right portion is a button that activates the built-in siren. You will also find a gear icon that opens the device settings, where you can edit network preferences. Also, you can see the remaining SD card storage space, toggle the LED light ring, and adjust the display & audio.
Additionally, the app allows setting motion zones and adjusting the detector sensitivity. Plus, you can enable notifications, create recording schedules, and configure settings for timelapse recording.
During our tests, we saw the video quality of the Video Doorbell WiFi to be exceptionally high, surpassing that of numerous competitors. Its clarity exceeded expectations, allowing us to see our car license plate.
Remarkably, the video compression did not deteriorate in image quality. However, there were moments of slight lens distortions that were noticeable towards the right and left edges. 
Nevertheless, the colours were vivid and natural during daylight hours. These optimised contrasts align with the signature look of Reolink products.
The video quality delivered by the product is commendable. During the day, it captures scenes with exceptional detail and boasts vibrant colour saturation. Black-and-white nighttime videos remain sharp and exhibit ample contrast, ensuring clear visibility.
The push alerts arrived instantly, while the pre-buffer feature did not fail to capture lead-up to motion instances. However, remember that it will depend on your WiFi signal/connection.
We received notifications immediately when we were 35 feet away from the router, with walls in between. In streaming videos to Amazon Echo Show, we did not have problems too.
Quick Responses and two-way audio were loud and clear, though everything would be better if its siren were slightly louder.
Reolink Video Doorbell WiFi Review Summary
While testing the product for this Reolink Video Doorbell WiFi Review, we immediately noticed its sharp images and consistent, stable connection. In addition, it has multiple storage options, ease of installation, accurate notifications and other unique features. All these come cheaply, making it an attractive choice for many people.
This product is an excellent addition to your home security system, especially if you already have a Reolink camera. We highly recommend the Video Doorbell WiFi for its impressive features, high-quality images, durable housing, and excellent performance.
Visit the official Reolink product page for more information about the Video Doorbell WiFi.