Today, we are writing this RODE X XDM-100 Dynamic Microphone Review to check this new product from RODE. 
The XDM-100 is a USB mic with an advanced DSP and integrated high-gain preamp for streaming and gaming apps. The design of its dynamic capsule should be near its subject to pick up less unwanted noise. Hence, making the product ideal for use in home studios and untreated rooms. 
This dynamic mic packs several notable features that make it a top choice among users. But are these elements enough for your needs, or should you look elsewhere? 
Continue reading our RODE X XDM-100 Dynamic Microphone Review to learn about its design, features, specifications, features, and performance.
RODE X XDM-100 Dynamic Microphone Packaging
The microphone arrived in the usual RODE X box sporting a red and black theme. An illustration of the XDM-100 is in front of the package, along with its company branding and product name.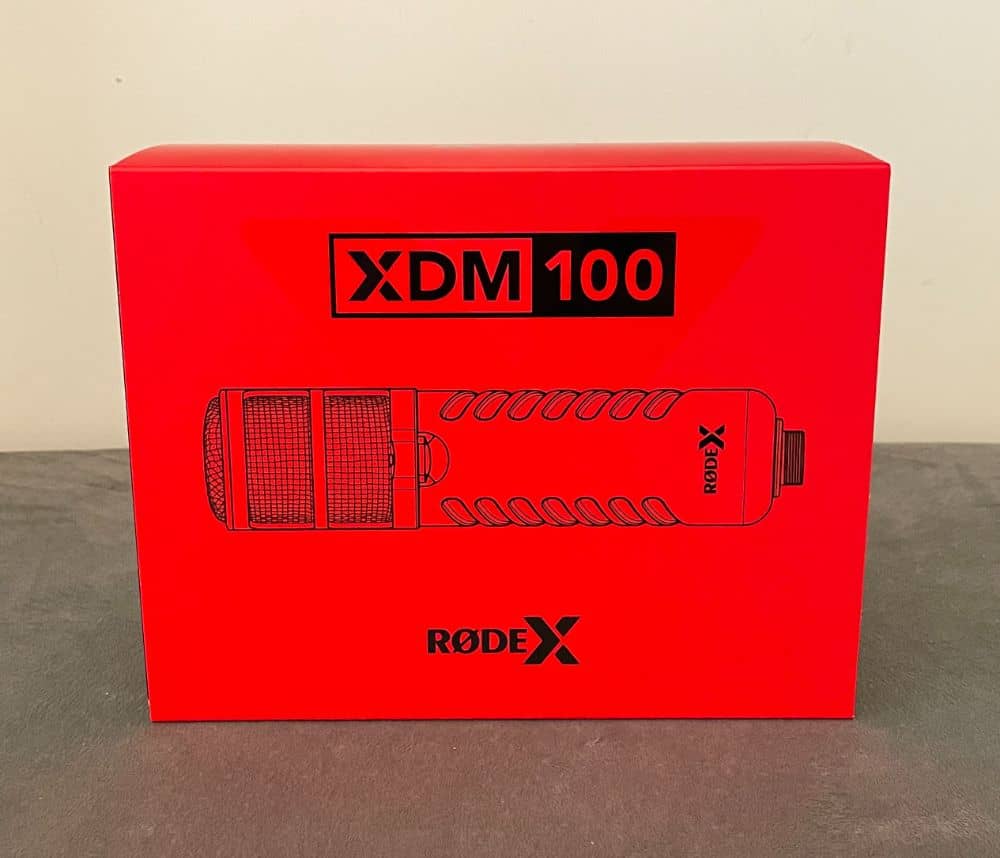 Inside, you will find the XDM-100, a shock mount, one USB-C to C cable, a windscreen, plus a headphone extension cable. 
Everything inside the box is safe and secure, so worrying about these during shipping is unnecessary. 
RODE X XDM-100 Dynamic Microphone Review – Design and Functionality
While examining the product for this RODE X XDM-100 Dynamic Microphone Review, we noticed its similarity to the PodMic. It is an end-address mic that allows you to speak into the top portion of the product. 
Another positive aspect of the mic is it picks up background noise less, so you can capture clear sounds. Of course, you need to speak close to it to achieve excellent audio. 
It has a pop shield that helps decrease plosives often caused by syllables that begin with "p" or "b". So having it on is recommended. Also, it adds a premium vibe to the mic, and you can still view the transparent LED of the mic.

The XDM-100 is top-notch in terms of audio and build quality. At first glance, it looks appealing, and everything about it screams premium perfection.
Physically, it resembles the RODE Procaster but with more style due to its hints of black and red. This aspect gives the XDM-100 adequate flash to be considered a gaming mic. However, it is also stylish enough to be part of pro photography equipment.
Like its siblings, the XDM-100 sports an exceptional build but is more massive with a 700g mass. Since this is the case, it is best to set it on a sturdy boom arm to keep the mic in place. Luckily, RODE included a shock mount in the package. 
Behind the mic, you will find a mute button and level controls. There is also a headphone output for monitoring, plus a USB-C connector. 
We mentioned earlier that the package includes a USB-C cable. It is adequately long enough if you have a long desk with the boom arm opposite your computer.
The thing is, you can adjust the setting of your boom arm. But if it is not enough, you can utilise a USB-C extension cable, especially when you want neater cable management. 
You can attach the shock mount to a studio/boom arm like the PSA1+ from RODE. It is for isolating the product from external vibrations. So if you can purchase one, go for the PSA1+ and use it for your XDM-100 setup. 
Lastly, its windscreen appears like a solid piece that seamlessly slides over the grille of this product. But interestingly, it is flexible rubber instead. 
You will find a white portion of the windscreen where the LEDs shine through. So despite having it on, you can still see the lights.
Key Features of the RODE X XDM-100 Dynamic Microphone
Of course, we added a list of its features in this RODE X XDM-100 Dynamic Microphone Review. It is a vital set of information to help determine if 
XDM-100 and UNIFY for You
The XDM-100 and UNIFY work to provide a complete audio solution for streaming and gaming. It also gives you professional sound quality, cutting-edge mixing, excellent routing & processing, and control over your audio. Moreover, it offers on-the-fly sound effects, etc. 
Put Focus Solely on Your Voice
The XDM-100 produces rich, natural sound to give you that professional vibe. It performs admirably with any voice type. And as a dynamic microphone, it is less sensitive to unwanted background noise. 
These noises include keyboard and mouse clicks. 
It also includes a pop shield and a shock mount to ensure that the audio is always clean and pure. Simply put, the XDM-100 is an ideal microphone for gaming or streaming.
Plug and Play
The XDM-100 has plug-and-play USB-C connectivity that links directly to your computer. And to our delight, it works flawlessly. 
Connect your headphones directly to the 3.5mm output to hear everything in high definition. And to make things better, it is complete with level control and a mute button to keep your audio in check. It also includes a 3m headphone extension cable, so you have everything needed to start.
Outstanding Circuitry, Pure Sounds
The XDM-100 has an ultra-low noise, high-gain Revolution Preamp and 24-bit/48kHz conversion. It means your signal stays pure, allowing you to sound your best during streams.
Create that Signature Sound
Everyone has a unique voice, so make yours stand out with advanced voice processing. You can utilise a compressor for extra smoothness and a high-pass filter for increased clarity. It is also possible to use the APHEX Aural Exciter for sparkle and Big Bottom for depth.
Use a noise gate to remove background noise if you do not have a soundproof recording room. 
With RODE X microphones, you can fine-tune each processor with granular control – something you will not find on other mics.
Specifications
The XDM-100 is a dynamic microphone with an end-address cardioid pickup pattern. While writing our RODE X XDM-100 Dynamic Microphone Review, we saw it has a 20Hx -20kHz frequency range. Plus, it uses a USB-C for its connection.
This mic has a zero-latency 3.5mm analogue headphone output and a bit depth of 24-bit. The product is compatible with macOS 10.12 and Windows 10 or later versions. Lastly, it measures 52 x 52 x 213mm (WxDxH) and weighs 700g.
Hands-on with the RODE X XDM-100 Dynamic Microphone 
We put the XDM-100 to the test for our RODE X XDM-100 Dynamic Microphone Review. So, we utilised it for a week to see if it functions like how RODE claims it would. 
But before sharing our hands-on experience with the mic, let us discuss the UNIFY software. 
UNIFY Software 
The UNIFY software is one of the main selling points of the XDM-100. It is a subscription service, but it comes for free when you purchase one of the new RODE X microphones. This complete audio solution works for streaming and gaming, making it a convenient software for the XDM-100.
UNIFY allows you to control all audio sources completely, including your microphone audio. While working on your streams, easily adjust the sound of various sources like games, chat, browser audio, and music system. As a result, you can deliver content with perfectly optimised sound.
This tool is handy if you like playing background music while gaming and chatting with your viewers simultaneously. It allows adjusting everything in a single interface.
UNIFY also enables the onboard processing of RODE X microphones, which perfectly complements the APHEX audio processing. This advanced technology works with a noise gate, compressor, high-pass filter, and the Big Bottom and Aural Exciter effects. The included presets (like claps) make a good starting point to make your channel draw more attention.
Aside from APHEX, the software allows adding sub-mixes, solo/muting channels, mixing up to 10 sources, etc. These elements make UNIFY the most well-rounded software mixer.
Features of UNIFY Software
The UNIFY software has numerous notable features that will work amazingly for your stream. So, we made a list of these elements that make it one of the best software today. 
Craft Your Sound
APHEX processing, Aural Exciter, and Big Bottom allow you to tailor the sound signature of your microphone for your voice. A compressor, noise gate, and high-pass filter remove background noise, making your audio sound smooth, detailed, and punchy. Fine-tune every processor to perfection like professional audio mixing software with granular control.
UNIFY Gets the Job Done 
When using UNIFY with the XDE-100, a powerful DSP chip inside the microphone manages all audio processing. It relieves the load on your CPU and allows you to hear everything as it happens in your headphones.
Complete Control of Your Audio
UNIFY allows you to control all your audio inputs and outputs from a simple software mixer. You can mix up to four microphones and six virtual audio devices, including your game, chat, music, system, and browser. 
With independent sub-mixes for all your outputs, you can create the ideal audio experience for everyone. When monitoring sound sources, it must be in high-definition.
Go Live in Seconds
Because UNIFY is intuitive, you only need seconds to set it up. It is user-friendly even if you have a tricky gaming or streaming setup. Thanks to this, you can go live with outstanding audio in seconds. 
No need for any unnecessary wait time; get on and do your live stream like a pro.
Record Everything Without Slips and Misses
With the UNIFY software, you can easily capture live-stream audio thanks to its integrated recording functions. From there, you can optimise it for all major audio platforms you use. 
With UNIFY, you can record in multitrack or stereo to acquire adequate flexibility whenever you create content. 
RODE X XDM-100 Dynamic Microphone Performance 
Our RODE X XDM-100 Dynamic Microphone Review will now share our experience using the XDM-100.
Over the years, we utilised a variety of USB microphones. And interestingly, the XDM-100 impressed us better than every other product we tested.
The most notable aspect of the product is its clarity, and we received positive results during our test. We could not find any faults in its capturing capabilities, so kudos to RODE for that. 
The rumbly lows and crisp highs made the XDM-100 ideal for gaming audio, and the difference is audible when streaming.
The audio from the mic was excellent due to the bass and high frequency in our voices. The tone was already perfect out of the box, but a little post-production made it even better.
This microphone has an ultra-low noise, high-gain Revolution Preamp and high-resolution 24-bit/48kHz conversion, which resulted in impressive voice recordings. When we played games with our friends, we asked how we sounded in voice chat. They said our voices sounded clear over the microphone, and the sound quality was impressive.
Since we also used a gaming mouse, the XDM-100 captured its sounds when placed close to it. But since it has a cardioid pattern, changing its position prevented it from picking up unwanted sounds.
Overall, the XDM-100 captured sounds perfectly, and it delivered high-quality recordings out of the box. Thanks to the UNIFY software, we could improve the audio quality without using extra hardware.
RODE X XDM-100 Dynamic Microphone Review Summary
The XDM-100 is a premium dynamic microphone from the new RODE X series. This feature-rich product offers the cleanest sound, and with the UNIFY software, it delivers higher-quality audio. It is ideal for gamers, streamers, and professional content creators.
What makes it one of the best microphones on the market is its plug-and-play design and XLR audio quality. During our RODE X XDM-100 Dynamic Microphone Review, we were surprised with its excellent performance out of the box. Since we wanted to enhance our recordings, we used UNIFY, which had a user-friendly design.
Despite its price, it offers excellent value since it has all the necessary accessories in the package. Purchasing a third-party mount or filter was unnecessary, and with its USB connectivity, we did not need additional audio devices. All the settings in an audio interface were available in UNIFY, which adds to its versatility.
With its aesthetics, ease of use, sound quality, and versatility, we highly recommend the XDM-100. This dynamic microphone will dramatically improve the audio of all content creators.
To learn more about the XDM-100 Dynamic Microphone, visit the official product page of RODE X for additional details.