Every gamer wants EPOS|Sennheiser GSP 300 Gaming Headset Review a good headset that gives them the best sound while gaming. And if an acoustic headset sounds appealing, you'll like the featured product in our EPOS|Sennheiser GSP 300 gaming headset review.
The GSP 300 is mainly designed for gamers who want to enjoy an excellent and immersive experience with HQ audio. It has deep bass that brings out gaming intensity, while acoustic clarity guarantees clear and crisp gaming communication.
Today, we'll discuss the headset in our EPOS|Sennheiser GSP 300 gaming headset review. But before anything else, let's take a look at what's inside the box.
EPOS|Sennheiser GSP 300 Gaming Headset Packaging
We're going to talk about the headset packaging in our EPOS|Sennheiser GSP 300 Gaming Headset review.
The box's front displays an image of the gaming headset and its name just above it. Written below its name is "Closed Acoustic".
You'll find a list of devices that are compatible with the gaming headset on the upper-left portion. These include the PC, PS4, Mac, and both mobile phones & tablets.
Flipping the package, you'll find another image of the gaming headset. It displays the different technologies within the headset while other features that are present are also shown.
Each side of the box has an image of the corresponding sides of the headset. The right side displays the right-hand portion of the headset and vice-versa.
Once we opened the box, we noticed that EPOS|Sennheiser opted for dark shell packaging. It gives off an overall premium feel while keeping the headset secure and in place. This isn't a fancy-looking box, but it does the job of adequately securing and protecting the headset.
For the contents, you'll only find the GSP 300, a PCV-05 combo-adapter, plus some documentation and paperwork. To note, the combo-adapter is a Y-cable that links one headset jack to both the headset's mic and headphone inputs.
Let's now discuss the design and functionality of the headset in our EPOS|Sennheiser GSP 300 gaming headset review.
EPOS|Sennheiser GSP 300 Gaming Headset Review – Design and Functionality
The GSP 300 is a gaming headset that doesn't have software-based or surround-sound features, so it's basically a plug-and-play product. The company kept things simple with this gaming headset, and it's something we appreciate.
Although you won't get anything flashy when it comes to its features, all of its functions work extremely well.
When looking at the GSP 300's design, it has a similar form and shape to EPOS|Sennheiser's more expensive models. The feel of its oval-shaped cushions is nice and comfortable, while its headband cushion isn't over-the-top. It's easy to wear since it comes with plush ear cups that have cool and breathable faux leather.
This 10.2-ounce headset sits lightly on the head. Although it securely provides a snug yet comfortable seal along the ears, it doesn't apply too much pressure. The enclosed construction of its rear limits sounds from your surroundings.
The right ear cup houses the volume wheel that gives off good tension. It's probably one of the best volume wheels we've seen on a gaming headset since it moves easily and smoothly.
The microphone is set on a non-detachable boom arm on the left side of the headset. It swivels down and up so you can easily move it when you don't need the mic. When you shift it to a certain point, it switches off automatically, and we think that it's a convenient feature.
Our EPOS|Sennheiser GSP 300 Gaming Headset review won't be complete without us talking about its features. So, let's take a look at what this gaming headset has to offer.
Key Features of the EPOS|Sennheiser GSP 300 Gaming Headset
Intuitive Volume Control
The GSP 300's right ear cup features a volume wheel, allowing for quick adjustments while gaming.
Ergonomic Head Size and Shape Adjustment
For you to get the headset's best size and shape, use its clever ball-joint hinge. This part allows for quick adjustments to achieve the ergonomic fit of the headset.
Immersive Audio for Gaming
The GSP 300 delivers deep bass that adds to the game action's intensity. Its acoustic clarity brings clear and crisp game communication, which gives you and your teammates the advantage.
Next up on our EPOS|Sennheiser GSP 300 Gaming Headset review are the different specifications of this headset.
Specifications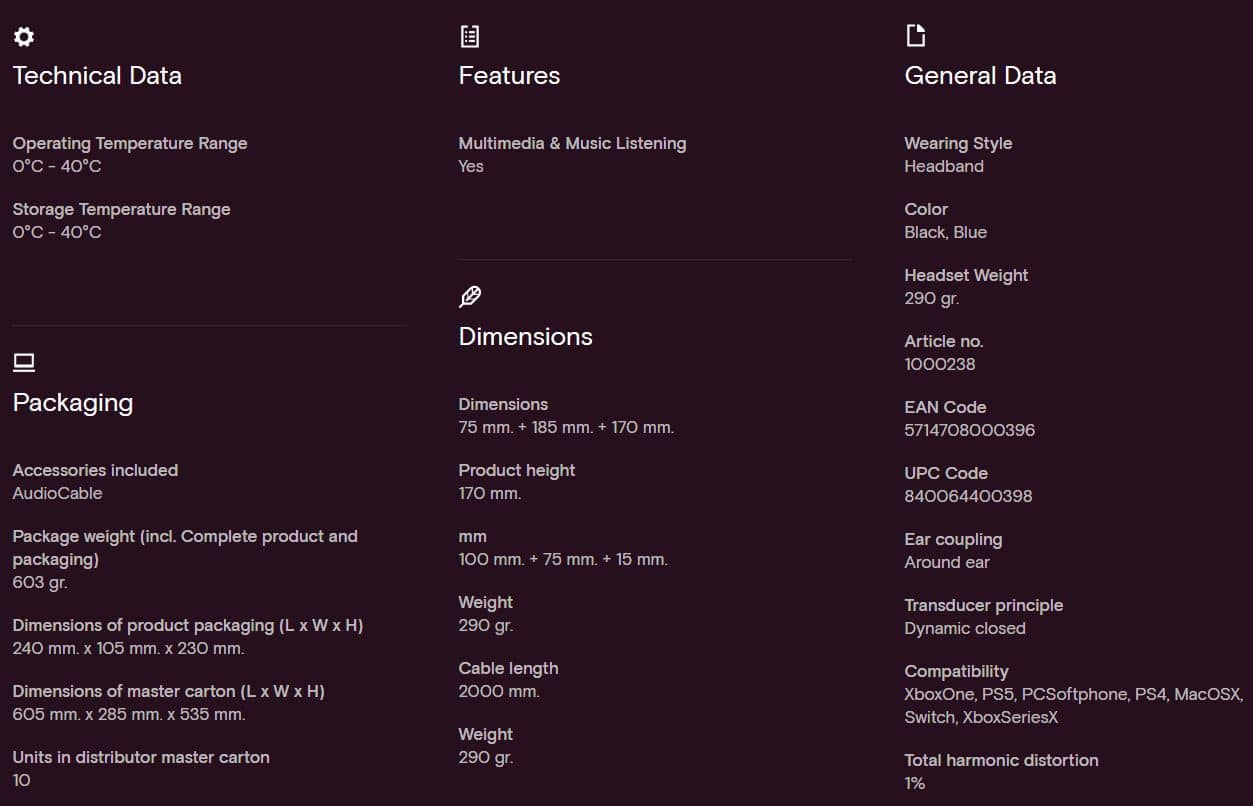 The GSP 300 gaming headset comes with a 1% total harmonic distortion, while its sound pressure level is 113dB. For its impedance, it's at 19 ohms.
The frequency response rates for the headphones and microphone are 15-25,000Hz and 10-24,000Hz, respectively.
The cable that it comes with is long enough at 2,000m. For the warranty, we appreciate that EPOS|Sennheiser provided a 2-year warranty for the GSP 300.
The headset is compatible with the Xbox One, PC, PS5 & PS4, Xbox Series X, Nintendo Switch, Mac OSX, and smartphones.
Hands-on with the EPOS|Sennheiser GSP 300 Gaming Headset
Of course, our EPOS|Sennheiser GSP 300 Gaming Headset review won't be complete without sharing our hands-on experience with the product. So, we're sharing how the headset performed and if we experienced any issues with it.
We utilised the GSP 300 for hours to see how it worked for gaming, watching movies, and listening to music. Overall, we had positive thoughts and reactions with this headset, and we'll let you know why.
Since this is a EPOS|Sennheiser gaming headset, we expected it to deliver top-tier audio while gaming. And as expected, it produced rich, clear sounds, no matter what type of game we played.
With its closed-back design, the bass was amplified, but its mid and high frequencies weren't overwhelming. The bass also had a deep punch to it which we really appreciated.
The mids and highs were clear and excellent. Its soundstage was widened, which was highly beneficial in specific scenarios.
The GSP 300 was perfect for shooting games likei Apex Legends and Battlefield 4. Its audio greatly helped in shootouts with other players since the sounds were crisp with excellent accuracy.
We enjoyed gaming with this headset since we were able to rely on the sound to easily detect enemies. The sounds of footsteps and gunshots were clear and audible, which made our entire gameplay highly immersive. We liked how this headset delivered audio that perfectly portrayed warzone, which made our overall gameplay enjoyable.
Although the GSP 300 doesn't have fancy fine-tuning features that most competitive players want, it still suits any gaming genre.
We watched a number of movies while using the GSP 300. Plus, we even used it for quite some time while exercising. Commonly, gaming headsets tend to fall off when used during these activities, but interestingly, the GSP 300 stayed in place.
As for the audio quality, it was more than just adequate. Also, we loved the immersive experience it gave because of the tight yet comfortable clamp it had around the head.
We actually think that having this snug fit adds to the positive and great audio experience when using the headset. If it weren't made this way, we assume it would lose the punchiness of the bass, hence, affecting everyone's user experience. It's also likely that the perfectly-snug fit allowed for clearer dialogues and audio.
Now, let's talk about the microphone's performance.
Every gamer considers a good microphone part of an excellent gaming headset, and the GSP 300 is no exception. If the mic lacks quality, it can be a huge deal-breaker for a lot of people.
Luckily, this gaming headset has a great mic that comes with it. The GSP 300's microphone has solid quality, and it complements the excellent audio the headset offers. We tested the microphone for some online co-op shooter and action games, and we can say that the headset excelled in this.
Other than that, the GSP 300's mic comes with a very convenient flip to mute microphone. We were able to easily mute the microphone despite being in-game. This was without having to bother with mute buttons on the ear cups.
So even if you're engaged in intense gaming action, you can easily mute the mic whenever necessary. Just flip the mic to a certain point, and it'll get muted in a snap.
Overall, we can say that the flip to mute mic is better than other mute features that we've tried.
EPOS|Sennheiser GSP 300 Gaming Headset Review Summary
For its price, EPOS|Sennheiser has made an impressive gaming headset that proves that entry-level models can offer great performance. It's a simple plug-and-play headset, but its design offers long-lasting comfort, and it delivers great audio quality. Plus, its microphone works well and serves its purpose.
If you're looking for a gaming headset, the GSP 300 is a great option. For its affordable price, this headset offers quality audio. Plus, it's comfortable to wear and is compatible with multiple devices, making it easy to recommend.
In conclusion to our EPOS|Sennheiser GSP 300 Gaming Headset review, we're highly recommending this product. If you want to get your hands on this gaming headset, it's available for purchase via the company's official website.
That's it for today. We hope you enjoyed our EPOS|Sennheiser GSP 300 Gaming Headset review!