Today we are writing our Sony XG300 Speaker Review that focuses on this Bluetooth speaker from Sony. 
The products from this company are always on top of the list. And when you think of the best headphones or wireless buds, Sony is the first name that comes to mind.
Their portable speakers sometimes have different features. However, you can be sure that excellent audio and big sounds pack into smaller packages. 
The speaker has other elements available, but is it as good as claims? We will look deeper into the product here in our Sony XG300 Speaker Review and discuss its features. We will also discuss its design, functions, specs, and performance. 
Sony XG300 Speaker Packaging
Sony ships their Bluetooth speaker in a simple, premium-looking white box. You will only see a little on the package, including an image of the speaker, product name, and company branding.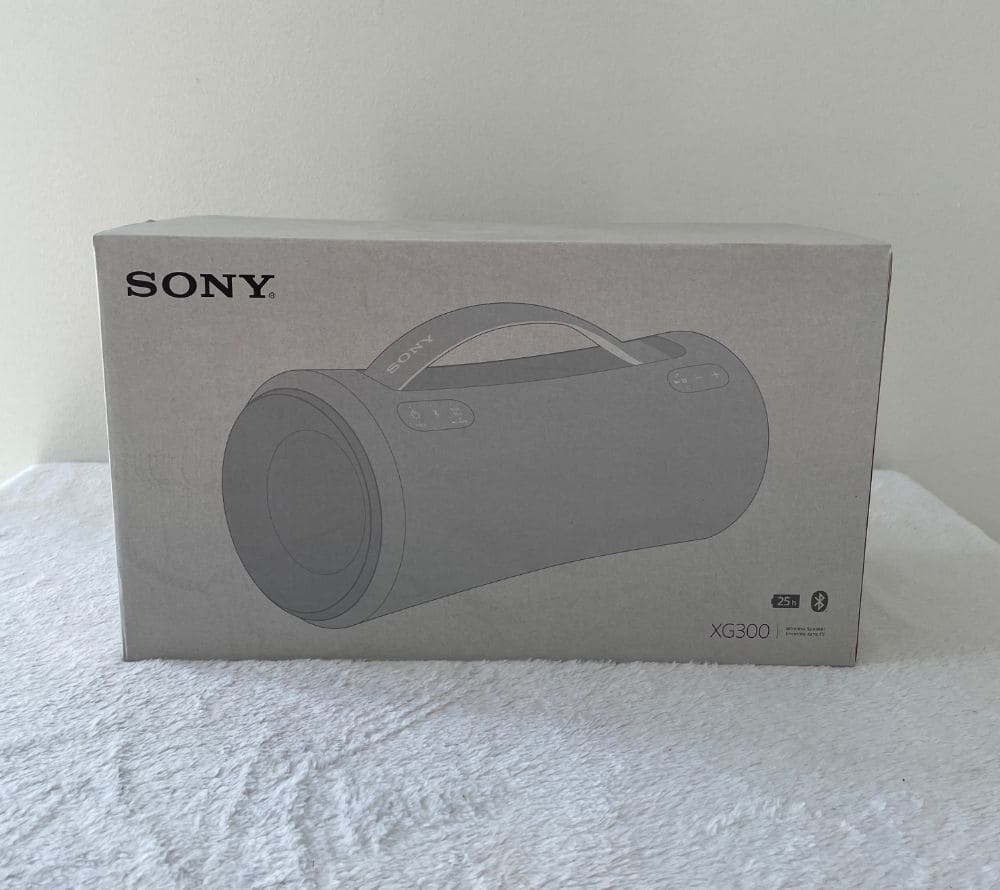 The following are the items inside the package:
Sony XG300 Speaker

AC Power Adapter 

Manual and reference guide
Sony XG300 Speaker Review – Design and Functionality
This section of our Sony XG300 Speaker Review focuses on the design and functionality of the product. 
Promoted as the pinnacle model within the recent X-series speakers of Sony, the XG300 aims to provide exceptional audio. With its sleek cylindrical design, this Bluetooth speaker rests horizontally, as indicated by the rubberised feet underneath. 
It has a passive radiator on each cylinder, ringed with vibrant LEDs that pulse to the beat of your tunes. The speaker also has two woofers and tweeters in front, so it is not an omnidirectional product.
The build quality of the XG300 is excellent, giving the product an overall solid and durable feel. Additionally, it has a sturdy retractable handle and is IP67-rated, making it a dust and water-resistant product.
Connectivity and Controls
Let us discuss the connectivity and control panels in our Sony XG300 Speaker Review. These sit along the front left and right sides and house a few buttons. 
The left panel houses buttons for the power, Mega Bass, and Bluetooth. Then the opposite area has a multifunction button for handling playback, track navigation, and call management. Additionally, there is a +/- button for the volume. 
Each button features a discrete LED indicator as the Stamina and Charge functions. The latter denotes an active power connection, while the previous prolongs battery life.
A connection panel on the rear with a silicone snap-shut cover to protect the USB-C charging port is present. It also safeguards a USB-A port and a 3.5mm aux input. 
Key Features of the Sony XG300 Speaker
In our Sony XG300 Speaker Review, we listed all product features to help determine if the speaker is ideal. These elements make it a favoured product among users, but is it suited for your needs? Let us find out. 
Live Your Life Out Loud
The X-series speakers allow you to enjoy loud and powerful parties, making you live life at the highest volume.
Powerful Sound for Parties Anywhere
The XG300 offers a powerful party sound with integrated lighting. Its front tweeters, passive radiators, and woofers deliver the perfect vocal clarity and punchy bass.
The pop-up handle makes the speaker highly portable and easy to carry around.
Innovative Technology
The X-series is an innovative product line that offers spacious, powerful sound. In addition, Sony uses the X-Balanced Speaker Unit for the XG300. This non-circular diaphragm acquires more sound pressure to produce high-quality audio.
Better Basslines
Unlike the conventional circular diaphragm, the non-circular one used by the XG300 maximises the speaker area. The reduced driver excursion results in better vocal clarity and minimal distortion.
Live Sound
Live Sound can recreate realistic live music, allowing you to relive memorable experiences.
Mega Bass for Bass Boost
Mega Bass dials up the bass and delivers deep, punchy sounds. It gives more impact to your music and makes your listening experience more fun.
25-hour Battery Life
When fully charged, the XG300 speaker can last up to 25 hours. You do not need to worry about stopping the music in the middle of your fun parties.
Sony XG300 Speaker Charge in a Snap
Even if you run short on time, the XG300 will manage. You can play for 70 minutes after a 10-minute quick charge.
Battery and Overcharging Safe
The Battery care feature prevents you from overcharging and keeps your battery in optimum condition for a long time.
Durable Build
The XG300 has IP67 waterproof and dustproof rating, allowing you to take it anywhere. It can protect the speaker on dusty surfaces or areas prone to splashes.
Echo Cancelling for Improved Call Quality
Echo Cancelling is a feature that makes your calls and meetings better. It allows two people to talk simultaneously without cutting anyone off. The speaker also uses Multipoint Connection, which enables pairing two devices.
Bluetooth Connection + Fast Pair
While writing our Sony XG300 Speaker Review, we saw that the speaker enables quick Bluetooth pairing with a single tap. Conveniently connect with your Android devices without problems.
Ambient Illumination
Ambient Illustration is the lighting concept that creates a chic, modern, and stylish impression. Its illumination syncs with any music beat to enhance your experience. 
Specifications
SPEAKER SIZE:

Tweeter: about φ20mm, Woofer: about 61 x 68mm

BATTERY LIFE:

about 25 hours

BLUETOOTH:

5.2 

MAXIMUM COMMUNICATION RANGE:

about 30m

INPUT & OUTPUT TERMINALS:

USB-A (for DC OUT), Stereo Mini Jack (IN) USB-C

FREQUENCY RANGE:

2.4GHz band

FREQUENCY TRANSMISSION RANGE:

20Hz – 20,000Hz

DIMENSIONS:

318 x138 x 136mm

WEIGHT:

3kg
Hands-on with the Sony XG300 Speaker
We need to know how the speaker performs, so let us check its performance in our Sony XG300 Speaker Review. 
Before we look deeper into its performance, why not check its Sony Music Centre app? It is technically available for iOS and Android but is not necessarily an eye-catching interface. 
It is reminiscent of a Word document with a few texts on a blank layout for the most part. Fortunately, it provides you with beneficial extras. 
When you open the app, you will first find an image of the speaker. There is also the battery life readout in this area. 
Below is the My Library section to organise your local music library. Further down is a link to the Fiestable Music App and a shortcut to the default music player. 
The Settings Menu provides a bulk of useful features from the app. This section allows you to control the volume, add small selections of widgets, and shut it off remotely. Plus, it switches off the data collection option. 
Moreover, you get Sound, Power, OPtio, Device Connection, Illumination, and System sections. 
On the Sound Sub Menu, the top option available is ClearAudio+ which helps switch the XG300 to Mega Bass mode. A Custom EQ section is also available with three faders for mids, lows, and highs. 
Despite its simplicity, the EQ bass faders boost an ideal amount of low-end power. Although you cannot save the changes as a preset, the app saves these settings even if you restart the XG-300.
Aside from the Custom EQ, the application has a Sound Effect section for toggling Live Sound and Mega Bass.
The Power Option submenu is where you can enable Stamina mode to preserve battery life but reduces sound quality. In this section, you can find the Battery Care settings, which pause charging at 90% to improve battery health.
In the Illumination section, you can choose from a list of presets for the lighting of the XG300. It allows choosing from prioritising sound quality over connection stability or vice-versa.
The XG300 is an excellent home speaker with an impressive soundstage. It can deliver stereo tracks well without downmixing to mono, making instruments and sound effects localised to specific locations.
This speaker has an accurate frequency response with a slightly bassy sound profile with added warmth to the mix. Its mid-range is the most balanced, resulting in the more enhanced presence of the vocals and lead instruments.
The treble range dulls high-pitched voices and instruments due to its slight underemphasis. We find that it has a nice low bass, which improves on the impact of the music. You are able to customise its audio via the EQ to tweak the sound to your liking.
Aside from the frequency response, the XG300 delivers impressive dynamics. It is loud enough for spacious areas.
While testing the product for our Sony XG300 Speaker Review, another noticeable aspect is its connectivity. It supports Bluetooth multipoint, which makes switching between mobile and computer quick and seamless.

What makes this product better is its compatibility with other Sony speakers. Pairing the XG300 with other speakers on the Music Centre app is easy and quick. Plus, it delivers stereo sound seamlessly. 
Sony XG300 Speaker Review Summary
The XG300 is a superior speaker with comprehensive features, high-quality audio, and stable connectivity. It also has an impressive design with built-in lighting that syncs with the music and its IP67-rated weatherproof protection.
We highly recommend this product if you want a high-quality portable speaker. It has a user-friendly application, all the necessary features, and does not compromise anything. To learn more, visit the official Sony product page for more details.