What we have today is our SSUPD Meshroom S Review which focuses on this chassis from SSUPD. It is a high airflow SFF (small form factor) enclosure sporting a brand-new design from the company. 
The case has mesh panels that allow your build to breathe from every portion to perform at its best. It also comes with other elements that make it worth considering. 
So if you are planning to purchase it but want to know more, continue reading our SSUPD Meshroom S Review. We will discuss its design, specifications, features, functions, and performance. These details will help you determine if it is a perfect case for your build.  
SSUPD Meshroom S Packaging
There is nothing special about the packaging of this case since it shipped in a plain brown box. However, it has a simple company branding and the product name on display.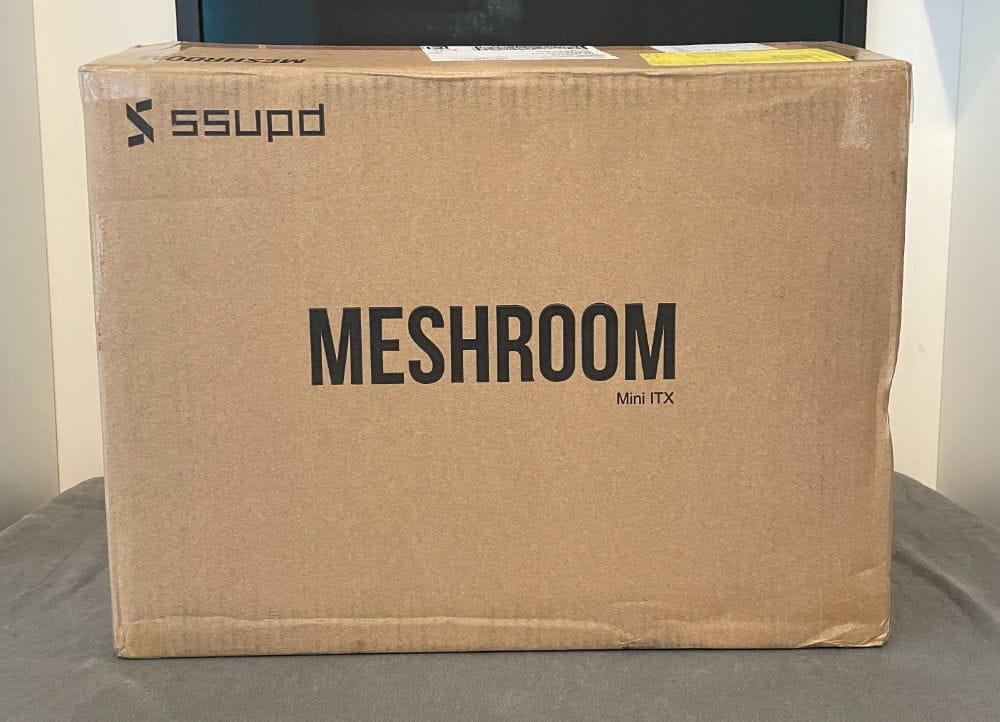 Despite the design of its box, the case was well-protected and in good shape. There were no damages to the product, so everything was good. 
There is not much to look at on the box exterior. So, let us unbox it and check inside for our SSUPD Meshroom S Review. 
The case has two styrofoam end caps plus a plastic bag for extra protection. Other than the case, items you will find include an accessory box with all the screws and parts for building. Also, you have a user manual, a monitor connecting cable, and a PCIe cable.
SSUPD Meshroom S Review – Design and Functionality
When unboxing the product for our SSUPD Meshroom S Review, we were surprised by the vibrant colour of this case. We have the sage green version, which looks excellent and refreshing to the eyes. It is perfect for those who want a unique shade for their build.
The case is tough, and it shows on each panel. You will need to exert more effort to remove the chassis frame, but everything feels sturdy. 
Looking at it from the front, you can see the interior of the Meshroom S through its fine mesh. We also appreciate no visual branding on the panels, which can break the case aesthetics. 
The only branding you will see, upon closer look, is the subtly-embossed logo on its rear.

Another upgrade to its design is the power button. You can now find it on the rear section of the top panel of this case.
There is no reason to place the button there. But this left space for an extra front panel USB port at the top.
From the top, the panel appears similar to the one in front and the side. And also, the company included two USB 3.0 and one USB-C port.  
Compared to its original Meshlicious, which had a blue USB-A, the Meshroom S has black plugs instead.
The underpart of the case does not use a mesh material. It has a cutout that allows access to GPU display connectors routed via a hole along the rear. 
Also, SSUPD improved the position of one of its two SSD mounts that currently have rubber rings. And lastly, you have several possibilities for placing pumps or reservoirs that will cater to custom liquid cooling. 
While writing our SSUPD Meshroom S Review, we realised there is no need for tools to take apart the case. Just pull its four panels off, and that is it. This design gives the Meshroom S a straightforward assembly, which we greatly appreciate. 
SSUPD also enhanced the mesh of this case, removing its solid borders. But even without the panels, its frame still has a nice and solid feel. 
Its internal layout sets the GPU on the left portion while the PSU/motherboard compartment is on the right. Both sides have a fine mesh panel as the front, offering adequate ventilation. 
At the top are three expansion slots, which is essential if you use shorter GPUs or a plain expansion card. However, you can also use these brackets for holding storage drives. 
In front, you can mount two 120/140mm fans or a 240/280mm radiator. Because of its upgraded front frame, you can have more flexibility when setting up radiators. 
The motherboard section focuses on the CPU along with the power supply below. Its mounting tray for the board is bare, letting the cables reach it from all sides due to the large cutouts. 
With the latter, you can move the PCIe ribbon higher, giving shorter GPUs additional space. It is perfect when you are using bulky cable connectors.
For its mounting rails, you now have a pair of these which lets you add another radiator or two fans. However, opting for this setup will lack room for a GPU. 
Rubber rings are beneath the PSU bay, and as for its PSUs, there are not many changes on it. The only primary difference is the slightly upgraded SFX mounting plate. You can rotate it to mount your SFX or SFX-L unit better.
There are not many upgrades on the motherboard tray as well. However, there are more cable mounting hooks on the tray. Having these will make for a cleaner and more organised setup. 
Looking closer at the base of the GPU section, you only find a single blue spacer. It functions as the resting bar point for a vertically-mounted GPU. 
You will also find a black system you can move if you want an ATX or GPU build. It is also convenient if you want to use it for mounting storage drives. 
At the top section is another set of expansion slots. It is not for working with four-slot setups since no short GPUs require that space. 
We will continue our SUPD Meshroom S Review and discuss its features. 
Key Features of the SSUPD Meshroom S
Supports up to Four GPUs
The adjustable motherboard tray of the Meshroom S allows you to install up to four 336mm long GPUs.
Room for Two 280mm Radiators
The brand-new removable bracket allows you to install 280mm radiators for extreme liquid cooling.
Supports ATX and SFX Power Supply
With an innovative PSU bracket, the Meshroom S is compatible with SFX and ATX power supplies. It is also a convenient feature if you plan to change to an ITX build from ATX.
Flexible Storage Options
Although compact, the Meshroom S can support up to seven 2.5-inch or two 3.5-inch hard drives. The number of HDDs you can install depends on the size of your GPU.
Custom Cooling 
With three liquid cooling pump locations, you can install powerful custom water-cooled builds easily and without compromise.
Specifications
We will never skip the specs in our SSUPD Meshroom S Review, so we are discussing these details with you. The Meshroom S is a steel SFF chassis with four long GPUs and three short ones. 
It has three 2.5-inch full-length GPU SSDs and seven 2.5-inch small form factor SSD drive bays. If you use a small form factor GPU, you can choose a maximum of two 3.5-inch HDDs. 
This case can accommodate motherboards with mini-ITX or mini-DTX (m-ATX/ATX with optional PCIe cables) form factors.
The Meshroom S measures 247 x 167 x 362mm and weighs 3.2kg. 
Fan and Radiator Mounts + I/O
Front and top fans are optional, but you can use two 120/140mm fans in front. For the top portion, you can use one 120 x 15mm fan with a GPU length of 317mm. 
On the sides, you can use two 120mm fans.
The radiators to use for the Meshroom S includes a 240/280mm front radiator and a 240mm side radiator. 
For the chassis I/O, you can go for one USB 4.3 Gen2 Type-C and two USB 3.0. 
SSUPD included a one-year warranty for the chassis, the monitor connecting cable, and the PCIe riser cable. It also covers the front/rear I/O ports and PC case parts.
Hands-on with the SSUPD Meshroom S 
While building the Meshroom S for this SSUPD Meshroom S Review, it was durable and never bent. Its panels were solid and snapped to the frame with ease. 
For an all-mesh case, its acoustics were what we expected: it was incredibly quiet thanks to the increased airflow. Everything was silent at idle and around barely audible when under full load.n was at full speed. 
During the thermal tests, our CPU remained cooled at 57 degrees, and the GPU reached 71 degrees. 
It is best to install an exhaust fan when you plan to use a high-end CPU and GPU. But for the most part, the mesh helps keep the components from getting too hot. 
SSUPD Meshroom S Review Summary
The Meshroom S is a compact chassis that can fit an impressive amount of hardware. Despite having a small form factor, it can maintain low temperatures thanks to its mesh panels. Plus, it provides room for adequate cooling components.
Like most small form factor PC cases, building with the Meshroom S was challenging, but everything went well.
The Meshroom S is a highly versatile chassis that allows builders to do almost anything. You can install different components in multiple ways, such as the ATX and SFX power supplies and 280mm radiators. If you want to swap your hardware, the Meshroom S makes it easy.
We highly recommend the Meshroom S since it is a versatile chassis ideal for compact builds.
Visit the official product page of SSUPD for more details about the Meshroom S.