DSM 7.0 was first announced by Synology three years ago. Its most evident change was the move to combine their Photo Station & Moments into one user-friendly tool. This is Synology Photos.
Synology Photos is a combination of the aforementioned tools for a simpler, user-friendly, yet more powerful experience for all. So whether you're a casual user or a professional photographer, Synology Photos will work for you.
Synology DSM 7.0
DSM or Disk Station Manager from Synology continues to steadily evolve since its release. The 7th version, which appeared in June, shows new built-in features that conform to performance enhancements and industry-standard security. This is while amplifying its reliability, efficiency, scalability, and performance.
DSM 7.0 sports redeveloped storage management features which make it more convenient to set up storage volumes. This also makes it easier to switch out hard drives seamlessly.
Another notable enhancement is that you can see the amount of data each DSM pack is utilising. You can even determine issues with drives within the storage pool. Plus, there are improvements to its SSD caching too.
It also comes with a couple of newly enhanced applications, such as the brand new Synology Photos.
Synology Photos
Everyone can use Synology Photos no matter if they're professionals or not.
It comes packed with all the important tools needed to help group, organise, filter, and share content. This is while keeping all the memories secure in one spot.
It's an all-in-one tool for photo management, allowing you to get things done in a snap.
What are the Differences Between Synology Photos, Moments and Photo Station?
Before anything else, remember that Synology Photos isn't entirely a new application. However, it's designed to concentrate all of the NAS' image management into one effective portal.
Design
Its layout and design is obviously heavily influenced by Moments, especially on its layout and GUI. But despite that, Photos has its own vital difference.
The management and control of shared albums and photos are now switchable. Then, the interface even lets you control your home/private collections similar to your professional photography albums.
Differences Between Other Applications
One of the most evident differences between Photos and other applications from Synology is its neat, clean-looking, and minimalist layout. And to be honest, this is something a lot of people will truly appreciate.
Unlike Photo Station & Moments, Synology Photos is faster and more responsive. And since speed is essential when it comes to any kind of file management tool, this is surely ideal. It's especially important for anyone who's searching for ways to optimise workflow.
Sections of Photo Station & Moments That Can Shift to Synology Photos in DSM 7.0?
Similar to other big firmware updates, upgrading the DSM 6.2 to DSM 7.0 can be a bit daunting. It's because some other applications may stop functioning; collections of tags, albums, shares, etc. can get lost during the migration process.
But worry not since Synology makes sure to keep the majority of Moments & Photo Station's shares, folders, metadata, etc. maintained.
Key Features of Synology Photos
To learn more about what the upgrade offers, here are the key features of Synology Photos. These are elements that everyone should take advantage of.
All-in-One Photo Management
The upgrade to DSM 7.0 provides a folder/timeline view where you can browse photos in chronological order. Or, you can search according to the folder structure.
Managing photos is immensely easy with this upgrade since you can filter via properties. Refining images with date & time, lens, camera model, and other parameters is possible to display results ASAP.
For private/shared storage, each account will be able to manage its own photo storage. Also, these can enable the Shared Space feature to assist during collaborations.
Manage Images with Albums
Keep images organised by labelling them in different albums through Synology Photos. With it, there won't be any underlying file duplicates so you can be at ease.
Here, there are three different types of albums to choose from:
Automatic albums allow you to browse instantly-generated albums. These are grouped by facial recognition, tags, geolocation, upload date, and file types.
For conditional albums, these can be set with conditions to allow Photos to do real-time group match images and videos.
And lastly, custom albums are where you can choose videos and photos from other folders to easily create accessible collections.
If you have good photos, share them with ease and security to other users while file access is restricted.
You can also share an album by creating shared links. Here, allow other users to view your albums via any web browser. If you want to secure these shared links, it's possible by setting passwords or expiry dates to restrict further access.
In addition, easily customise your privacy settings for each one of the shared albums available.
Browse Images Faster
The enhancements for Synology Photos' overall performance offer a faster, smoother, and a more seamless experience. In lightbox mode, displaying images is faster than Moments by three times. Its continuous loading makes the timeline browsing smooth, even with thousands of photos per day.
Facial Recognition
With facial recognition, Synology Photos can detect people's faces in photos and categorise them in files under the "People" album. Detecting faces is a handy feature, especially for creating conditional albums.
Access Files Remotely
One way to access content is using your desktop device. But of course, there are times when you need to access them from a remote location. Fortunately, it's possible to access these via Synology Photos' mobile application.
Keep in mind that remotely accessing files requires remote access to your NAS using DDNS, QuickConnect, or Reverse Proxy.
Easily Access Memories
Synology allows for backing up and synchronising all image files stored on your mobile device to the Synology NAS. With that, you can free up space on your mobile device without losing any of your files.
Even without connection, you can browse photos on the move. The images you've viewed are cached, so you can access them anytime. Additionally, you can cast images and videos on your TV using Chromecast or AirPlay.
Convenient File Searching and FIltering
Synology Photos features a fast and responsive search function that allows quick sorting of photos. As a result, it lets you easily find what you need. This impressive feature is handy especially for professionals with huge libraries.
With Synology Photos, you can sort your media files by file type, geolocation, time it was taken, and specific tags. Other options include sorting by camera type, lens type, ISO, aperture, focal length, and exposure time. Filtering by these categories is a fast process, and it cuts downtime when searching for specific images.
Synology Photos Mobile Application
You can use Synology Photos on Android and iOS for free. Also, installing the app is easy since you'll only download it from Google Play Store or the App Store. Once you've completed the download, you can launch the app and choose to enable automatic backups immediately.
Hyper Backup Support
Hyper Backup allows you to backup photos stored in Personal and Shared Spaces. These include album names, configurations, and other elements in Synology Photos.
Mobile Backup
Synology Photos' companion app allows users to upload photos and videos manually, as well as perform automatic backups. It offers a more flexible backup solution by letting you choose between two backup destinations: Personal or Shared Spaces.
During backup, Synology Photos automatically skips media files detected as corrupted. After backup, you can see the skipped files and retry uploading these.
Performance Enhancement for Thumbnail Creation and File Conversion
Synology Photos offers a new feature that enhances the speed of thumbnail creation and file conversion. It works by utilising the client device's computational power.
This feature also frees up computational resources on the NAS that can be used for other users or tasks.
Installing Synology Photos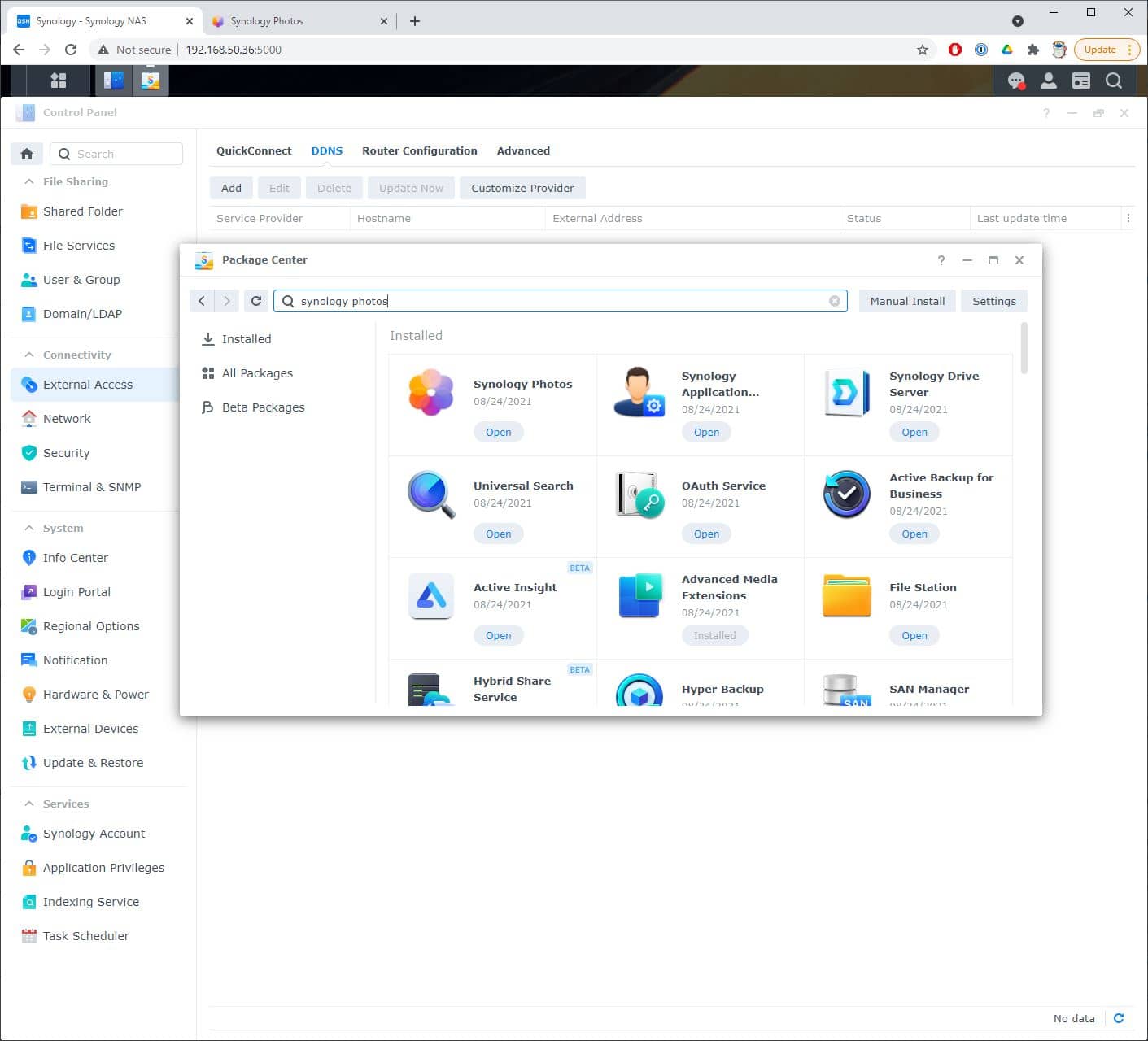 When installing Synology Photos, you first have to update to DSM 7.0. But compared to most updates for the NAS, this isn't an auto-process that works in the background. With that, you'll need to do things the classic way and update manually.
Don't worry since it's still an easy process:
Go to the download centre of Synology then choose your current OS and model. After, choose the version that you want to upgrade to. Then, you'll get to choose where to download.
After successfully upgrading to DSM 7.0, just go straight to the Package Centre. There, look for Synology Photos, then press the install button. Once that's done, you're good to go.
Synology Photos and DSM 7.0 Summary
Just like we mentioned, Synology Photos is a combination of Photo Station and Moments. Some old favourites from Photo Station and Moments were retained, while new ones were added as well. With the combined features, you can expect to view, store, and organise media files easily.
The DSM 7.0 offers the best experience you can have when accessing tons of media files. Its huge upgrades, new features, and the redesigned user-friendly interface make it the ultimate software today. Despite its few changes, it's still one of the best NAS software this year.
Take note that you can only use Synology Photos with DSM 7.0. And once you upgrade to the latest version, you can no longer access Moments and Photo Station. So be sure you understand the features and determine what's important to you before installing updates.
DSM 7.0 is available for free download from Synology's download centre.